7 Home Meal Services that Will Save You Time and Money in the Kitchen
Which meal kit delivery service is right for you?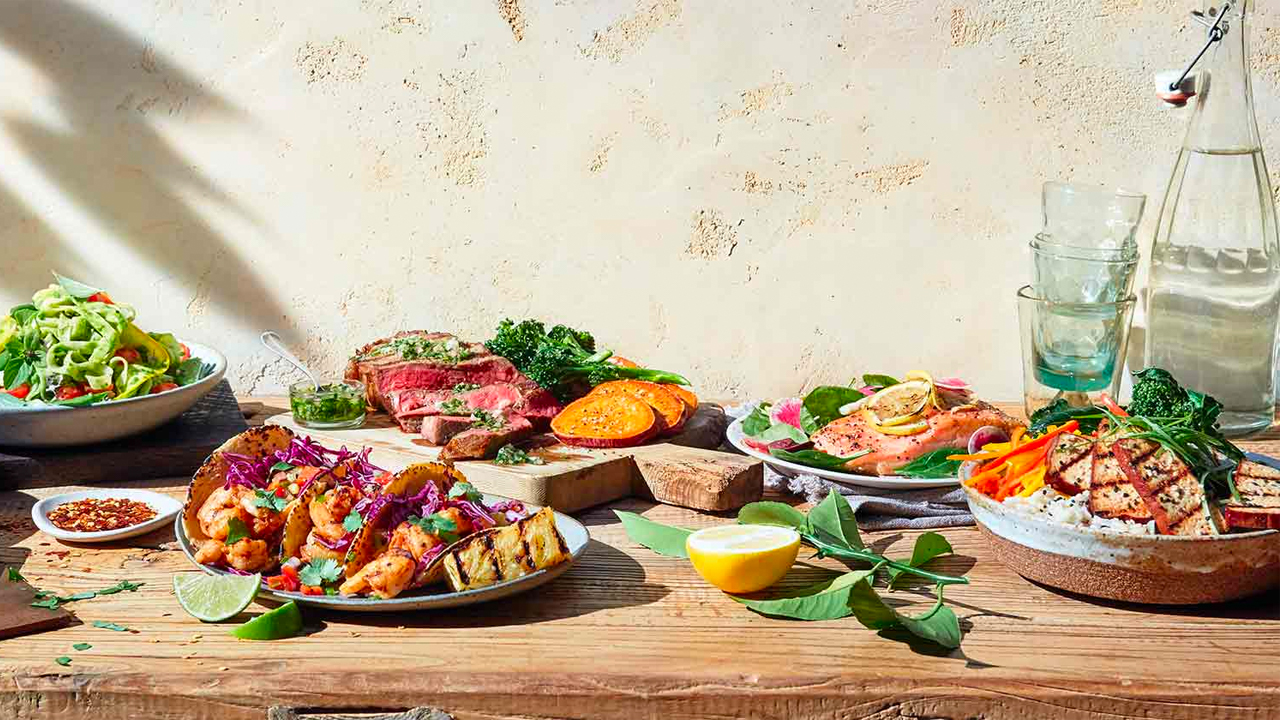 Going to the grocery store is a pain even without the threat of COVID-19. And while ordering from restaurants is always an option, constant burgers, pizza and Chinese takeout can get old – and expensive – fast. Enter home meal kit services.
These increasingly popular businesses do the meal planning for you and deliver all the groceries you'll need right to your door. Will these programs work for your family? And more importantly, can you save money with a meal delivery service? We're taking a look at several of the most popular home meal kits and showing you how to save.
Can I Still Order Meal Kits During COVID-19?
Thankfully, meal delivery services fall under the same essential categories as groceries and eating out. All of the meal kits covered today are still delivering weekly meals by local mail services.
To protect yourself during this time, avoid contact with your local mail delivery service and wipe down the box with a disinfecting wipe or handle the outer box with gloves.
Our Favorite Home Meal Delivery Kits
If you don't have a special diet or allergy requirements, these delivery services are popular options.
Blue Apron

Prices start at: $7.49 per serving for four servings, four times per week
Meal choices: Classic plans and flexible choices with Weight Watcher-friendly meals, diabetes-friendly meals and vegetarian meals
Sample menu: Calabrian shrimp with fresh fettuccine; roasted sweet potato quesadillas with avocado crema and green leaf lettuce salad
Blue Apron is one of the pioneers of home meal delivery services. The site doesn't currently advertise a savings discount, but the company regularly offers discounts to new users.
You may also be able to score $40 off your first two boxes if you shop through a friend or family member's affiliate code.
Hello Fresh

Prices start at: $7.49 per serving, plus $7.99 shipping
Meal choices: Meat and veggies, vegetarian, family-friendly and low calorie
Sample menu: Spicy maple chicken with mashed sweet potatoes and roasted green beans; melty Monterey jack burgers with red onion jam, garlic mayo and crispy potato wedges
Save $15 off your first order when you sign up for the Hello Fresh newsletter. The service may also offer additional savings through affiliate offers. Unlike the other meal delivery services, Hello Fresh charges $7.99 for shipping on each box.
Popular Keto Meal Delivery Services
If you are looking to cut your carb intake, these are the highest-rated Keto home meal kits.
Green Chef

Prices start at: $10.99 for family meals and $12.99 per serving for other options
Meal choices: Keto, paleo, vegan/vegetarian and family meals
Sample menu: Creamy tandoori chicken and cauliflower rice with roasted red peppers and cashews; pork and veggie stir fry with broccoli, red bell pepper and turnip rice
Green Chef is one of the few services that offers certified gluten-free and certified organic meals. These options are available in their keto, paleo and gluten free menus. If you are already paying a premium for home meal kits, it might as well come from the best food sources possible.
You can save $80 when you enter your email on Green Chef's website, though this savings is split between multiple orders.
Factor75

Prices start at: $11.50 per meal for 12 meals per week or $15 per meal for four meals a week
Meal choices: Keto, low carb, paleo
Sample menu: Moroccan vegetable stew; shrimp and grits
If you hate cooking, but still want to hit your fitness goals, Factor75 can help. Meals are individual-sized and, unlike many of the other services, come prepared. All you have to do is heat them up.
Additionally, most can be frozen to make your investment last longer. Save $40 on your first 2 weeks when you sign up.
Sun Basket

Prices start at: $11.49 per serving for the two person plan, and $9.99 per serving for the family plan
Meal choices: Carb-conscious, paleo, gluten-free, diabetes-friendly, vegetarian, Mediterranean, quick and easy
Sample menu: Pork chops with braised leeks and radishes; Vietnamese shaking beef with muoi tieu chanh sauce
While not specifically keto, Sun Basket's carb-conscious plan keeps the carb count under 35g. The meal service is also almost fully organic, and you can choose from classic cooking, pre-prepped or oven-ready meals depending on how much time you want to spend in the kitchen. Additionally, your first order comes with four free gifts.
Vegan Home Meal Kits
Purple Carrot

Prices start at: $9.99 per serving for two 4-serving dinners per week
Meal choices: Vegan
Sample menu: Beet and coconut bacon flatbread; peanut vegetable Buddha bowls
Purple Carrot is strictly plant-based, and offers high protein and gluten-free options, as well. Additionally, users can add on packaged snacks to their meal deliveries. New users can currently get $20 off their first order with code PURPLE20.
Veestro 

Prices start at: $9.90 a meal when you order 30 meals
Meal choices: Vegan
Sample menu: Red curry with tofu; enchilada casserole
Veestro offers prepared, plant-based meals that come ready to heat and eat. The service also has a weight loss plan that includes three meals a day for the week. Gluten-free options are available. Save 15% off your first Veestro box when you sign up for texts, or 20% off with code 20HEALTHY.
How to Save Money on Home Meal Services
Coupon codes are a great way to save big on your first meal kit delivery service, but how do you keep these meal kit in your budget after the first box? Try these tips:
Stretch Your Meals. Want to reduce your price per serving? Add on an easy side, such as a bag of steamed vegetables or a cup of brown rice. These pantry staples won't add a lot of time to your cooking, but they can help you get three to four meals out of a two-serving kit.
Go Family-Sized. Sometimes it's cheaper to get the four-serving option rather than the two-serving. You can save up to $2 off per serving ordering this way, but it does mean you will have a longer cooking time and you'll have to enjoy leftovers.
Refer Friends So You Both Benefit. Many services will give you coupon codes to give out to friends and family members. When they use your code, you will also get a kickback. Just a note, HelloFresh paused its referrals during the coronavirus pandemic.
---
Want to make sure you don't miss a meal service coupon code? Set a Deal Alert and we'll let you know whenever a new offer pops up.
Up Next:
Our editors strive to ensure that the information in this article is accurate as of the date published, but please keep in mind that offers can change. We encourage you to verify all terms and conditions of any product before you apply.