Gadgets to Turn Your Backyard Into a Smart Outdoor Paradise
Maintaining your yard has never been easier.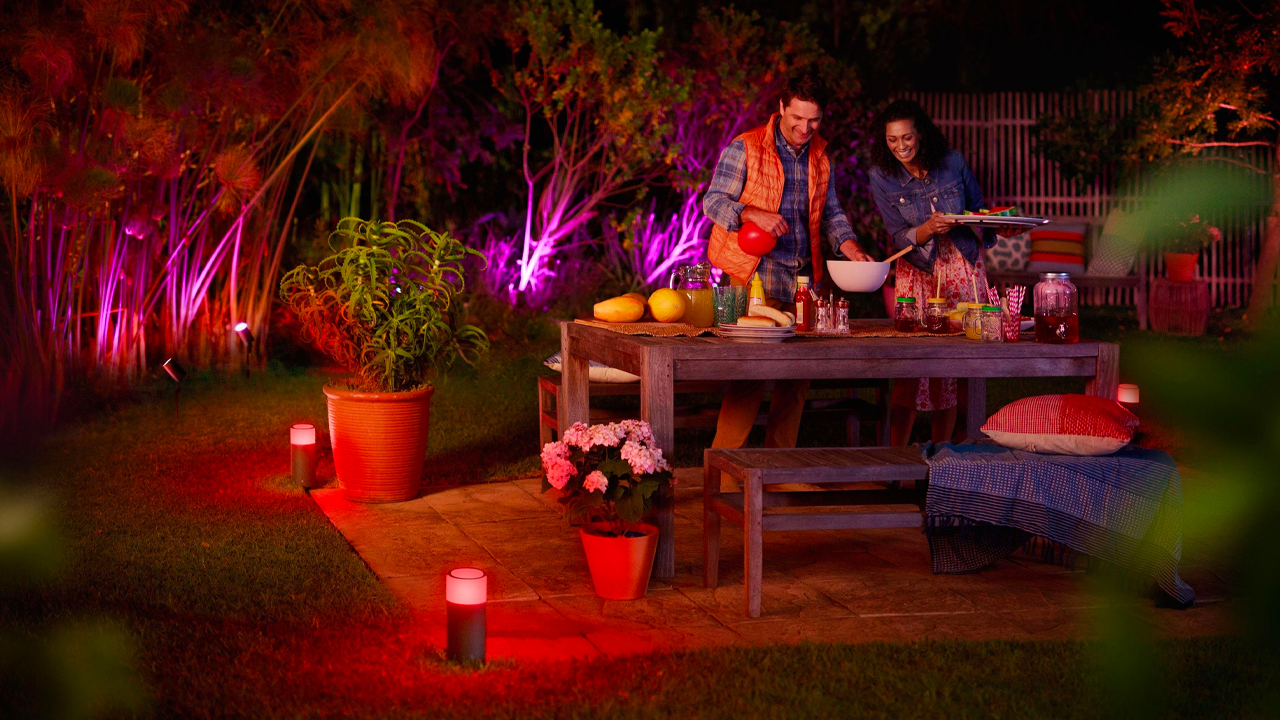 Your backyard is meant to be an oasis, but if you're staring at a threadbare lawn and algae-covered pool, the magic isn't quite there. Now that the weather is heating up, outdoor smart gear can help control the yard work and transform your patio into the relaxing haven you see in magazines.
Smart Watering
These smart watering gadgets do more than just keep your yard green all year long. They can also help you save a lot of money and water each year, too. Many cities also offer water rebates for the following products, saving you even more money in the long run.
Rachio 3 Smart Sprinkler

The number one lawn smart product I recommend is the Rachio 3 Smart Sprinkler System, which typically retails for $230. There are often sales on refurbished Rachios and older models, but even if you pay full price for the device, there is a good chance you'll get those savings back within your first year.
I can't tell you how many times I've seen my neighbors' sprinklers going off when it's raining or the day after — what a waste of water and money. Since the Rachio system uses weather reporting and soil moisture to determine when to turn on, it can skip watering when it's unnecessary.
Depending on which Rachio model you use, you can control it with the product's app, as well as Alexa, Apple HomeKit, Control4, Nest, Google Assistant, Alarm.com, Nexia and SmartThings.
Deal Tip: Right now, you can find the Rachio 3e, which lacks some features like Flex Daily and Yard Map, for $149.99. We've seen Costco mark the 12-zone Rachio 3 system down to $180 in recent months, as well. Even without that sale, Costco has the 12-zone system for $219.99, or $70 off the original price.
Shop the Rachio 3 Smart Sprinkler System
Orbit B-Hyve Smart Watering System

The Orbit B-Hyve Smart Watering Timer is well-rated and a fraction of the price of a Rachio at the regular price of $99, but it's currently on sale at Amazon for $83.97. The system can cover six zones and is controlled via an Android or iOS app, your computer or the actual timer itself. Or you can spring for the 12-zone option on sale for just $89.99, $20 off the regular price, at both Home Depot and Amazon.
Shop the Orbit B-Hyve Smart Watering Timer
Orbit Yard Enforcer Motion-Activated Pest Deterrent Sprinkler

For less than $70, you can use a smart sprinkler to keep animals from ruining your garden and lawn. One Walmart reviewer successfully used the Orbit Yard Enforcer Motion-Activated Pest Deterrent Sprinkler to keep feral cats from using their yard as a litter box. This device does not connect with your phone or other smart devices, but it is motion-sensitive without going off for the wind.
Shop the Orbit Yard Enforcer Motion-Activated Pest Deterrent Sprinkler
Smart Yard Maintenance
While there are no smart devices that will pull weeds and trim bushes, you can use tech help to keep the lawn cut. Upfront, a device like this will cost you, but if it can save you time or prevent you from hiring a gardener, then you'll actually see savings.
WORX Landroid Robotic Lawn Mower

Put your lawn mowing on auto-pilot with a smart robot that cuts your lawn in the same way basic robot vacuums work. With the WORX Landroid Robotic Lawn mower, you just set up sensors in your yard (up to a quarter acre), and then input a mowing schedule on your phone.
The WORX Landroid uses the Landroid app, which is available for both Android and iOS.
Shop the WORX Landroid Robotic Lawn Mower
Smart Entertaining
Whether you want to have a pool party with jammin' beats or an intimate talk with friends over the firepit, the right outdoor smart devices can help set the mood. Just be sure to look for weather-proof smart tech that connects seamlessly with your other devices. Here are two of our favorite finds:
Globe Electric Wi-Fi Smart 2-Outlet Outdoor Plug

These smart plugs are voice-activated and can be programmed with the Globe Suite app. The plugs retail for $30 and work with Google Assistant and Amazon's Alexa, but you can get them right now for just $21.61 at Amazon. Use them to create scheduled ambiance lighting or to turn on your outdoor speakers with your voice. You can even plug in your outdoor heat lamp to get your porch warmed up while you get a cup of coffee ready.
Shop Globe Electric Wi-Fi Smart Plugs
Philips Hue Calla White & Color Outdoor Pathway Light

If you have a Philips Hue bridge, you can connect several smart outdoor lighting options to it for entertaining or security purposes. The Philips Hue Calla White & Color Outdoor lights are perfect for mood lighting around your garden and fire pit.
Additionally, Philips Hue can connect with your existing Nest products or Samsung SmartThings system. They work with Amazon Alexa, Apple HomeKit and Google Assistant.
Deal Tip: Currently, you can get a two-pack of these lights at Costco for $200, down from the regular price of $110 each.
Shop Philips Hue Calla White & Color Outdoor Pathway Lights
---
If any of these smart backyard devices are on your wish list, set a Deal Alert for them so you don't miss a good sale. Additionally, check out a variety of deals on our Gardening & Outdoors Deals page.
Up Next:
Our editors strive to ensure that the information in this article is accurate as of the date published, but please keep in mind that offers can change. We encourage you to verify all terms and conditions of any product before you apply.