14 of the Best Economy Ticket Amenities that Will Make You Want to Book Instantly
These airline extras are too good to pass up.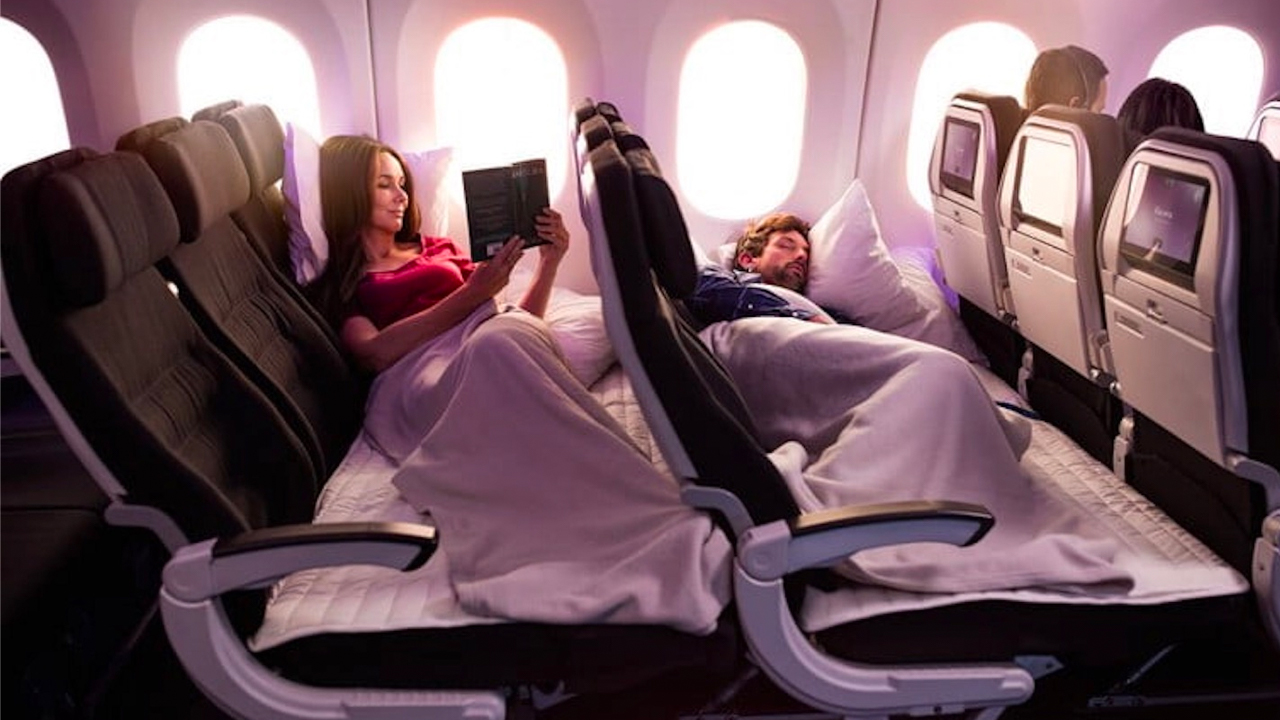 Flying economy doesn't have to be the worst. Even if you're seated in the most affordable part of the plane, you can still access a number of first-class amenities. And no, I'm not talking about free checked bags and water.
If you need a nanny to help take care of your kids or you simply want to keep throwing back cocktails, there are plenty of airlines with an array of impressive benefits available for all passengers.
We've put together a list of quality airlines with top-notch perks for economy passengers — along with some of the best bargain fares from each to check out. It's time to stop dragging your feet to the economy experience and start enjoying it.
1. Virgin Atlantic

This British company sticks to tradition and always does a second round of its high tea service — which could be a light meal or breakfast depending on the time of your route. This exclusive touch is available for every cabin, and you won't find it anywhere else.
New York City to London, UK — Nonstop: From $352.75 roundtrip
2. Etihad Airways

Etihad goes an extra step to make sure everyone on-board is as relaxed as possible. For long-haul flights, parents can opt to have the airline's nannies entertain children with various games and activities. Now that's, undeniably, excellent service.
Chicago, Illinois to Abu Dhabi, UAE — Nonstop: From $804.85 roundtrip
3. Southwest Airlines

Regardless of your ticket type, getting anywhere with Southwest can be highly entertaining. If you get lucky, sometimes the company surprises customers with a free concert right on the plane. Past acts have included Filmore, Magic Giant and Valerie June.
Chicago, Illinois to Ft. Lauderdale, Florida — Nonstop: From $117 roundtrip
4. Delta

Travelers can rest easy with Delta for international trips. Unlike some budget airlines, you don't have to worry about getting charged for headphones or premium cocktails when you're traveling longer distances. Both come free on all international flights, as well as some domestic routes.
Portland, Oregon to Tokyo, Japan — Nonstop: From $640 roundtrip
5. Emirates

In addition to the free Wi-Fi on all flights, Emirates also offers amenities kits with a toothbrush, socks and an eye mask for every economy seat. It's a nice way to settle in on a long flight. And as a bonus, the kits come in cute reusable bags.
Washington D.C. to Dubai, UAE — Nonstop: From $799 roundtrip
6. Qantas
Personally, I've always felt like desserts are often a let down with in-flight meals. Qantas is the exception though, as it provides a Cadbury hot chocolate service complete with marshmallows and a mini chocolate bar. As if that's not enough, it also has a complimentary snack bar filled with fresh fruit and other sweet treats.
San Francisco, California to Brisbane, Australia — Up to 2 Stops: From $814 roundtrip
7. Singapore Airlines
No matter where you're sitting, all passengers can have the gin-based Singapore Sling cocktail whenever they want throughout the flight. In fact, Singapore Airlines was the first company to offer main cabin customers free mixed drinks.
Seattle, Washington to Singapore — Up to 2 Stops: From $758 roundtrip
8. JetBlue
Never go hungry on JetBlue, as it has a self-serve snack bar where anyone can grab anything they want at any point of the flight. And don't worry, you won't find any knock-off brands either. There's a strong selection of well-known items to nibble on.
New York City to Pointe-a-Pitre, Guadalupe — Nonstop: From $381 roundtrip
9. Korean Air
Korean Air provides a pair of comfy slippers to everyone, so you don't have to freak out the next time the guy next to you decides to take his shoes off. This may be a small benefit, but it goes a long way.
Washington D.C. to Bangkok, Thailand — Up to 1 stop: From $630 roundtrip
10. Hawaiian Airlines
You'll be ready for paradise as soon as you land with Hawaiian Airlines' complimentary island-inspired cocktails, like its signature Koala Breeze Rum Punch, which includes a yummy guava puree. On select flights, it also has ukuleles for those who want to play some breezy island tunes for the plane.
San Jose, California to Maui, Hawaii — Nonstop: From $278 roundtrip
11. Alaska Airlines
This perk is for all the wine enthusiasts out there. If you fancy some wine during your next getaway, the airline will do you a solid and transport an entire case for you at no extra cost. However, this deal is only available for domestic routes within the States.
New York to Portland, Oregon — Nonstop: From $197 roundtrip
12. Air France
Since the airline is based in the country where champagne originated, it's only natural it offers a glass for free to travelers. In place of the sparkling wine that's served on most flights, it's great to be able to have the real deal.
Just remember to make it a point to ask for this perk, as it may get overlooked by some flight attendants.
Houston, Texas to Lisbon, Portugal — Up to 1 stop: From $481 roundtrip
13. Qatar Airways
If your kids are happy in the air, then it's smooth sailing from there. Qatar Airways is great at ensuring younger flyers have everything they need to stay occupied. Flight attendants keep crayons, puzzles, plush toys and more on hand for passengers in all cabins.
This also means parents can pack less in their carry-ons, allowing for an overall easier travel experience.
Miami, Florida to Mumbai, India — Up to 1 stop: From $601 roundtrip
14. Air New Zealand

This goes out to travelers who need a little bit more space on flights. Instead of the standard economy seat, Air New Zealand gives people the opportunity to book a Skycouch, an option that transforms an entire economy row of three chairs into a lie-flat bed. It's basically a more affordable version of business class at your reach.
Seattle, Washington to Rarotonga Cook Islands — Up to 1 stop: From $624 roundtrip
---
Want to make sure you get the best deal on your next flight? Set up a Deal Alert for the airline or destination of your choice and be alerted as soon as a new offer is posted. Additionally, check out all the top deals on flights, hotels and more on our Travel Deals page.
UP NEXT: