The Secret Way to Affordably Level Up Your Cooking? An Espresso Machine
Espresso can do more than just perk you up in the morning.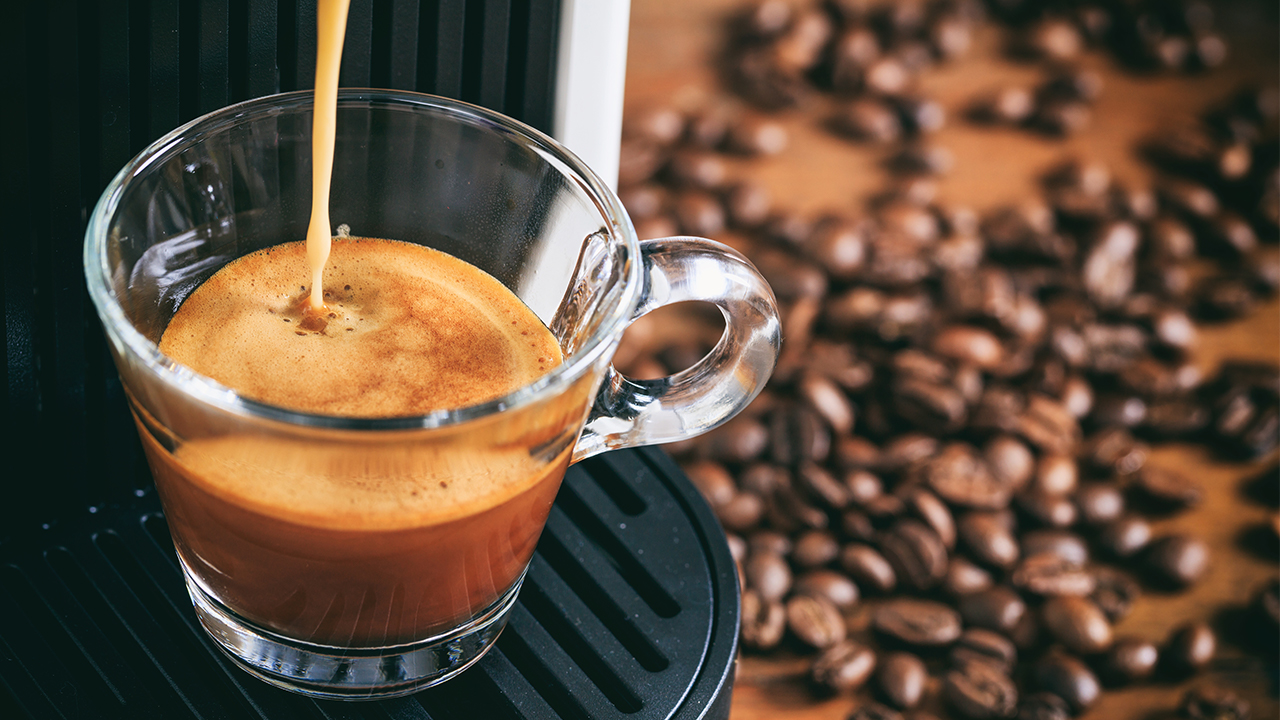 An espresso machine is more than just another way to get coffee. It also allows you to work complex flavors into a surprising number of recipes in the kitchen.
Whether you're using espresso to replace espresso powder in desserts or just adding a kick to your marinade, an espresso machine gives you easy access to that rich coffee flavor outside of just your morning coffee cup. We're taking a closer look at how you can use espresso in the kitchen, and offering up our picks for some of the top espresso machines on the market today.
Espresso Machines Deals
Want to add an espresso maker to your kitchen? You've got a few options, and you don't have to break the bank.

Nespresso Vertuo Next Premium Coffee & Espresso Maker – Sale Price: $142.99 | Reg. Price: $219.99
Intimidated by espresso? Nespresso has turned it into a simple Keurig-esque system. Add the pod, press the button and enjoy your coffee. It's ideal for kitchens that need their ingredients, or a pick-me-up, on hand right away.
Check the Nespresso Espresso Maker

Breville BES500 Bambino Plus Espresso Machine – Sale Price: $399.96 plus free $50 gift card | Reg. Price: $499.95
Breville is one of the most famous names in espresso, and it makes a wide range of machines for every type of coffee fan, from small machines for the kitchen to industrial coffeehouse beasts. While the prices may seem high, typically starting around $400, you can usually find deep discounts, especially on smaller models.
Check the Breville Espresso Machine

De'Longhi Magnifica Express Fully Automatic Espresso, Cappuccino and Coffee Machine – Sale Price $699.99 | Reg. Price $1300.
Want both the convenience of fully automatic coffee and the taste of a hand-made cup? De'Longhi strikes the balance between those two needs. While its machines generally start at the four figure mark, it's usually not difficult to find discounts of 25% to 35%, and even steeper during major shopping holidays.
Check the De'Longhi Espresso Machine
Why Espresso vs. Espresso Powder?
Espresso powder sounds like something you might put into an espresso machine, but it's really an ingredient in its own right. It's made from coffee beans that are roasted, dried, brewed and then ground down to an extremely fine dust. It's often added to recipes with strong flavors like chocolate for an extra kick. However, espresso powder has almost no coffee flavor when it's used in small doses, but it can also be easy to overuse.
Brewed espresso, on the other hand, brings the coffee flavor, not to mention the oils and enzymes, into a recipe. The only drawback of espresso when it comes to baking and cooking though, is that it's a liquid. You'll have to adjust recipes accordingly by subtracting the amount of liquid espresso from the total liquid in your recipe.
Baking
As a general rule, if it comes in a syrup on the coffeehouse wall or can be paired with chocolate, it can also be paired with espresso in a dessert.  It works well with nuts, particularly roasted peanuts, almonds and hazelnuts; strong spices like cinnamon and nutmeg; and chocolate and vanilla.
You can also work it into spreads for your goodies. Make a little espresso butter for breakfast by pouring a cup into a bowl, and adding unsalted butter and a little cornstarch or powdered sugar to thicken it depending on your application, and simply whip it until it's smooth.
Sauces and Dressings
Espresso, in general, is best in sauces with strong salty or sweet flavors. Look for ingredients like balsamic vinegar, soy sauce or ketchup. Barbecue fans are probably already firing up the machine to add coffee to their recipe, but don't neglect the Asian side of the menu. Add a shot to your Thai peanut sauce, or liven up soy sauce with a little spice and espresso to make a dipping sauce nobody will forget.
Remember, though, to carefully balance your liquids, and not to use more than a shot or two in the sauce. Sauces are essentially reductions, and espresso is already a concentrated dose of coffee flavor; too much of it will overwhelm the other flavors.

Marinades
The secret to the best steak you've ever had is probably coffee. Coffee tends towards acidic flavors, which pair well with red meat; that's why so many rub recipes feature espresso powder. However, you can also get the same result by adding a shot of espresso to your favorite marinade.
Why? Remember the goal of marinades; they tenderize and flavor tougher cuts of meat. The espresso gives the marinade an extra shot of enyzmes and acids to help break down the connective tissue, while also boosting the flavor profile.
That said, remember that you shouldn't leave meat in a marinade for too long, coffee or not. Additionally, keep in mind what you're planning to season the meat with afterwards.
Soups and Stews
The same reasons espresso works in a marinade apply to soups and stews, as well. Any savory soup, especially ones featuring beef broth as a base, will do well with espresso. And strong, spicy stews like chili are enhanced with some java in the mix. Again, strong flavors are what's needed to stand up to the intense coffee notes you'll be adding; mom's chicken soup probably doesn't need that much of a kick.
---
Once you decide on the best espresso machine for your kitchen, set a Deal Alert and we'll let you know when it goes on sale. You can also find deals on all your kitchen essentials by bookmarking our Kitchenware Deals page.
Up Next:
Our editors strive to ensure that the information in this article is accurate as of the date published, but please keep in mind that offers can change. We encourage you to verify all terms and conditions of any product before you apply.