12 Helpful Alexa-Enabled Electronics You Probably Didn't Know About
Your luxury smart home on a budget awaits.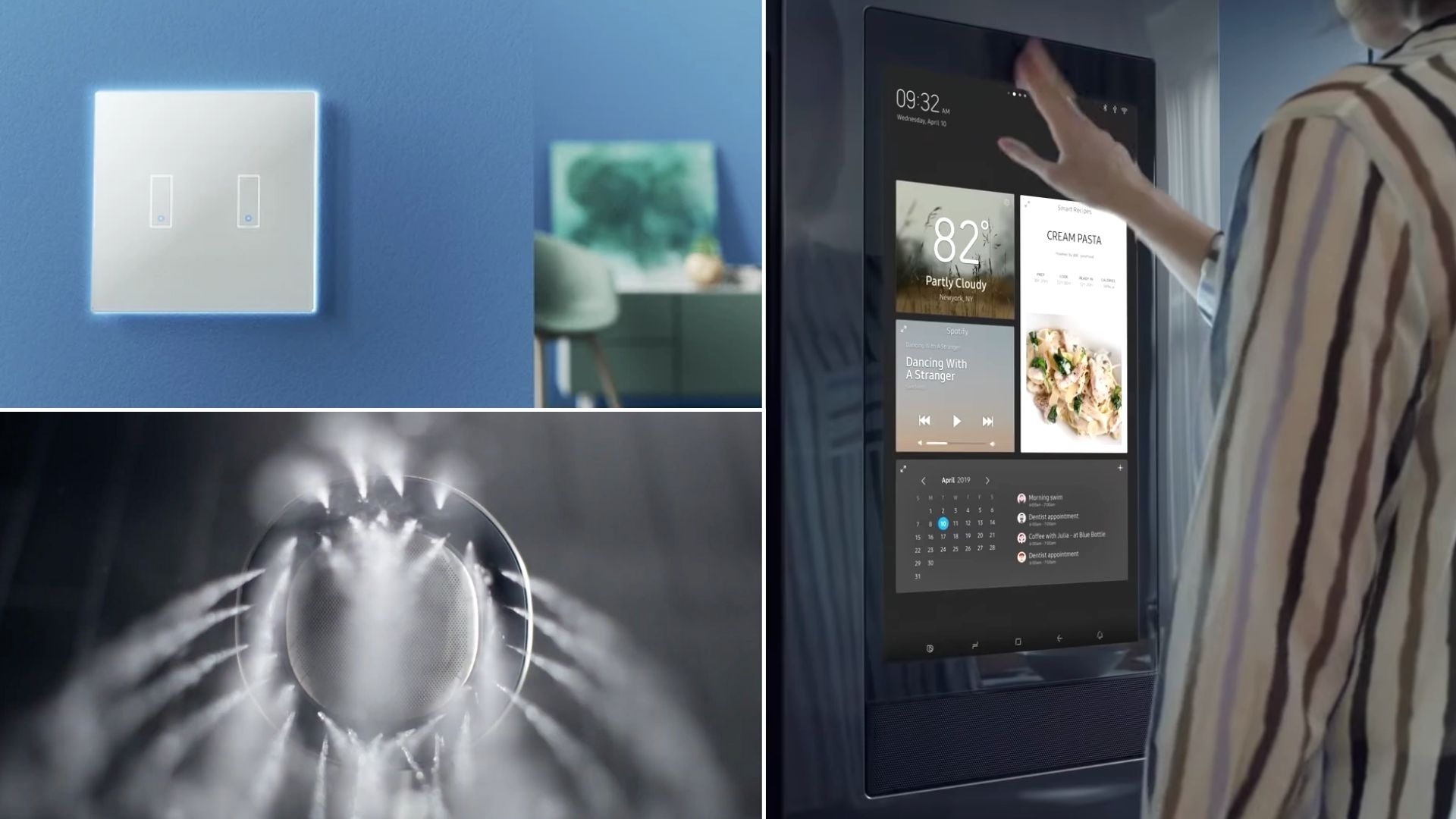 Creating a smart home experience may sound complicated, but it's actually not as difficult as it seems. An easy way to start is opting for electronics that are Alexa-enabled. Products that already have Amazon's virtual assistant built-in can instantly transform your home into a space you're able to control with the sound of your voice. 
Shop Smart Home Devices on Amazon
Beyond the standard smart speakers, like the Echo Dot 4th Gen Smart Speaker, there are a variety of Alexa-powered items you may not have ever encountered in real life. Whether it's a set of Alexa compatible smart light switches you'll never have to manually turn off again or smart plugs you can control remotely, these items are home improvement at their finest.
"Hey, Alexa," will be your home's go-to catchphrase to get things done. Check out these impressive devices and let the technology-filled online shopping spree begin.
1. iOTTY Smart Light Switch

Price: $78 
It's no secret that there are plenty of smart light switches to choose from, but the quality and design behind the iOTTY Smart Light Switch is more than worth it. Crafted with Italian ingenuity, it will work seamlessly in your home and can be installed in minutes. 
Shop Smart Light Switches at iOTTY
After setting it up in your living room, bathroom or where you forget to turn the light off most, just download the accompanying app and you can command the lights on or off with your voice. Out of hundreds of reviews, the switch received 5 out of 5 stars proving how good it really is. 
Slick Tip: For a limited time, there's a buy one, get one free deal going on with the iOTTY U1 light switches. Just add the promo code FREE at checkout to activate the BOGO offer, but note that it's only while supplies last. 
2. C by GE Smart Plug

Price: $14.99 
Have you ever gotten halfway to work and then realized you left something on in the house, like a hair straightener or a lamp? The Alexa-compatible C By GE Smart Plug can give you some peace of mind by turning off those electronics with the touch of a button.
This plug can be controlled from anywhere via an app, or voice-activated from inside your home. You can turn practically any electronic into a smart device with a smart plug. The C By GE Smart Plug only has one outlet so you'll need one for each electronic you want to control. Snag a few of these compact plugs and place them all throughout your home for the full smart home experience.
Read Next: Treat Your Pets to Quality Healthcare at Walmart PetRx
3. Samsung Smart Family Hub French Door Refrigerator

Sale Price: $2,518 | Regular Price: $2,799 
When was the last time you replaced your refrigerator? A standard fridge is supposed to last up to 14 years, so if it's time for an upgrade, consider the top-of-the-line Smart Family Hub French Door Refrigerator by Samsung. In addition to the modern design, the refrigerator door alone can take your kitchen to the next level.
Shop Smart Fridges at Home Depot
The Samsung Smart Family Hub, found on the door, can be connected to Alexa allowing you to stream music, place grocery orders, look up recipes and so much more. A fridge is no longer just for storing food, allow it to be the appliance that brings your household together and keeps everyone in sync. 
Slick Tip: Since you'll likely be using Amazon Music more with this purchase, subscribe and stream any track you want. You can even try the service free for 30 days and when the trial ends, it's only $9.99 per month for unlimited music streaming.
4. Insignia Fire TV Edition Smart TV

Sale Price: $349.99 | Regular Price: $429.99 
Speaking of streaming, kick your entertainment system up a notch, courtesy of the Insignia Fire TV Edition. Once you connect it with Alexa and the Insignia app, you can completely control it with your voice. 
When it comes to hands-free living, you'll be smitten with this budget-friendly smart TV. Don't worry, the low price tag doesn't compromise quality. The TV features 4K UHD resolution and also comes in a range of sizes reaching up to 65 inches. 
Slick Tip: For those who don't have Amazon Prime Video, accompany this smart TV with a complimentary 30-day trial which you can sign up for and cancel any time. Indulge yourself in the platform's library of popular TV shows, movies and documentaries.
More from Slickdeals: How to Get Free Trials from the 22 Best Video Streaming Services
5. iRobot Roomba 675 Robot Vacuum

Sale Price: $249.99 | Regular Price: $279.99 
After spending more time in your home due to the pandemic, you've probably noticed how easily it becomes dirty. Cleaning up can finally be a breeze – iRobot Roomba 675 Robot Vacuum can be paired with Alexa allowing the vacuum to learn your cleaning habits, offer a personalized cleaning schedule and best of all, it'll listen to you.
Through voice activation, you can tell it when to start or stop cleaning and more. In short, it's the magical assistant you've always wanted. 
6. Kohler Moxie Smart Shower Speaker

Sale Price: $159 | Regular Price: $308.30 
Do you listen to music in the shower? Don't damage your speaker or smartphone by blasting music in the steamy bathroom. The Moxie Smart Shower Speaker by Kohler delivers high-quality audio alongside a luxurious shower spray and yes, it has an Alexa built-in that you can control with your voice.
Shop Smart Shower Speakers at Kohler
You can also remove the portable speaker from the showerhead and take it anywhere with you making it a versatile two-in-one purchase. 
7. August Wi-Fi Smart Lock

Sale Price: $196.22 | Regular Price: $249.99 
Breathe easier knowing your home is safe and secure with the August Wi-Fi Smart Lock. Using voice command, you can make sure your door is always properly locked.
On the flip side, there's also a convenient auto-unlock function that automatically reverses the deadbolt when you're home. Get 22% off this Wi-Fi Smart Lock through Amazon, while supplies last. 
8. ecobee SmartThermostat with Voice Control

Price: $249
As we transition from winter to spring, setting the perfect temperature in your home is harder than you think. Let the award-winning SmartThermostat with Voice Control do all the hard work. On top of being able to control it with your voice, the Ecobee SmartThermostat gets the temperature just right.
Shop Smart Thermostats at Home Depot
The device can even adjust to reduced energy when you're not around ultimately saving you money on your electricity bill – take control of your thermostat today. 
9. Samsung SmartThings Cam

Sale Price: $19.99 | Regular Price: $89.99 
Set up the Samsung SmartThings Cam for the chance to know what's going on in your home at all times when you're away. It offers clear camera views and can tell between a person and object avoiding false alarms.
When you download the accompanying Alexa app, SmartThings can be easily controlled from wherever you are. Plus, there's no denying that significant price drop saving you $70. 
10. WOpet Smart Pet Camera: Dog Treat Dispenser

Sale Price: $109.99 (with coupon) | Regular Price: $129.99 
Make your life easier with the WOpet Smart Pet Camera: Dog Treat Dispenser. Without having to lift a finger, it can dispense your pet's food and treats whenever you tell it to thanks to Alexa. It also doubles as a camera allowing you to check on your furry friend when you're not home. 
Shop Smart Treat Dispensers on Amazon
Slick Tip: Make sure to click the coupon box underneath the dispenser's original price tag online to save an extra $20 at checkout.
11. Sharp Smart Carousel Countertop Microwave Oven

Price: $149.99 
The Sharp Smart Carousel Countertop Microwave is ready to introduce you to the wonderful world of hands-free heating. It's an affordable Alexa-enabled appliance that you can command to make popcorn, reheat leftovers, reheat frozen food and more.
Shop Smart Microwaves at Sharp
We guarantee you've never had a microwave quite like this. 
12. Breville CS20001 Joule Sous Vide

Regular Price: $199.95
Kick your homemade meals up a notch with the Breville CS20001 Joule Sous Vide which guarantees perfect dishes every time. Using the device with Alexa lets you take advantage of the special Joule Alexa skill.
Shop Smart Sous Vide Cookers on Amazon
You can say, "Alexa, ask Joule to cook a steak" and that's exactly what will happen. It's the best kitchen help ever. 
More from Slickdeals: 
Our editors strive to ensure that the information in this article is accurate as of the date published, but please keep in mind that offers can change. We encourage you to verify all terms and conditions of any product before you apply.