10 Delightfully Tiny Home Items that Will Make You Feel Like a Frugal Giant
And everything is on sale.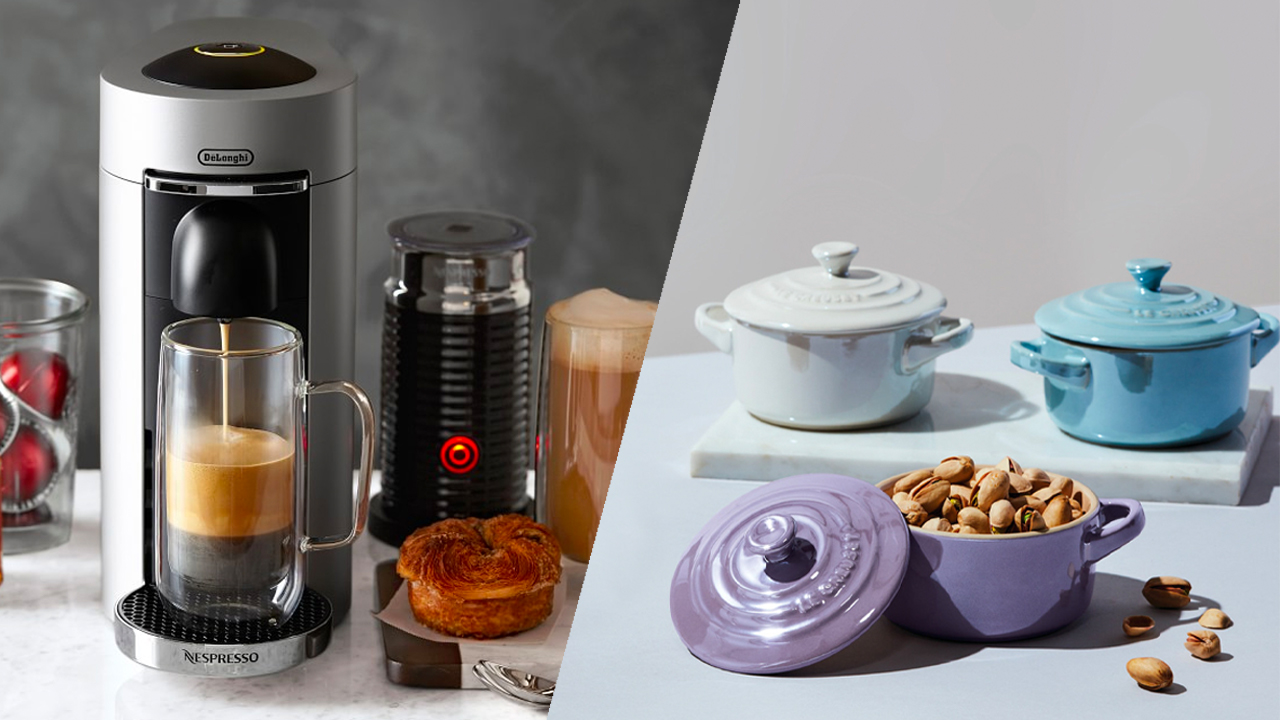 Shoutout to all the folks out there quarantining alone. Even before the coronavirus pandemic, one of the most frustrating things that people have pointed out to me is the fact that the average appliance is made for bigger households. If you're living by yourself, do you really need a multi-cup coffee maker?
Instead of living in excess and throwing out most of what you don't use, why not free up your cabinet space with some of the mini home items below? Everything on our list is on sale and you'll end up with major savings by making only what you need.
The Cutest Mini Home Items On Sale
1. Metallics Collection Mini Round Cocotte

Sale Price: $20.80| Regular Price: $26
Whether you're making roasted brussels sprouts or potatoes, portion out your food with these tiny cocottes from Le Creuset.
They're extremely thermal resistant, so once you fill them up, you can even pop them right into the oven. According to Slickdeals user baublitz, Le Creuset's site-wide sale with all regular priced items at 20% off is also still going strong.
2. Insignia Black Mini Fridge
Sale Price: Starting at $84.99| Regular Price: $119.99
While a standard sized refrigerator is still a must for a house of one, it can't hurt to have a smaller version in another room. It can be a home for your skincare products or a place to keep your favorite drinks. Plus, you can't go wrong with this chic design and an open box price starting at $84.99 from Best Buy.
Deal Tip: Best Buy often has mail-in rebate discounts, so make sure to keep an eye out for those details under the price tag online. For this fridge in particular, you can actually avail for a $50 rebate depending on where you live.
3. Jack Black The King of Jacks
Sale Price: $29| Regular Price: $79 in value
Speaking of skincare, a routine is always pricey. Unless you're loyal to one brand, consider mini travel-size items to save some cash. Don't go all out on big sizes you're not committed to, especially since beauty products have expiration dates.
Additionally, if you're in need of something to do, create your own beauty box of sample size items. User Rokket provided the tip that Sephora currently has plenty of marked down options with free shipping. Check it all out including this Jack Black skincare set on sale for $29 with an original retail value of $79 — what a deal.
4. 3-in-1 Quiet Table Air Conditioner

Sale Price: Starting at $28.99| Regular Price: $37
Save money on electricity by turning your heat or air conditioning off and simply using a mini desktop air conditioner that also has a humidifier and cooling fan setting.
Just stay cool by bringing it around your home with you. User Sharpfruit posted that it's selling right now for $28.99 at Walmart and there's no doubt it's worth the affordable price tag.
5. Proctor Silex 32″ Compact Grill
Sale Price: Starting at $16.85| Regular Price: $19.95
Since cookouts or large gatherings are temporarily a thing of the past, you definitely won't need a large grill. However, if you miss barbecued meat and charred veggies, grab this compact grill for under $18 at Walmart.
It's a solid purchase that won't break the bank — shoutout to user fdsaodil for starting a thread and giving the Slickdeals community a heads up.
6. Nespresso Deluxe Coffee Maker & Espresso Machine (Silver)
Sale Price: Starting at $124.95| Regular Price: $249.95
I can't tell you how much coffee I throw out a day. All this waste adds up, so it may be time to go down to a one cup maker. If you move forward with this decision, today is your lucky day as Williams Sonoma is offering a high-end Nespresso coffee and espresso machine in silver for 50% off making the price go down from $249.95 to $124.95.
You can't beat that, but don't hesitate as I can't imagine this bargain lasting much longer.
Deal Tip: You know the drill, make sure to sign up for the Williams Sonoma e-mail newsletter to receive an additional 15% off coupon that you can use towards your purchase.
7. Nostalgia Retro Hot Air Popcorn Maker

Sale Price: Starting at $26.59| Regular Price: $37.99
Make just the right amount of popcorn for a solo movie night with this retro popcorn maker that will be the new focal point of your kitchen. Don't forget to add coupon code FORYOU prior to checkout.
It will get you an extra 10% off dropping the price tag down to $26.99 as shown above and since your order reaches just above $25, you'll also get free shipping.
8. Le Creuset Tea for One (White)
Sale Price: Starting at $28.80| Regular Price: $36
Like coffee, I also throw out tons of tea. Stop wasting water and add Le Creuset's tea pot for one to your life. Thanks to the Williams Sonoma sale, it's been discounted to $28.80 and since it's in white, it works in any kitchen.
9. Magic Bullet Personal Blender
Sale Price: Starting at $29.99| Regular Price: $39.99
I'm a huge smoothie person and the second I switched to a personal blender, I started saving tons on frozen fruit and oat milk. Target has the Magic Bullet Personal Blender on clearance for $29.99, so start your new budget-friendly life asap.
10. Elite Cuisine 2-Slice Toaster

Sale Price: Starting at $16.99| Regular Price: $27.99
Forget large toaster ovens that take up lots of unnecessary counter space and can waste bread you don't eat. Opt for one like this two-slice toaster and don't look back.
To make things even better, it's on sale for under $20 and now until April 19th you can get an additional 20% off, making it $15.99.
---
READ NEXT:
Our editors strive to ensure that the information in this article is accurate as of the date published, but please keep in mind that offers can change. We encourage you to verify all terms and conditions of any product before you apply.