Enjoy 1959 Prices Across Los Angeles on Marvelous Mrs. Maisel Day
Prices are only valid on August 15th and only and in select locations.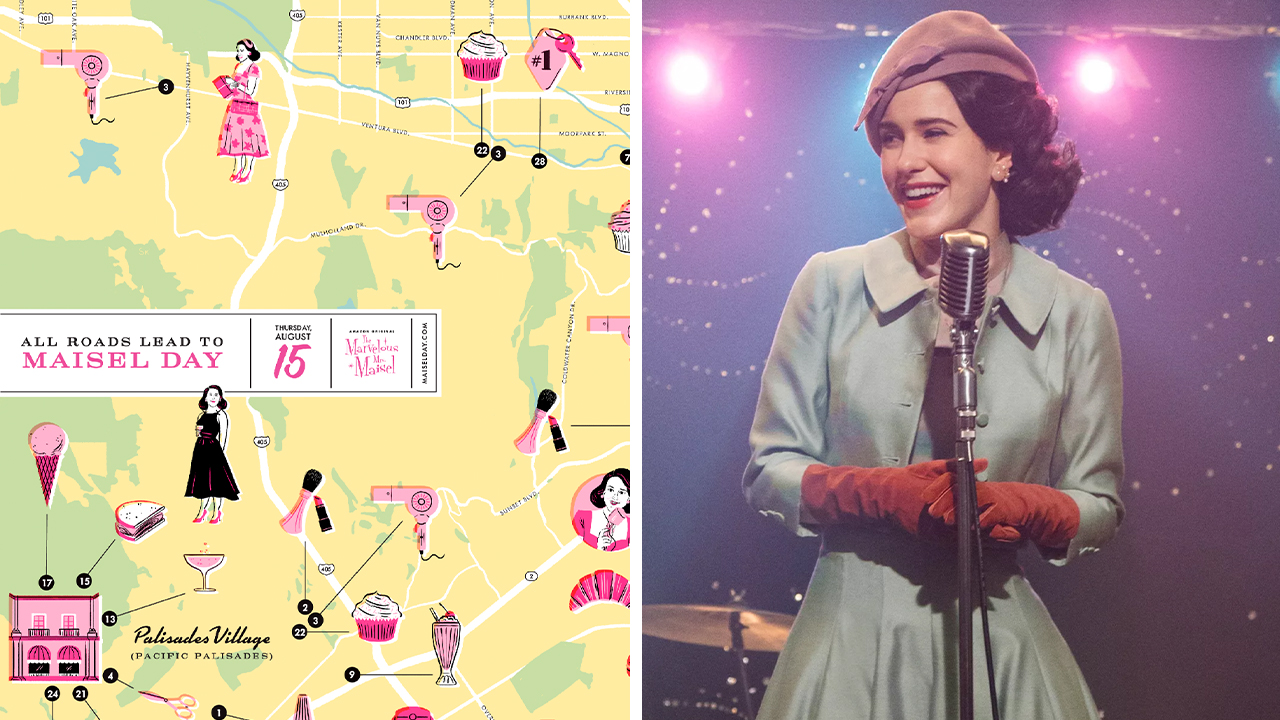 Treat yourself like it's 1959 on Thursday, August 15th for Amazon's Maisel Day.
Amazon is throwing an LA-based celebration in honor of the Prime Original Mrs. Maisel and its 20 Emmy nominations. Several iconic venues will have 1959 pricing for the day — think $3 haircuts and gas for $0.30 a gallon.
If you haven't seen the show yet, it's definitely worth a shot. Fast-paced and entertaining, you'll have no problem binge-watching the first two seasons during a free Amazon Prime Video trial.
And in case the 1959 scene isn't your jam, Amazon Prime Video has original series for all tastes, like Tom Clancy's Jack Ryan, Transparent or Mozart in the Jungle.
Sample of the Maisel Day Savings
$2.00 Mrs. Maisel-Inspired Look at select Los Angeles-area Drybar locations
$0.99 Corned Beef, Pastrami or Turkey Sandwich with Pickle at Art's Delicatessen & Restaurant in Studio City
$1.50 1-Pound Box of Chocolates at See's Candy in Pacific Palisades and The Grove
$40 One-Night Stay at The Hollywood Roosevelt Hotel
$0.30 For a Gallon of Gas (20 gallons max) at Chevron Santa Monica
See the full list of Mrs. Maisel Day deals
What Fellow Slickdeal Users Have to Say
Sounds like an amazing day, right? Well, some Slickdealers doubt if the 1959 prices will be worth the 2019 LA traffic and crowds.
Slickdealer itlynstalyn said, "If this is anything like the Stranger Things carnival on the Santa Monica Pier, this is going to be absolutely insane in terms of lines/wait times."
"For $70 in gasoline people will wait for hours. That's like $300 in anything else in the mind of an average American," added Slickdealer abramowicz.
And even if you get a great deal, don't expect parking costs to be cheap. "Parking will likely cost you more than whatever deal you are trying to get," Slickdealer poorgrad warns.
That said, if you're walking distance from any of the offers, you probably won't find any better deals this side of the 21st century.
Make the most of your Amazon Prime free trial by setting a Deal Alert for Amazon discounts.
And you can check out one of our most popular current Amazon Prime deals here:
Search URL: https://slickdeals.net/newsearch.php?firstonly=1&pp=20&sort=newest&rating=frontpage&filter%5B%5D=12029&forumid%5B%5D=9&hideexpired=1&r=1
---
Deal Value: Enjoy 1959 pricing to celebrate Mrs. Maisel Day
Timeframe: August 15th only
Things to Remember: Happening in select Los Angeles areas only
Thanks to FabulousOstrich1300 for making us wish it was 1959 again with this deal.
---
Any product or service prices/offers that appear in this article are accurate at time of publish, and are subject to change without notice. Please verify the actual selling price and offer details on the merchant's site before making a purchase.