8 Best and Cheapest Online Tax Services of 2020: Compare Free State and Federal Returns
We've compared the most popular platforms to find seven price points that fit into your budget.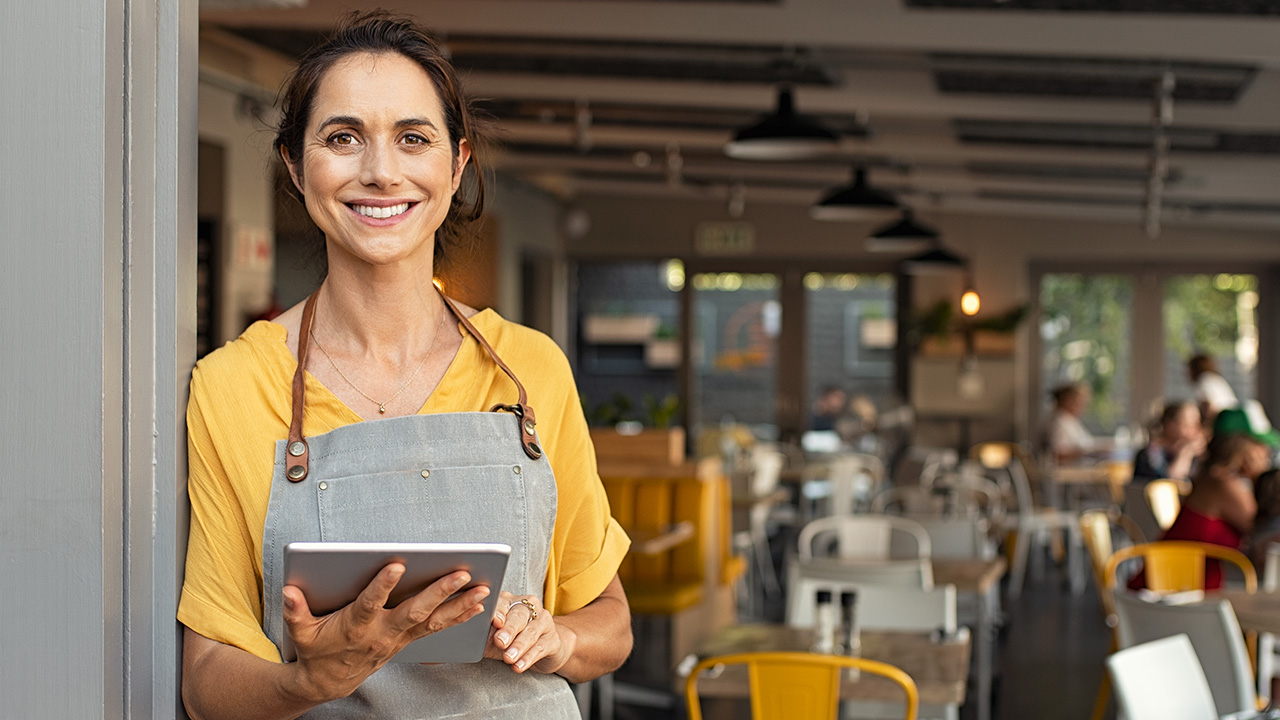 As someone who's been working since before I could drive, taxes have become a part of everyday life. I never felt comfortable filing my own taxes, though. It seemed intimidating. I didn't want to mess anything up and have the IRS come looking for me.
While my fears weren't very rational, many people share similar thoughts, which meant going through a local tax professional to file. According to a recent survey by the National Society of Accountants (NSA), the average cost of professional tax preparation is $261. This is around what most tax preparers charge you for a 1040 tax form with itemized deductions and a state tax return.
>>EARN: Here's the Only Time You Should Pay Your Taxes With a Credit Card
Today, with online tax preparation software more popular than ever, it's not a huge ordeal to tackle your own taxes. Based on my years of working with tax software, below are the best online tax services I've come across.
Note: Many of the best online tax services are running discounts and sales in the months leading up to the extended tax filing deadline: July 15, 2020. Click through the links to see special promotional pricing.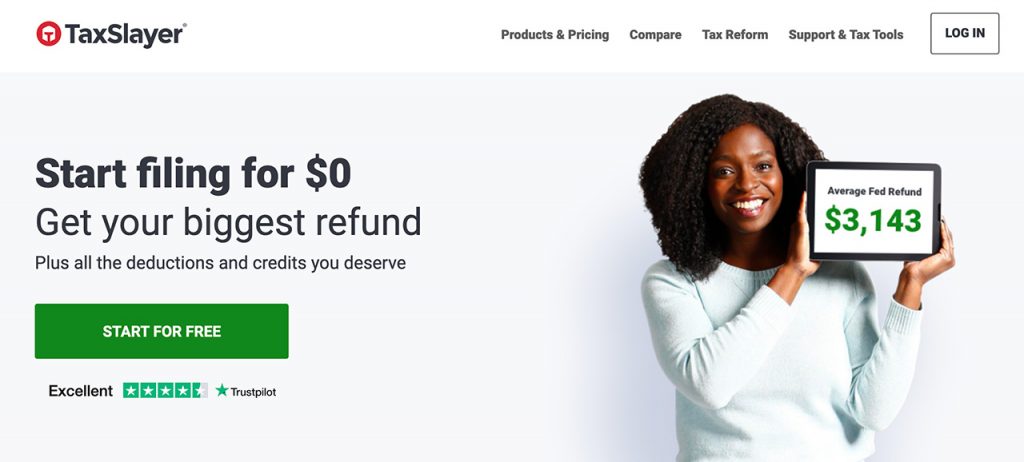 Pricing ($0-$47):
Supported tax forms: All tax situations
Free features: Free federal and state filing, active military federal filing, free tax tools
For those looking for value, top to bottom, TaxSlayer is our choice. It offers an easy-to-use interface that makes filing taxes online a breeze.
TaxSlayer has a Simply Free version that handles most simple tax situations and includes State filing too. It also offers a Classic version, which adds access to credit, deductions and all income types for $17.
At $37, TaxSlayer Premium takes it a step further, with live chat support and priority phone and email support as well. For active members of the military, TaxSlayer allows you to file federal returns for free. This includes all tax situations and forms.
Customers can prepare and file online or through TaxSlayer's sleek mobile app. Download the app to set up tax return status notifications and other updates.
TaxSlayer guarantees you'll get the maximum return possible, as well as 100% accuracy. You will be hard-pressed to find a better value than what's offered by TaxSlayer.
2. Best Free Option: FreeTaxUSA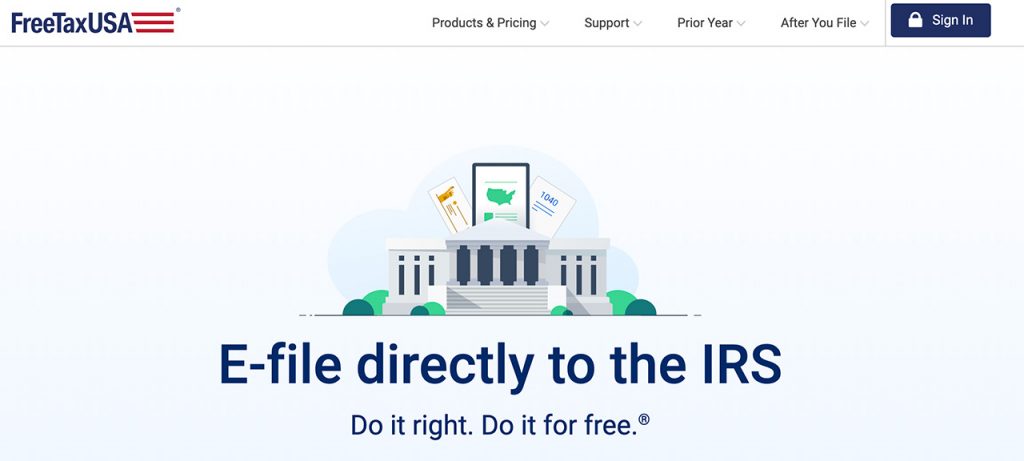 Pricing ($0-$14.99):
Supported tax forms: All common tax forms and many less-used tax forms
Free option: Free federal filing
FreeTaxUSA is an online tax preparation software for federal and state returns. Federal returns are free to file, and all tax situations are covered, including filing jointly, homeownership, itemized deductions, dependents, investments, and more. Self-employed tax filings are free as well.
This free online tax service also allows you to import last year's return from another service, like TurboTax, H&R Block, or TaxAct. FreeTaxUSA guarantees to get you the maximum refund with 100% accuracy.
Customers receive support in the form of a searchable help section and email support. If you opt for the Deluxe Edition, you'll receive chat support, as well as unlimited amended returns. The real draw is access to Audit Assist, which supplies support from audit specialists if you find yourself subject to an IRS audit.
Note that Audit Assist doesn't cover state returns. Audit specialists don't represent you. They only provide information to help you through your audit. Still, that's not bad for a $6.99 fee. You can find more extensive audit support from other software providers, but you'll also pay a lot more for that service.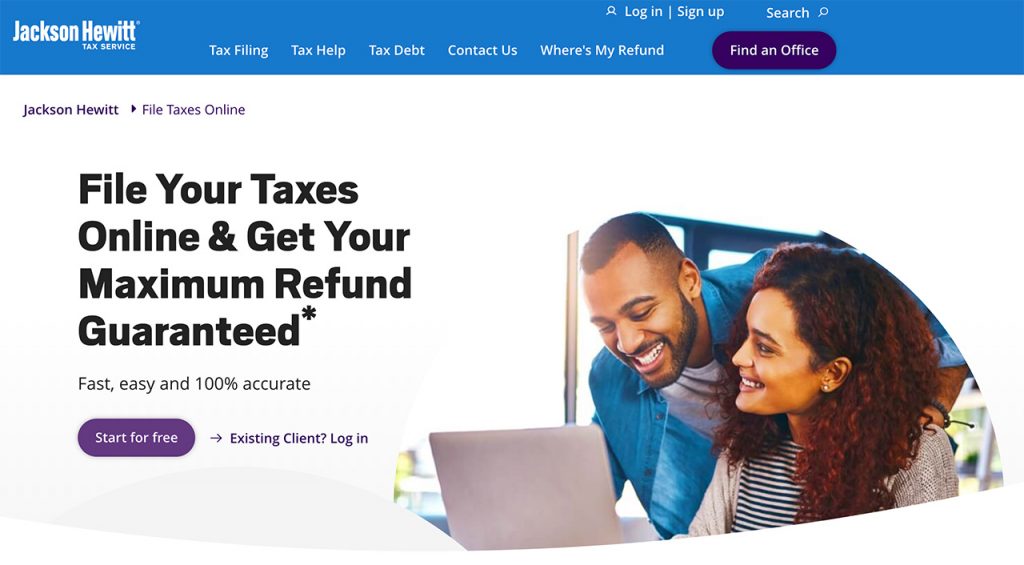 Pricing ($0-$49.99):
Supported tax forms: All tax situations
Free features: Free simple returns with no dependents
One of the oldest tax services in America, Jackson Hewitt doesn't just offer help at office locations and inside Walmart stores. It also provides online filing help.
The free version is only for very simple tax returns for people with under $100,000 income and who are taking the standard deduction. It doesn't allow for dependents either. If that describes you, though, this product delivers the goods. The free version comes with live chat support access, refund and accuracy guarantees and storage and access to your returns. Jackson Hewitt makes it easy to download your W-2. The step-by-step process keeps it simple, perfect for those just starting to DIY taxes online.
For those with more complicated tax situations, Jackson Hewitt does have Deluxe and Premier versions, although you may find other online tax software that's more robust at similar pricing.
4. Best for Complex Returns: TurboTax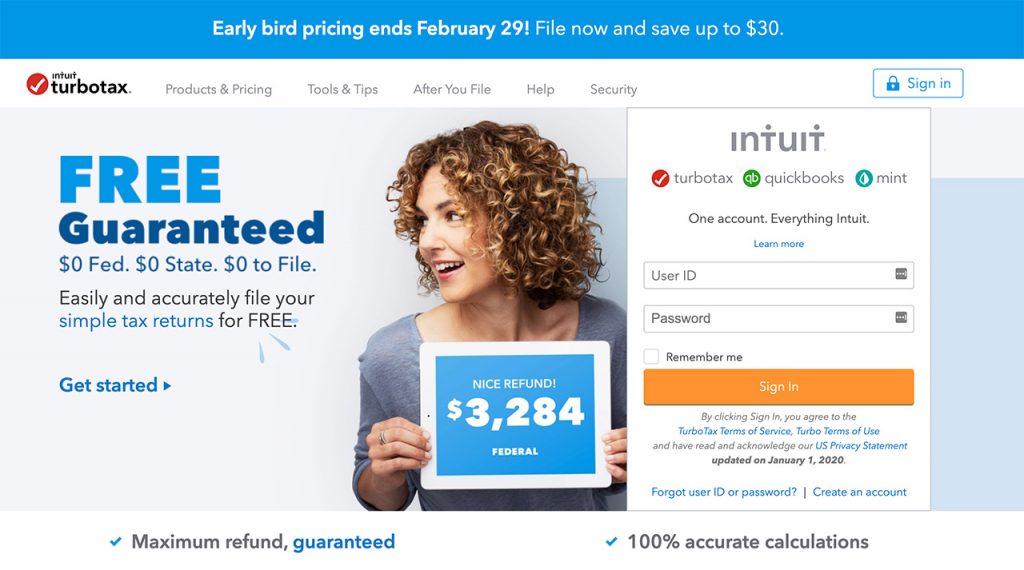 Pricing ($0-$120):
Supported tax forms: All tax situations
Free features: Free federal and state filing, free tax tools
TurboTax is one of the most recognizable online software companies in America. They've been providing service online for a long time, and it shows.
Filing your taxes is simple with TurboTax, which allows you to snap a photo of your W-2 using a mobile app. The Free Edition includes free federal and state filing.
Where TurboTax shines is with customers with more complex tax returns. The Deluxe Edition helps maximize tax deductions and credits, while the Premier Edition includes investments and rental properties. Cryptocurrency and robo-investing are even covered with its Premier offering. Plus, you can easily import your investment income automatically with TurboTax.
Both premium versions and the Self-Employed version come with on-demand one-on-one support from tax specialists. Customers also get personalized tax tips based on how they answer questions through the filing process.
Before you file, TurboTax always runs a comprehensive review of your return, ensuring nothing gets missed. For complete and quality service, TurboTax has you covered.
5. Best for Experienced Tax Filers: Liberty Tax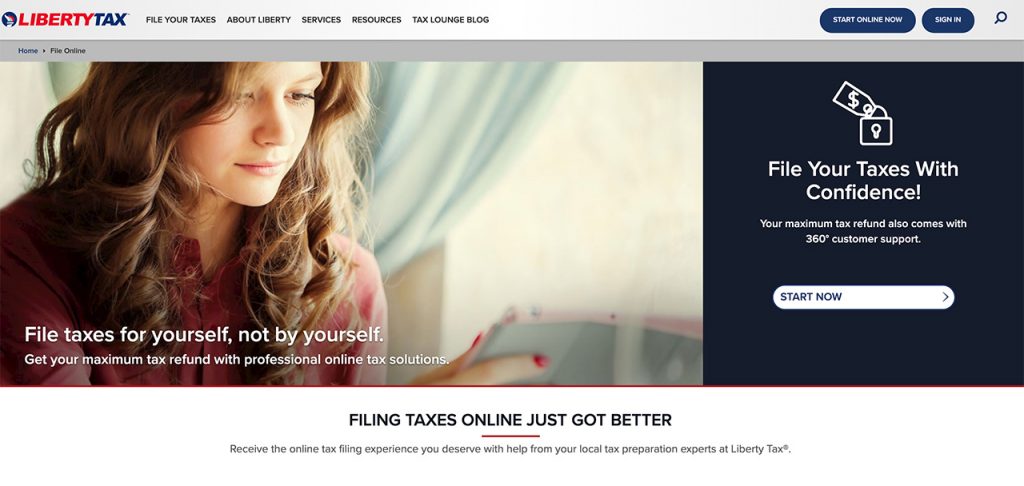 Pricing ($44.95-$89.95):
Supported tax forms: Form 1040, 4562, 8829, 4136, 4684, 4835, 8839, 8853, Schedule A, B, C, E, F, K-1
Free features: Import of past tax returns from competitors, free double-check service (in person)
Liberty Tax is another tax preparation service known for its in-person tax help, with over 3,000 locations across the U.S. They also offer online tax software for customers who don't want to DIY their taxes from home.
Liberty Tax has three online offerings— Basic, Deluxe and Premium. With a price point of $44.95, you can find much better bargains than Liberty's Basic version for simple returns through other companies on this list. If you're an experienced tax filer, though, Liberty Tax is a solid choice.
There's not a lot of hand-holding with Liberty or extra support features you may find with other top online tax software. If you know what you're doing, you won't miss those features. Plus, you always have the option to hand off your tax return to your local Liberty Tax branch if you get in a bind. Liberty's website if full of free resources, like withholding and mileage calculators, income tax tables and other helpful tools.
6. Best Accuracy Guarantee: TaxAct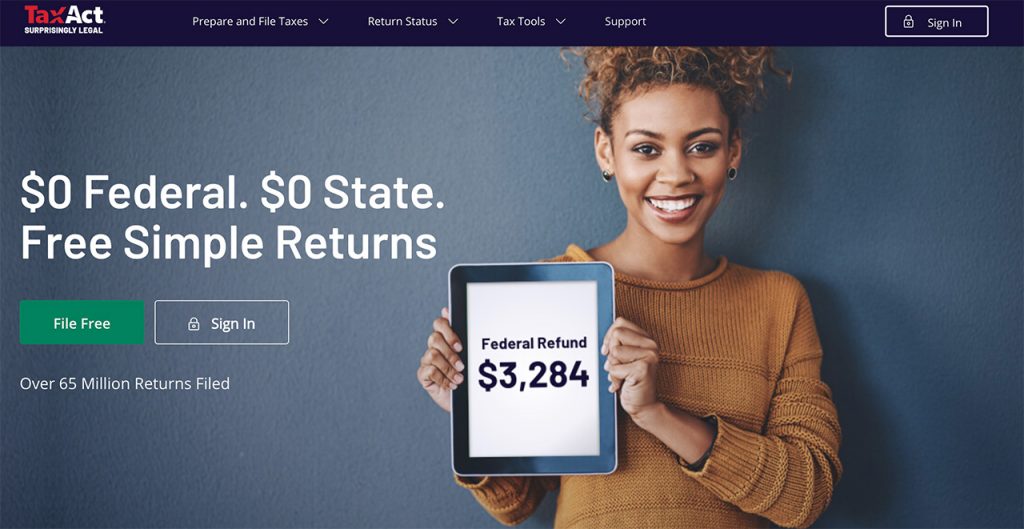 Pricing ($0-$85):
Supported tax forms: All tax situations
Free features: Free federal and state filing, free tax tools
TaxAct has you covered, no matter your tax situation. There's a free version that includes simple returns and premium offerings for those with more complex tax situations, from credits and deductions to investments and rental properties. There's even a self-employed version for freelancers and independent contractors.
You can't talk about TaxAct without mentioning its $100K Accuracy Guarantee. Most online tax software services have guarantees, but not to this extent. TaxAct guarantees their software is 100% accurate and will calculate the maximum possible refund for customers. If there's an error in the tax software that causes you to receive a smaller refund or larger tax liability than you get from another tax service, TaxAct will pay you the difference, up to $100,000. You'll also receive any fees paid to TaxAct for filing services.
If you are audited by the IRS and end up paying penalties or interest because of a software error, TaxAct reimburses any penalties and most audit costs, up to $100,000, plus TaxAct software fees. Certain limitations apply, but it's great to know that TaxAct stands behind their product like this. You can file taxes with confidence, knowing that TaxAct has your back.
Read our in-depth TaxAct review.
7. Best for Live Support: H&R Block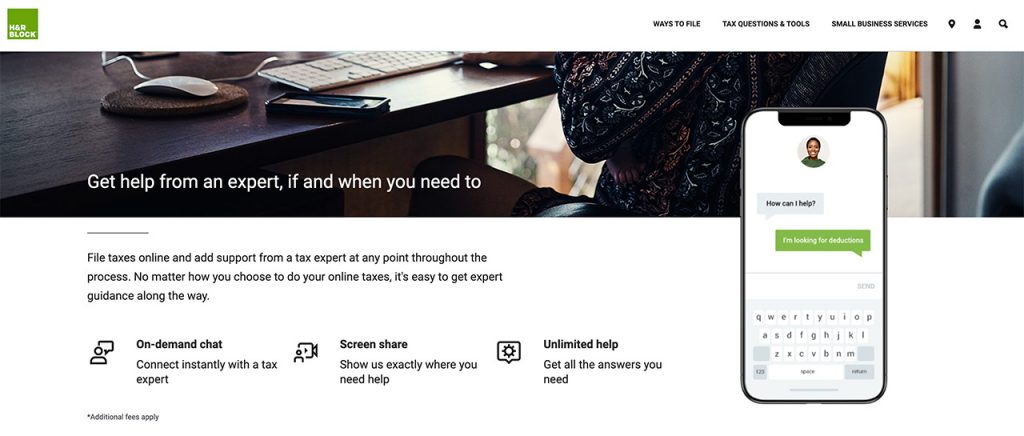 Pricing ($0-$169.99):
Supported tax forms: All tax situations
Free features: Free federal and state filing, free tax tools
H&R Block is one of the oldest tax preparation services, founded in 1955. Over the past 60+ years, it's developed into a world leader in the industry.
Besides visiting a local H&R Block tax professional, you can also file your tax return online with H&R Block. With several different options and price points, H&R Block has something for every person, no matter their tax situation.
On top of free and Premium tax filing services, customers can receive online support from a tax specialist through Online Assist. This could be help from a tax expert, enrolled agent, or a CPA. Online Assist is available as an add-on to every filing option. There is a fee for adding this extra support, but it's perfect for people who need extra help as they work through their tax return.
Online Assist provides unlimited expert one-on-one help, simplifying the process. You can confidently file your tax return, knowing everything is accurate, and every possible deduction was included.
8. Honorable Mention: e-file.com

Pricing ($0-34.49$):
Supported tax forms: All tax situations
Free features: Simple federal returns and expert support via email
If you're one of millions of Americans who will file a simple return this year, then you're better off using another service that allows truly free filing. Online tax preparers like FreeTaxUSA or H&R Block's Free Edition allow people with dependents, HSA and student loan interest to file both federal and state for free. While e-file.com does offer free federal filing, its so-called Free edition charges $21 state tax returns.
However, e-file.com is worth considering if you're shopping around for an online tax preparer that offers lower cost deluxe and premium features for more complicated returns.
Bottom Line: Which Tax Preparation Service Is Right for You?
With the help of online tax preparation services, like those mentioned above, you can file your own taxes like a pro. Many services allow you free account access to start, only paying once you actually file. Why not take advantage of the convenience and support found with online tax software? You'll gain a better understanding of the entire tax filing process and save money at the same time.
>>NEXT: Best Online Savings Accounts of 2020: Compare Current APY, Features and Benefits
We want to make sure you get the best deal! Our editors strive to ensure that the information in this article is accurate as of the date published, but please keep in mind that offers can change. We encourage you to verify all terms and conditions of any financial product before you apply. Also, please remember this content wasn't provided, reviewed or endorsed by any company mentioned in this article.
---
Any product or service prices/offers that appear in this article are accurate at time of publish, and are subject to change without notice. Please verify the actual selling price and offer details on the merchant's site before making a purchase.