Interstates and 808s: Best Deals on Outdoor Speakers for Your Travels
Treat the natural world to the dulcet tones of your super-powered outdoor speaker system.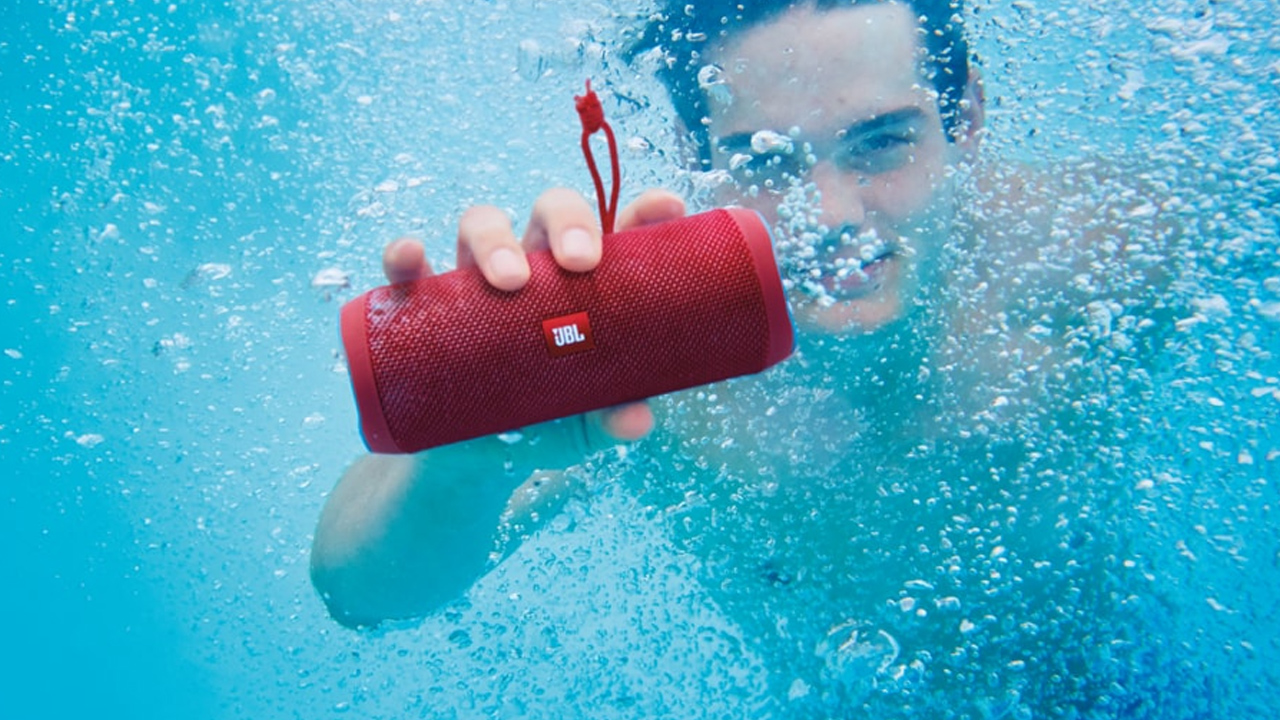 There's nothing more soothing than the ambient hum of the wild, wonderful outdoors. How serene it is to be able to kick back and relax in the remote wilderness while bumping 100 watts of subsonic bass. Vacation: it just feels so good to get away.
For those of us who need our personal soundtrack playing at every moment, there is a harrowing selection of outdoor speakers to choose from. It can be difficult to weed out which ones can tolerate water, sand, kids and life. But don't worry, we've got you covered.
Best Deals on Outdoor Speakers
1. OontZ Angle 3 (3rd Gen) – Bluetooth Portable Speaker for $25.99

The OontZ Angle 3 has a simplistic and oddly satisfying triangle shape to project the precision dual stereo drivers upwards and the passive bass radiator downwards. If that doesn't mean anything to you, it offers 14 hours of playtime, has a 100-foot Bluetooth range and is splash resistant, making it a promising beach speaker option.
As far as inexpensive portable speakers go, Slickdealers on the whole think that it's a good deal for the price, even if it's nothing fancy. User drknkboot once left it in the rain and buried it in the sand, yet the Oontz 3 still lives on. The current sale is pretty good, but Amazon had it for $20 last year.
2. JBL Flip 4 Waterproof Portable Bluetooth Speaker for $89.95

The JBL Flip 4 is one of the best options available based on the matrix of "good sound" versus "reasonable price" versus "high-quality construction." It is waterproof, dustproof and seemingly difficult to destroy. It has good projection distance and a notable capacity for bass. The JBL Flip 4 can link up to over 100 other JBL speakers in party mode to ensure that your entire campsite, beachfront or hiking trail is popping.
One thing to watch out for is the occasional dud speaker. Most Slickdealers really enjoyed this purchase, including wernerjm15, but it took a lot of customer service and experimenting to get a speaker that worked correctly.
We've seen this speaker crop up several times over the last year, usually in the form of a special offer or a refurbished product. When that happens, its bottom price is usually around $48, so keep an eye out for a good deal.
3. AUKEY Portable Bluetooth Speaker with Fabric Front, Hanging Strap, and 3.5mm for $20.99, Down from $49.99

The Aukey Portable Bluetooth speaker is compact and has both Bluetooth and 3.5mm audio jack input options. With six hours of battery life and a full five watts of sound, it's pretty strong for a portable speaker but not the loudest.
The silicone hanging strap would work nicely on a canopy tent frame or clipped to a hiking bag. Be careful, though. This one is not waterproof.
4. AOMAIS Sport II+ Bluetooth Speakers, Portable Outdoor Wireless Speaker for $34.98, Down from $39.98

This boombox style speaker has 30 hours of playtime, 20 watts of stereo sound and a 100-foot Bluetooth range. It is certified "life proof" with IPX7 waterproof protection, so you can take it on a boat or on the beach without worry. You can connect it to another AOMAIS Sport II+ for 40 watts of surround sound.
We saw this for $31.99 about a year ago, but for now you can use the coupon below the price before check out and save $5. Slickdealer toneii says it is their favorite portable speaker, and that it was as low as $21 to $25 the year before.
5. Outdoor Tech Turtle Shell 3.0 for $69.93

This funky little polygon doesn't look like most of the other portable speakers on the market. The Outdoor Tech Turtle Shell 3.0 is waterproof, shockproof and dustproof, so you can take it virtually anywhere. On top of that, it doubles as a power bank.
It has a 20-hour battery life and the ability to pair multiple Turtle Shells together, but the reviews on the REI site suggest that the pairing capability might be touch and go. If you want this, you should act fast because it's on clearance. In an effort to clear them all out, REI will ship this item for free.
6. Speaqua Cruiser for $24.99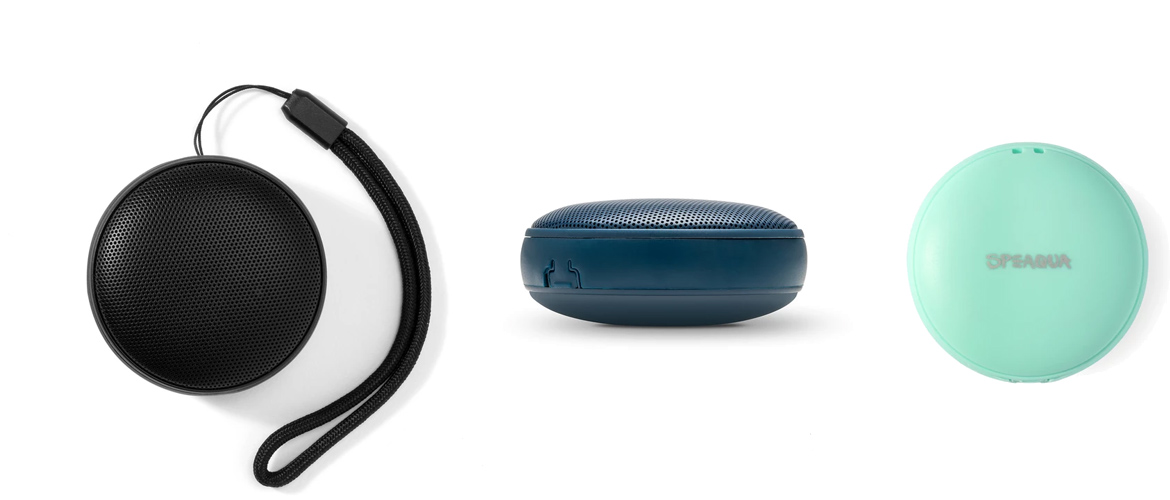 At just two and a half inches in diameter, the Speaqua Cruiser is one of the most portable speakers out there. It can connect to Bluetooth from 30 feet away, with five hours of playtime and three watts of sound.
The sound quality is middling, but those who have bought it are shocked at its volume capabilities. It is advertised as sand and dustproof, but there's no guarantee that it's waterproof, so maybe keep this one on land.
7. ECOXGEAR Ecotrek for $149.99, Down from $229.99

If you're more concerned about rugged than you are about portable, the ECOXGEAR Ecotrek might be the right choice for you. It has a carrying handle, but it does weigh nearly 20 pounds. According to the description, you can throw it into the rain, dirt, snow, pool or ocean — it will not only survive, but it will float.
This one maxes out at 100 watts, louder than most of the competition, and has a battery life of 10 hours on full volume and up to 50 on a lower setting. You'll also get a three-year parts and labor warranty, so don't be afraid to get wild with it.
8. Polk Audio Atrium 8 SDI Flagship Outdoor Speaker (White) for $156.42, Down from $249.95

The Polk Audio Atrium 8 is one of the higher-end models featured and requires AC power, so it's better suited for RVs, patios and other domestic outdoor, kickback settings. Boasting 125 watts and the option to double up speakers for stereo sound, this is a pretty good deal for "the speaker for all seasons," purported to hold up against storms, heat and cold.
It was $142.94 a couple of months ago, and most Slickdealers who purchased it were happy about their Polk Audio speakers. TheDogsCar pointed out that it's difficult to create perfect stereo sound in a wide-open space, so having a single speaker that claims to be "stereo sound" is a smart idea.
9. Limited Edition Anker Soundcore with Travel Case for $59.99, Down from $69.99

Anker is one of the best known portable speaker brands on the market, with its reliably decent sound and construction. The Soundcore is known for its rainbow party light, and this limited edition version is no exception.
Though it is rated IPX7 waterproof, the protective carrying case is a nice touch. The Soundcores can pair with one another for surround sound, and this particular model has good bass for the price point. Select the coupon below the price to take $10 off the list price, taking it down to $59.99.
10. AOMAIS Ball Bluetooth Speakers for $32.99

This little pancake of a speaker contains two separate speakers that produce 15 watts of stereo sound. Weighing only half of a pound and attached to a carabiner, this speaker is great for backpackers and those who need to travel light. It is rated IPX7 waterproof and comes with a 12-month warranty if that doesn't work out.
It dropped to a staggering $9 earlier this year as well as two years ago, so keep an eye out for another price drop. While you can't expect much from such a tiny speaker, Yadoo and Jd95114n swear that they are priced well for the surprisingly good sound quality.
Don't see your favorite brand of outdoor speaker here, or can't currently afford the sound system of your dreams? We've got you covered. Set up a Deal Alert, and we'll let you know when it goes on sale within your price range.
---
ncKxk_Yhu_A
Our editors strive to ensure that the information in this article is accurate as of the date published, but please keep in mind that offers can change. We encourage you to verify all terms and conditions of any product before you apply.