The Best External Hard Drives for Your Xbox or PlayStation
With digital titles and DLC becoming the standard in today's games, an external HDD is a must.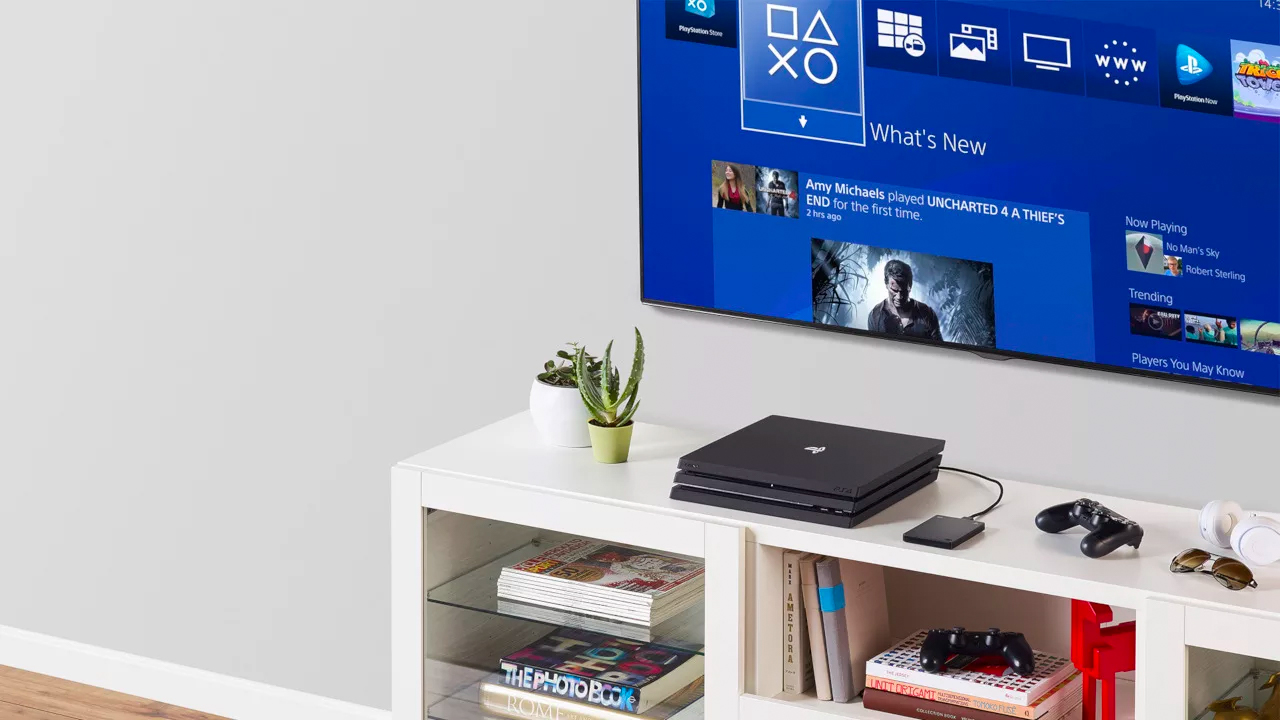 While it is terribly satisfying to own an entire bookshelf full of PS4 or Xbox games, it may prevent you from having space for luxuries like a mini-fridge or a life-size statue of Iron Man. Plus, with the Xbox Series X and PlayStation 5 looming on the horizon, digital games are more important now than ever before. How will you make use of the new Xbox's ability to suspend multiple games at once if you have to get up and swap out the disc every time you want to play something new?
Downloadable titles definitely make life easier, but you may find the internal storage of your console just isn't big enough to satiate all your gaming desires. For example, the critically acclaimed Red Dead Redemption 2 weighs in at a hefty 105GB, so it takes up a tenth of a 1TB console on its own. The solution? Get an external hard drive.
Luckily, the days when you needed to purchase an overpriced, first-party hard drive are well in the past (remember when you thought it was fine to pay $25+ for an 8MB memory card?) Now, both PlayStation and Microsoft let you choose from a wide variety of third-party hard drives, so long as they meet a few basic specifications. To help you with your search for extra space, we rounded up a list of our favorite options.
Console SSD Requirements
While you do have a lot of options, there are a few rules your new external hard drive must adhere to if you're going to use it with a PS4 or Xbox One:
The SSD Must be USB 3.0 compatible.
Storage must be greater than 256GB but cannot exceed 8TB (although Xbox One users can connect two 8TB drives simultaneously).
Both consoles will reformat the drives, so they must be able to delete previous data and limit compatibility to either PS4 or Xbox One.
Since hard drives come in all shapes and sizes, there are also many factors to consider while browsing for the right external. But first and foremost, you must decide what your budget is. Though these storage devices continue to get cheaper, some of the largest drives can chunk your wallet pretty heavily.
The good news here is the larger externals — very much like real estate — usually have the best price to space ratio. Other aspects to also contemplate include reliability, portability, overall craftsmanship and length of warranty.
Brands like Western Digital and Toshiba have some of the best track records for hard drives but their reputations do come at a price. However, thanks to some healthy competition, companies like Seagate and ADATA offer well-made options to fit a tighter budget.
External HDDs are pretty similar for the most part but there are still tons of choices to consider. Finding one for your console can be pretty time-consuming and, a busy holiday schedule doesn't make that task any easier. If you're in the market for a new console hard drive, here are a few of the best options available now.
Best External Hard Drives for PS4 and Xbox One
Western Digital 2TB Gaming Drive (PS4)

Sale Price: $78.99 | Regular Price: $89.99
Specs:
Weight: 4.64 ounces
Dimensions: 4.33 x 0.5 x 4.33 in
USB 3.0 Cable Not Included
3-Year Manufacturer's Limited Warranty
Western Digital is one of the top players in the data storage realm. The biggest fear of owning an external hard drive is the possibility of it eventually bricking on you. But the generous three-year warranty is a mind soothe so you can just focus on enjoying your games. This sale price is for the hard drive alone but you can pick up a 3-FT AmazonBasic USB 3.0 cable for just $5.99 extra.
Western Digital Elements 8TB External Hard Drive (PS4 and Xbox One)

Sale Price: $129.99 | Regular Price: $179.99
Specs:
Weight: 2.09 lbs
Dimensions: 5.3 x 1.9 x 6.5 inches
USB 3.0 Cable and Power Supply Included
2-Year Manufacturer's Limited Warranty
If you are an avid collector of video games, then opting for the biggest capacity your console can handle is arguably the most cost-effective choice. Though this external sacrifices portability, it more than makes up for it with the price. This is especially the case if you choose to go with the current 15% back promotion for purchasing with an Amazon credit card.
Seagate Portable 4TB External Hard Drive (PS4 and Xbox One)

Sale Price: $89.99 | Regular Price: $94.99
Specs:
Weight: 0.57 lb
Dimensions: 4.6 x 3.15 x 0.79 in
USB 3.0 Cable Included
1-Year Manufacturer's Limited Warranty
Seagate is one of Western Digital's biggest competitors and often presents a pretty good bang for your buck. For even more savings, you can get 15% back if you choose to purchase this HDD with an Amazon credit card.
Toshiba Canvio Basic 4TB Portable External Hard Drive (PS4 and Xbox One)

Sale Price: $86.00 | Regular Price: $94.99
Specs:
Weight: 7.64 ounces
Dimensions: 4.3 x 3.1 x 0.77 in
USB 3.0 Cable Not Included
1-Year Manufacturer's Limited Warranty
Toshiba's HDDs are among the most recommended hard drives out there with nearly 7,000 ratings on Amazon alone. Though this external doesn't include a cable, you can easily pick one up for a few dollars. We recommend this three-foot Amazon Basics USB 3.0 Cable, which retails for $5.99.
ADATA HD710 Pro 2TB Waterproof/Shockproof/Dustproof External Hard Drive (PS4 and Xbox One)

Sale Price: $69.99 | Reg. Price: $79.99
Specs:
Weight: 0.6 lb
Dimensions: 3.8 x 1.01 x 5.2 in
USB 3.0 Cable Included
3-Year Manufacturer's Limited Warranty
If you like bringing your console to all the gatherings, then this is the external hard drive for you. Unlike the aforementioned choices, ADATA's HDD has undergone rigorous testing to withstand all the conditions of land and sea. And for more peace of mind, the product is covered by a three-year warranty.
With 2019 coming to a close, year-end sales are popping up left and right. If there is an external hard drive that you have your sights on, set up a Deal Alert to get notified of its next discount.
Other Slickdeals Comparison Guides
Consider this hot SSD deal from our Frontpage:
Search URL: https://slickdeals.net/newsearch.php?firstonly=1&pp=20&sort=newest&rating=frontpage&filter%5B%5D=87951&forumid%5B%5D=9&hideexpired=1&r=1
Our editors strive to ensure that the information in this article is accurate as of the date published, but please keep in mind that offers can change. We encourage you to verify all terms and conditions of any product before you apply.