Stop Overpaying for Shows and Get on These Streaming Bundles
Save money by grouping platforms together.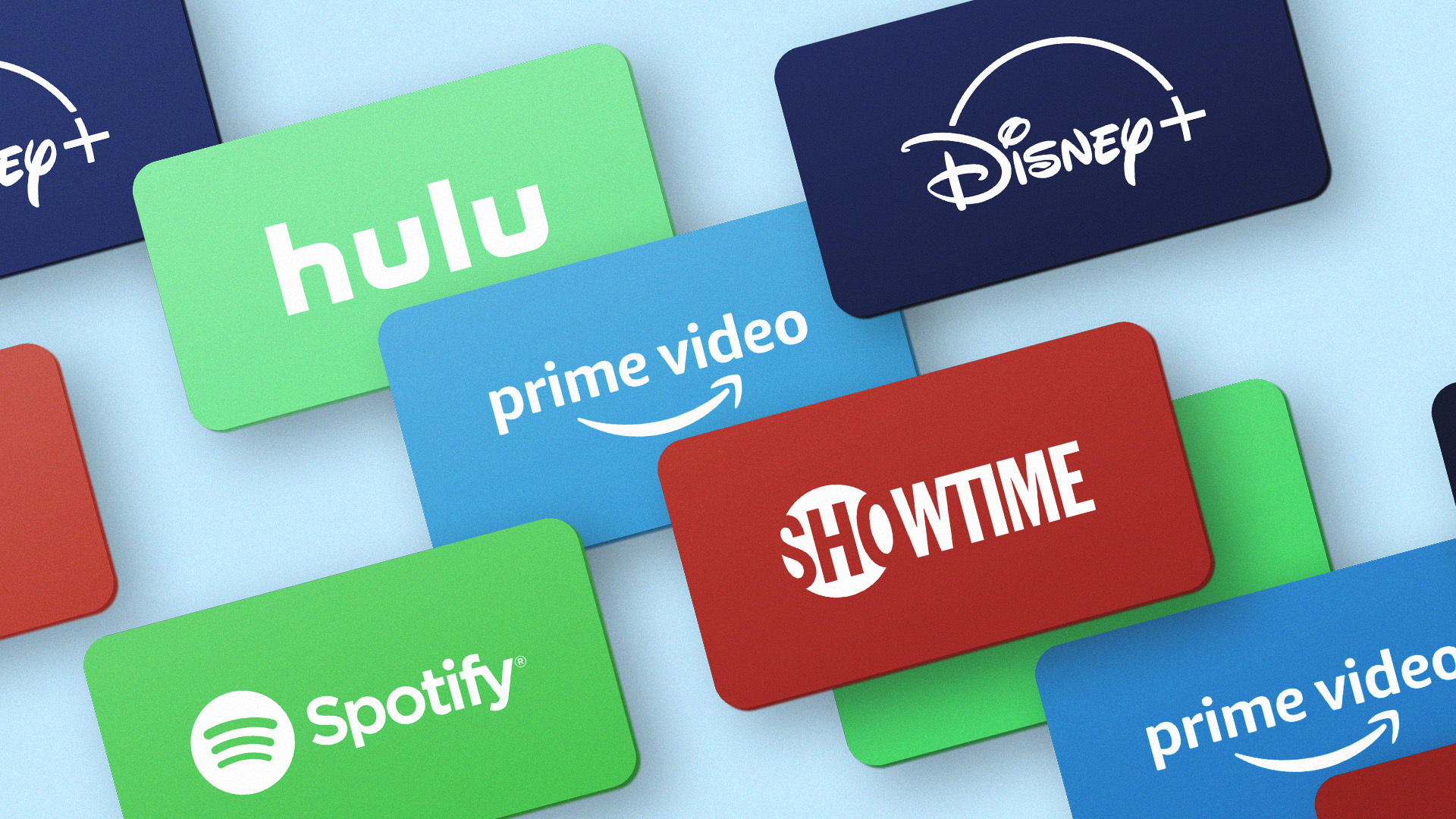 If you love sports, but also binge watch The Handmaid's Tale and The Mandalorian, you've definitely been paying a significant amount each month in subscription fees. And that doesn't even include Netflix. Sadly, you can't just flip on the TV these days and have all your favorite shows in one place.
Depending on your go-to platforms, however, you can save a bit of money by opting for various streaming bundle deals. Following the example above, instead of paying separately for ESPN, Hulu and Disney+, the platforms teamed up to provide customers access to them all for one low monthly fee.
Not only will one payment lower the overall cost, it's also way more convenient to just have a single bill. If you cut the cable cord only to find yourself juggling a bunch of separate streaming services, now is the time to see what bundle fits your personal programming schedule, and let the savings flow.
The Best Streaming Bundle Deals
Apple TV+, CBS All Access, SHOWTIME

Bundle Price: $9.99/month | Separate Services: Apple TV+: $4.99/month, CBS All Access: Starting at $5.99/month, SHOWTIME: $10.99/month
As you can see, this bundle is a steal. Once you have an Apple TV+ subscription — which could come at no extra cost if you buy certain Apple products — you'll also get CBS All Access and SHOWTIME for $9.99 a month via the Apple TV+ app.
This subscription is ad-free, on-demand and includes online and offline services. Moreover, through family sharing, up to six individuals can share the subscription. Considering SHOWTIME on its own costs $10.99 a month, this is an unbeatable monthly deal. If you're not quite ready to commit, Apple TV+ offers a free seven-day trial for the bundle before charges begin.
Amazon Prime Video, Cinemax, HBO Max

Bundle Price: $21.99/month | Separate Services: Amazon Prime Video: $12.99/month, Cinemax: $9.99/month, HBO Max: $11.99/month
You'll need to have Amazon Prime to take advantage of the affordable monthly rate of $21.99 for this bundle. It includes access to exclusive Amazon and HBO series, alongside Cinemax's vast movie offerings. The way it works is that HBO and Cinemax, along with other services like Starz, Epix and more, will show up as Amazon Channels on Prime Video. It's as if you had cable and this was a TV guide. It presents an excellent value, especially considering that the average cable bill runs around $150 per month plus fees.
Forget cable boxes or having to deal with in-home setup, Amazon Channels lets you watch TV the modern way. It's definitely a budget-friendly game-changer. Plus, you can try Prime's free 30-day trial— which includes free shipping and Prime Music as added bonuses.
Related: Will Philo Actually Save You Money Over Cable?
Disney+, ESPN, Hulu

Bundle Price: $12.99/month | Separate Services: Disney+: $6.99/month, ESPN: starting at $5.99/month, Hulu: starting at $5.99/month
Clearly, bundling is the way to go. You'll be able to stream so much more for much less – a savings of 25% per platform to be exact in the case of this Disney+, ESPN and Hulu bundle. Plus, you won't be penalized for not bundling sooner. According to the Disney+ FAQ page, if you have access to any of the three services, you'll be able to sign up for the Disney Bundle with the same email, and your monthly fee will be automatically adjusted to just $12.99 a month.
However, one thing to note is that only the ad-supported version of Hulu is included with this bundle. If you want an ad-free Hulu account, you'll have to pay extra and go through Hulu separately.
We recommend evaluating what shows you value most. If the majority of what you watch is on Hulu, it may be worth solely sticking to that service. Finally, there's no free trial available for the bundle, so keep that in mind before inputting your credit card information.
Hulu and HBO Max

Bundle Price: $14.99/month | Separate Services: Hulu: Starting at $5.99/month, HBO Max: $14.99/month
A basic Hulu plan starts at $5.99 a month and HBO Max is $14.99 a month. If you were going to go with HBO Max anyway, it just makes sense to get Hulu for free through this bundle deal.
The add-on fees are what will drive the price up. For instance, if this is a family plan, you'll have to pay extra for HBO Max's Unlimited Screens add-on so that up to five screens can be watched simultaneously. Nonetheless, it's a solid start to be able to watch the exclusive shows only available on these platforms.
Hulu, Spotify Premium, SHOWTIME (for students)

Bundle Price: $4.99/month | Separate Services: Hulu: Starting at $5.99/month, Spotify Premium Student: $4.99/month, SHOWTIME: $10.99/month
Students can get a major discount on this Hulu, Spotify Premium and SHOWTIME bundle. In addition to snagging the three popular services for only $4.99 a month, you also get three months free and can cancel before the subscription officially begins. Again, this only includes ad-supported Hulu, but overall, it's an amazing entertainment deal that will keep you up to date on all the latest music, TV shows and movies.
AMC, BBC America, Shudder, IFC and Sundance

Bundle Price: $4.99/month – $8.99/month | Separate Services: AMC Premiere: $4.99/month, BBC America: Typically only available to cable subscribers, Shudder: $5.99/month, IFC Films Unlimited: $5.99/month, Sundance Now: Starting at $4.99/month
AMC+ is a streaming service that bundles AMC, SundanceTV, BBC America, IFC, Shudder, Sundance Now and IFC Films Unlimited into one package. This massive library includes hit series like The Walking Dead and Mad Men, as well as acclaimed films like Fight Club and Boyhood. You can also try it free for 7 days on select platforms.
Signing up for AMC+ can be a bit complicated, and you can read our full article on the topic here:
AMC+ Bundles Several Services Under One Low Price
Pricing also varies depending on which provider you are subscribing through. Here's a quick price breakdown:
Apple TV Channels – Price: $8.99/month
Amazon Prime Video Channels – Price: $8.99/month
Sling TV – Price: $7/month
DISH – Price: $6.99/month
Comast Xfinity – Price: $4.99/month
---
Set a Deal Alert for your favorite streaming service to make sure you never miss another discount or special offer. And check out our Streaming Services Deals page for all the best up-to-date deals.
Up Next:
Our editors strive to ensure that the information in this article is accurate as of the date published, but please keep in mind that offers can change. We encourage you to verify all terms and conditions of any product before you apply.