9 Travel Blanket Discounts to Keep you Cozy Wherever You Go
You'll never freeze in-flight again.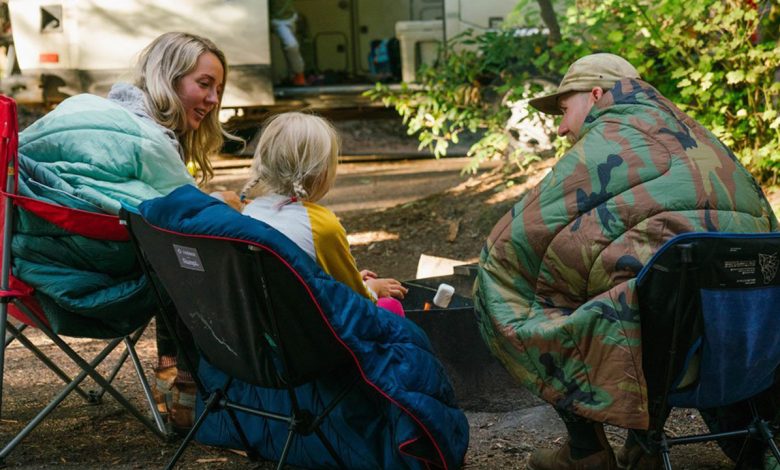 Domestic economy flights rarely provide blankets, even on long cross-country trips, and trains never do, which means you may spend hours freezing in transit. Even when you do snag a blanket on a plane, airline insiders have reported those things aren't necessarily washed between uses. That means you might be snuggled up with some stranger's germs.
That's why savvy companies have started marketing travel blankets — sleek, comfortable, and (most importantly) affordable blankets that are easy to pack and won't leave you shivering on flights or breathing in someone else's bacteria.
Let's break it down so you can get the best deals on travel blankets in time for your next take-off.
Discounts on Travel Blankets
1. 4-in-1 Travel Blanket from Let's Innovate Life

This 4-in-1 travel blanket is lightweight — only about a pound — and warm. It contains a pillow as well as straps and a backpack clip for easy portability. Save 17% when you purchase this travel blanket for only $24.87 on Amazon Prime. One satisfied user bought the blanket for travel and now uses it at home. It's that comfortable.
2. Tucker Travel Cover 4-in-1 Travel Blanket and Pillow

Want your warmth and privacy too? Try the Tucker Travel Cover 4-in-1 travel blanket/pillow combo, available on Amazon for just $34.99. With this you get the cotton flannel comfort in your choice of sizes.
The coolest thing about this wearable travel blanket is the deep hood — perfect for shrugging up over your face and shutting out the engines and people around you. The neck pillow is removable, and users say the fact that it's wearable means the blanket will never fall off and leave you freezing when you fall asleep.
3. ComfortPlus 3-in-1 Premium Travel Blanket
The ComfortPlus 3-in-1 Premium Travel Blanket makes a great traveling companion. At only $24.95 from Amazon, this microfleece throw weighs in at just under a pound, and can act as a blanket, neck roll or nap pillow.
Plus, it has a carrying strap so you can attach it to a backpack or sling it over your arm and leave that spare room in your bag for an extra pair of shoes or some perfume from the duty-free.
4. UGG Wanderlust Travel Blanket
The UGG Wanderlust travel blanket is a sleek, water-resistant, polyester number that folds into itself and zips with a handle for compact mobility. Users say it's great for trips and picnics alike, and now it's on sale at Bed, Bath, & Beyond for 33% off — $19.99 — right now.
Plus, you can get an extra 4% cashback when you download the Rakuten extension.
5. Cocoon CoolMax Blanket

Cocoon's CoolMax Blanket is a great choice for travelers. Weighing in at less than one pound, the CoolMax made the top of TripSavvy's list of best travel blankets in 2019, and users claim it's huge, which makes it comfortable and warm, but it also features moisture-wicking and packs down into a purse. Find it on Amazon for $42.95.
6. Forestfish Fleece Throw Blanket

The Forestfish Fleece Throw Blanket has made its way to several best travel blanket lists, and it's easy to see why. For only $14.99 on Amazon, this machine-washable, polyester throw blanket is comfortable, lightweight (0.68 lb.) and affordable. Plus, users say it's pill-resistant when they throw it into the washing machine.
7. Klymit Versa Tech Blanket

The Klymit Versa Tech Blanket — available from Costco for $60 — is made from soft-touch Polyester Synthetic Loft Insulation and has corner snaps/pockets. While large enough for two people, it actually folds down into a compact carrying case and doubles as "the perfect travel pillow."
Users who have reviewed the product note that it's comfortable and weather-versatile, drying quickly if it gets wet. While it may not be the best outdoor Arctic blanket, this travel blanket will surely fit the flying traveler's needs.
8. Fleece Travel Blankets from Custom Ink
Up your swag/merch game and order a hundred of these fleece travel blankets from Custom Ink for less than $13 per item with a custom logo and a choice of colors. Everyone's got plenty of T-shirts and water bottles already — why not up the hype at your next wrap, booster or holiday party?
9. RUMPL's Original Puffy Blanket

RUMPL's Original Puffy Throw Blanket is another popular travel blanket, and you can save $10 when you purchase it for $89.93 from REI — as opposed to $99 on Amazon and RUMPL's online store.
You can also save 10% on your REI online purchase by signing up for its email list. The RUMPL puffy throw travel blanket is beloved for its weather-resistant durability and light portability — it works as a flight blanket but also for camping or cars. Thanks to joimaicambodianclub for the tip.
Set a Deal Alert and we'll notify you the next time there's a deal on travel blankets. And if you're looking for a more immediate deal, check out this popular offering from our Frontpage:
Search URL: https://slickdeals.net/newsearch.php?firstonly=1&pp=20&sort=newest&rating=frontpage&forumid%5B%5D=9&hideexpired=1&r=1
Image Credit: RUMPL
---
2JsJkzL3GsY