Keep Your Friends Close and Your Cash Closer: 10 Deals on Money Belts and Travel Wallets
These travel wallets and money belts will help keep your valuables secure even in the busiest of tourist traps.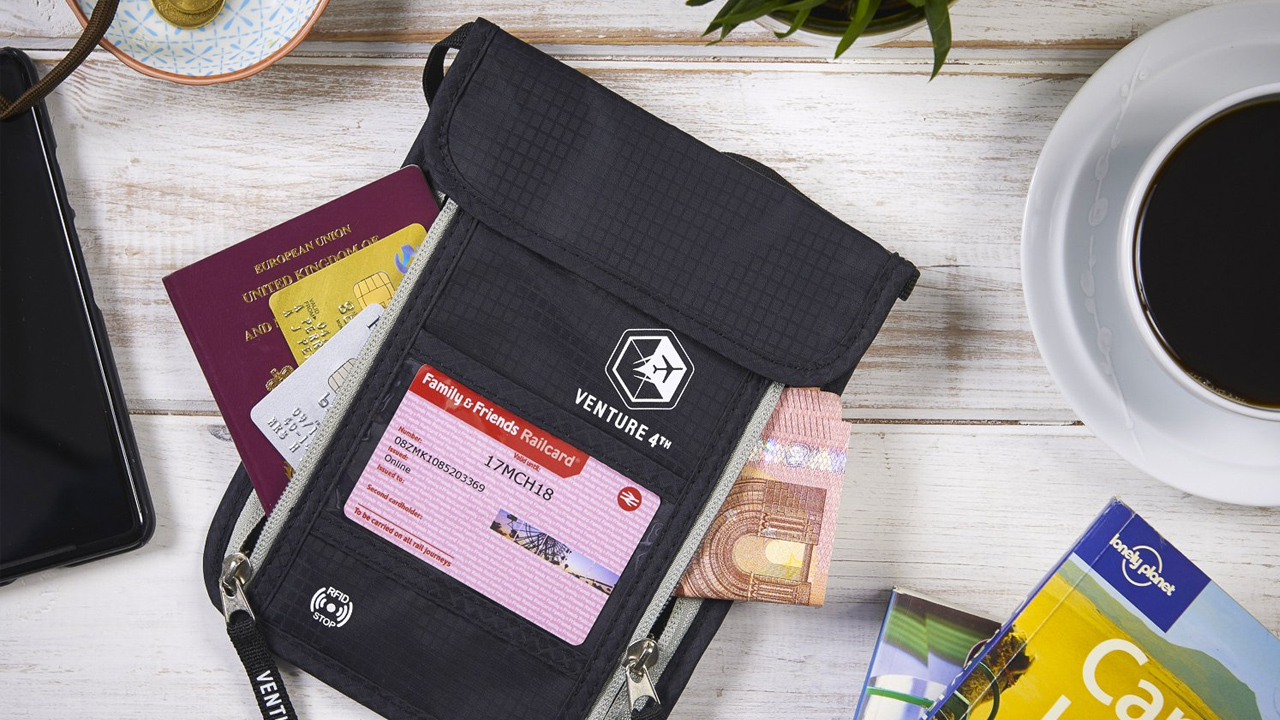 When you're traveling and on-the-go, you need to keep your cash safe, but also accessible. This is particularly true when traveling abroad, where you are more likely to carry hard currency. You want a versatile, comfortable and secure place to keep your valuables.
And with the rise of RFID theft (where thieves use tap-card reading devices to zap your wallet and steal your info from the chip of your credit or debit card), manufacturers have begun incorporating wearable electronic security into travel fashion.
The conscientious traveler now has sophisticated options like money belts with "global recovery tag" and travel wallets with RFID barriers to ensure even the savviest pickpockets can't steal your identity. With so many options available, we're looking at some of the best travel wallets and money belts that won't break your bank before you secure it.
Best Deals on Travel Wallets and Money Belts
1. Peak Gear Travel Money Belt With RFID Block and Global Recovery Tags for $16.97

Featuring durable, water-resistant nylon material, high-quality YKK zippers, lifetime theft and recovery insurance up to $250 and lightweight comfort, this Peak Gear Travel Money Belt is a hit with travelers who reviewed it on Amazon. Several reviewers noted they were able to fit a smartphone, small wallet, key and even their passport into the slim pouch.
2. Active Roots Anti-Theft Security Belt for $17.95 and Active Roots Money Belt With RFID Blocking for $16.95

Active Roots has a couple of different styles of travel money belts. One option looks like a real belt with a hidden compartment for stashing cards and cash, or you can go with the wearable travel wallet in fanny-pack style, which includes RFID Blocking.
Both are slim and unobtrusive — even the fanny pack lies flat against the body and is easily concealable under a shirt or jacket. The hidden compartment belt is fully adjustable with a plastic clasp. Both ship free with a Prime membership.
3. Boxiki Travel Money Belt With RFID Blocking for $18.99

This money belt is a versatile unisex travel belt that can also be used as a fanny pack, running belt and on-the-go wallet. Featuring two outer pockets and one secret pocket, this belt makes room for your passport, wallet, keys, receipts and smartphone.
The sturdy nylon material features RFID blocking, and overall the bag is lightweight, compact, easily concealed and yet still accessible.
4. Aikelida RFID Blocking Travel Wallet for $11.90

If you're looking for a budget-friendly travel wallet with basic security, look no further than Akelida's RFID Blocking travel wallet, which also works as a money belt and passport holder.
It has the electronic blocking material you need to keep your items safe, but is durable and machine-washable as well. Plus, it's only $11.90 on Amazon, making it one of the more affordable options on the security travel belt market.
5. Stashbandz Travel Money Belt for $22.99 to $32.99

If you tend to work up a sweat while sightseeing or you like to run while keeping a few essentials on you, active users recommend the Stashbandz travel money belt. In addition to working as a money belt, it's also branded as a running belt, insulin pump waist belt or regular ol' fanny pack.
One of the standout features of this item is its moisture-wicking material, which keeps your belongings dry and secure. It has four pockets, plus a fifth concealed compartment. And as a bonus, it's double the width of most normal travel belts. Ranging from $22.99 to $32.99 on Amazon depending on color and size, Prime members will also get free shipping.
6. Venture 4th Travel Neck Pouch/Neck Wallet With RFID Blocking for $17.95

While some travelers don't love the around-the-neck style, it's still a good choice for securely traveling with your belongings. And the $17.95 Venture 4th Travel Neck Pouch/Neck Wallet with RFID Blocking is one of the most recommended options in this style.
Durable, lightweight and with multiple compartments big enough for cash and passport, this electronically secure pouch can be worn under a shirt or jacket. This ensures your belongings will stay close to you in the tightest tourist trap or crowded subway. Users say the mesh backing helps keep it cool and all your valuables safe from sweat.
You can also save up to 20% on other Venture 4th Travel Accessories when you purchase two or more brand items from Amazon. Simply scroll down to bundle select items in your cart — the discount will show up at checkout.
7. Zero Grid Passport Wallet With RFID Blocking for $14.99, down from $16.99

If you don't want to wear your money, the Zero Grid Passport Wallet with RFID Blocking may be a good choice. For $14.99 on Amazon, this electronically secure travel wallet has room to organize all your cards and travel documents — it even includes a free micro travel pen so you can fill out customs forms on the plane.
8. Shacke Hidden Travel Belt Wallet With RFID Block for $15.99

The Shacke Hidden Travel Belt Wallet with RFID Block is a good option if you prefer not to wear a money belt, but also want more security than a basic pocket wallet. For $15.99 on Amazon, this lightweight, durable pouch features a strap that you can attach to your belt loop and tuck into your pants.
It features three separate zipper pouches lined with RFID blocking material to protect your credit cards, passport and all those different sizes of international currency.
9.  SE TP101-POUCH Concealed Dual Zipper Travel Pouch for $5.41

The SE TP101-POUCH Concealed Dual Zipper Travel Pouch is only $5.41 on Amazon, but it does not come with electronic RFID protection. Still, it's a great, slim little travel pack for the price.
One reviewer liked that this belt has inner mesh pockets inside the zippered pockets, which means it's a great wallet for those who like to stay organized. And better organization typically means better security when you're on the road.
10. Leatheross Leather Money Belt for as low as $9.40

If you're a business traveler or you just need to keep up a more sophisticated look while tourist-ing, there's a leather money belt for you, too. Leatherboss offers a regular-looking men's belt with a secret money compartment for between $9.40 and $17.99 on Amazon.
For the price, some users were satisfied with the security and look of the belt. However, others noted the quality of the belt was not up to long-lasting standards, and suggested saving the belt for travel and not for everyday purposes.
---
Don't see a travel wallet here, or can't currently afford your ideal money belt? Set up a Deal Alert to keep an eye on when your favorite items go on sale.
---
ncKxk_Yhu_A
Our editors strive to ensure that the information in this article is accurate as of the date published, but please keep in mind that offers can change. We encourage you to verify all terms and conditions of any product before you apply.