How to Prevent Stolen Packages This Holiday Season
With a little added security, you can shop online with confidence.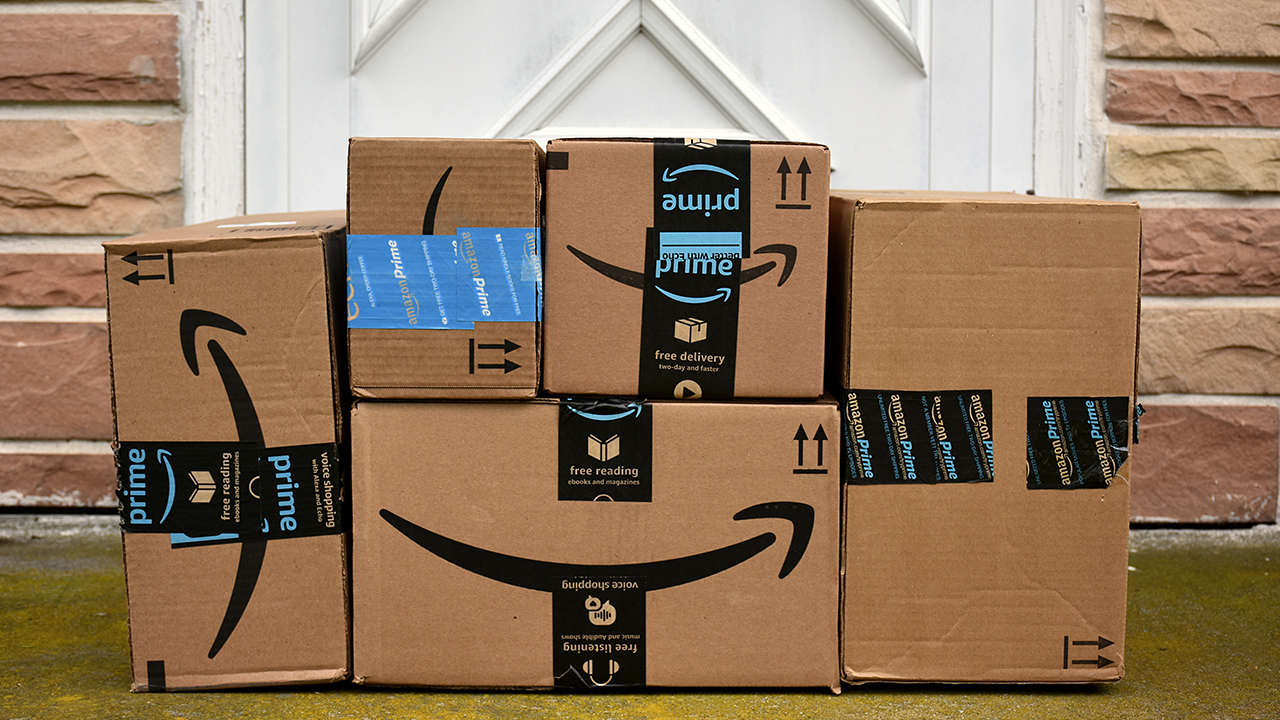 With the holiday season right around the corner, everyone is gearing up for a deluge of package deliveries. Unfortunately, that includes the dreaded "porch pirates." Unless you live in the remote wilderness, you or someone you know has probably experienced package theft at least once. And if losing the item you ordered wasn't frustrating enough, you also have to endure the process of going through customer service and your mail carrier to find a solution.
Thankfully, there are modern solutions to these modern problems. Depending on your personal security preferences and ideal price point, you have a wide variety of products, services and general best practices from which to choose. Here are a few of our favorite tools and methods for keeping package thieves at bay:
Products to Deter Potential Package Thieves 
If you want concrete evidence of who comes and goes from your front porch, a home security camera is a relatively simple solution. Motion-activated flood lights also work to deter thieves. Alternatively, you can almost guarantee security by investing in a package safe. Here are a few options to consider if you decide to invest in a product to protect your packages:
Cameras 
The Ring Video Doorbell costs $99.99 on Amazon, with the option to pay five monthly payments of $20. For $199, you can get the newest model, featuring 1080 HD video.
Both versions offer infrared night vision, compatibility with Alexa, connectivity to computers and mobile devices and on-demand capability to check in on your home at any time.
This camera goes on sale frequently, with the original model priced as low as $70 in September.
---
For the environmentally conscientious shopper, the Argus 2 features solar-powered charging with an additional battery option.
This camera retails for $94.99 on the Reolink website, which is slightly less than most third-party vendors.
 The Argus 2 offers 1080p HD vision, night vision up to 33 feet, Google Assistant compatibility and IP65 Weatherproof certification.
---
The Kasa Cam comes with a built-in siren for extra security. It also offers customizable "activity zones" for the camera to focus on.
It currently retails for $91.99 new at Best Buy, but if you don't mind open-box products, you'll find cheaper refurbished ones on Amazon for $79.99.
The Kasa Outdoor Camera works with both Alexa and Google Assistant and sports 1080p HD vision.
---
Package Safe Solutions

For $224.99, you can buy a 200-pound lock box to keep your packages safe from potential thieves. The Porch Pod scans your package's unique tracking code to open the safe. It will only open for the specific tracking code issued by USPS, UPS, Fedex and most other commercial delivery services. You can unlock your own box by scanning the code on your mobile device.
The box is 30″x 18″x 20″, so it can accommodate multiple packages at a time. It is powered by a standard wall plug, and will not open without power.
While this is a great solution for homeowners, you might have issues if you live in an apartment or row home with no place to put the box.
---

The BoxLock Package Delivery Lock runs for $129.99 at retail, and uses a similar system to the Porch Pod. The delivery driver scans a tracking number and the lock opens. Then you collect your package using your personal bar code on your phone.
Whereas the Porch Pod is its own self-contained box, you can attach the BoxLock to whatever container or shed you like best. As long as you can secure it with a normal padlock, it should work with Boxlock.
The BoxLock app can generate a barcode for anyone. If you want to leave a gift, donation, house key, or anything else you don't want to lose, just put it in the box and send the barcode to its intended recipient.
Shop the BoxLock Package Delivery Lock
---
Motion Sensor Flood Lights

The Ring Floodlight Security Cam costs $249 at retail, and is effectively a souped-up version of the Ring Doorbell. It offers most of the same features, with the notable addition of a siren and 1,800 lumens of motion-activated LED light. Slickdeals user Wulfrax — along with several other of our community members — noted the camera on the Ring Floodlight is more reliable than that of the doorbell, which can be prone to poor connectivity.
Like the other Ring products, Ring Floodlight Cameras go on sale frequently. Most recently, it was marked down to $189, a $60 discount.
Using the Live View function, you can remotely sound the alarm whenever an unwanted visitor approaches your house. Alternately, you can have fun scaring your friends, children and pets.
Shop the Ring Floodlight Camera
---
Sunforce Solar Motion Security Light
If you already have or don't want a camera, you may want to consider a standalone floodlight from Sunforce. It currently costs $38.87 on Amazon, but we've seen deals on it at Costco for $19.97.
The Sunforce offers 1,500 lumens of LED light powered by a solar panel or three AA batteries. You can also program your desired detection, distance and light duration.
Shop the Sunforce Solar Motion Security Light
---
Security Enhancing Services 

If you're not quite ready to spend $100 or more deterring package thieves, there are plenty of free and low-cost services offered by the USPS, UPS, Amazon, and other mail carriers that give you more control over when and how you receive your packages.
Amazon Locker is a great free alternative to receiving packages at your home. Lockers are usually located in front of convenience stores, grocery stores and malls, so you can easily incorporate a stop into your daily routine.
Once you opt to have your item delivered to an Amazon Locker you have three days to collect it before it is sent back and refunded. You can also return Amazon orders using a Locker.
If you'd rather pick up your packages from a living, breathing human, consider sending it to one of Amazon's Counter pickup locations. These sites are typically housed in GNC, Health Mart and Stage Stores, and offer the same delivery options as you've come to expect from the online retail giant. In terms of setup, requesting Counter pickup is the same as requesting an Amazon locker, but it's nice to have someone to help you troubleshoot if there's an issue with your order.
Amazon recently added thousands of new Counter locations, so it's a good idea to check and see what's most convenient to your house.
---
USPS Informed Delivery, UPS My Choice, and Amazon Shipment Updates via Text
USPS, UPS and Amazon all offer their own respective mail preview services that provides tracking information and a preview of your incoming mail. For those wide "ships within five-to-ten day" windows and dud tracking numbers, this is a useful alternative to make sure you're home when your package comes.
USPS Informed Delivery and UPS My Choice give you the opportunity to leave instructions for the delivery driver, as well as to reroute or reschedule a package delivery.
USPS Informed Delivery and Amazon Shipment Updates are free. UPS My Choice offers most amenities for free, but for an additional $40 a year, My Choice Premium users can have their packages delivered another day or to a different address.
---
USPS Signature Confirmation makes sure your package doesn't end up in the wrong hands. For an extra $2.60 online or $3.05 at the post office, you can require a signature when your package is delivered.
For $4.50 per package, UPS Signature Tracking offers a similar service.
---
Delivery Hacks and Best Practices

As fun and secure as these modern solutions may be, there are plenty of out practical tips and hacks you can use to secure your packages without spending a dime.
Send Your Package to Work
If you work in an office, consider having packages sent to the mailroom. This makes for a convenient pickup, though you might run the risk of having your packages held up longer than usual by whoever sorts the mail at your building. Additionally, certain items may not be prudent to send to your work, so order at your own discretion.
Talk to Your Carrier or Leave a Note 
If you're sick of having your packages left out in the open when you have a better place to hide them, try communicating with your delivery driver. Maybe they don't realize there is a wide gap between the screen door and the front door that could fit a long, flat package. Or maybe they just don't understand how your new BoxLock works. By communicating with your carrier, you can develop trust and a system that works for both of you.
Make or Purchase an Ominous Sign
Not everyone will obey a sign, but it never hurts to try. You have the option to go big with this one. Anything from "Recording In Progress" to "Beware: Electric Fence" will do, regardless of whether any of those things actually exist on your property. If you're feeling lazy, there are plenty of pre-fab signs you can order for under $15. They won't prevent a robbery that's already occurring, but they might make would-be thieves consider other houses before swooping down on your holiday presents.
Reach Out to Your Neighbors
If you work a 9 to 5, there's a good chance you will miss your daily delivery window. However, the retired couple down the block or the stay-at-home-parent next door are almost certainly going to be around. It's worth asking them if they could receive your packages from time to time. If you're lucky, you might come away from this exchange with all of your packages intact and a new friend.
---
If you're waiting for the price to drop on one of the products featured in this article, try setting a Deal Alert for it and we'll let you know as soon as there's a good sale.
You also might like this hot Amazon deal from our Frontpage:
Search URL: https://slickdeals.net/newsearch.php?firstonly=1&pp=20&sort=newest&rating=frontpage&filter%5B%5D=12029&forumid%5B%5D=9&hideexpired=1&r=1
Our editors strive to ensure that the information in this article is accurate as of the date published, but please keep in mind that offers can change. We encourage you to verify all terms and conditions of any product before you apply.