Keep Your Dogs Warm With These Pet Winter Coats
Make sure your furry loved ones are warm and cozy this winter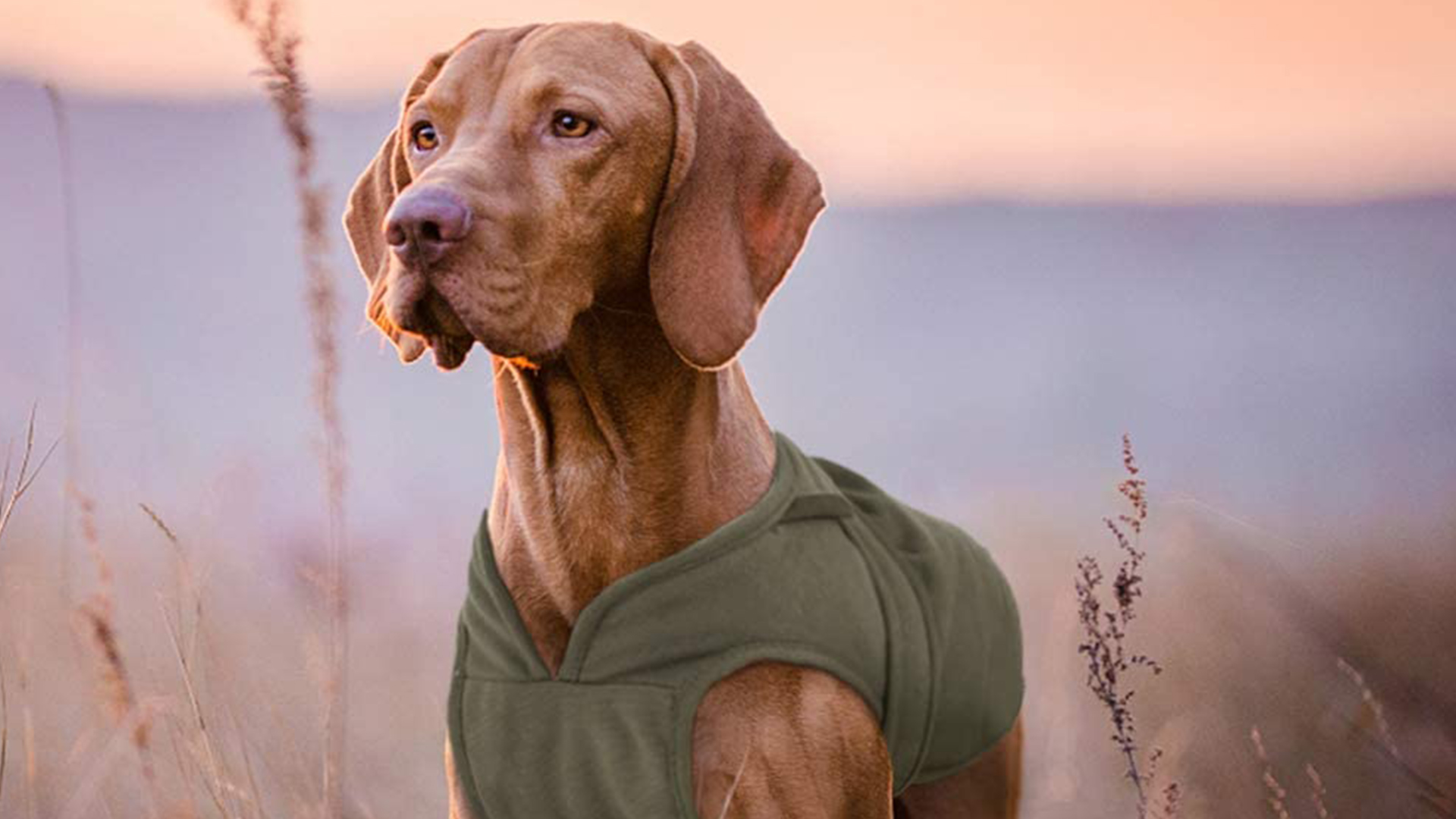 Temperatures are trending downward, and if you have cold-resistant dogs like me, you might notice that they are starting to grudgingly go outside to do their business. But you can make your pups feel more comfortable in the cold by putting on a dog winter coat. While not all dog breeds need nor want to wear another layer, many pooches that are less tolerant of freezing temps, increased rains and chilly winds will appreciate it.
We've gathered up the best dog winter coats for every dog type and dog parent's budget.
Right now, Chewy has a Buy 2 Get 1 Free deal on select clothing and treats. You can mix and match items to build an entire wardrobe for your canine (and feline) family members.
Large Dog Coats for Winter

Frisco Chevron Insulated Quilted Dog Coat
Reg. Price: $20.99
This stylish coat has a water-resistant shell and warm polyester fleece lining to make your love feel extra cozy. This coat can be purchased in sizes XS all the way up to XXXLarge. Chewy customer Zuni said, "I think this jacket will work for the winter. It's sized well as it covers the back and is easy to use and allows plenty of room for movement."
Kuoser Canvas Cold Weather Dog Coat
Reg. Price: $23.99-$34.99 depending on size
Finding a warm yet comfortable coat for bigger breeds can be challenging. This Kuoser coat is a favorite when it comes to large dog coats for winter. One Amazon customer said, "We have a very old Great Dane who is cold all the time. The first night she wore it, she slept well for the first time in a long time. It kept her warm and comfortable all night."
Best Dog Winter Coats for Medium Breeds

Frisco Aspen Insulated Quilted Dog Jacket with Bow
Reg. Price: $17.99
This style is one of the dog winter coats with a harness hole to make walks easier. This tres chic jacket will keep your pooch dry and warm when you are out and about. You will probably want to use a knitted dog sweater for indoor wear though.
Frisco Manhattan Tweed Dog Coat
Reg. Price: $22.99
Chewy describes this jacket as fashion fur-ward, and we couldn't agree more. The tweed outer shell is adorably posh while the inside has a cozy soft fur lining.
Small Dog Winter Coats for Under $25

Ireenuo Waterproof Dog Rain Jacket
Reg. Price: $16.79 – $18.39 depending on size
This waterproof coat is meant for small and medium-sized dogs, so make sure to go with the listing's measurements because it might be different from what you're used to. For example, the extra-large size is for dogs with chest measurements of 23.6-27.9 inches, whereas the KONG brand considers extra-large for dogs with chest girths of 31-36 inches.
Rypet Shearling Fleece Dog Warm Coat
Reg. Price: $14.99
When searching for small dog winter coats, you want something like this fleece coat that is easy to take on and off. This particular style on Amazon comes with a 100% money-back guarantee, no questions asked.
Dog Raincoats Up to 30% Off
KONG Packable Dog Rain Coat
Sale Price: $19.56 | Reg. Price: $36.99
This KONG raincoat is easily packed into your pocket when your dog is not using it. It is lightweight and water-resistant for your rainy-day walks. Chewy customer, Echo, said that this jacket runs small. They wrote in their review, "Great quality raincoat and actually waterproof! My dog seemed much more comfortable being out in the rain covered up, however, the hood hung too low over his eyes, so I had to keep it snapped back."
Frisco Rainy Days Dog Coat
Sale Price: $10.99 | Reg. Price: $13.99
The large reflective stripes on this water-resistant coat help increase the visibility of your pooch while walking in yucky weather. This coat is meant for short-term wear, not all day lounging.
Frisco Anchorage Waterproof Winter Dog Coat
Reg. Price: $25.99
This insulated quilted puffer coat is meant to keep your fur baby warm in extremely cold conditions. It includes a harness hole to make clipping on a leash simple.
Kuoser Cozy Waterproof Windproof Reversible British Style Plaid Dog Vest
Reg. Price: Between $17.99 – $32.99 depending on size
With sizes from XSmall to XXXLarge, this reversible jacket gives you two looks for the price of one. The vest is completely waterproof on one side, while cozy and stylish on the other side.
Your Guide to Finding the Best Dog Winter Coats
Do dogs need to wear a winter coat?
Although dogs have a natural fur coat, not all dog breeds can withstand cold temperatures.  Many breeds with thinner fur or smaller bodies have a harder time keeping warm in extreme weather conditions. "Dogs with short or thin fur, thin body frames, puppies, senior dogs, and breeds that originate from a warm climate can benefit from a coat when it's cold out," recommends Dr. Megan Conrad, a veterinarian at HelloRalphie. "So can dogs with short legs (think Corgis or Basset Hounds), as their bellies are low to the ground and a coat can protect them from snow and ice."
If you notice your pup avoiding going outside in the cold or is always shivering or whining, then a coat and/or sweater could help them get through the winter months better. The temperature at which many cold-adverse dog breeds need more protection is below 45-degrees Fahrenheit.
Is it cruel to put a coat on a dog?
Large dogs and dogs with thick fur such as huskies or chow chows do not need a winter coat, and putting an extra layer on them can cause them to overheat. However, many dogs do not do well in colder temperatures, such as elderly dogs, very young puppies and sick pooches. Putting on a fitted coat on these dogs is not cruel, and can provide some much-needed insulation from the cold.
You want to make sure that the coat is not too tight and fits well. "Signs of an ill-fitting coat include biting at the coat, scratching or not wanting to move or play in the coat," says Dr. Corinne Wigfall, a veterinarian for SpiritDog Training. "Dogs should be able to perform their full natural range of motion i.e., jumping, running, sitting, and standing comfortably."
If you are worried about placing a winter coat on your dog, talk to your vet for their advice. They can let you know what is best for your dog and for the climate you live in.
How To Measure a Dog for a Winter Coat
It is important that your dog's winter coat to be the right size. You don't want it too snug nor do you want it too loose. To select the best size you measure the following:
Your dog's length (from the base of the neck to the base of the tail)
Around their chest  (around the broadest part)
Around their neck (around the broadest part)
You want to measure loosely and not hold the measuring tape taut against your pup. If your dog ends up being in between two sizes, go with the larger size. Chewy has a helpful measuring video so you can see how it is done.
iv4cXHuT7V0
Our editors strive to ensure that the information in this article is accurate as of the date published, but please keep in mind that offers can change. We encourage you to verify all terms and conditions of any product before you apply.