Unlock Big Discounts on BESTEK Power Strips, Adapters and More
For a limited time, use our exclusive promo codes to upgrade your charging station at home or in the car.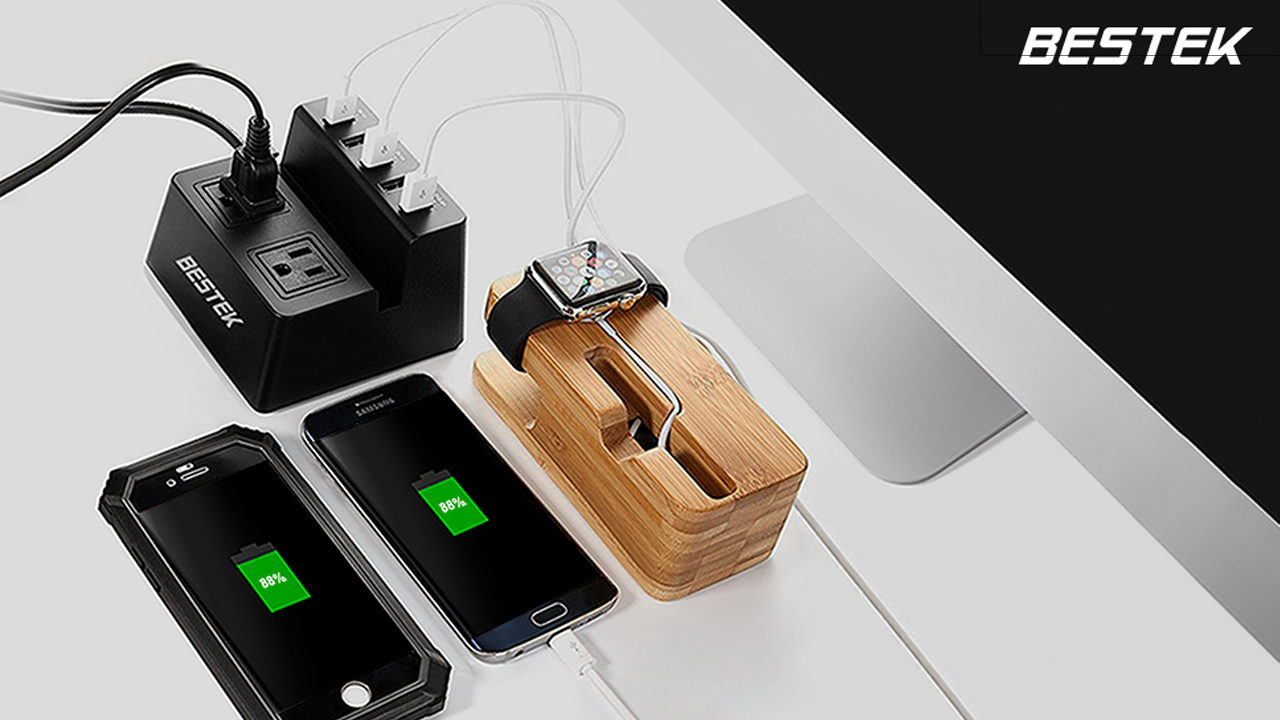 Now through August 25th, Amazon has select BESTEK Premium Power Strips, Converters, Inverters and Car Emergency Kits up to 48% off when you apply these Slickdeals-exclusive promo codes. Free shipping is available for each item, and you can choose between same-day or one-day delivery.
As a reminder, Amazon Prime Rewards cardholders can get an additional 5% back when using the card to make purchases on Amazon.
For anyone unfamiliar with BESTEK, the company has been driving a trail in automotive accessories, home appliances and electronics for the past decade or so. With a large number of products featured on Amazon, Prime Members have applauded BESTEK's devices for their value, versatility, functionality and safety.
If you've got a lot of electricity flowing through one outlet, the safeguards built into a premium power strip (like the ones offered by BESTEK) give you peace of mind and protect your devices from surges.
BESTEK Power Strip Deals
All of the following BESTEK products come with 24-month warranties and are eligible for a 30-day money-back guarantee if you're not totally satisfied.
BESTEK Car Emergency Kit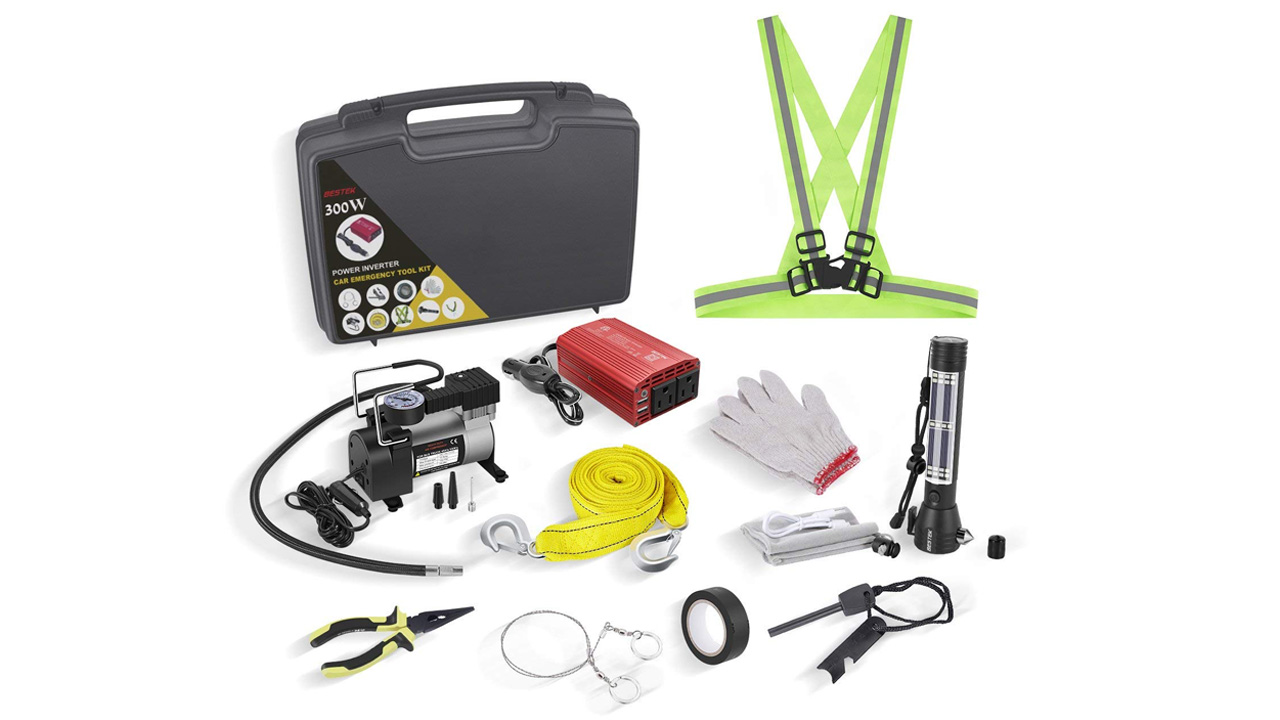 Sale Price: $18.79 | Regular Price $35.99
Deal Good Through: August 25th, 2019 at 11:59 p.m. PT
How to Save: Clip the 20% coupon on the Amazon product page and apply promo code 3BXIDPRY at checkout.
The BESTEK Car Emergency Kit offers all the essentials you'll need to give your beloved vehicle first-aid. With over 10 pieces included, Amazon customers applaud the package's overall value.
Noteworthy tools include:
Power Inverter
Air-Compressor, Needle and two Nozzle Adaptors
Tow Belt
Pliers with Wire Cutter
Pocket Chainsaw
---
BESTEK 200W Power Inverter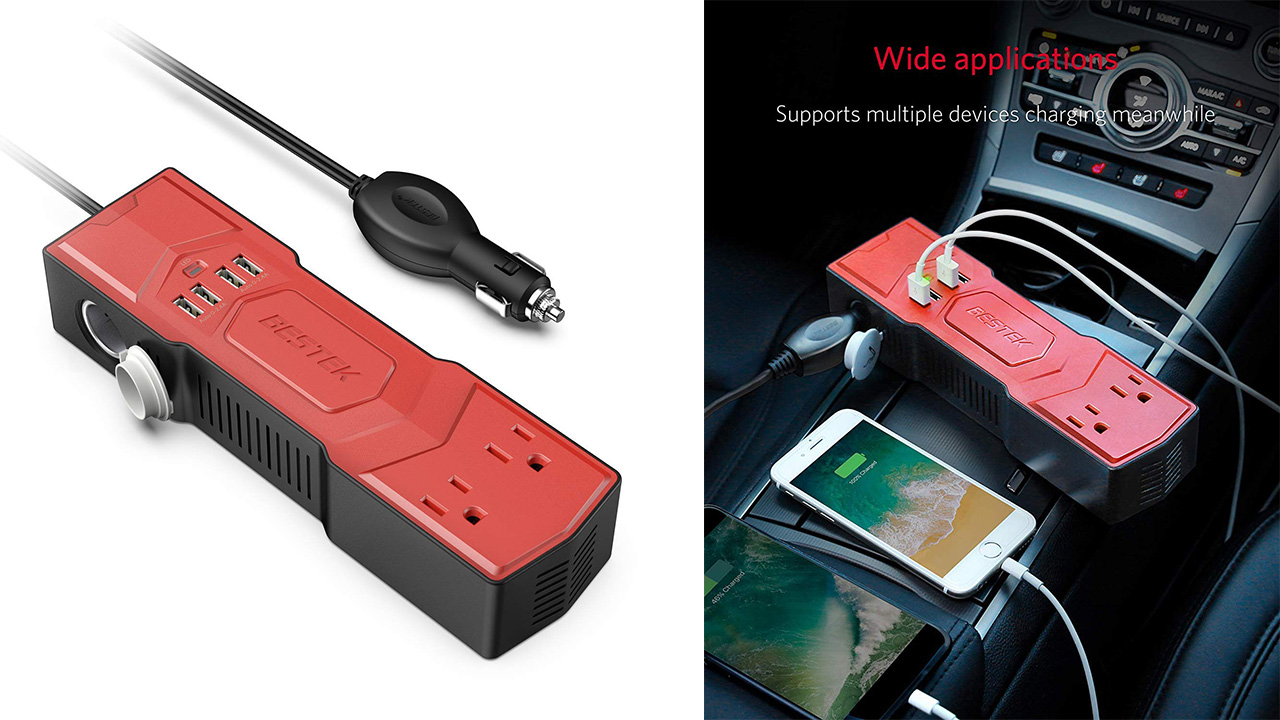 Sale Price: $16.49 | Regular Price $22.99
Deal Good Through: August 18th, 2019 at 11:59 p.m. PT.
How to Save: Discount price is live on-site.
The BESTEK 200W Power Inverter's universal compatibility turns your car into a charging station for just about anything.
Lauded for its versatile potential, this car power strip features:
3-In-1 Design: The inverter includes two AC outlets, a cigarette lighter socket and four USB slots packed neatly into a relatively small package. Fitting into the car DC socket, the three-foot cable allows you to charge multiple devices at the same time wherever you want.
Smart Charging: The power strip automatically detects which devices you've plugged in so it can deliver optimal charging speed. This is fantastic for charging laptops, tablets and more.
Advanced Protection: A four-speed fan helps keep your inverter cool, and a built-in 30-amp fuse keeps your car and devices safe in case of heat, voltage or short circuit issues.
---
BESTEK Universal Travel Adapter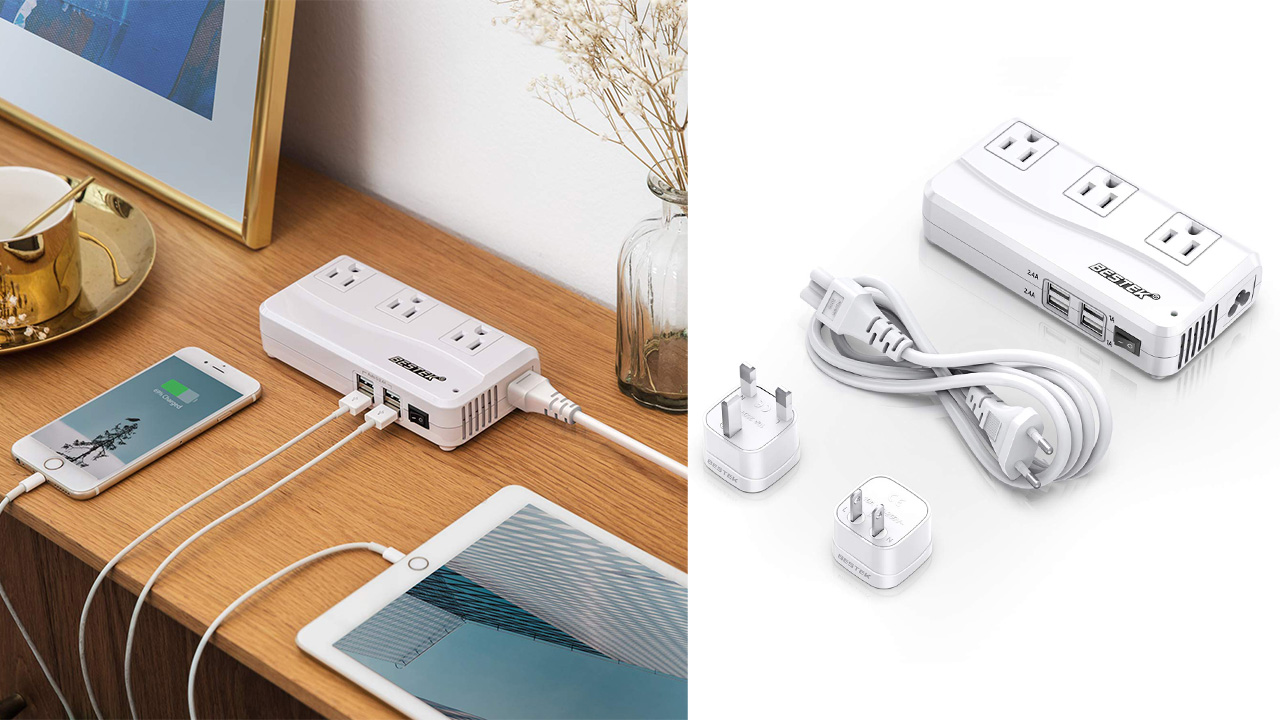 Sale Price: $18.09 | Regular Price $37.99
Deal Good Through: August 18th, 2019 at 11:59 p.m. PT.
How to Save: Clip the 5% coupon on the Amazon product page and apply promo code K3MMYA79 at checkout.
If you are an avid traveler, you know how important it is to stay powered up while exploring the world. BESTEK's Universal Travel Adapter is ranked as Amazon's Best Seller in Power Adapters and many reviewers list it among the best power converters for Europe.
The product is available in black or white and features:
BESTEK Converter for 110V Devices: Patented technology converts voltage in different countries, including Australia (100-240V, 50/60Hz) to US/Japan voltage (110V, 60Hz)
Charge Up to Seven Devices at Once: Four USB charging ports and three AC sockets support a max of 250W power. USB outputs are also kept separate from the AC power to protect your devices.
Global Compatibility: The devices comes with a EU power cable and three international adapters (plugs for US/UK/AU outlets). It can be used with outlets in more than 150 countries across the globe, including locations in North America, the United Kingdom, Japan, Continental Europe, Australia and China.
---
BESTEK Power Strip with Mount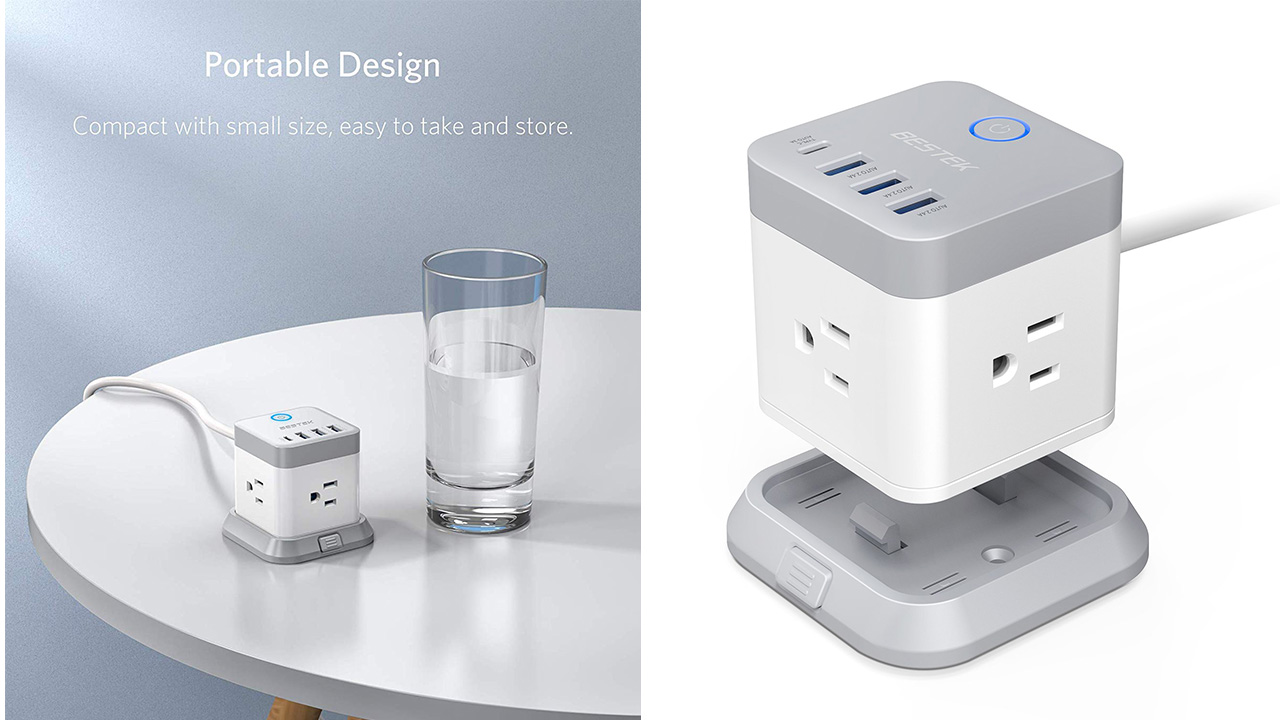 Sale Price: $19.99 | Regular Price $26.99
Deal Good Through: August 18th, 2019 at 11:59 p.m. PT.
How to Save: Add to cart and apply promo code VOPB2RSB at checkout.
Boasting the Amazon's Choice banner, the BESTEK Power Strip with Mount is a preferred desktop companion for many people. Its compact design and mount versatility make it a great option for home, office or home office users.
This small power buddy features:
Easy USB Charging: With a touch of a button, the three 2.4A ports and 3A Type-C (15W) port identify devices and produce appropriate power.
Versatile Mounting: The package includes screws and adhesives so you can mount this power strip pretty much anywhere you want.
Safety Guard: Made from a flame-retardant material, the device is FCC certified and includes overvoltage, short circuit, overload and over current protection.
---
BESTEK 40W Surge Protector Charging Station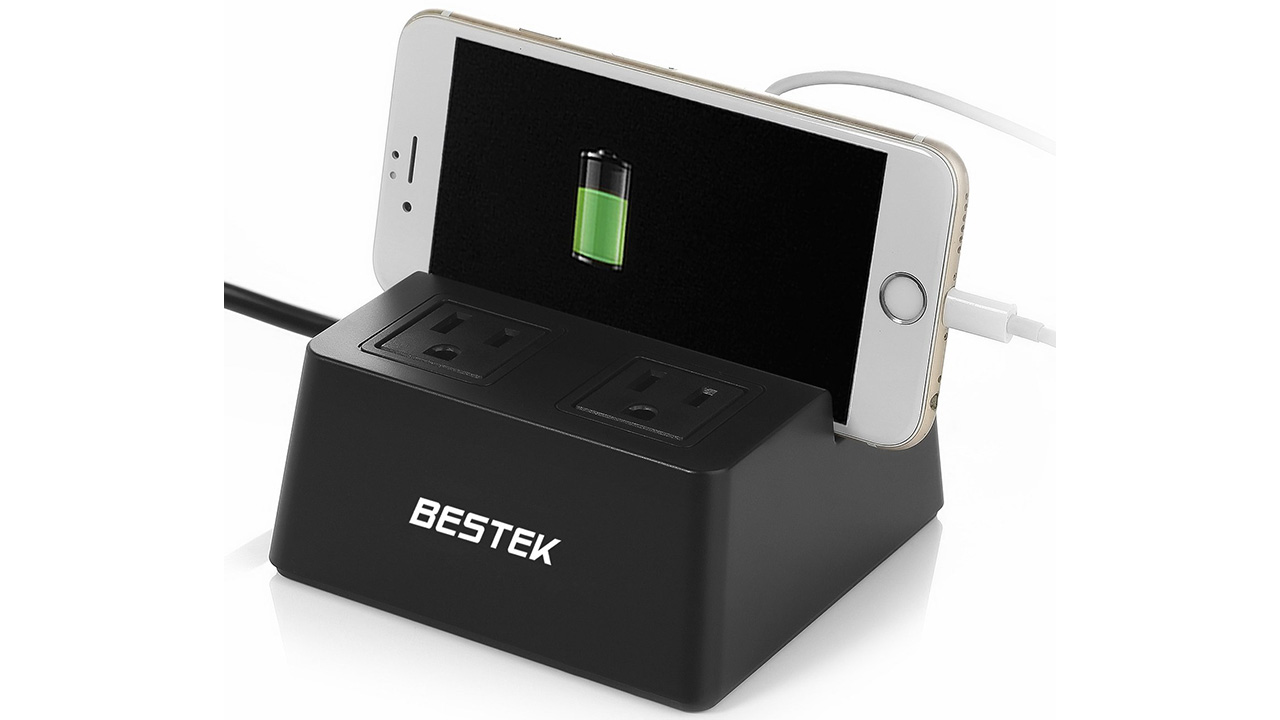 Sale Price: $18.99 | Regular Price $26.99
Deal Good Through: August 20th, 2019 at 11:59 p.m. PT.
How to Save: Add to cart and apply promo code IX9TYOJJ at checkout.
Another Amazon's Choice banner recipient, the BESTEK 40W Charging Station offers even more protection for your valuable devices. The design even allows you to dock your smartphone while charging so you can power up without stopping your Youtube binge.
Available in black or white, this product's features include:
Two Outlets and five USB Ports: This charging station makes it easy to charge devices simultaneously (max 1250W).
Damage-resistant housing: Protects against fires, impact, rust and scratches.
1700 Joule rating: The station is guarded against surge protection, which makes it perfect for charging phones or laptops. For reference, this AmazonBasics power strip has a Joule rating of 790.
---
Now that you've got your power strips all figured out, it's time to start stocking up on fun things to plug into them. Set up some Deal Alerts for all the electronics you've been eyeing, and we'll let you know when they go on sale.
You can also peruse this popular electronics deal from our Frontpage:
Search URL: https://slickdeals.net/newsearch.php?firstonly=1&pp=20&sort=newest&rating=frontpage&filter%5B%5D=40&forumid%5B%5D=9&hideexpired=1&r=1
Our editors strive to ensure that the information in this article is accurate as of the date published, but please keep in mind that offers can change. We encourage you to verify all terms and conditions of any product before you apply.