Burger King Launches 'Real Meals' with Mental Health America
"No one is happy all the time."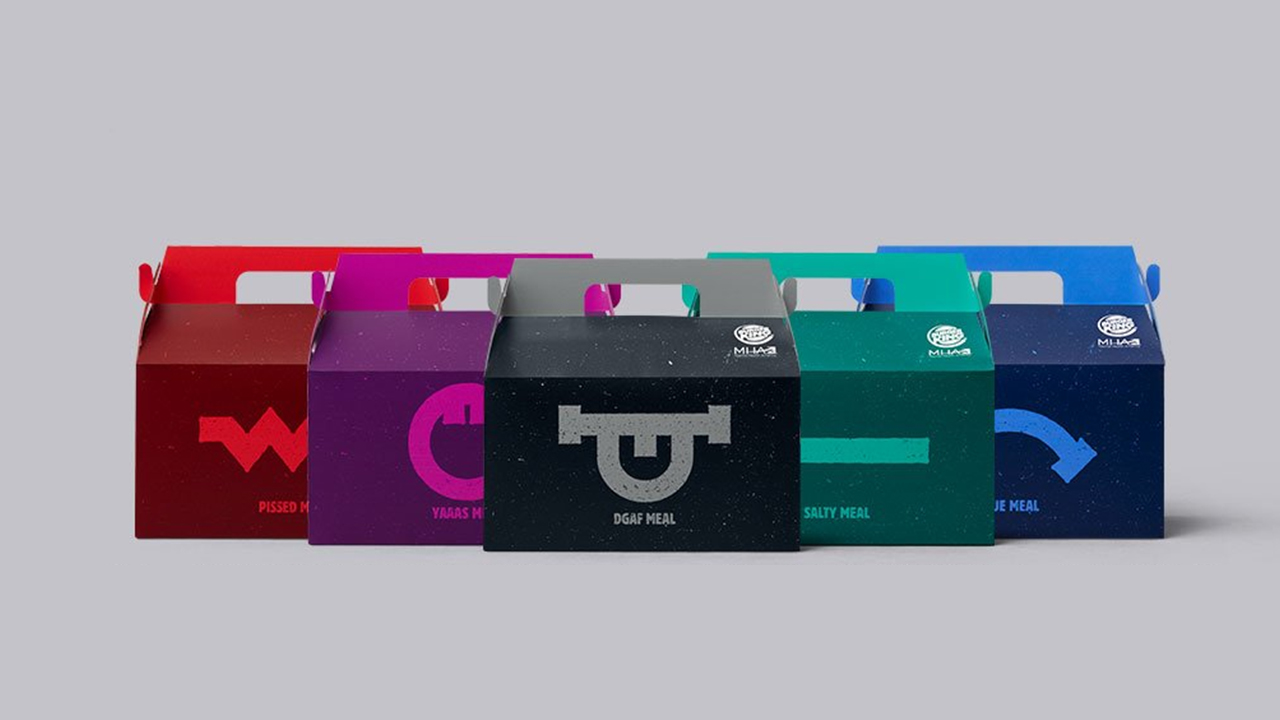 Fast food is getting more thoughtful this May.
In honor of Mental Health Awareness Month, Burger King is rolling out a new promotion: "Real Meals." Seen by some as a possible dig at the famous McDonald's Happy Meal, Real Meals are the result of a partnership between Burger King and Mental Health America (MHA). This promotion comes alongside the chain's recent introduction of a vegan version of the Whopper.
RELATED: Burger King Debuts New Vegan Option with the Impossible Whopper
Centered around the phrase "no one is happy all the time," each Burger King Real Meal's packaging reflects a different emotion. Options include the Pissed Meal, Blue Meal, Salty Meal, YAAAS Meal and DGAF Meal, each coming in a different colored box. Inside, you'll find standard Whopper combos.
As you may have guessed, no "happy" meal exists among the darker-hued boxes. YAAAS seems to the closest approximation.
The fast food giant created a pretty heavy commercial to go alongside the promotion, shot in 35mm no less. You can check it out here:
PjxRUEA0Tdo
To further promote the new deal, they've created a hashtag based on their slogan: #FeelYourWay.
And this isn't the first time BK has taken on an awareness campaign. Burger King previously offered deals centered around net neutrality and the pink tax.
Despite their partnership, it remains unclear if proceeds from Burger King Real Meals will actually go directly towards MHA. Additionally, the promotion is available only in certain locations. For those based in Seattle, Miami, Los Angeles, New York and Austin, the Real Meal is ready for consumption.
Interested in checking out the new Real Meals? Order your next BK Real Meal through the app to get special promotions and make your fast food even faster.
And don't forget to set a Deal Alert to stay updated on all the latest Burger King deals and specials.
---
Any product or service prices/offers that appear in this article are accurate at time of publish, and are subject to change without notice. Please verify the actual selling price and offer details on the merchant's site before making a purchase.