Sponsored
Skip the Stores: Easy Cereal Crafts To Do with Kids for Quality Time Together
Forget fancy crafting supplies. These easy kid art projects only require imagination and cereal.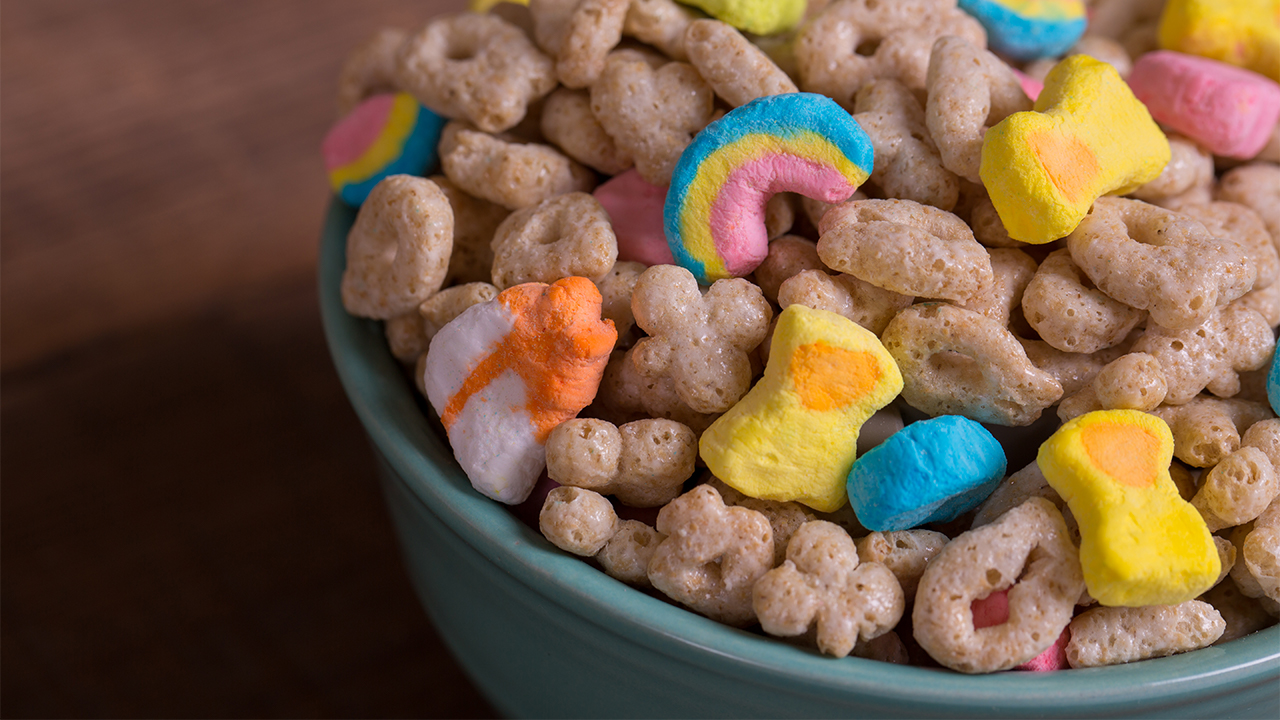 If you're anything like my five-year-old son who begs for a box of Lucky Charms and promptly eats the marshmallows in his bowl and leaves the rest every single time, I feel you. Sadly, since my husband and I aren't cereal eaters, we're forced to get creative with ways to use it up.
The good news is that we've started using his uneaten Lucky Charms to partake in some crafts. That way, we don't have to head to the stores and curb my desire to shop online for all the things. So for you parents out there looking for fun ways to spend time with your kids at home, here are some creative ways to use cereal for crafts instead of slogging through the store.
1. Create a Mosaic
Instead of using tile (which is, you know, not exactly kid-friendly), why not create mosaics using cereal? You can use coloring pages you've got lying around or print ones online. Or if your kids are older, and you're feeling creative, draw some yourself.
Keep in mind when choosing pictures that you want fairly simple ones that don't have much detail. For example, you can draw a simple flower where the stem is a rectangle and the petals and leaves are large enough to fit in cereal pieces. Compare this to a photo that offers a lot of texture and details where it'll be practically impossible to recreate.
To make your mosaic more interesting, consider using cereals with different shapes and textures. For example, you can glue pieces of Cinnamon Toast Crunch as the flower stem, Cheerios for the petals and Chex for the grassy area.
Don't have that much variety of cereal on hand? Paint the same kind of cereal different colors or use glitter.
2. Make a Cereal Box Maze
Grab a piece of cardboard, like an empty cereal box, and lay it flat for your maze. Have your kids draw up their maze with a pencil, and then glue down cereal pieces where the "walls" are. Go ahead and make the walls as tall as you want like a corn maze.
To take it a step further, make one yourself and swap with your child. Grab a straw and a piece of cereal (ideally round ones like Cocoa Puffs) and race each other by blowing your piece of cereal through the maze with your straw.
Who knows, maybe this could turn into a family fun night tradition.
3. Craft Cereal Sand Art
For those who have multi-colored cereal like Trix, making cereal art is a colorful way to create some sand art. All you need is a few resealable plastic bags and a rolling pin. Have your kids divide them up into separate colors and put them into the different bags. Seal them up and use the rolling pin to smash it up until you get a fairly fine powder.
Use the "sand" for any craft project you wish. Use coloring pages like the mosaic idea above, spread some glue on it, and sprinkle the smashed cereal. Or pour it into layers in a jar to make decorative items around the house.
 
4. Cereal Jewelry Is Where It's At
For younger kids who are still learning many of their fine motor skills, threading cereal through pipe cleaners is a simple but fun way to make crafts with them. Of course, it doesn't have to be Cheerios. In fact, I'm using the non-marshmallow Lucky Charms with my son, and he's obsessed with making rings and bracelets.
Parents with older kids can still do this activity too. However, you can take it up a notch by using a thread and needle and stringing cereal together. That way you can use practically any kind of cereal. Remember, they are delicate so try not to smash them while pushing the needle through them.
With crafts, you don't need to get fancy equipment. All you need is a little imagination, some simple items like glue and coloring pages, and you can have hours of fun with your little ones.
---
READ NEXT:
Sam's Club Is 'Free' Right Now With This Membership Deal
Our editors strive to ensure that the information in this article is accurate as of the date published, but please keep in mind that offers can change. We encourage you to verify all terms and conditions of any product before you apply.