The Best Ways to Save on Avengers: Endgame Tickets When it Returns to Theaters
Because one viewing of the most epic gathering of superheroes just isn't enough.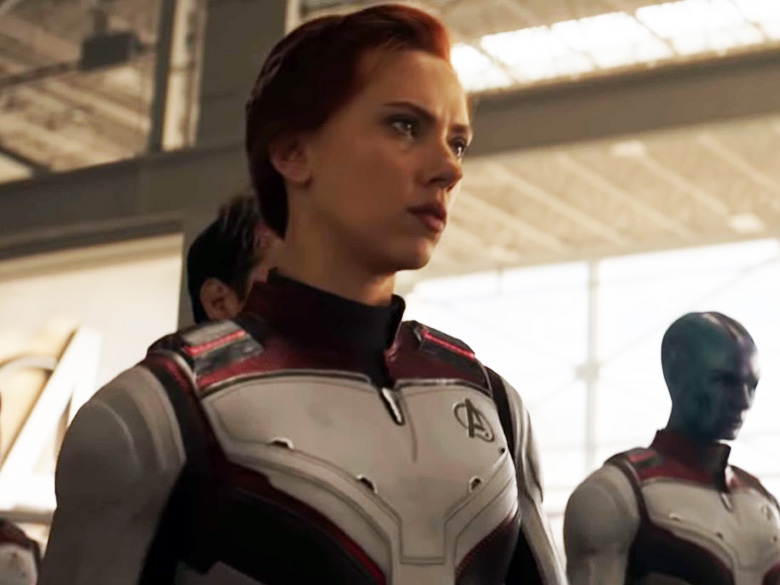 Avengers: Endgame Returns to Theaters: June 28th, 2019
What's been added: Several post-credits scenes
New Runtime: Slightly over 182 minutes
Directed By: Joe and Anthony Russo
Starring: Basically everyone
Avengers: Endgame wrapped up the MCU's sprawling, 22-movie saga, and while fans were generally pleased with how things concluded, the film lacked one important Marvel movie staple — a post-credits sequence. Thankfully, Marvel is here to make things right by bringing Avengers: Endgame back to theaters with a few extra scenes added in at the very end.
The new cut of the film returns to the big screen on June 28th. According to Marvel Studios president Kevin Feige, this version isn't long enough to be considered an "extended cut" but it will include "a deleted scene, a little tribute, and a few surprises."
Check out what we originally had to say about how to save money on Avengers: Endgame tickets below:
——————
Eleven years after its inception, the Marvel Cinematic Universe is ready to unleash the final installment of the Infinity Saga — Avengers: Endgame. After 22 films, tons of questions plague fans of the Avengers franchise going into this epic Marvel blockbuster.
Will those lost during the snap come back? What's going on with Hawkeye's sick new haircut? When can we finally buy tickets?
Naturally, we won't have all the answers until the film releases on April 26th. And even then we'll likely need to watch the movie a few times to catch all the details and Easter Eggs.
But with movie ticket prices going up every year, watching a blockbuster in theaters multiple times can really add up. So, in an effort to satisfy your need for repeated viewings while still maintaining your budget, we're here to show you the cheapest ways to watch Avengers: Endgame.
And if you haven't jumped on the hype train yet, check out this Avengers: Endgame trailer:
TcMBFSGVi1c
When Do Tickets for Avengers: Endgame Go on Sale?
Tickets for Marvel Studios' Avengers: Endgame are available for pre-purchase as of April 2nd. Early rumors from Screen Rant and Comicbook.com about the ticket sales proved to be true.
However, while the film is already setting pre-sale records, some ticket sites have been having difficulty with the massive traffic caused by Marvel fans.
We had to wait for over an hour to purchase tickets from Fandango (apparently we weren't the only ones), and the AMC website redirected us to an error page when we tried to buy. The Cinemark page wouldn't load at all.
The earliest showtimes will be at 6 p.m. on April 25th, to accommodate the three-hour runtime. Tickets are likely to sell out extremely quickly given the website-crashing levels of interest, so make sure you're armed with a solid game plan to pick yours up for less.
As of publishing time, most of the big movie ticketing websites are still down. However, you can still try your luck (you never know), or just wait for the initial rush to die down before you buy your tickets.
Ticket Subscription Services are the Best Value
AMC Stubs A-List
When it comes to repeat viewings, you really can't beat the value of a ticket subscription service.
Depending on the availability of AMC locations near you, AMC Stubs A-list provides the best consistent value. For between $19.95 and $23.95 a month (depending on the state), Stubs A-list allows subscribers to see three movies a week in any format (including 3D and IMAX).
There are no blackout dates, and you can watch the same movie as many times as you like.
RELATED: AMC Stubs A-List Lets You Watch Three Movies per Week for $20 a Month
Unlike ticket subscription services like MoviePass or Sinemia, AMC isn't really a gamble. The program is run by the theater, so there's no reasonable possibility of it suddenly vanishing. Plus, watching three IMAX movies for around $20 is a fantastic value in most parts of the country.
MoviePass
While MoviePass resurrected its unlimited viewing plan in March 2019 for as low as $9.95 a month, it only allows for 2D showings, which is a dealbreaker for some Marvel fans. It also still reserves the right to restrict access to certain movies.
Ultimately, given the company's history of unreliability, along with its mercurial terms and condition changes, MoviePass may not be the most comfortable option for some people.
RELATED: MoviePass Announces a New Unlimited Plan (Again)
Enjoy Matinees for Lower Prices
Many theaters offer discounts on matinee shows. If you plan on seeing Avengers: Endgame multiple times in a day, this can be a particularly great way to save money.
Cinemark, for instance, has an Early Bird special for the first show of the day (as long as it's before 1 p.m.). While the specifics vary by theater, we've seen tickets discounted by as much as 33 percent.
The discount applies to every movie, seven days a week, but unfortunately excludes some specialty formats like IMAX.
And if you're not much of an early riser, other theater chains sometimes offer weekday discounts. For example, AMC theaters offer $5 Ticket Tuesdays to members if its (free) AMC Stubs program.
The promo usually only applies to 2D films, but it's definitely one of the cheaper ways to see Avengers: Endgame.
Check with your favorite local theater to see if it offers matinee rates or other special promotions.
Best One-Time Movie Ticket Discounts
Ticketing services like Fandango and Atom Tickets frequently offer $5 discounts to new customers. You can check out the current promo offers from Fandango and Atom Tickets on our coupon pages.
The companies also provide discounts for specific theaters, along with some that are targeted towards specific customers (like those insured by State Farm), so be sure to take a look at everything and see if you can stack up some value.
Costco Offers Movie Ticket Gift Cards
Costco members can enjoy a variety of ways to pick up movie tickets for less. You can purchase a four-pack of AMC tickets starting at $35.99, or buy four $25 Atom Tickets gift cards for $74.99.
There are a bunch of different ways to save depending on what you need, but all of them represent a significant discount on standard movie fares.
This option is especially useful for families or large groups, but it definitely holds value for individuals who may want to see the same film multiple times.
---
Any product or service prices/offers that appear in this article are accurate at time of publish, and are subject to change without notice. Please verify the actual selling price and offer details on the merchant's site before making a purchase.