For a limited time only, you can bring home a pair of select Chuck Taylor All Star Seasonal Color Unisex High or Low Top Sneakers for $25 (over 50% off in some cases).
The sale shoes range in retail price from $39.97 to $60 for the fanciest High Tops. However, using the promo code COLOR knocks the total down to $25, regardless of the shoes' original price. It seems like you can use the code on multiple pairs of the shoes in the same order, and shipping is free when you set up a free Converse account.
You can get discount Converse shoes in over 12 different colors and all the shoes on sale are unisex. However, Slickdealer jgl19 pointed out this offer does not include kids shoes. Additionally, several users have noted this deal is only valid for Chuck 1s, the original canvas model of Chuck Taylors. This means the shoes will take a little extra oomph to break in, but at the end of the day your wallet will still thank you.
Regrettably, Sharpies to draw your favorite band logos on the soles are not included.
Noteworthy Colorways From Converse's Sale

Sale Price: $25 | Reg. Price: $50

Sale Price: $25 | Reg. Price: $55.00

Sale Price: $25 | Reg. Price: $60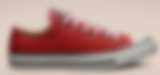 Sale Price: $25 | Reg. Price: $39.97

Sale Price: $25 | Reg. Price: $55.00

Sale Price: $25 | Reg. Price: $50
If the pair of Chucks you had your eye on aren't part of the sale, you should check out our Converse store page so you can stay in the know about the latest discounts and coupons.
It's also a good idea to set up Deal Alerts for all your favorite shoe brands; that way we can let you know whenever there's a hot sale going on.
Thanks to itsamazeling for sharing this deal.
---
Deal Value: Select Converse color sneakers for $25
Timeframe: Limited time only
Things to Remember: Sign up for a Converse account to get free shipping. Deal is only valid for Chuck 1s.
Consider the top shoe deal from our Frontpage for more savings opportunities:
Search URL: https://slickdeals.net/newsearch.php?firstonly=1&pp=20&sort=newest&rating=frontpage&filter%5B%5D=527&forumid%5B%5D=9&hideexpired=1&r=1
---
Any product or service prices/offers that appear in this article are accurate at time of publish, and are subject to change without notice. Please verify the actual selling price and offer details on the merchant's site before making a purchase.