CV-19 Essentials Back In Stock and How to Order Before They Sell Out Again
We can't promise you hand sanitizer, but we do have helpful tips to increase your chances of finding the liquid gold.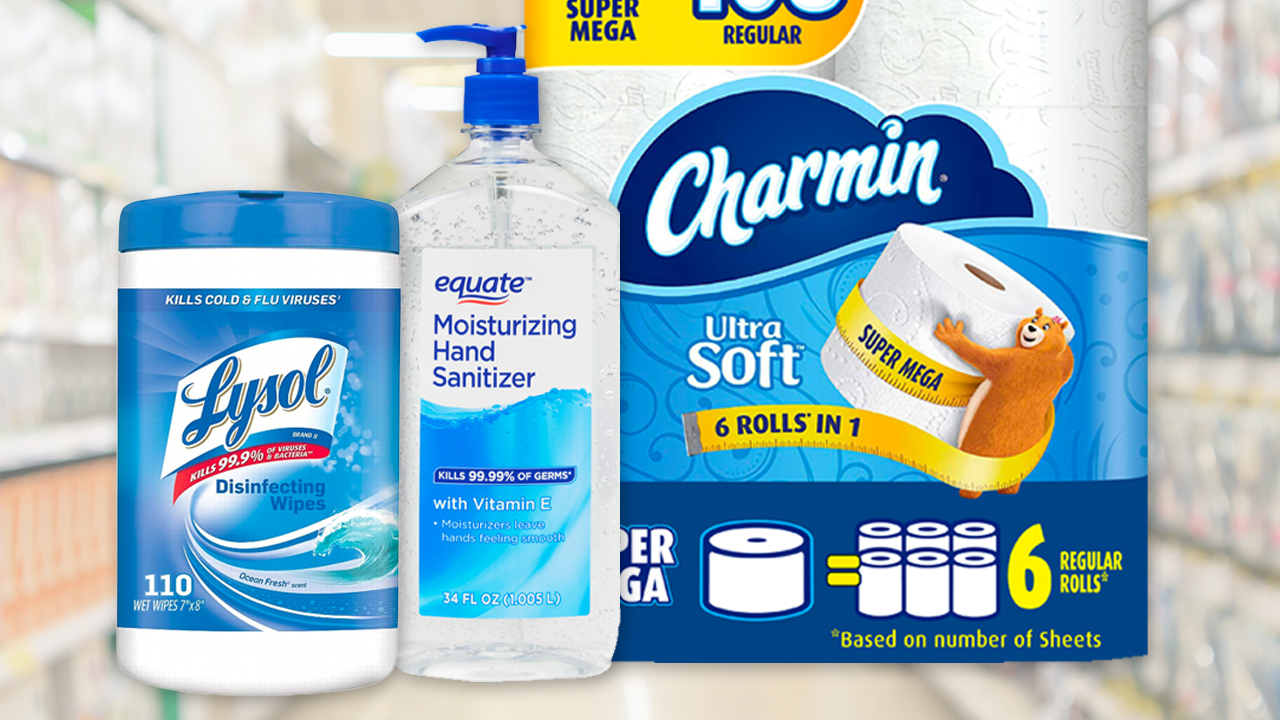 Shopping during these uncertain times has been frustrating, to say the least. Shoppers trying to replenish their toilet paper or sanitizer supplies are met with empty shelves and online deals that sell out in minutes.
While we don't have a secret stash of goods, we do have tips from our community of over 11 million Slickdeals users to help you locate and purchase COVID-19 essentials more easily and know when your preferred items are back in stock, along with ways to find the items you need from alternate vendors or stores.
Tip 1: Set up alerts for brands and specific items
We've been seeing deals pop up daily on the Slickdeals forums for hand sanitizer, toilet paper, and Lysol disinfecting wipes. Here are a few posts that went live recently in past weeks:
The items from these Slickeals Deal Threads do sell out fast, so make sure to set a Deal Alert and you'll be alerted as soon as a new offer is posted by the Slickdeals community. Set up alerts for brands and items, like "Lysol," "Clorox" and "disinfecting wipes," to make sure you don't miss out on posts. You can also set as many alerts as you want for any items you want to get the best deal on, including clothes, food, electronics, tech, warehouse club deals, and more.
Tip 2: Consider alternative online stores
Think outside the box when it comes to your favorite stores. Slickdeals users are getting lucky buying toilet paper and hand sanitizer from office supply stores, home improvement stores and sporting good stores.
Your favorite TP brand might be Charmin Ultra or Angel Soft, but this is not the time to be picky. If you are desperate for toilet paper, try buying industrial-sized rolls from Office Depot, Staples, Costco or Sam's Club. It won't fit on your toilet paper roll holder, but it is better than using facial tissues or paper towels –both of which can clog plumbing pipes.
The same principle applies to hand sanitizer. Look for non-mainstream brands or miniature sizes and stores you would not expect. For example, REI has several hand sanitizer options available on backorder that are said to ship within 30 days, like these:
Tip 3: Read Slickdeals user comments for helpful advice
Even if a deal thread appears sold out, you might find valuable tips from the community. For example, this Walgreens deal for Germ-X Hand Sanitizer Gel 30oz went out of stock quickly, but posters alerted the community when it went back in stock and offered tips on how they were able to score the deal through PayPal checkout and constantly refreshing Walgreens' page.
Additionally, some items will be available for backorders or pre-ordering after they sell out. Information about these options usually pops up in the forum comments, as well. Another very helpful tip shared by users is making sure you have PayPal or another easy-to-access payment with top stores that could help you check out more quickly and beat the rush when you do find a deal in stock.
Tip 4: Look for CV-19 essentials closer to home
Local stores
You might have better luck finding essentials at local stores, though you'll likely be met with crowds and buying limits. Many stores get a new shipment in each night during restocking, but that supply often sells out within the first 30-minutes of the store opening. And unfortunately, because stock is going so quickly, stores are not able to adequately update their websites to show current supplies on hand. This means that opting for grocery delivery or curbside pick up may not be a reliable option for low-stock items.
If your community has its own Facebook group or is active on neighborhood apps, like Nextdoor, check in there. For example, several of my neighbors post daily if they went to a store and saw an abundance of in-stock items that have been hard to find, from toilet paper to eggs. This can help you avoid going to several stores each day.
Local distilleries
Some local distilleries are starting to make their own CDC-approved hand sanitizer for individuals in their community and for many you can order online.
Tip 5: For fresh produce and staples, look local
Local restaurants
Many restaurants are selling their raw materials to the community, including staples like bread, eggs and milk, as well as easy-to-cook at-home meals. Check in with your favorite local restaurants and small businesses to see what their specific offerings are or if they are offering meal-prep packages. You might be able to find CSAs (Community Supported Agriculture) in your area offering farm-fresh produce. This helpful article also lists great fresh produce and food resources (for Los Angeles) that may also be available similarly in your area.
Restaurant wholesale suppliers
Look out for wholesale restaurant suppliers who are now open to the public for pick up or can deliver produce and pantry products to your home. Some wholesalers and grocers are also now on Postmates and/or other delivery apps that may service your area.
Tip 6: Try curbside pick-up and auto-shipments
For essentials that aren't constantly out of stock, such as toilet cleaner, shampoo and pet food, set up automatic shipments so you can stay home. Target, Walmart, and GNC are offering curbside pick up (review their websites for services in your immediate area). And for your pets, Petco, Chewy and PetSmart all have autoship options on pet supplies that typically come with free shipping and a small discount. Target online and Vitamin Shoppe also offer several pantry staples, household, beauty and pet items on authorship. Don't forget to also check out Amazon's huge list of HSA- and FSA-approved items to make your budget stretch farther during this time.
This time is rough on all of us, but thankfully we have a supportive community to help scour the internet for in-stock items and deals. Remember, setting multiple Deal Alerts and checking the Slickdeals forums frequently is often key to snagging one of these online CV-19 essentials.
---
Read Next:
---
Any product or service prices/offers that appear in this article are accurate at time of publish, and are subject to change without notice. Please verify the actual selling price and offer details on the merchant's site before making a purchase.