Cover All Terrains With These Deals on Hiking Boots for Men
Wild deals on tough boots.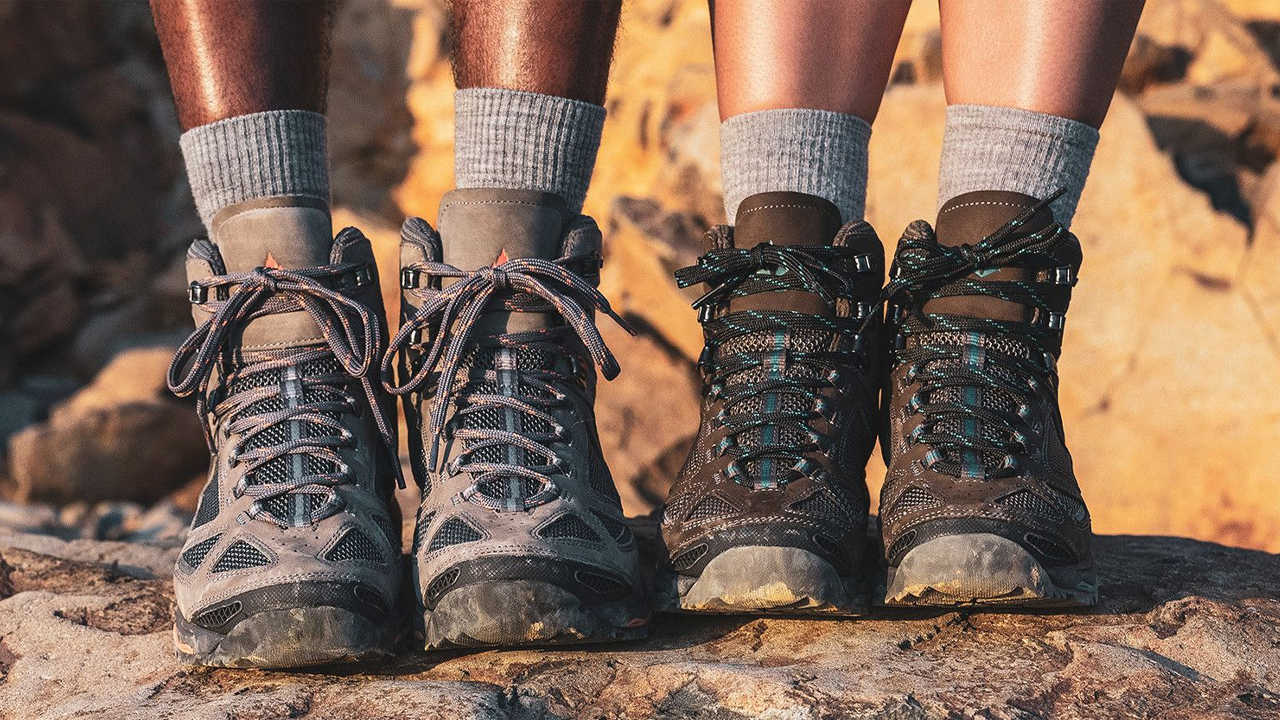 When you're itching to hit the trail, finding the right hiking shoes for the job is probably the last thing you want to think about. Having to consider breathability, sturdiness, fit, appearance and price can be overwhelming for a rugged individual such as yourself. Fortunately, we can take care of the price tag issue for you.
To make this quick and easy so you can return to the great outdoors with haste, ahead is a round up some of the best hiking boots deals for men. Once you're laced up, you can leave your credit card at home and run wild and free.
The Best Hiking Boots for Men

Merrell Moab FTS Mid Waterproof Hiking Boots at REI
Sale Price: $97.73 | Reg. Price: $140
These waterproof Merell hiking boots are constructed using lightweight materials and cushioned heels to ensure maximum comfort and shock absorption. REI offers free shipping for orders over $50.

Keen Targhee EVO Mid Boot at Moosejaw
Sale Price: $110.99 | Reg. Price: $159.95
These durable Keen hiking boots come with 4mm multi-directional lugs for maximum traction, so you can run and climb on all terrains. You also get free two-day shipping and earn up to $16 in Moosejaw Reward Dollars when you buy these men's hiking boots.

Men's SH/FT OutDry Sneaker Boot at Columbia
Sale Price: $89.90 | Reg. Price: $150
These versatile men's hiking boots from Columbia offer the best of all worlds — waterproof with lightweight breathable construction, yet insulated with thermal lining rated for temperatures as low as -25 F. Columbia Greater Rewards members receive free shipping and 899 Greater Rewards when they purchase these boots. The program is free to join, if you haven't already.

Vasque Breeze III GTX Hiking Boots at REI
Sale Price: $134.73 | Reg. Price: $179.99
With GORE-TEX breathable membranes and Vibram Contact Grip outsoles, you don't have to sacrifice long-wear comfort for sturdiness and stability in your search for the perfect men's hiking boots if you choose these Vasque boots. REI's free shipping doesn't hurt either.

Quicksilk Eyushijia Men's Waterproof Snow Boots on Amazon
Sale Price: $30 | Reg. Price: $40
If you're looking for a serviceable budget option, these Quicksilk snow boots are suitable for winter hiking while still casual enough to be suited for daily wear. Select sizes are even on sale for as low as $25. Prime Members also get Free Shipping from Amazon.

Timberland Men's Euro Boot on Amazon
Sale Price: $75.95 | Reg. Price: $110
For the fashionable hikers out there, these men's hiking boots from Timberland are an elegant and stylish take on a chunkier, more traditional boot. Amazon Prime members receive free two-day shipping when they purchase these boots.
Are you still waiting for the perfect deal on the men's hiking boots of your dreams? When you set up a Deal Alert, we let you know as soon as your desired boots go on sale within your preferred price range. Also, our Slickdeals community is always looking for the best deals – see which hiking boots made our Frontpage this week.
---
Save on these style items and more every day without even searching:
Find the Internet's best deals, promo codes, and savings everywhere you shop online by adding the Slickdeals extension to your search browser.

Set up a customizable Deal Alert and we'll send a notification straight to your phone as soon as any item on sale within your preferred price range.
Our community of 11 million savvy Slickdealers is always posting the best deals on the internet. See which items made our Frontpage this week.
---
UP NEXT: The Best Portable Speakers for Any Occasion – 2020 Edition
While we work hard on our research, we do not always provide a complete listing of all available offers from credit-card companies and banks. And because offers can change, we cannot guarantee that our information will always be up to date, so we encourage you to verify all the terms and conditions of any financial product before you apply.