Working From Home With Your Partner? These Tools Can Help
Don't let a shared workspace ruin your relationship.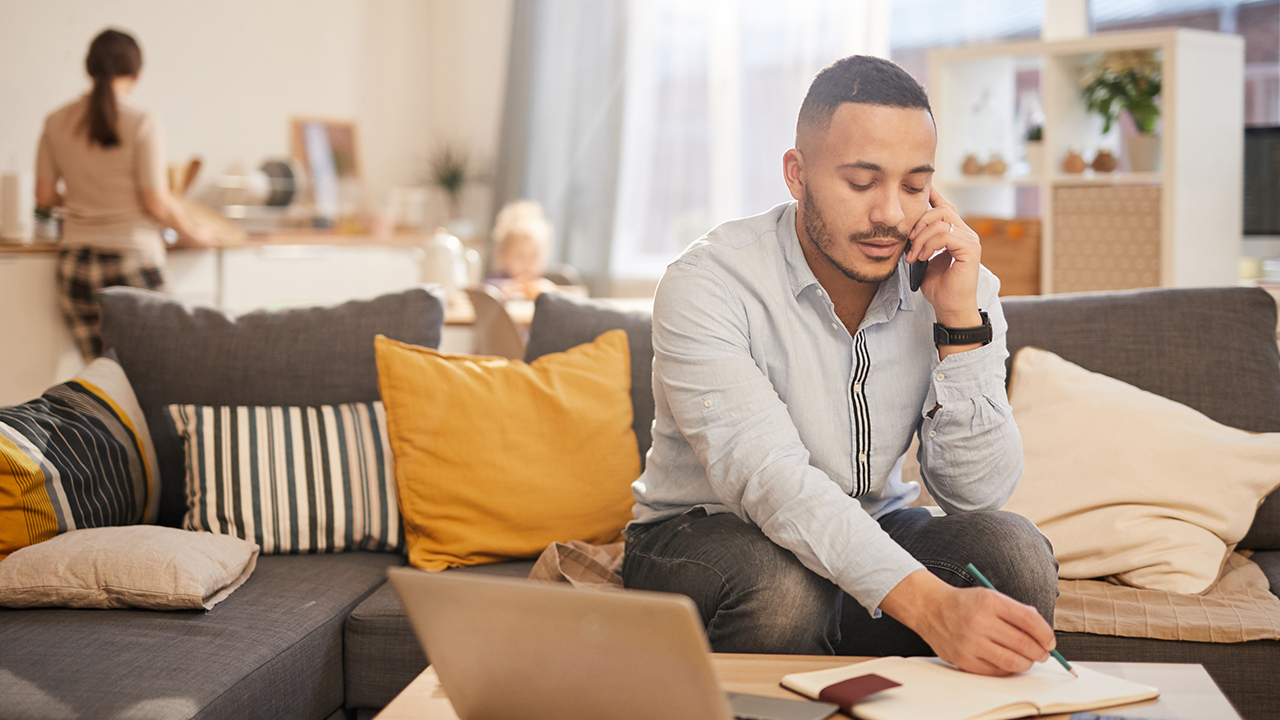 Working from home can be a profoundly useful and flexible tool to save time and aggravation. You'll likely find, however, that your biggest problem isn't the office VPN or incessant phone calls, but difficulty finding a space to get into work mode.
And if your partner is doing the same thing, you're going to need some teamwork, some rules and some equipment to make it work optimally.
5 Tips for Working at Home With Your Partner
1. Upgrade Your Internet

While your standard router can handle one of you gaming while the other catches up on their Netflix queue, two people working from home could require a faster, stronger internet connection.
You may want to consider upgrading your overall service, but also consider a faster router or a mesh network to ensure more speed and more places to tap into work.
Check out these recent deals if upgrading makes sense for your space:
2. Make Space, Literally

To start with, you need to figure out where everyone fits. Especially when nobody can leave the house, it's important to carve out zones where people are free to do their jobs. At workplaces, it's been found that too much, or too little, space drags on productivity and focus. So developing clearly defined, if temporary, workspaces is important.
Fortunately, since most of us are using laptops, there are tools handy to create spaces to work. A laptop desk, for example, rests on your thighs and lets you sit pretty much anywhere there's a chair comfy enough for your tastes. For squishier surfaces, like beds, consider a laptop tray, which has the added bonus of supporting your coffee.
If you're using a desktop computer, or simply need more monitors, consider a standing desk to create a little more space. And, regardless of how you plan to set up your space, stock up on extension cords and USB hubs to keep all your gear charged and plugged in.
Finally, set some rules. For example, if somebody has a headset on, don't bother them unless it's an emergency. Designate a "call room" with a door you can close (even the bathroom works) so you can step away from a shared space when you need to.
3. Have Some Privacy

Nobody wants to cameo on the team video conference, especially if they're coming in from a lunchtime run or decided to go to work in sweatpants.  Some privacy screens will help screen off your video conferencing from your partner's workspace or gym time.
If you're in a smaller space, you can still put some controls in place. Use your smartphone instead of your laptop, and set it on a phone stand pointed towards a wall you're sitting in front of, to limit the field of view. And if your space is a little dark, consider some smart lighting to improve the visuals.
4. Control Your Audio

There's nothing more distracting than unwanted audio. A 2013 study found that nearly half of all office workers lose focus because of distracting noises, especially conversations. And if that's true in an office, imagine what it's like when the person across from you fires up that conference call.
While setting rules can help, you can also use physics to create a less distracting environment. Put up cloth wall hangings, lay tablecloths over tables and desk and lay down area rugs on hard floors to deaden sound.
Once you've got a good hush going, keep it up by limiting speaker noise with headsets. A USB headset with microphone will ensure that you can be on all those conference calls, but that comes with a caveat.
We adapt the volume of our voices to the noise level around us, which is why you wind up yelling in a crowded bar. If you turn down the volume on your headset, it'll help ensure you're not yelling into the speaker.
Music can also help set a work mood, but you have to agree on tunes, which can be a tricky business. If you're in the mood for a little metal, and they'd rather listen to classical, it's better to pop in some Bluetooth headphones that connect to your phone. This saves you some aggravation on your work computer and keeps your '80s technopop playlist private.
5. Create Some Food Rules

Just like no office can survive for long without a rule against microwaving fish, no couple working together can thrive professionally or personally if they don't have some common courtesy. And while avoiding last night's cod is a good start, there are some other points to keep in mind.
Talk about your eating and drinking habits while at work. For example, some of us like a bottomless mug of coffee, while others only need a cup. Consider a single-serve coffee machine in order to make for just the right amount of coffee and limit arguments over whose turn it is to scrub the pot.
Similarly, some of us don't mind crunchy snacks, while others can't focus while somebody across from them eats a bag of chips. Fill your pantry with snacks that don't make a lot of noise or set a snacking area for the house. Then make a cleaning rule where all wrappers go in the trash and dirty dishes in the sink.
---
It won't be quite like going to the office, but with a little work, you can make your home an office without driving each other nuts. And to make sure you're getting the best price on any office upgrades, set a Deal Alert. We'll email you as soon as a new offer comes up on our forums.
UP NEXT: 
Our editors strive to ensure that the information in this article is accurate as of the date published, but please keep in mind that offers can change. We encourage you to verify all terms and conditions of any product before you apply.