What's the Difference Between a Modem and a Router?
And what to look for when you buy.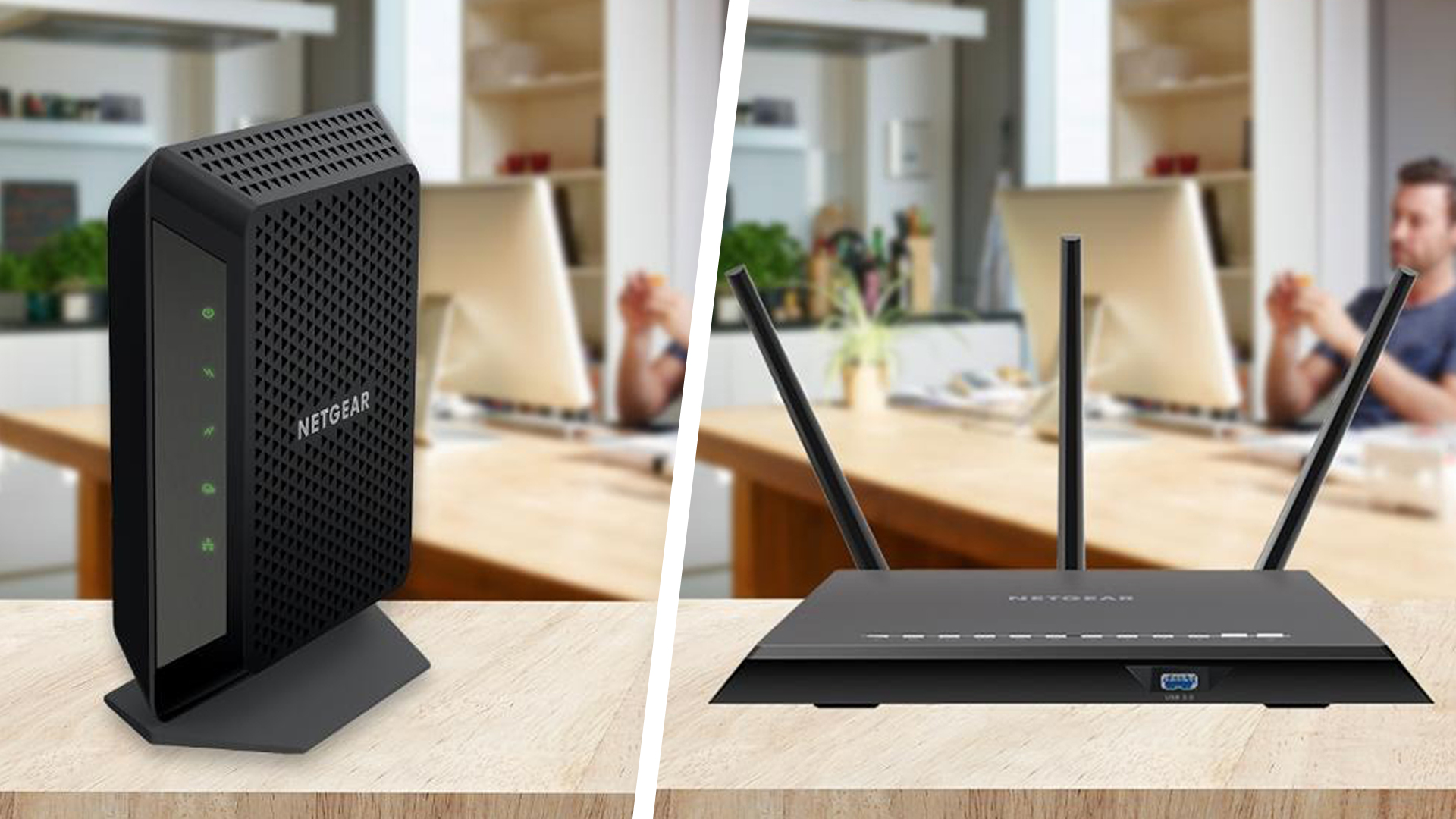 We hate to break it to you, but a modem and a router are not the same thing. Thankfully, we are here to break down the difference and help you get your tech needs sorted without overwhelming you with IT jargon.
Simply put, the difference between a modem and a router is that a modem connects to the internet, while a router provides the wireless internet connection throughout your space. In other words, a modem brings the internet to your space, while the router allows you to have your smartphone, smart tablet, smart TV and laptop all running Wi-Fi seamlessly at the same time.
What Is a Modem?
A modem is a device that receives data from your internet service provider (ISP), converts it into ethernet and connects to the router, which is the Wi-Fi hub for your home or office.
Technically, you can have a modem plugged directly into your home computer and receive internet to that one computer. However, this is unwise since a modem is meant to transfer data and does not offer any layers of security. Even if you only use one internet-enabled device in 2021, we still implore you to use a router alongside your modem.

Where Do I Get a Modem?
Most ISPs will give you a modem when you sign on for services. However, they will also often charge you a rental fee of about $5 to $10 per month. If you can, skip this fee and buy a well-rated modem upfront. It's easy to find a decent modem for under $100, which will end up saving you money in the long run when you consider how those pesky rental fees add up over the years.
The most important thing to look for when choosing a modem is the download and upload speeds. Typically, modem companies will advertise their download speeds, which can be quite fast. However, upload speeds are just as important to compare. You will use download speeds on things like streaming and loading websites, and upload speeds for emailing, video chat services like Zoom and gaming.
When assessing which modem speed will fit you and your household's internet needs, be sure to also consider what your internet plan provides. You don't want to purchase a modem with a high DOCSIS (Data Over Cable Service Interface Specification — a.k.a. tech talk for the modem's horsepower range), when you're paying for a lower internet speed from your ISP. Basically, avoid paying top dollar for something you'll never be able to use.
If you're looking for affordable modem deals, you may want to consider these two options, which regularly go sale for under $100:
What Is a Router?
A router is a device that takes the internet data from the modem and sends it out as Wi-Fi. It allows you to operate internet-enabled devices like laptops, tablets, home cameras, smart phones and smart TVs all at the same time.
Most routers on the market today also provide updated security protocols to protect your network. However, you'll still need to ensure that your Wi-Fi is protected against Wi-Fi pirates. To do this, change the default router password to an easy-to-remember passcode with a mix of letters, numbers and symbols.

How Do I Choose a Router?
Before you jump headfirst into an expensive router purchase that boasts large numbers after its model name, there are a few things you need to know.
Heavy internet usage needs dual-band or tri-band routers. If you have a lot of internet-enabled devices or a lot of internet users under one roof, consider a dual-band or tri-band router to increase your speeds and divvy up the bandwidth usage.
Mesh routers are great for large spaces. While they're a bit pricier, mesh routers can help your internet network reach every floor or corner of your home. If a mesh router is not in your budget, you can use range extenders to help.
Look for real-time speeds. Don't judge a router by its advertised speeds. Instead, look at reviews for real-life speed tests from customers. After you purchase and install your device, you can also run your own speed tests.
Router prices can vary greatly depending on the tech and your internet needs, but it's not hard to find decent router deals. Here are two options that are highly-rated and are regularly under $100. They are both good choices to start with if you are wanting to get your space connected ASAP:
If you have the budget to invest in mesh routers, Amazon eero and TP-Link have router sets that reach up to 5,000 sq. ft. and connect to many devices for under $200.
For even more advice on picking the best router for your space, as well as router reviews, check out the detailed Slickdeals Wireless Router Guide.

Why Do I Need a Modem and a Router?
Have you ever seen those jars of peanut butter and jelly mixed together, advertised as making life easier? That is similar to modem and router combos. The idea seems brilliant enough; you have modem-router combos, also known as gateways, that boast easier set up and fewer cables. However, just like the mixed peanut butter and jelly jars, you have little control over each element.
New modem and router technology are released at different times, and with a combo device, you cannot update one without updating both. Gateways also have limited security features and are harder to repair and troubleshoot. And if you think buying the combo pack will save you money, think again. Not only are gateways about the same cost as purchasing a modem and router separately, but they can also cost you more in the long run when you need to upgrade or replace your tech.
Bottom Line
You need both a modem and a router to operate the internet successfully in your home or office space. Take into consideration how you use the internet before deciding which modem and router are best for your internet needs. A single person just browsing the web likely doesn't need a top of the line setup, while a serious online gamer or households with lots of people accessing the internet at once may need more power.
Most importantly, don't forget to set Deal Alerts for router and modem deals on Slickdeals. Our community is dedicated to posting the best deals and even weighing in with free tech help and reviews. You can also check out our Computer Networking Equipment Deals page for all of the best modem and router deals currently available.
Up Next:
Our editors strive to ensure that the information in this article is accurate as of the date published, but please keep in mind that offers can change. We encourage you to verify all terms and conditions of any product before you apply.