Disney, Brooks Brothers, Old Navy and Other Popular Brands Now Sell Face Masks
It seems the essential is now being sold everywhere.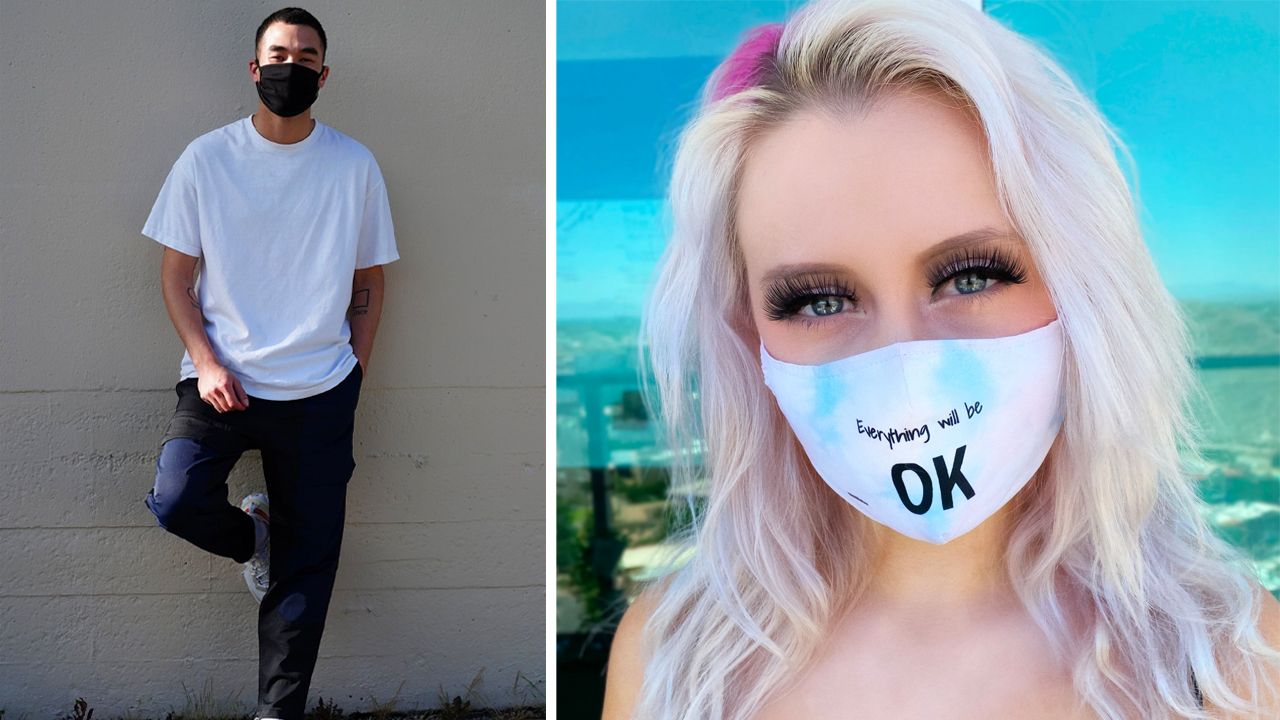 Face masks have become an important staple in the world's wardrobe. Due to this change, mainstream brands and designers are doing what they can to meet customers' needs. While these styles from Disney, Old Navy and more aren't comparable to masks used by medical professionals, it's important to know that's actually a good thing. According to the Centers for Disease Control and Prevention (CDC), those essentials should be reserved for healthcare workers and other frontline responders.
All in all, wearing protective face covering can make a huge impact on the spread of coronavirus. Do your part and look great doing it with the affordable stylish options below.
Mainstream Stores Selling Face Masks
---
1. Disney:  Face Masks (4-Pack Sets) Featuring Star Wars, Marvel, Frozen, Mickey, PIXAR and more

Disney has a huge selection of animated masks in plenty of sizes at under $20 for a set of four (or around $5 each). Shop their popular characters and franchises like Star Wars characters, Mickey and Minnie Mouse, popular Disney princesses and Frozen characters, plus Marvel as well as PIXAR characters and more.
Note: Disney masks are currently only available for pre-order and won't be shipped out until early August. Buy them now and wait for the summer to be over because you'll likely need a replacement mask by then anyway.
---
2. Old Navy: Variety 5-Pack of Triple-Layer Cloth Face Masks
Reg. Price: $12.50
Gap's sister brand Old Navy has even more affordable face masks. The site sells a five-pack for just $12.50, but the products are on backorder until June 16th.
Deal Tip: Want an additional 20% off the next time you shop at Old Navy? You know the deal, simply provide your e-mail and you'll instantly get the discount.
---
3. Brooks Brothers: Made in the USA Superior Cloth Face Coverings (5-pack to 100-pack)

Reg. Price: $20 (for 5-pack)
Manufactured in the USA, these cotton masks from the iconic preppy brand are made from "state-of-the-art non-woven material that has been tested to filter 86% of particles of 0.3 microns" according to the website and offers higher filtration capacity than standard cotton fabrication. Reviews on the site say the material is breathable and the style fits most family members. With packs of 5, 20, or 100, stock up and also share.
---
4. Steve Madden: Everything Will Be Ok (Nicki Baber Mask)

Reg. Price: $14.95
Get some encouragement from Steve Madden's Nicki Baber mask that says "everything will be ok." The fashionable mask is less than $15, but isn't shipping until May 27th.
---
5. Vera Bradley: Cotton Face Mask (Non-Medical) in Popular Prints

Reg. Price: $8
From florals to paisley, Vera Bradley's printed masks are selling fast. However, the brand is restocking as quickly as possible. The last restock was on May 19th and while there's no information on when the next one will be, keep an eye out as there's no doubt it will be sooner than you expect.
Deal Tip: Is this your first time shopping at Vera Bradley? If so, make sure to sign up for the site's e-mail newsletter to get an extra 15% off your first purchase.
---
6. Nordstrom Rack: Washable Adult Face Masks (Set of 6)

Reg. Price: $24
These washable face masks in various neutral colors may be sold-out on Nordstrom, but it appears Nordstrom Rack has a separate stock. Sadly, it didn't go down in price, but they're pretty affordable to begin with, at $24 for six or $4 each.
---
7. American Eagle: Talking Out of Turn Reusable Face Mask

Reg. Price: $13.95
American Eagle recently released new feel-good face mask designs on the company site. The one you won't be able to pass up is the under $14 mask above that says "I'm actually smiling right now" in bright colors. Now that's adorable and affordable.
---
8. Anthropologie: Organic Cotton Reusable Face Masks (Set of 3)

Reg. Price: $24
There's prints on prints available at Anthropologie. Stand out with these organic cotton reusable masks and each set comes with three, so you don't even have to rock the same one multiple days in a row. Just know, there's a slight delay and these items won't be shipped out until early June 11th.
---
9. Express: Pocket Square Clothing Black Unity Face Mask

Reg. Price: $15
For those with a more classic style, Express' black masks were made for you. Each one is $15 and a donation is made to COVID-19 relief efforts with each purchase.
---
10. Madewell: Three-Pack Non-Medical Plaid Cloth Face Masks
Reg. Price: $20
Don't miss out on Madewell's high-quality face masks that feature three-layered construction with a filter. A pack of three is $20 with a slightly longer expected ship date of June 3rd.
---
11. Gap: Kids Face Mask (3-Pack)

Reg. Price: $15
Grab new masks for yourself and your little ones at Gap. The brand has three-pack styles at only $15 each made for the entire family.
Deal Tip: Don't forget to subscribe to the site's e-mail newsletter to receive an extra 25% off coupon.
---
12. Banana Republic: Classic Face Masks (3-Pack) with Adjustable Straps

Reg. Price: $29
The other member of the Gap and Old Navy crew is Banana Republic and of course, the brand is selling a version of face masks. These are higher in price, but the reviews confirm the three-pack is worth the $29 price tag. You will have to wait a bit to get them as the masks aren't expected to ship again until June 12th.
---
13. Rent the Runway Reusable Masks

Reg. Price: $50
At Rent the Runway, the mission is "buy five, give five." The idea is with every purchased five-pack, five will be donated to a community in need. Technically, you're buying 10 for $50 and helping someone out along the way.
---
READ NEXT:
Keep It Cool With Inflatable Pools in Stock and Ready to Ship Now!
Our editors strive to ensure that the information in this article is accurate as of the date published, but please keep in mind that offers can change. We encourage you to verify all terms and conditions of any product before you apply.