Here are Some (Almost) Foolproof Foods You Can Plant This Spring
Try planting these DIY garden foods now to skip the store's produce section later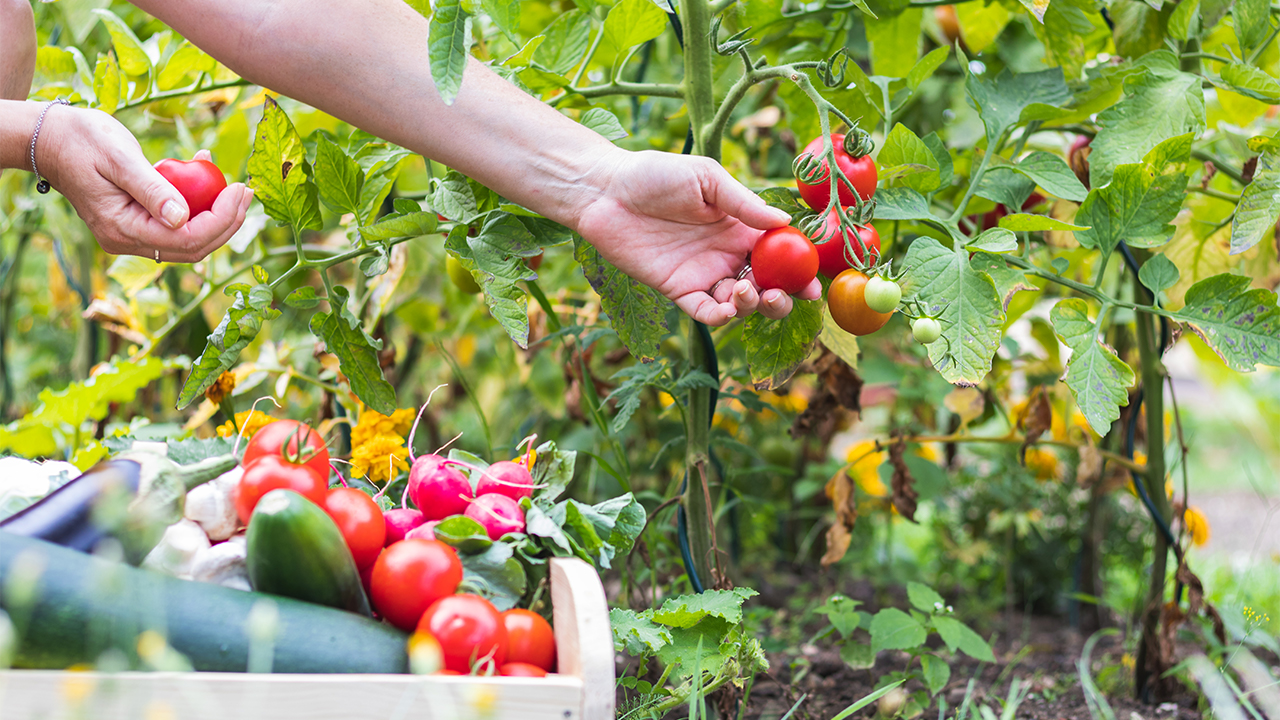 If I, a long-time plant killer can grow food, so can you.
When it comes to growing vegetables, it's satisfying to grow your own — and even more so because it could mean avoiding those crazy lines at the grocery store (or praying you get a delivery time), am I right?
Even if you've admittedly killed plants before, give gardening a go. The key is to start a vegetable garden that is almost foolproof to grow and one that doesn't require a ton of time and effort. And if all you've got is a small backyard, balcony or sunny corner in your spare room, it's still possible.
That being said, you can't simply dump some seeds in the dirt and pray they'll grow. It will depend on your space, but these are the plants most likely to grow in your new edible garden whether you're a homeowner or an apartment dweller.

Let's Talk About Equipment (Just Planters)
Let's get real — it really doesn't matter what your new garden looks like if it'll grow you some fresh and delicious food, right?
To make it simple, let's assume you're going to grow your vegetables in containers. You can go spend a ton of money on cute matching planters, but as long as you have waterproof containers with some drainage holes, you should be good to go. Seriously, I've used cut up gallon milk jugs, plastic containers from disinfectant wipes and strawberry cartons.
If none of the above items are handy, you can still get containers for cheap — Home Depot, for example, sells nursery pots (a fancy name for thin plastic pots) with drainage holes that are less than a few dollars. If you're planting inside, make sure to sit these pots on a tray (or buy some plant saucers) and voila, budget container garden.
There are also fancier types of planters and planters that can be easily moved like this City Pickers patio garden kit. I've used these in the past with much success. If you have windows that get a lot of sunlight, try using a small hanging basket indoors.
Add Soil and Seeds
Of course, you'll want some soil. No need to get fancy here — even your local stores like Walmart have Miracle-Gro potting soil. As for fertilizer, you can certainly get some, but in most cases, you can do without as most potting soil has fertilizer mixed in. If you do want to add fertilizer, you can buy fertilizer made specifically to grow vegetables.
Then there's seeds — lots of home improvement or nursery stores sell them. If you're impatient like me, you can buy what's called "seedlings" (small sprouted "baby" plants) which means someone has already done the hard work germinating the seeds for you. Otherwise, it's pretty dang satisfying to do it all yourself.

Veggies That are Easy to Grow
When you're just getting started growing vegetables, I'd suggest starting with a few first — growing too much could feel overwhelming. Once you think you've got the hang of it (aka nothing's died in two weeks), feel free to add more.
Radishes
If you're impatient, radishes are one of the best vegetables you can grow because you can harvest them in as little as three weeks. You can even grow them in tiny containers — I've saved yogurt cups and grew two with each one!
There are tons of varieties, so go to town when choosing between those seed packets. The leaves can also be used in salads or cooked in a variety of dishes. Got kids? These are also great for children to plant and pull up from the soil.
Lettuce
Lettuce is another vegetable that grows relatively fast (some varieties are ready in as little as 45 days). Plus it's super easy to harvest — all you need to do is pick leaves when you need them — and grow well in containers. If you don't have a super sunny spot, different varieties can grow in partly shady areas.
Kale
Love it or hate it, Kale is a versatile plant because you can grow it until they're baby greens and eat them then or harvest them when they're fully mature. The leaves can be put in a salad, a simple stir fry or steamed with garlic. You can get something edible in as little as three weeks or around 45 to 60 days if you're looking to get full-sized leaves.
Carrots
Whole carrots are fun to grow and don't require a huge container, but you'll need to make sure the soil is deep enough for the carrots to grow fully. Once you've grown this kid-friendly healthy snack, don't throw away the top of the carrot; it's edible! You can turn it into a pesto of sorts or throw it in some soup.
Tomatoes
Fine, it's technically not a spring vegetable, but you can find tomato plant starters and seeds pretty much everywhere these days. They're container garden friendly, especially hanging baskets, and will need lots of sun for them to grow. Keep in mind that as the plants grow taller, you'll need to get stakes for support. While you're at it, consider growing basil next to your tomatoes to repel insects. Some experts say basil could even improve the flavor of your tomatoes.
Here's to Your (Vegetable) Growing Success
So there you have it — a beginner's guide to growing a thriving vegetable garden. As you can see, it doesn't take a lot of equipment or know-how (there are instructions on the seed packets for you). As long as you're willing to take some time to get it right, within a few weeks you can brag to your friends that your vegetable dishes are farm to table ones.
Our editors strive to ensure that the information in this article is accurate as of the date published, but please keep in mind that offers can change. We encourage you to verify all terms and conditions of any product before you apply.