Gear You Need: Breathable Face Masks by Adidas, Athleta, RVCA
Top sports and active brands now offer breathable fabric face masks to work out in.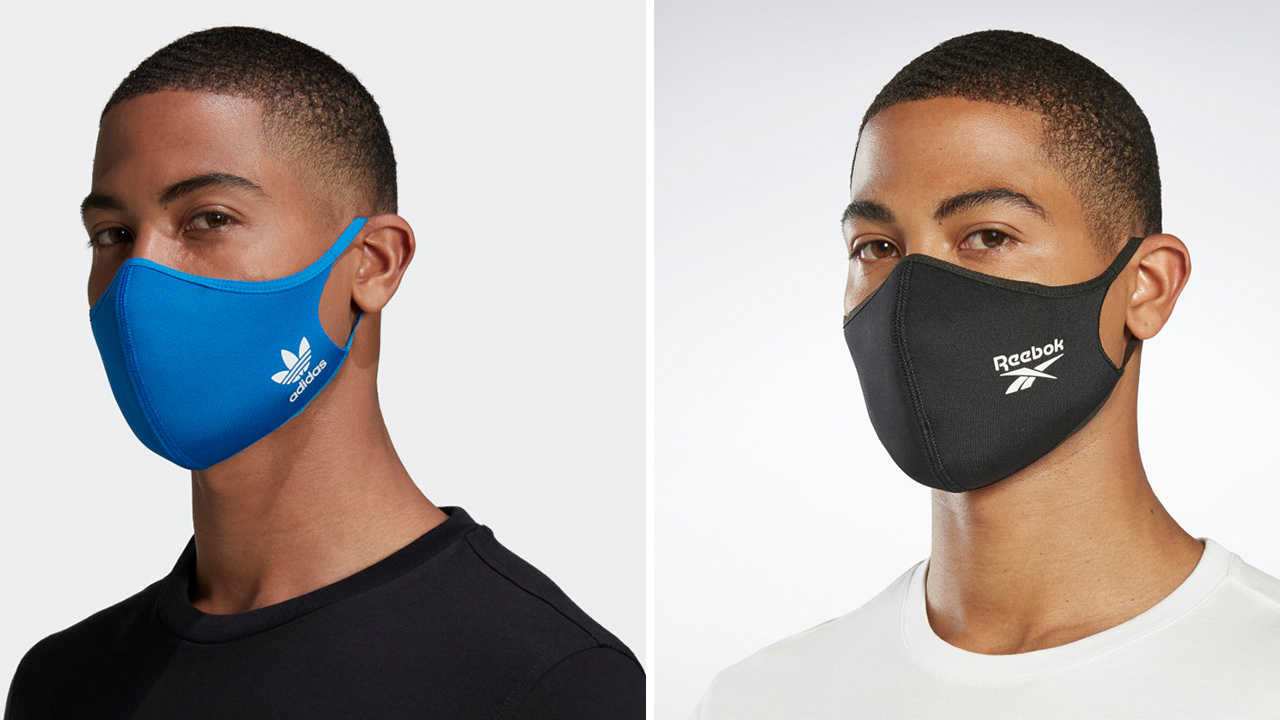 States have considered reopening gyms to the public with the recommendation that people still wear face covers and masks and follow CDC recommendations regarding face coverings. Luckily, several sports brands have stepped up and are offering their own non-medically graded breathable fabric face masks for the gym and to work out in. These same masks are a great option for outdoor joggers and runners or those looking for face-coverings more suited to and designed for an active lifestyle or activity.
Check out these new sporty designs ideal for the gym to make it easier to work out and stay safe, along with deals we found to help you offset the cost of your gym membership.
---
Adidas: Masks Now Available in the U.S.
These new masks feature the Adidas logo, are made with soft, breathable fabric and are washable and reusable, making them ideal for practicing healthy habits every day. The secure fit will make them an ideal option for the gym and they just hit stateside, after initially only being offered in the UK and originally were only offered in black. Also, $2 from every pack sold will go to Save the Children's Global Coronavirus Response Fund.
Deal tip: Adidas and Reebok are part of the same company, and the sports masks both brands offer look, ahem, "similar." But, as of the date of this post, Adidas logo masks are 20% cheaper at $16 (for a 3-pack) versus Rebook masks selling for $20 (3-pack) and you get a choice of blue or black at Adidas as well.

Adidas Face Cover | 3-pack BLUE or BLACK | $16
*Thanks to Slickdealer SinghxShady who posted this Adidas deal
---
Reebok Face Masks: Breathable and Discounts Offered
This fabric mask is ideal for the gym with its hands-free secure tight fit and breathable fabric that stretches around the ears. The design is made from two layers of soft breathable fabric, according to the sports brand's website. More bonuses: the masks are reusable and washable, and are made from recycled fabric (93% Recycled polyester / 7% elastane). Plus, Reebok also has several ways to save money on your purchases:
Students get 50% Off daily
Heroes get 50% Off – this includes teachers, nurses, military personnel, first responders, and government employees (must verify status with ID.me)

Reebok Face Cover | 3-pack BLACK | $20
---
New Balance Face Masks: Made in the U.S.A.
New Balance is using its US factories to produce non-medical face masks for sale to the public. These new masks (in gray, image left, below) for the gym just hit the website on June 9. According to the site, the new "NB Face Mask V3 is a 3-layer, lightweight and breathable mask" and also features a moldable nose piece –great for extra security while moving around at the gym or working out vigorously anywhere. They are also washable. In addition, the running brand states on its website, they may also be experimenting with the materials used to create breathable and durable running shoes to also create fabric masks for the gym (image below, on right).

NB | Face Mask v3 – 3 Pack GRAY| Unisex | $24.99
---
Athleta Face Masks: Muted Colors, Lightweight and Adjustable
These non-medical face masks from the Gap-owned brand Athleta are the perfect addition to any workout wardrobe – they are comfortable, breathable and the colors are soft and muted to be paired with any of your gym outfits. They also feature a wire along the nose bridge for a better fit while working out and just for general daily wear and, we are loving the adjustable straps. While these fabrics mask are sold out now, the website states they plan to start shipping again July 4, so get your order in now. According to the website, these non-PPE cloth masks are "Light and airy against your skin" and "airflow moves easily through the garment."


Athleta | Multi-color 5 Pack Non-Medical Face Masks | $30.00
---
RVCA: 100% Cotton Face Masks
For those that prefer the sports brand RVCA for their edgy-cool styles, the active brand just announced their new line of non-medical grade masks that would work for the gym as well as outside. These non-N95 100% cotton masks are so popular, they sold out within a day of launching. Keep an eye out for them to return along with other styles made for active lifestyles.


RVCA | 100% Cotton Non-Medical Face Mask – BLACK or CAMO and LOGO| $10.00
See on RVCA
---
Any product or service prices/offers that appear in this article are accurate at time of publish, and are subject to change without notice. Please verify the actual selling price and offer details on the merchant's site before making a purchase.