Wanna Get Away? 5 Best Southwest Flight Deals to Book in February With Your Rapid Rewards Points
Looking for a Southwest deal? Use your Southwest Rapid Rewards points to book any of these flights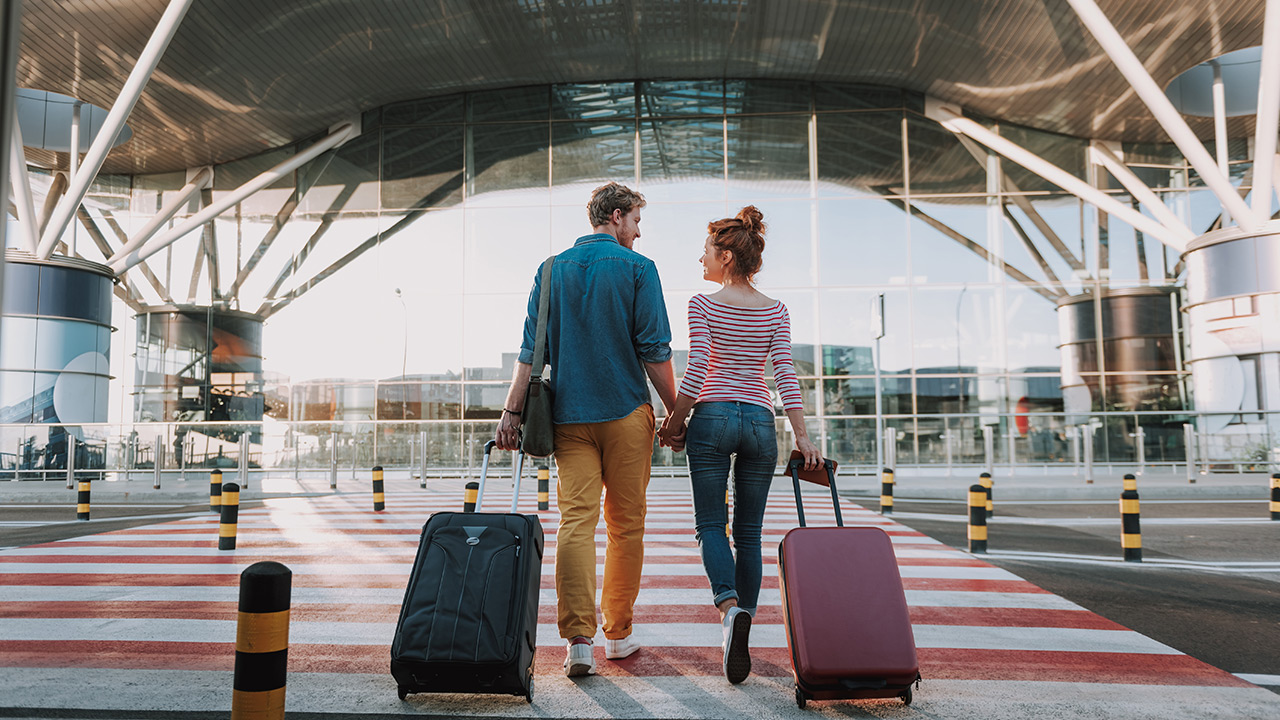 For years, Southwest Airlines was my go-to airline because I qualified for its incomparable Companion Pass. Not only was I getting (mostly) free flights with Rapid Rewards points, but my ex-wife was able to fly with me every time for just the cost of taxes and fees. I've been writing about travel rewards for seven years, and Southwest has the best deals l I've seen.
Southwest Rapid Rewards points are relatively unique, because the cost of an award ticket is tied to the cash price. This means that when the airline runs a fare sale — and that happens often — you can score a roundtrip flight for as little as 4,210 points. When Southwest credit cards are offering big sign-up bonuses, it's a great time to consider all of the possibilities.
>>NEXT: Best Travel Credit Cards of 2020: Compare Current Offers and Sign-Up Bonuses
Whether you're getting the Southwest Rapid Rewards® Priority Credit Card, Southwest Rapid Rewards® Premier Credit Card or Southwest Rapid Rewards® Plus Credit Card, here are some of my favorite trip ideas once you start earning points.
Quick Navigation
1. Island Hoppers in Hawaii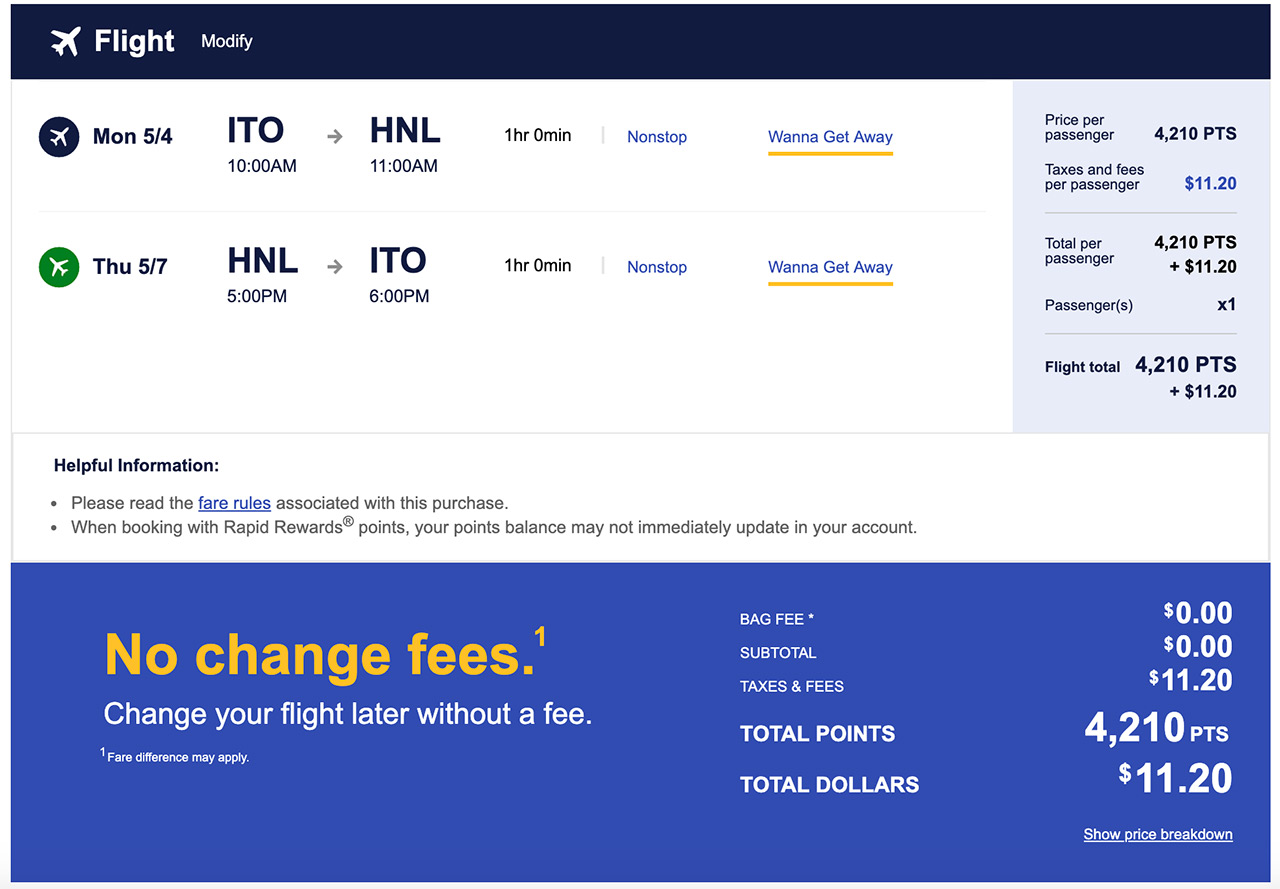 In 2019, Southwest started servicing routes to Hawaii, and the airline often provides deals from West Coast cities. But where the real value lies is with its interisland flights. For example, I found a flight from Hilo on the Big Island to Honolulu for just 2,105 points one way.
There's a lot to see on each Hawaiian island, and these cheap flights can make it easy to fly into one island, hop to another, then fly back home from the second island. Or you can use one island as your anchor and book roundtrip tickets to other islands during your trip. After all, you shouldn't have to choose between the Road to Hana and Pearl Harbor. Whatever you do, it won't take much to expand your horizons on your Hawaiian getaway.
2. Turks and Caicos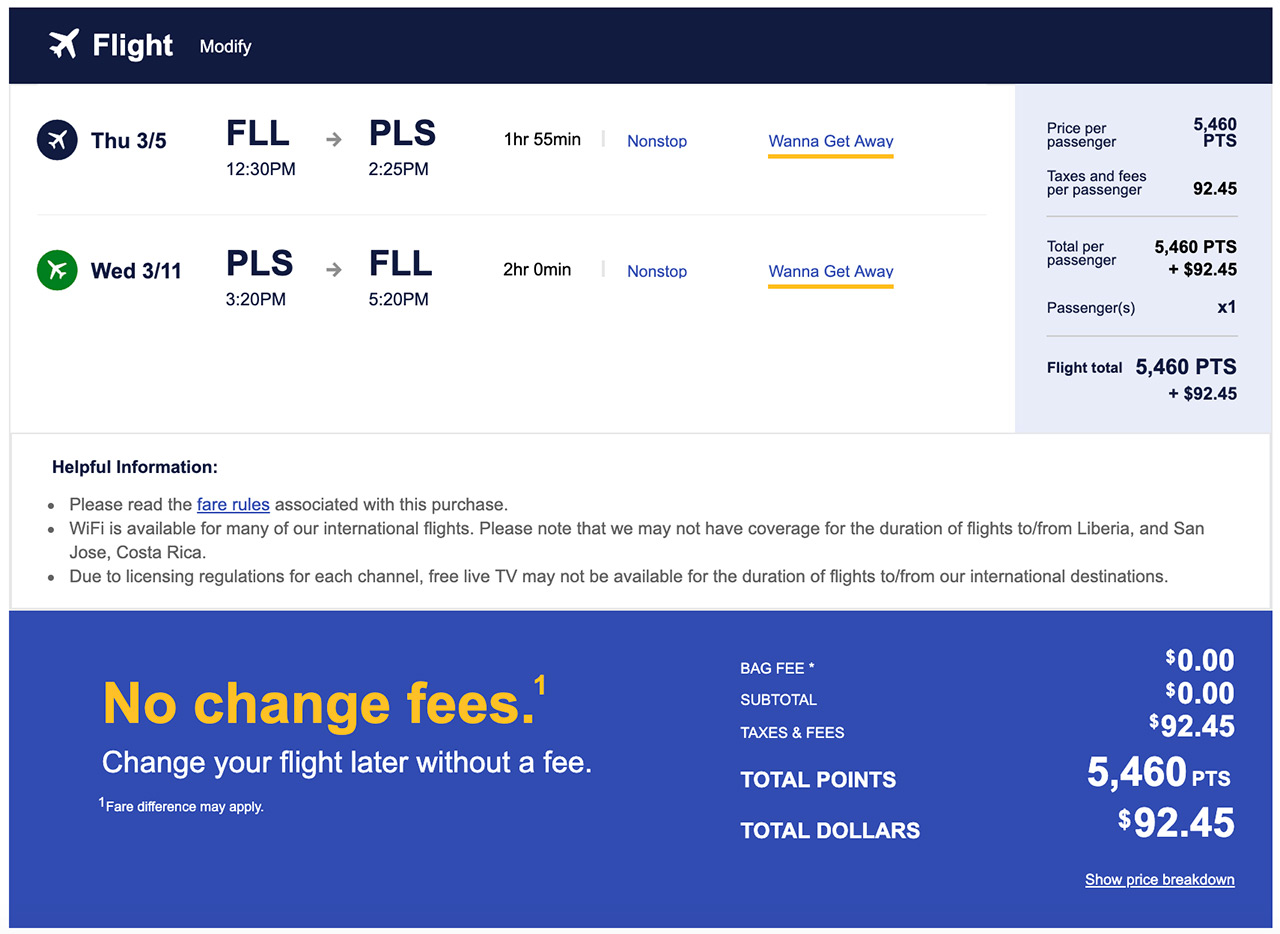 White sand, incredibly warm and clear water, deep-sea fishing, horseback riding on the beach — what's not to love? Grace Bay Beach on the island of Providenciales has consistently been voted one of the best beaches in the world, and I can attest to that. Last year, I spent six days at an all-inclusive resort on the beach, and I loved it so much that I'm going back again this year.
The island has several all-inclusive resorts, hotels and Airbnbs, and while Grace Bay Beach is so popular, it doesn't feel that way. From Fort Lauderdale, Florida, I found a roundtrip flight for just 5,460 points plus $92.45 in taxes and fees (they're usually just $5.60 each way).
3. Park City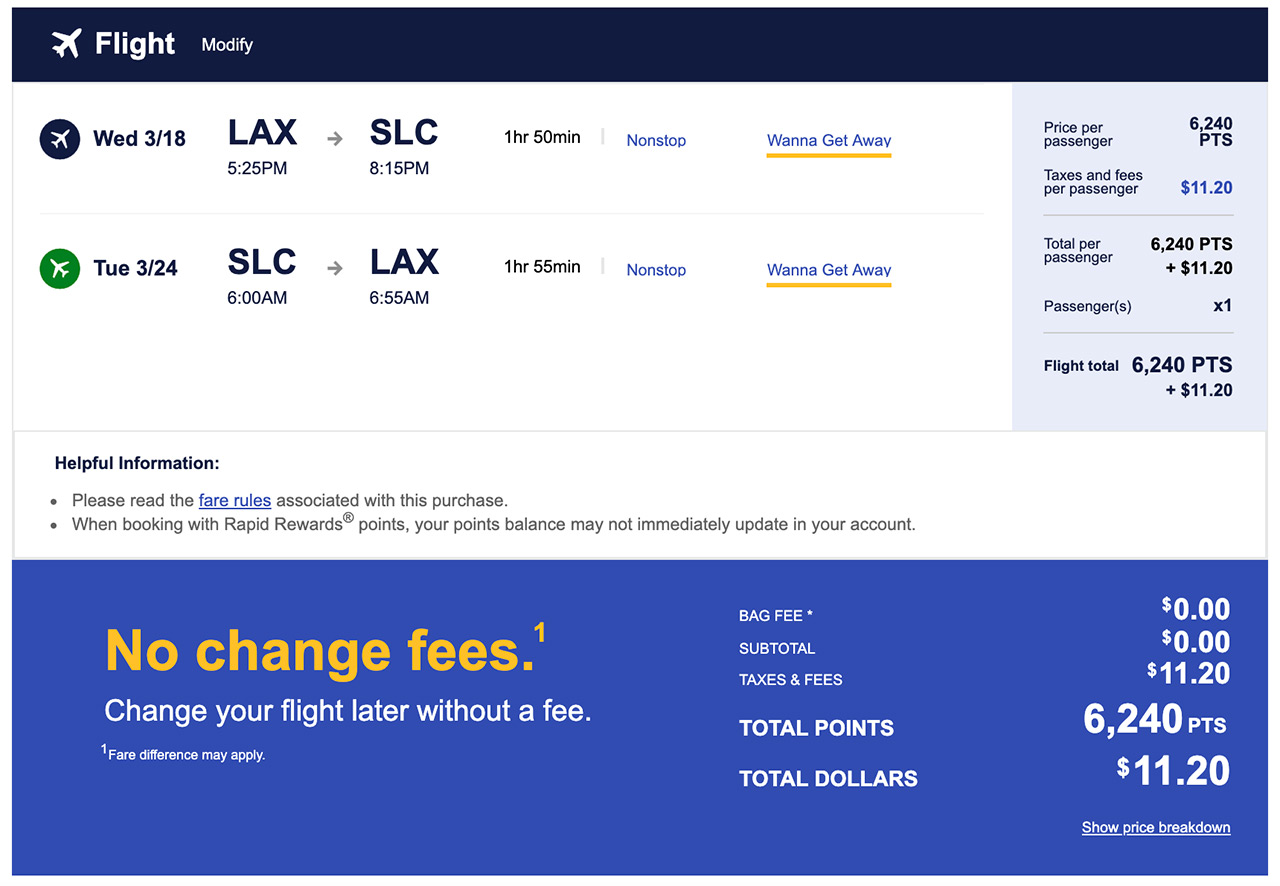 I'm a Utahn born and bred. So I may be a little biased, but Park City has some of the best snow on earth. If the idea of hitting the slopes is more appealing to you than relaxing on the beach, Park City is just what you need. You can choose between three ski resorts in the city and several more in the surrounding area, plus enjoy the restaurants and art galleries on Main Street.
From Los Angeles, you can get a flight into Salt Lake International, which is just 35 miles away (a straight shot on I-80), for 6,240 points.
4. New York City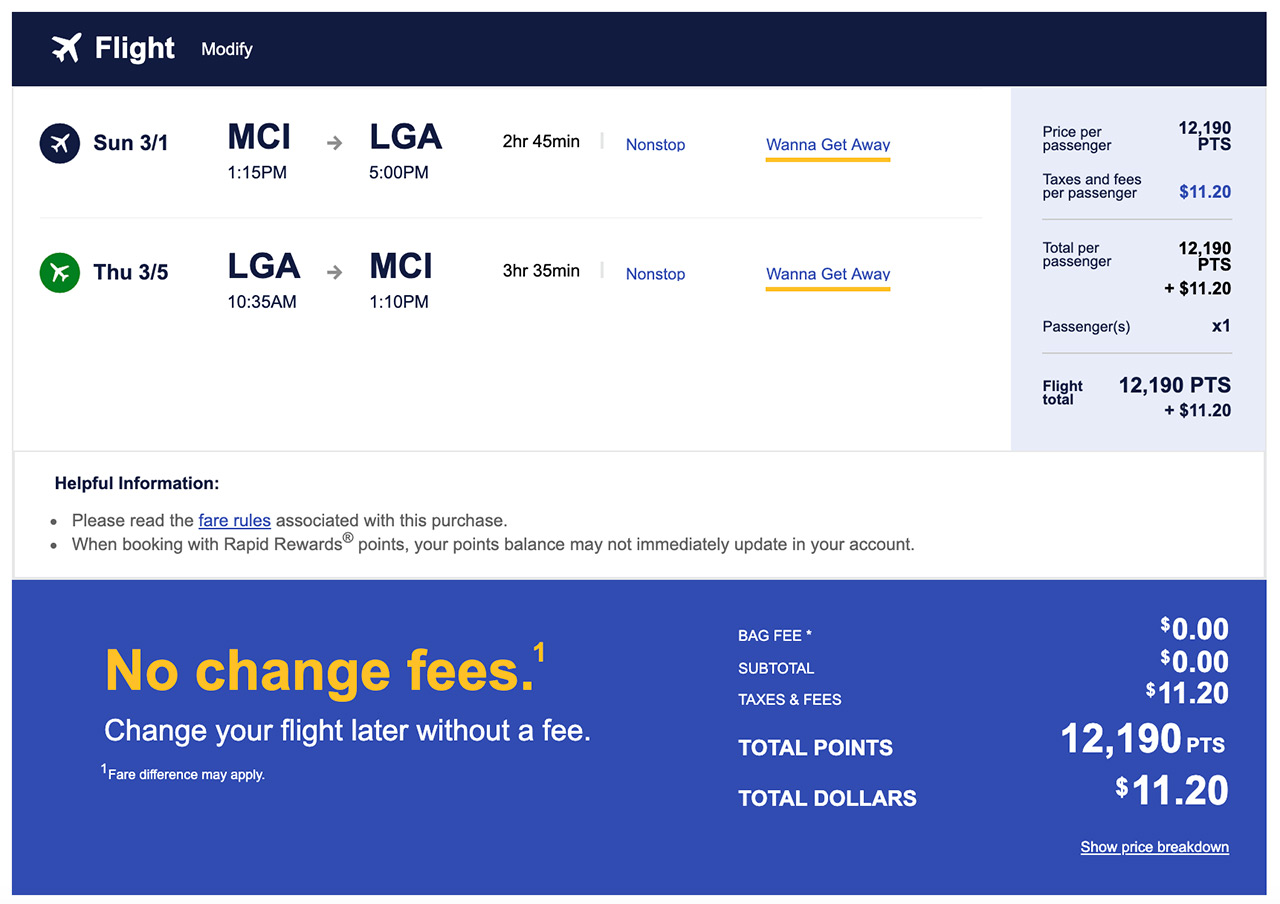 New York City isn't something you can experience in just one trip. Manhattan is home to roughly 24,000 restaurants, according to OpenTable. If you were to choose a new one every day, it'd take you more than 65 years to experience them all.
Food is a major part of traveling for me. But there's hundreds of other experiences you can have while visiting New York City — from exploring Central Park to marveling at the Empire State Building and Statue of Liberty to watching budding and celebrity comedians at the Comedy Cellar. From Kansas City, Missouri, I found a roundtrip flight to LaGuardia airport for 12,190 points.
5. Havana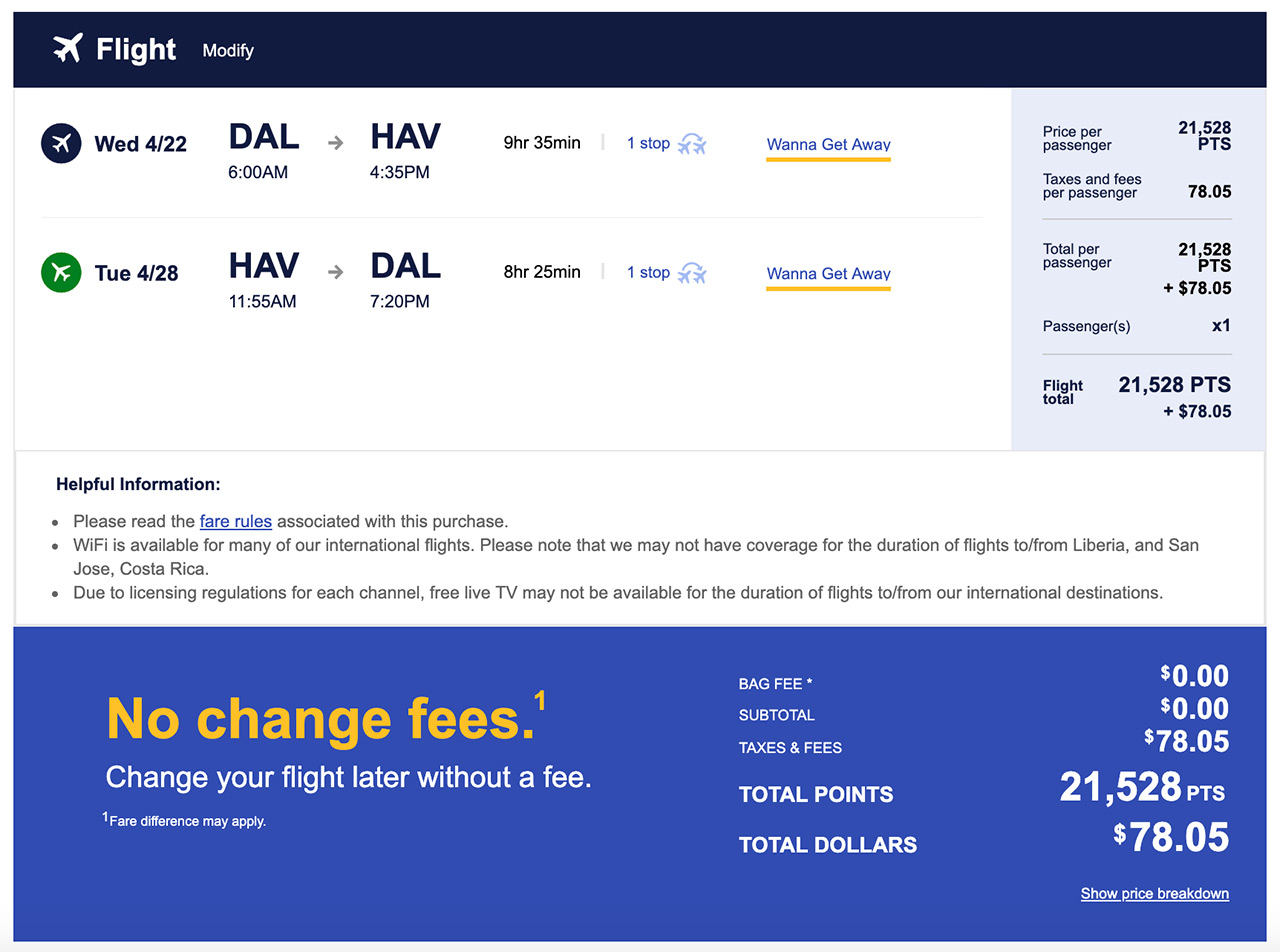 While there are some restrictions on how you can travel to Cuba, you can still fly to the island country via Havana. Once you arrive, take time to explore the historic city, enjoy the food and nightlife and maybe even get a hotel on the beach, so you can relax on the sand.
Flights to Cuba tend to be on the pricey side compared with the other Southwest deals I came across, but I found a roundtrip ticket from Houston for just 21,528 points and $78.05 in taxes and fees.
How to Use Southwest Points
Southwest deals can vary based on where you live, but you can find great award flights just about anywhere. The only downside is that Southwest's international flight options are somewhat limited. That said, here are a couple of ways to squeeze as much value out of your Rapid Rewards points as possible:
Sign up for the fare deal newsletter: Southwest fare sales usually only last a few days, but I typically get an email about a new one every week or two. If you want to score cheap flights from your city, sign up for the Southwest Click 'N Save mailing list.
Go for the Southwest Companion Pass: With the Southwest Companion Pass, a companion can fly with you for just taxes and fees for up to two full years. To qualify, you need to complete a certain number of flights or earn 125,000 points in a calendar year. If you apply now for a Southwest personal card and a Southwest business card, you can get enough points from their sign-up bonuses to meet that minimum.
Also, check out the Rapid Rewards Dining and Rapid Rewards Shopping programs to start earning more points on your everyday spending.
How to Earn Southwest Points
You earn Southwest points whenever you book a flight with Southwest Airlines. You need to become a Southwest Rapid Rewards member before earning points, but it's free to join.
Many travelers earn points with a Southwest Rapid Rewards credit card. Any of the three cards allow people to earn points for making everyday purchases. Southwest credit cards also offer sign-up bonuses, which is the best way to earn Southwest points.
Additionally, you can buy Southwest Rapid Rewards points through the airlines website.
While we work hard on our research, we do not always provide a complete listing of all available offers from credit-card companies and banks. And because offers can change, we cannot guarantee that our information will always be up to date, so we encourage you to verify all the terms and conditions of any financial product before you apply.