Where to Stream Free At-Home Workouts During the Coronavirus Pandemic
Stay fit and healthy at home.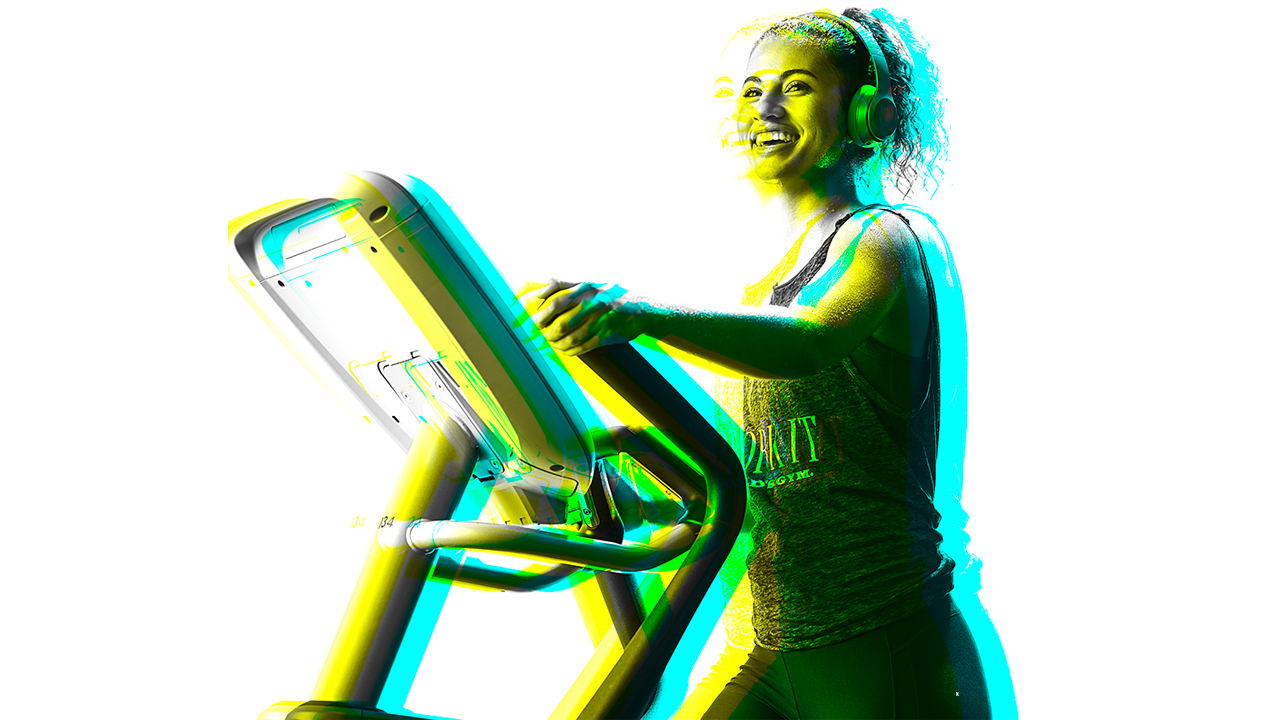 After gyms and fitness studios across the U.S. shut their doors in the wake of the novel coronavirus outbreak, virtual fitness has become more important than ever. Gyms, boutique fitness brands, yoga studios and personal trainers have taken to YouTube, Instagram and Facebook to share free workouts with the public.
Some brands have also partnered with fitness streaming services for a more sophisticated way to workout at home. Whatever type of workout you're looking for, you can find something to get your heart rate up from the comfort of your home or backyard, no equipment needed.
National Gym Chains
Big Fitness is making itself accessible to all right now. These eight gym chains have created special offers for members and non-members alike, and they're streaming free workouts for all fitness levels.

Gold's Gym
What: Gold's Gym is offering free access to its Gold's AMP app, an on-demand fitness platform usually offered for about $9 per month (pricing varies). Gold's has also created a library of workout videos that exist outside the app, which you can access without signing up for anything. You'll find a variety of classes, from high-intensity interval training to pure cardio to pilates.
Where: Redeem the offer for Gold's AMP here with code FIT60. And find the free library of workout videos here.
When: Enjoy this offer through the end of May 2020.
Crunch Fitness
What: Crunch Fitness announced that its making its online fitness class portal, Crunch Live, free for 45 days to help people work out at home during the COVID-19 outbreak, whether you're a member or not. Typically, Crunch Live is included with a Crunch in-person membership, otherwise it costs $9.99/month or $90/annually. It has workouts for every type of fitness fiend, including yoga, dance, kickboxing, bootcamps, strength and more.
Where: Access the Crunch Live platform here.
When: This is an evergreen offer that lasts 45 days from the time of signup.
Planet Fitness
What: Planet Fitness instructors are going live on Facebook every evening at 7 p.m. ET. It's calling the workouts "Home Work-Ins" as a way of encouraging people to stay at home. The workouts vary in type, but all are beginner and family friendly.
Where: Find Planet Fitness on Facebook. If you can't make the live classes, you can find recordings of the videos on the Planet Fitness YouTube channel.
When: Tune in at 7 p.m. ET or watch recordings anytime on YouTube.

YMCA 360 On Demand
What: YMCA's digital arm, YMCA 360 On Demand, has fitness videos in nine categories that are free to the public — you needn't be a YMCA member to access them. What's unique about this service is the special categories. There's an entire library of videos dedicated to older adults, as well as one for youth sports performance.
Where: Find all of the categories and videos here.
When: You can access these videos and work out anytime.
Blink Fitness
What: Another chain gym is taking its professionally instructed classes online. Blink Fitness, a gym with locations across 10 states, is helping you workout with a variety of live-streamed fitness classes. Workouts range from simple morning stretches to HIIT classes that will leave you huffing and puffing.
Where: Follow along with instructors on Blink's Facebook page.
When: Tune in to the live classes every weekday (Monday through Friday) at 8 a.m. ET or find previously recorded classes on its Facebook page.
Equinox
What: Known for its high-end facilities and luxurious spa services, Equinox is offering a limited number of fitness classes online during the coronavirus outbreak. If you've ever wanted a taste of Equinox fanciness without the famously high price tag, now's your chance.
Where: Equinox is live-streaming on Instagram.
When: The schedule for these classes varies, so check the Equinox Instagram page daily to make sure you don't miss a class.

Life Fitness
What: For a limited time, Life Fitness is offering free daily on-demand workouts through its Digital Coach platform to challenge and motivate exercisers until they can get back into the gym. Digital Coach workouts are created by Life Fitness Academy trainers and feature video instruction of all exercises, as well as guidance on reps and timing. Choose from a variety of bodyweight, small accessory and recovery workouts refreshed on a daily basis.
Where: Sign up for the Digital Coach experience here.
When: There is currently no end-date for this offer. Life Fitness is offering the free experience until gyms and fitness studios can safely reopen (stay up-to-date on Instagram).
Snap Fitness
What: Snap Fitness, a chain gym with hundreds of locations across the U.S., has partnered with FitnessOnDemand24/7 to offer free 90-day access to a library of virtual workouts that can be done at home. Anyone, not just Snap Fitness members, can access this offer. Most of the workouts are 20 to 30 minutes long, making this platform perfect for busy parents and professionals.
Where: Download the free app and get access to all of the virtual workouts here.
When: There's no end date to this offer as of March 27th, 2020 — once you sign up, your access lasts for 90 days.
Special Offers From Streaming Services
The shift from in-person to digital fitness has never been more prominent, and even though digital fitness brands could capitalize on the current crisis, many of them are instead offering workouts for free to subscribers and non-subscribers alike.

Studio SWEAT onDemand
What: Stream Studio SWEAT classes to your mobile device or TV thanks to the new partnership between Studio SWEAT onDemand, the YMCA and other fitness centers. The usual set up fees have been waived for members of participating gyms, and what you get is essentially a free virtual gym membership. Choose from gentle workouts like yoga and pilates, cardio or strength workouts.
Where: These partnerships are between Studio SWEAT onDemand and brick-and-mortar gyms. Check with your gym to see if they're included. You can see here which YMCA locations have started offering the free virtual memberships.
When: This is an ongoing offer during the COVID-19 pandemic.
Aaptiv
What: Aaptiv, a leading virtual fitness brand whose focus is audio-only streaming, has made a selection of its most popular classes free on Apple Podcasts. Branching from its traditional offering of audio-only options, Aaptiv is also going live on Instagram and YouTube with some lead trainers.
Where: Find the selection of popular audio-only classes on Apple Podcasts, or tune into Aaptiv Live on YouTube. For real-time classes, check Aaptiv's Instagram page.
When: The podcasts will remain available throughout the coronavirus outbreak. Aaptiv trainers will continue to go live throughout this time, as well.
Active by POPSUGAR
What: Boxing, cardio, HIIT, dance, yoga and pilates, low-impact, and strength workouts are available for free, no strings attached, on POPSUGAR's workout platform. You can also access plans for specific goals, such as 21 Days to Kickstart Your Fitness. Usually, Active by POPSUGAR is a paid monthly subscription (prices vary).
Where: Sign up for free with no commitments right here.
When: There's currently no end-date on this offer.

NordicTrack-iFit
What: For new members, NordicTrack -iFit is offering its app free for 30 days. The app powers workouts on NordicTrack fitness equipment such as treadmills and stationary bikes, but you can also choose from a selection of equipment-free workouts. iFit specializes in high-energy workouts led by top fitness trainers, so you know you're getting a good experience.
Where: Download the iFit app on the App Store or on Google Play.
When: The offer is evergreen, and your free access lasts for 30 days once you sign up.
Peloton
What: Peloton, a popular high-end, at-home "smart bike," is offering its app free to new members for 90 days. The app doesn't require you to own a Peloton bike or Peloton treadmill, as it has a large library of at-home workouts that don't require any equipment.
Where: Sign up for your free trial here, but be warned that signing up via your browser requires you to input credit card details. If you forget to cancel before the 90 days is up, you'll be charged $12.99 per month. If you activate the deal on the App Store, GooglePlay or FireTV devices, however, it seems that the company doesn't require input of card details.
When: The offer is ongoing; your access lasts 90 days from signup date.
MYX Fitness
What: MYX Fitness is similar to Peloton and NordicTrack-iFit in that it's a streaming service that powers at-home smart fitness equipment. However, MYX has released a series of at-home workouts, ranging from gentle mobility to core strength, that require just you and some open space on your floor. And you don't even need a MYX subscription to enjoy these free workouts.
Where: You'll find a handful of workouts on the MYX Fitness YouTube page.
When: These workouts are equipment-free, so enjoy them anytime you need a break from the new coronavirus reality.
---
Looking for some exercise equipment to supplement your new free workouts? Be sure to set a Deal Alert and we'll notify you as soon as a new offer if posted.
UP NEXT:
Our editors strive to ensure that the information in this article is accurate as of the date published, but please keep in mind that offers can change. We encourage you to verify all terms and conditions of any product before you apply.