Save $250 On this ASUS ROG Zephyrus G 15.6-Inch Gaming Laptop
Being a budget gamer is easier than ever with these gaming laptop and desktop deals.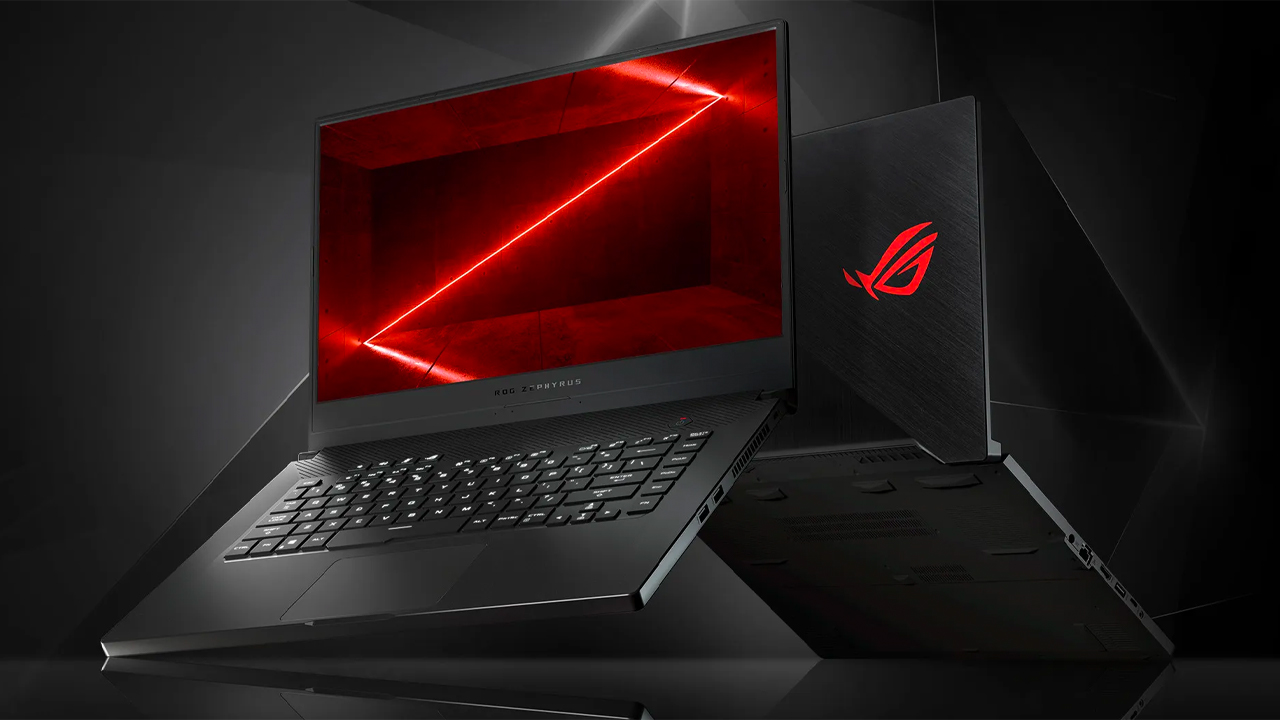 When shopping for a new gaming PC or laptop, the first question you need to ask yourself is, "Just how much power do I really need?"
Do you enjoy playing timeless (older) games that aren't so graphics-intensive? Or are you dreaming of a gaming rig so hulking it's often mistaken for the bridge of the Starship Enterprise? Perhaps you're a social butterfly who prefers to take your games wherever you go.
Whether you're a budget gamer or an esports star, there's a pre-built machine that can handle what you have in mind. And now that we're well into the roaring '20s, you can find decent clearance deals on many of 2019's hottest models. Here are some of your best current options:
Top Gaming Desktop & Laptop Deals This Week
No laptop is for everyone, so we picked out a variety of different setups that range from casual to serious enthusiast. Luckily, everything listed below is on sale, so you can be sure you're getting a solid discount no matter what you end up going with:
ASUS ROG Zephyrus G 15.6-Inch Gaming Laptop

On Sale for: $949.99 | Regular Price: $1,199.99
This Laptop is Best For: The Casual Gamer
2nd Gen AMD Ryzen 7 3750H
NVIDIA GeForce GTX 1660 Ti Max-Q
16GB DDR4 SDRAM
512GB SSD
Best Buy currently has the ASUS ROG Zephyrus G 15.6-inch Gaming Laptop for $949, a savings of $250. With new models of ROG in 2020, this device is now set in a good price range for casual gamers who are looking for a little more power. The 2nd Gen AMD Ryzen 7 processor is still one of the fastest in its class and the GTX 1660 Ti Max-Q can tackle most games in high settings without issues.
As with any decently powerful gaming laptop, using the ASUS ROG Zephyrus G as a work computer is a totally viable option. The above configuration's 16GB of RAM will do a pretty good job with graphic-heavy programs, and you'll be able to keep going with a load of open browser tabs. At 4.63 lbs, it's technically not a "light laptop," but it still shouldn't be much of a burden to carry around.
If you happen to have a Best Buy credit card, you can also save an additional 5% off by using it for this purchase. Free next-day shipping is available for this laptop or you can opt for in-store pickup, where available.
---
ASUS ROG Zephyrus G14 Gaming Laptop

This Laptop is Best For: The Power Gamer
3rd Gen AMD Ryzen 9 4900HS
NVIDIA GeForce RTX 2060 6GB
16GB DDR4 SDRAM
1TB SSD
While we love super deep discounts, sometimes the best value comes from a modest discount on a high-quality product. Recently, members of the Slickdeals gaming community have been fawning over the ASUS ROG Zephyrus G14 Gaming Laptop which is listed for $1,450 at Best Buy.
This modest-sized powerhouse features a 3rd generation AMD Ryzen 9 processor, which combines with an NVIDIA GeForce RTX 2060 to bring you AAA titles in the most gorgeous settings for years to come. For Slickdealers like StarfirePrime, "the cherry on top is the fact that it's only 3.5 lbs. My employer requires that I lug around a hobbled Dell 7490, so I thought I'd be relegated to relatively under powered Ultrabooks. But this is a perfect fit in the middle."
As an indicator of how popular this laptop is, the ASUS Zephyrus ROG G has been in and out of stock a couple times since the Slickdeals community picked up on the deal a week ago at Best Buy. However, you can mark the product as "Save for Later" and Best Buy will notify you when it becomes available again, hopefully with a discount next time.
---
HP Pavilion Gaming Desktop

On Sale for: $699.99 | Regular Price: $799.99
This Desktop is Best For: The Budget Gamer
9th generation Intel Core i5 9400 Processor
NVIDIA GeForce GTX 1650 (4 GB GDDR5 dedicated)
8 GB DDR4-2666 SDRAM
1 TB HDD storage
For a limited time, you can get the HP Pavilion Gaming Desktop for $100 off at HP's online store.
The package is a good base for new or casual gamers. The combination of the i5 and GeForce GTX 1650 will let you play most current titles in medium settings. However, if you are looking for more power, you also have the option of customizing the desktop through the HP website. To help with this process, the alteration page features three pre-configured selections for different types of players: the Casual Gamer, the Campaign Hero, and the eSports Pro.
Shipping is free for this desktop and if you happen to hit $999 while customizing the device, you can save an additional 5% off by punching in the promo code 5GAMERSPRING at checkout. For configurations amounting $1,399 or more, you can use 10GAMERSPRING to knock off another 10% off the purchase price. Unfortunately, the two promo codes do not stack.
---
More Discounts on Gaming Laptops and Desktops

Tips for Saving Money While Shopping for a Gaming Laptop or PC
Though baseball was once America's favorite pastime, it can probably be argued that playing games and "pwn-ing newbz" takes the throne in the 21st century. If you identify as a gamer, then having the right equipment is of the utmost importance.
1) Customize Accordingly
Many sites allow you to customize gaming laptops or PCs to your liking, and playing with different options can sometimes save you a lot of money. But before anything, it is important to decide what you would like to accomplish with your new machine. If you just want to enjoy less graphic-intensive games like League of Legends or World of Warcraft Classic, there is no need to dish out money for a top-end device.
Even if you're dead-set on a top-tier computer, you can still make some compromises without hindering your gaming experience, such as opting for a slightly smaller built-in hard drive. External hard drives are getting cheaper by the day, so you can purchase the extra storage elsewhere for a fraction of the cost.
2) Keep an Eye on the Calendar
If you are not in a rush to purchase a new gaming device right away, then you can save money simply by watching the calendar. With Mother's Day just around the corner, there may be sales or discounts that your mother will be proud of.
3) Look Forward to the Future
Sometimes spending more is better than spending less. With gaming equipment, the concept of future-proofing your rig can actually save you a lot of money down the line. When it comes to building a desktop, buying a GPU for $500 that can keep you satisfied for five years is a better investment than buying a $300 graphics card that needs to be replaced every two years. So when it comes to savings, it's always wise to think of the long game.
4) Trade In Your Old Devices
Many retailers offer trade-in programs to give you a little money for your old device. While you may not stand to get hundreds of dollars, it can still help you save on your next computer upgrade or replacement. What's even nicer is you can trade just about any electronic device. For instance, Dell's Trade-In & Recycling Program offers gift cards for phones, tablets, consoles, cameras, etc.
5) Follow Graphics Card Releases
With each new graphics card release, gaming laptops with previous-generation GPUs usually see a significant drop in price. NVIDIA and AMD release new graphics cards several times a year. Just for the GeForce 20 series alone, we saw seven releases in 2018 from the RTX 2060 to RTX 2080Ti. You can easily track down the latest GPU news by following these companies on social media like Twitter.
6) Buy Refurbished
While the term "refurbished" usually has a less-than-favorable connotation, it's a great way to save quite a bit of money. There, of course, is always a risk in buying gaming products in the refurb category, but retailers like Amazon are offering greater peace of mind with their warranties. In a rare case that a refurbished laptop has a recurring problem, it will likely surface within Amazon's 90-day guarantee window. But you can simply return it for free and get a full refund or replacement.
Though Mother's Day doesn't necessarily coincide with gaming, retailers love any opportunity to put out a sale. So make sure to set up Deal Alerts for all your gaming interests.
UP NEXT: Free Razer Viper Gaming Mouse When You Purchase a Huntsman TE Keyboard at Best Buy
You might also want to consider this hot computer parts deal from our Frontpage:
Search URL: https://slickdeals.net/newsearch.php?firstonly=1&pp=20&sort=newest&rating=frontpage&filter%5B%5D=170397&forumid%5B%5D=9&hideexpired=1&r=1
---
Any product or service prices/offers that appear in this article are accurate at time of publish, and are subject to change without notice. Please verify the actual selling price and offer details on the merchant's site before making a purchase.