Here's How I Get Free Meals at Airports Every Time I Travel
Travel rewards cards are offering more than just free miles.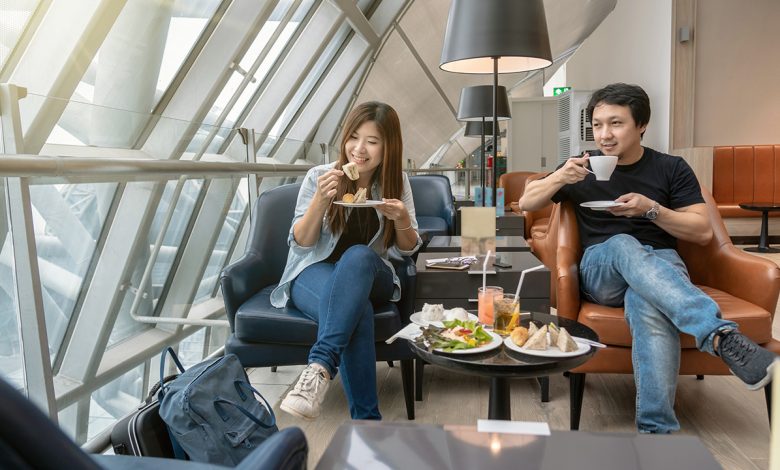 It's unlikely that you'll be fed on your next flight, unless you're lucky enough to be in first class. And even then, the food probably won't be that great, especially compared to what you could have gotten on the ground. Of course, airport restaurants aren't exactly known for being budget friendly. Thankfully, I've found a way to enjoy a free meal at the airport before most of my flights. And it's all about having the right credit cards. Here's how it works.
How to Get a Free Meal at the Airport With Your Credit Card
Several premium travel rewards credit cards offer airport business lounge access, but these facilities typically offer just free drinks and some light snacks. However, there are three exceptions that will land you a free meal every time you fly.
Priority Pass Select Restaurant Credit
The first option is the Priority Pass Select program, which offers access to more than 1,000 lounges, but also to about 30 decent airport restaurants.
When you present your Priority Pass Select card at these restaurants, you'll typically receive a $28 credit per person towards food, beverages and taxes. Just note that it doesn't cover gratuities for the server, so you'll need to pay that out of pocket.
Here's a recent example of how this program works. On a business trip to Washington D.C., I stopped at the Bracket Room bar and restaurant at Reagan National Airport with two of my colleagues. There, I was able to treat them to dinner and drinks before our flights using the Priority Pass Select card that I received as a benefit of my Chase Sapphire Reserve card.
Each of us received the $28 credit, since this benefit is valid for the cardholder and up to two guests. That means that we were able to order a total of $84 from the menu before we had to pay for anything but the tip.
American Express Centurion Lounges
The second way to enjoy a free meal at the airport is by visiting an American Express Centurion Lounge. In addition to the drinks and light snacks you'll find at any airport lounge, they offer buffets featuring locally and seasonally inspired cuisine from award-winning chefs.
For example, my wife and I recently enjoyed lunch at the Centurion Lounge in the Las Vegas airport, which featured cuisine designed by James Beard Award-nominated chef, Kim Canteenwalla.
There are American Express Centurion lounges at the following airports:
Dallas (DFW)
Hong Kong (HKG)
Houston (IAH)
Las Vegas (LAS)
New York (LGA)
Philadelphia (PHL)
Miami (MIA)
Seattle (SEA)
San Francisco (SFO)
Additional lounges are also planned for Denver, New York-JFK, LAX, Charlotte, London-Heathrow and Phoenix.
Priority Pass Select Lounges
As mentioned above, Priority Pass Select earns you access to many top airport lounges. And most of those only offer the typical lounge fare rather than a full meal. However, there are a few exceptions that go above and beyond.
For instance, whenever I'm passing through Washington Dulles International airport, I make a point of using my Priority Pass Select card to enter the Turkish Airlines lounge. It's renowned for offering a full buffet of finely prepared Turkish food, including soup, lamb, fish, rice and even baklava for desert.
Other top Priority Pass Select lounges with meal service include The Virgin Atlantic Clubhouse at Newark, the SkyTeam Lounge in Vancouver, Canada and the Grand Lounge Elite in Mexico City.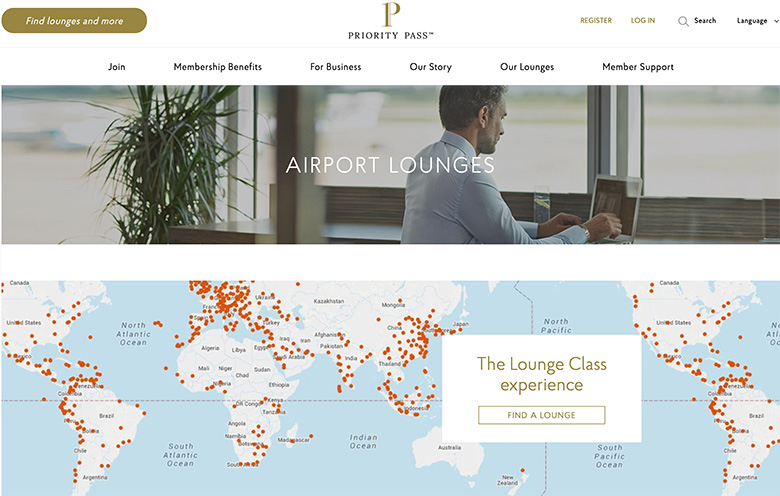 Which Credit Cards Offer These Benefits?
The Priority Pass Select program is offered by more than a dozen premium rewards credit cards in the United States, including:
There are also several American Express cards that offer Priority Pass Select, but these cards don't include access to the restaurants in the program, just the lounges:
To get access an American Express Centurion Lounge, you need to present either the Platinum or Business Platinum Card from American Express. These are valid for the cardholder and up to two additional guests. Finally, those who hold the ultra-premium, invitation-only black Centurion Card are also offered admission and special reserved seating.
Is This Benefit Worth the Cost?
As the saying goes, there's no such thing as a free lunch. All of the credit cards that offer these benefits have considerable annual fees. However, I'd argue that even with these fees, you're still getting a bargain.
For example, my Chase Sapphire Reserve has a $450 annual fee, which isn't cheap. But it also comes with an annual $300 statement credit towards any travel purchases, effectively reducing the card's net cost to $150. When I compare it to the $95 Sapphire Preferred (which doesn't offer any travel statement credits), I'm only paying a net additional cost of $55 to receive the Priority Pass Select membership. And as you can see, I easily came out ahead after just a single meal with two colleagues.
The American Express Platinum card has an even higher annual fee of $550. But it also offers a variety of fee credits that reduce its net cost down to an amount similar to the Sapphire Reserve.
Bottom Line
The credit card industry is extremely competitive, and no one is more sought after than premium travel rewards card users. When you take a look at all of the ways that you can use a credit card for travel benefits, opting for a card with these sorts of benefits just makes sense.
---
For more information on top credit cards options that offer a variety of benefits and rewards, be sure to check out the Slickdeals Credit Card Hub.
Image credit: iStock.com/Tzido