Google Nest Hub Max Now Offers Group Video Calling
Join meetings of up to 100 people or host video calls with 32 friends and family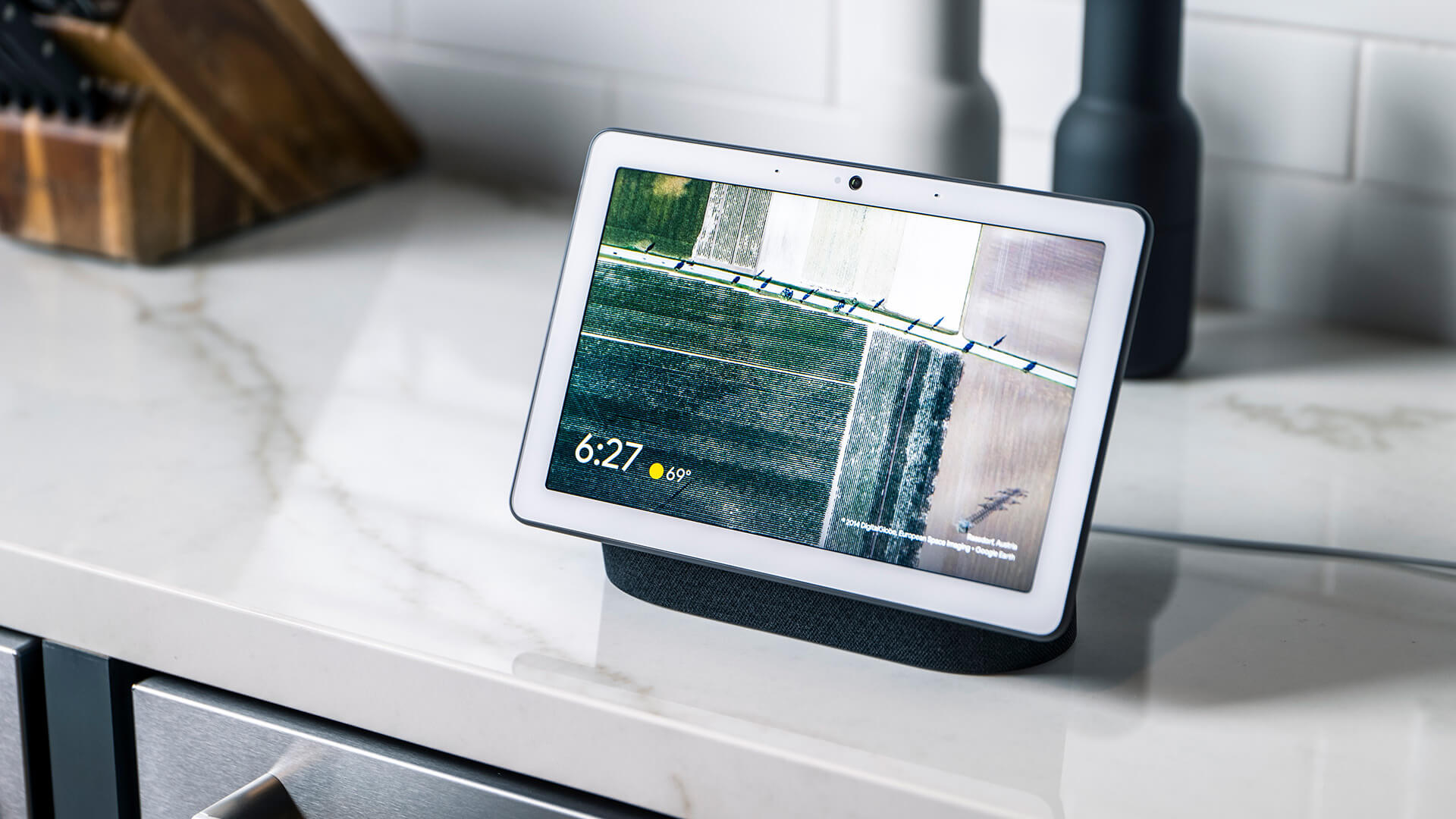 Google just released a major update that adds group video calling to the Google Nest Hub Max.
With the new update installed, users are now able to join meetings of up to 100 participants via Google Meet, or host a video chat with up to 32 people via Google Duo.
Previously, owners of the Google Nest Hub Max were restricted to one-on-one video calls, making this a significant upgrade that greatly boosts the versatility of this smart home video device.
XIL5SR1Uqe8
With Google Meet and the help of Google Assistant, users can join or start meetings of up to 100 participants simply by saying "Hey Google, join/start a meeting" — perfect for business conferences.
Alternatively, users can create groups of up to 32 friends or family via the Google Duo mobile app, and then join or host group video chats with these groups on their Nest Hub Max, complete with auto-framing features that keep you in view as you move around freely.
Google's all-in-one home assistant and smart hub device is available for $229 via the Google Store, although recent sales have seen that price drop as low as $179 – set up your Slickdeals deal alert to make sure you don't miss the next round of discounts.
Google Nest Hub Max Reviews: What the Critics Say About the Center of Google's Smart Home Ecosystem
Here's what the critics have to say about Google's bigger and brighter smart home hub.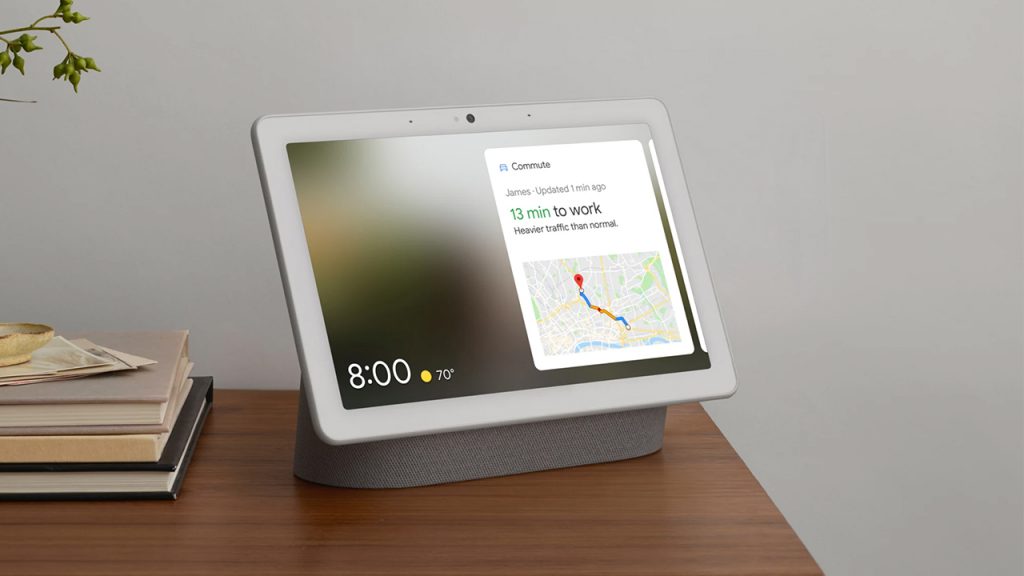 The Google Nest Hub Max wants to be the center of your home. With its large speakers, 10-inch touchscreen display and high-resolution camera, it aims to serve as the focal point for your smart home and communications network.
But, is bigger always better? Well, sometimes. Here's what the top critics have to say about the Google Nest Hub Max.
Starting Price: $199.99
Average Sale Price: $119.99 – $174.99
General Consensus: Bigger, brighter, louder and with more useful features, the Google Nest Hub Max is the Nest Hub writ large. However, despite some useful features, there are a few compatibility issues that hold it back.
Specs:
10-Inch touchscreen
Two far-field microphones
Nest camera built in
Google Assistant
Gesture control
Pros:
Big, bright screen
Better sound quality than most of the market
Built-in assistant features make it easy to use with Nest products.
Cons:
No security shutter to cover the camera
Poor performance in low light
Less-than-ideal third-party support
Google's data collection left some cold
Screen

Consensus: Generally Positive (7/8 Positive, 1/8 Negative)
Main Takeaway: If you're going to set the Max up to watch videos, especially from YouTube, or to view pictures, that big screen is a top feature for most reviewers. As PCMag put it, "The screen itself is a 1,280-by-800-pixel LCD that gets pleasantly bright and colorful." And The Verge praised its "beautiful screen for displaying photos."
The Guardian particularly loved how it displays photos. The reviewer states, "If you use Google Photos, the Hub Max is the best digital photo frame you can buy by far, pulling your pictures from your library and looking fantastic doing it."
CNET, however, took a different view, noting that, "With a 10-inch screen, the Nest Hub Max is bigger than most people probably need or want."
Sound

Consensus: Somewhat Positive (3/8 Positive, 3/8 Neutral, 2/8 Negative)
Main Takeaway: The speakers on the Nest Hub Max sit awkwardly between the small Google Home Mini speakers and the professional-grade ones you'll find on the the Google Home Max. Still, critics tended to agree that they are an upgrade.
Endgadget says, "The Nest Hub Max is much better than the Nest Hub" in terms of sound quality. And Wired states "the Hub Max has much better speakers," noting that they're among the best built-in speakers in the device class.
CNET was a bit more reserved, stating that there's a "respectable jump in sound quality." When compared with its rival, Amazon's Echo Show, CNET also noted that, "The Echo Show sounds slightly fuller to me, while the Nest Hub Max is a bit more crisp."
The Guardian was happy with the speakers, but slightly less impressed. "It sounds good, able to fill a room without sounding overly shrill or loud," the critic wrote, while going on to state that it wasn't a notable step up from the Nest Hub or Google Home.
The Verge was the most disappointed, saying that, "compared to the Echo Show, the Hub Max doesn't sound nearly as full or powerful." PCMag went further, saying the Max "can easily fill a room… but doesn't have much low-frequency rumble and flirts with distortion at maximum volume." And finally, TechCrunch was a bit more generous, noting that it was "bigger, louder and bassier (and stereo, to boot) than the original Home Hub. But it's probably not sufficient for most as a standalone speaker. "
Camera

Consensus: Generally Positive (4/8 Positive, 3/8 Neutral, 1/8 Negative)
Main Takeaway: While the camera is a fairly standard 6.5 megapixel camera, as Endgadget notes, it "uses the camera in new, clever ways, such as Face Matching, gestures, and Auto-Framing in video calls." PCMag was delighted that it had "many of the same options and functions as standalone Nest Cams." And TechCrunch found the camera to be a key feature, saying, "it effectively unlocks a whole slew of new functionality."
Critics also generally liked the Quick Gesture feature, which lets you use hand signals to stop music, for example, although PCMag found it didn't make full use of the camera's field of view.
That said, there are limitations. Wired notes that "it's great that the camera offers a 127-degree field of view so it can capture most of a room, but it critically can't see in the dark." And almost universally, critics were annoyed at the lack of a privacy shutter to flip over the camera. TechCrunch found it "a strange oversight," and one that seems to have been made "largely for aesthetic reasons." Meanwhile, The Guardian sums up the overall impression nicely, calling the camera "a mixed blessing, introducing more worries about privacy."
Google Apps

Consensus: Generally Positive (6/8 Positive, 2/8 Neutral)
Main Takeaway: The Hub Max has "the same voice-activated Google Assistant smarts and the same snappy operating system as the original," according to CNET. While Wired noted the brief set up time, stating, "A simple 'Good morning,' to Assistant has it read me the day's weather, preview my morning commute, tell me if I had any meetings or reminders for the day, and read me headlines I might want to hear."
Google Duo also works well, particularly when it used the Auto-Framing feature, according to Engadget. Specifically, the reviewer says, "When enabled, you will always be the center of the frame, no matter where you are in the room."
In general, critics were happy with how well the Hub Max was integrated with Google Assistant, YouTube and Nest.
Third-Party Support
Consensus: Generally Negative (4/8 Neutral, 4/8 Negative)
Main Takeaway: This is where the Hub Max generally got the most brickbats. Wired notes that you have to be "all-in" on Google's apps: "You can listen to Spotify or Pandora, for example, but not Apple Music. And while the ever excellent access to Google Calendar is baked in, you can't use Apple's underrated-but-solid Calendar and Reminders."
The Verge and TechRadar couldn't get Netflix to run, with TechRadar noting that "While you can link the speaker to your Netflix account in the Google Home app, it simply refuses to play any Netflix content when you ask it to."
PCMag was annoyed that Skype wasn't supported. And TechCrunch noted that Chromecast support does help, but that's a workaround at best.
How Often Does The Google Nest Hub Max Go On Sale?
Depending on how committed you are to having Google in your home, you can find some sort of deal on the Nest Hub Max every few weeks. Typical discounts range from $25 to $80 off retail price. It's a common doorbuster for online sales, especially paired with its little brother the Nest Hub or a Google Home Mini as a sort of smart home starter kit.
Make sure you don't miss the next Nest Hub Max sale. Set a Deal Alert and we'll let you know about all of the top deals as soon as they're posted. You can also find all the current discounts on smart home hubs on our Home Automation Deals page.
Reviews Consulted
Up Next:
Our editors strive to ensure that the information in this article is accurate as of the date published, but please keep in mind that offers can change. We encourage you to verify all terms and conditions of any product before you apply.