12 of The Best Slickdeals We've Seen Over the Past 20 Years
You'll kick yourself for missing out on any of these epic finds.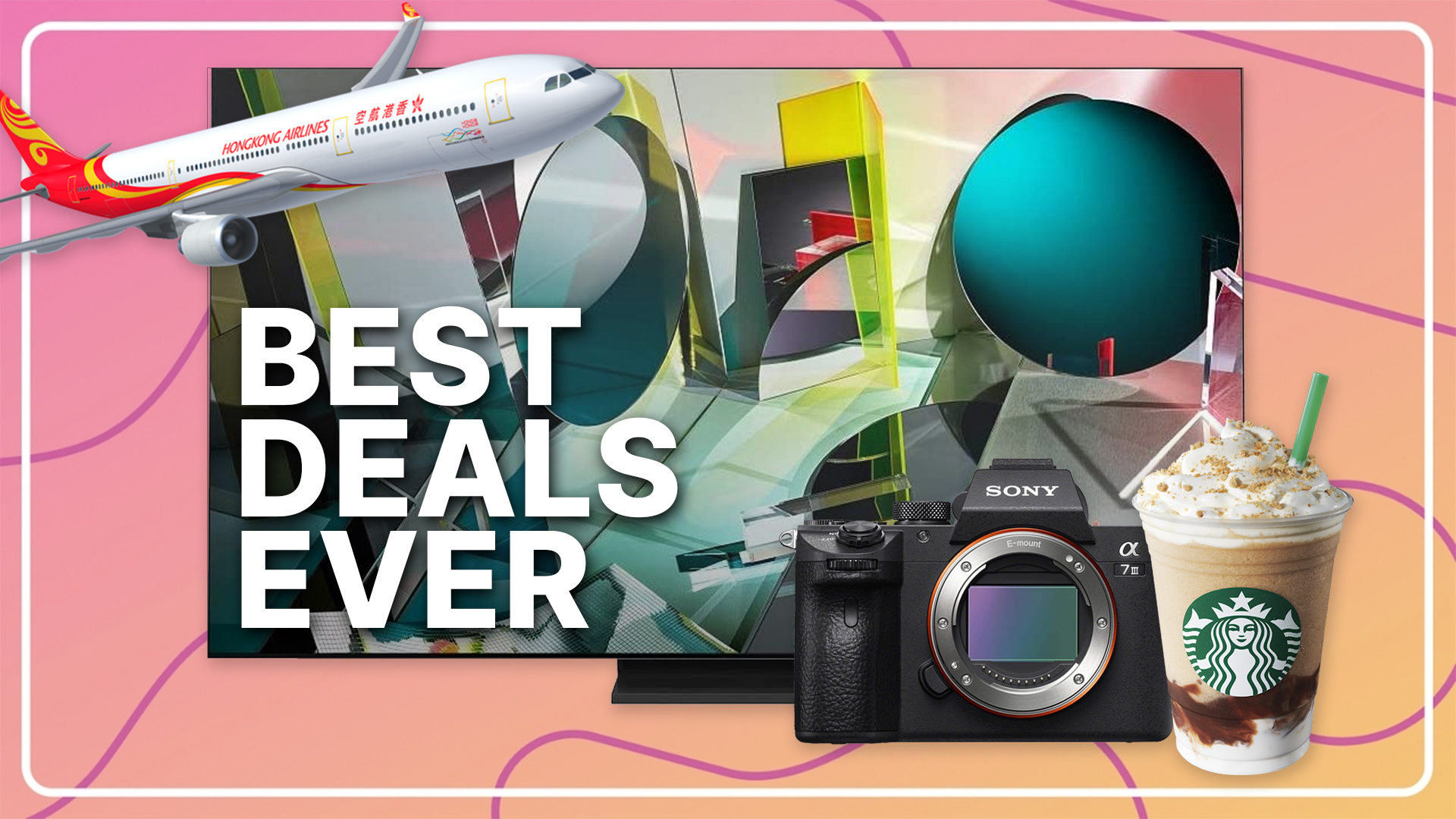 It's no secret that the Slickdeals community knows how to score a good deal, but some Frontpage finds are so incredible that they deserve special honors. We've compiled a list of the best Slickdeals finds from the past two decades to give you an idea of the highlights.
12 of the Best Deals Ever Seen on Slickdeals

1. The one where Amazon glitched and sold Samsung TV and soundbar bundles worth up to $6,100 for $150.

Yes, this Holy Grail of price mistakes really did happen (just recently, in fact). And while everyone assumed they were in for a cancellation, Amazon actually shipped some of the orders. As you can imagine, OP rp3pro earned a lot of rep points for this amazingly good find.
2. The one where Amazon glitched (again) and listed $548 Sony mirrorless digital cameras for $95.

In July 2019, Sony Alpha a6000 Mirrorless Digital Cameras retailed at $548 — until an Amazon price mistake dropped them to $94.48 during the retailer's Prime Day sale. Even better? It turned out that this discount worked on almost every camera on Amazon. And the best part? They shipped.
As Slickdealer Rabble_Rabble_Rabble raved, this was "probably the best deal I've ever seen anyone on Slickdeals get for a single item." They added that OP fernie501 deserves "a spot in the Slickdeals hall of fame." (We obviously agree).
3. The one where new Spotify members got a $49 Google Home Mini and a Spotify Premium subscription for $1.

In December 2018, Spotify (and OP bharry29) made the holiday season merry and bright for new subscribers with one of the best sign-up incentives we've ever seen: a two-month Spotify Premium family plan, plus a Google Home Mini for just 99 cents.
The Google Home Mini retailed for $49 at the time, and the Spotify subscription was a $30 value in and of itself. Even better, you received three free months of YouTube Music Premium when you activated your Google Home Mini.
RELATED: Here Are 10 of the Most Popular Black Friday Deals for 2020 (So Far)
4. The one where $100 solid-state drives dropped to $20.

In 2017, 250GB SSDs cost around $100 to $130 each. So when Slickdealer hermitman spotted them at Dell for just $19.99 to $29.99 a pop, our community definitely noticed. This rare price mistake had Slickdealers buying them in bulk — and it paid off when Dell fulfilled the orders.
5. The one where Walmart discounted 55″ TCL 4K Roku TVs to $148.

This year's Walmart Black Friday sale included not one but three major shopping events, with some particularly good deals on electronics. But nothing beat the store's $148 price tag on 55″ TCL 55S20 4K UHD HDR Roku Smart LED TVs. Posted by iamiable, this offer was available online only with curbside pickup available where stock permitted, and tons of Slickdealers were able to snag them when they went live on November 11.
As user Eragorn pointed out, this was "an insane price for a 55″ TV. Makes it even better that it's one of their Roku models."
RELATED: Walmart's Second Black Friday of the Month is Here, And We Found the Deals You Can't Miss
6. The one where Chase Sapphire cardholders got a free two-year DashPass membership.

DoorDash.com kicked off 2020 by giving Chase Sapphire Reserve and Preferred cardholders a two-year DashPass membership free of charge when you linked your Chase card to your account. That meant zero delivery fees from your favorite restaurants — a huge perk considering what the year held in store for us all.
Slickdealer hehehehahaha graciously shared this offer on our forums, which equated to a savings of around $240, as DashPass normally costs $9.99 per month.
7. The one where business class flights through Hong Kong Airlines dropped to around $600 roundtrip.

In August 2018, Slickdealer serra shared a crazy-good deal on roundtrip business-class flights out of San Francisco and Los Angeles through Hong Kong Airlines. Destinations included Bali, Bangkok, Manila and Shanghai, with fares starting as low as $561.
Considering that the tickets originally cost $2,500+ and you had 24 hours to cancel, Slickdealer scheister offered up these words of wisdom: "Book now, think later."
8. The one where new DirecTV Now subscribers got a free Apple TV 4K.

In February 2018, DirecTV Now (now AT&T TV NOW) offered new subscribers a free Apple TV 4K when they prepaid for three months of service at $35 per month ($105 total).
Slickdealer eagles4585 shared this sign-up incentive on our forums, and user eightball024 maximized its potential by pointing out that Bank of America had a $35 cashback offer that stacked with the bonus. That lowered the cost of the $179 Apple TV 4K and three months of DirecTV Now to around $83 after tax.
9. The one where you could get a year of Hulu for less than $12.

For its 2018 Cyber Monday sale, Hulu offered new and eligible returning subscribers a 12-month limited commercial plan for only 99 cents per month — and Slickdealer User12243676 shared it on our forums. This plan regularly cost $7.99 monthly, which meant you got a year of Hulu for $11.88 instead of $95.88. Plus, you could cancel anytime.
10. The one where Starbucks gave out free drinks with no catch.

In March 2014, Slickdealer gippy shared a freebie any caffeine addict could appreciate. Starbucks Rewards members could enjoy up to 20 "Bonus Stars" when they entered two exclusive promo codes per day.
While Starbucks Rewards benefits have changed since this deal was posted, user papasteves02 pointed out that at the time, "after collecting 12 total stars, you're eligible for a handcrafted drink of your choice or one food item."
11. The one where you could score a free Google Home by purchasing a single month of The New York Times.

With this deal, you got a $130 Google Home smart speaker for free when you signed up for a $16.99 one-month subscription to The New York Times. Most people received their redemption code within minutes of signing up, which made the cancelation process a breeze.
Originally posted by Slickdealer sarissa, this offer was intended for annual subscriptions, but it ended up applying to monthly membership signups, as well.
12. The one where you got a 30-pc. Rubbermaid food container set for $8.

Holiday sales often include lots of savings on food containers, but Target's recent discount takes the cake. Slickdealer perisian_mafia spotted a 30-Piece Rubbermaid Plastic Food Container Set with Easy Find Lids on sale for just $7.99 — regularly $41.99. (Hint: It's still available in some locations.)
User solandri crunched the numbers and found that this particular set is ultimately a better deal than a similar offer from Walmart "because it nearly matches the number of big containers while giving more smaller ones for less money. And better than the Walmart Black Friday deal because it doubles the number of bigger containers for just $1.24 more."
RELATED: How to Get the Most Out of Pricing Errors by Retailers
How To Avoid Missing Out on the Best Deals on Slickdeals
There's nothing better than scoring an epic deal, and nothing worse than missing out on one altogether. At Slickdeals, we can help you avoid the latter by sending you notifications of the latest and greatest finds. Just set a Deal Alert for your most coveted items or retailers, and let us do the work for you. You can even set an alert for "price mistake" to help you get first dibs on a glitch.
When you do see a pricing error, we suggest acting fast and shelling out for the fastest shipping method available. This may help push your order through before the issue gets resolved.
While you're at it, be sure to download our all-new Slickdeals browser extension to earn cash back on your online purchases.
Up Next:
Our editors strive to ensure that the information in this article is accurate as of the date published, but please keep in mind that offers can change. We encourage you to verify all terms and conditions of any product before you apply.