Stop Panicking, The Ultimate Gen Z Holiday Gift Guide is Here (And It's Actually Cool)
Yup, everything on this list is actually cool.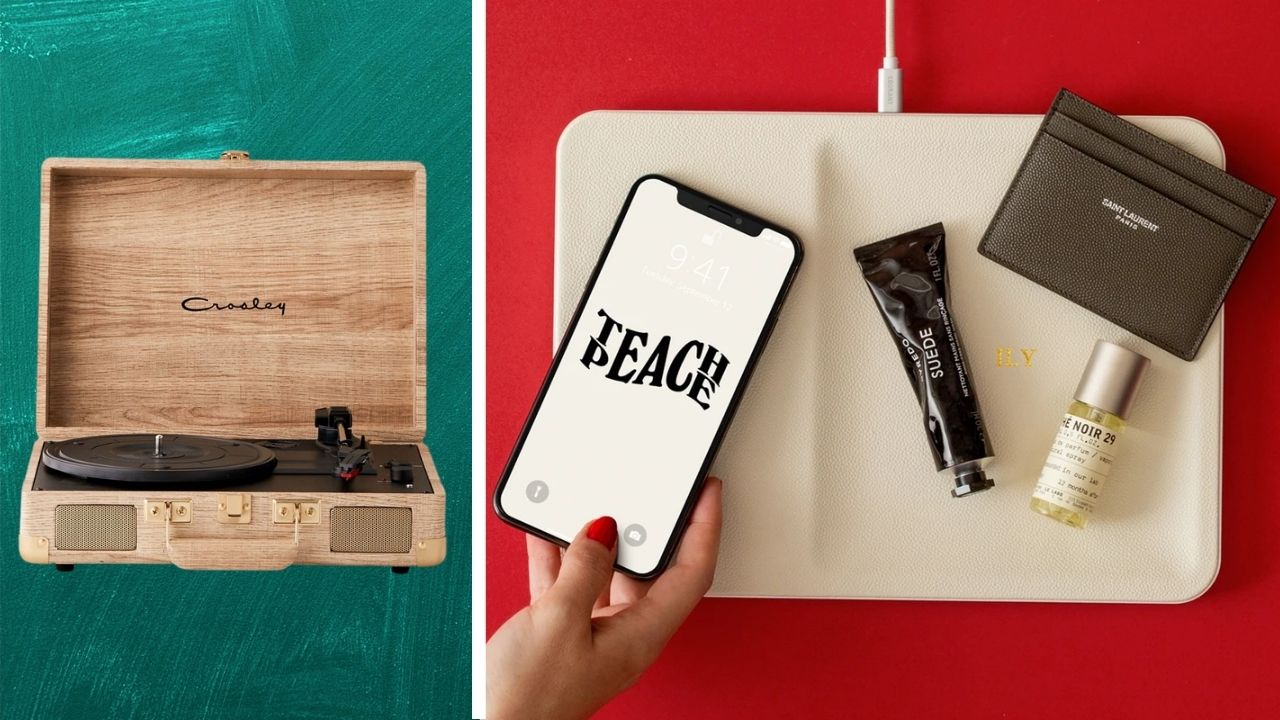 There's something extremely satisfying about getting your loved ones gifts they actually like. Accomplishing this goal, however, can be quite overwhelming when shopping for the Gen Z age group. No one can blame you, it's not easy keeping up with what the kids are into these days, so we're here to break it all down for you.
It's no secret that the first thing that comes to mind is TikTok. Gen Zers love the video-sharing platform, and you may have even been approached to learn some dances with them this year. Sustainable, eco-friendly items are also a must for the younger crowd, and if anything, you can't go wrong with comfortable and effortlessly fashion-forward clothes. From closet essentials, phone gadgets and a classic Crosley record player, you can finally stop stressing because we have a strong feeling this generation has been eyeing the things on this list.
The Best Gifts for Your Gen Z Relatives
1. 12-inch LED Selfie Ring Light

Regular Price: $25.49
If your Gen Z relative doesn't have a ring light yet, put this highly-rated 12-inch LED Selfie Ring Light — which comes with a tripod and a cellphone holder — at the top of your list. Not only will it make filming videos much easier, but we also found that there are plenty of other uses for it, such as putting on makeup, providing extra light for your plants and so much more.
2. Nike Fleece Pants

Sale Price: $38.97 | Regular Price: $45
Who isn't in need of solid loungewear these days? Grab one or three of these Nike fleece pants for your Gen Zer and you'll be a hero.
Slick Tip: For a limited time, select Nike items are up to 40% off, so shop the brand's sale section while supplies last.
3. Fujifilm Instax Mini 11 Instant Camera

Regular Price: $69.99
Instead of just having photos on Instagram and other social media platforms, the Fujifilm Instant Film Camera can give this age group priceless printed pics to keep forever. It's available at Best Buy, which has a price match guarantee in case you find it cheaper somewhere else. Even better, each purchase comes with a free $25 credit to spend on Shutterfly.
4. Crosley Wood Cruiser Bluetooth Record Player

Regular Price: $99
Quite frankly, the Crosley Wood Cruiser Bluetooth Record Player is a great gift for anyone at any age. It's a stunning statement piece that won't break the bank at less than $100. Even though newer records tend to be pricey, you can always get cheap finds online, in thrift shops or at local record stores.
5. Apple AirPods Pro

Sale Price: $219.99 | Regular Price: $249.99
Want to really spoil your Zoomer? Grab a pair of Apple AirPods Pro. Currently on sale at Best Buy, these are definitely something they'll use on a regular basis.
6. Patagonia Organic Cotton Quilt Snap-T Pullover

Regular Price: $149
Whether it's giving back a percentage of sales to environmental preservation or encouraging customers to focus on buying higher-quality items, Patagonia has always upheld high sustainability standards. Therefore, it's well-approved by a younger audience. Shop the brand's holiday guide, which includes this Organic Cotton Quilt Snap-T Pullover.
7. Fila Disruptor II Sneakers

Sale Price: $48.75 | Regular Price: $64.99
White sneakers go with everything, making them a solid gift idea. Plus, the Fila Disruptor II Sneakers are currently on sale for more than 20% off at Macy's, making them a bargain at under $50.
8. Courant Catch:3 Wireless Phone Charger

Sale Price: $122.50 | Regular Price: $175
Charging all those devices no longer has to be a hassle, thanks to the functional and stylish Courant Catch:3 Wireless Phone Charger. The brand's Cyber Monday sale is still going on with a 30% off sitewide, so take advantage of it while you can.
9. Nintendo Switch Console

Regular Price: $414.90
Have you ever met a Gen Zer who didn't want to play with the Nintendo Switch? The console is sold out at many stores, but at the time of writing there are still some left at Walmart. Don't wait on this if you decide it's the right gift for your loved one, as they may not be available for long.
10. Mancro Reusable Folding Silicone Drinking Straw

Regular Price: $7.39
Looking for a stocking suffer? Turn to the Mancro Reusable Silicone Straw. It's a handy tool that not only cuts down on plastic waste, but also works way better than the paper straws many restaurants provide.
11. Dr. Martens Faux Fur Lenore Boots

Sale Price: $131 | Regular Price: $160
Having cold feet (literally) is the worst. Make sure your Gen Zer doesn't have that problem with a pair of Dr. Martens Faux Fur Lenore Boots. The boots are lined with faux fur and can be worn with just about anything.
12. Levi's Original Sherpa Trucker Jacket

Sale Price: $83.32 | Regular Price: $98.00
Keep the fuzzy presents coming with another sustainable option, the Levi's Original Sherpa Trucker Jacket. It's an iconic outerwear purchase that will continue to be trendy season after season. You'll certainly get your money's worth with this gift.
---
Get the best price on whatever gifts you decide to buy when you set a Deal Alert. We'll keep you informed of any price drops as soon as they hit our forums.
Up Next:
Our editors strive to ensure that the information in this article is accurate as of the date published, but please keep in mind that offers can change. We encourage you to verify all terms and conditions of any product before you apply.