How to Find Affordable (and Free) Ebooks and Audiobooks During Quarantine
If you're reading more than ever these days, you'll want to take advantage of these free ebook deals.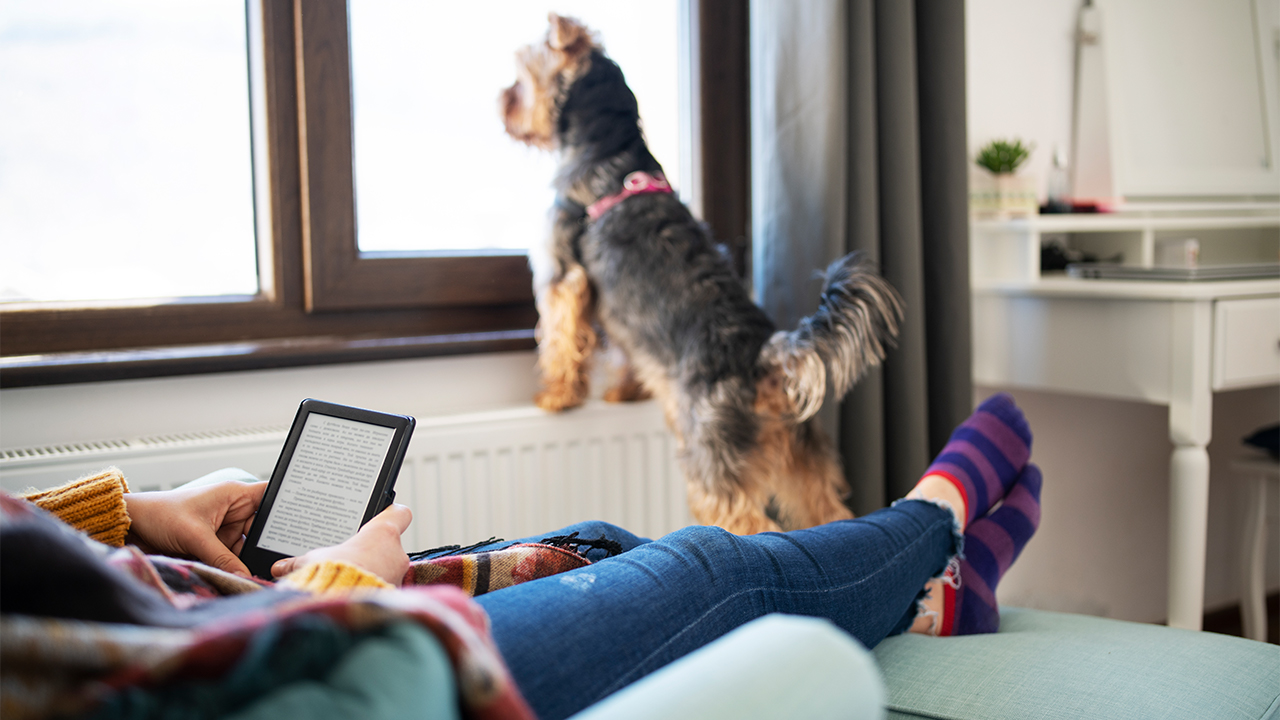 There are plenty of options out there to access both ebooks and audiobooks for cheap – or even free.
Here are my favorite resources for getting free or inexpensive (less than $7) books. And if you're new to digital reading, I'll also share the apps and devices I use at home.

With a Library Card
If you don't have a library card, check your local library system's website to see if you can apply and receive your card number online. For example, my county library system is taking online applications and providing the new library card number immediately. The physical card will arrive in the mail, and new cardholders can verify their address in person once branches re-open.
As a library card holder, you can borrow ebooks and audiobooks for free with Overdrive. Each library has its own collection of digital content to choose from. Access your library's digital collection through their website or by looking up your library on the Overdrive homepage.
Once you check a book out, you can download it to your Kindle device or the Kindle app on your phone. Overdrive also makes its own apps. For example, I use the Libby app, which is connected to my library card. It doubles as an eReader/audiobook player, in addition to functioning as a catalog search engine.
One thing to note, however, is that the wait to read new releases through the library can sometimes be weeks or even months. I recommend going to your library's homepage on the Overdrive website or app and browsing by what's available. For example, in my own library catalog, I see that well-known books such as Crazy Rich Asians by Kevin Kwan, Big Little Lies by Liane Moriarty, and The Underground Railroad by Colson Whitehead are all available to check out now.
So whether you're looking for a lighter read or a literary heavy hitter, go into library ebooks with the strategy of catching up on titles you meant to read, instead of checking out the latest release.
With that said, it's still worth putting unavailable titles on hold. You get to put up to 10 books on hold at a time, and it's a nice surprise when they do come in.

With a Kindle Device or the Kindle App
I used to have a regular Kindle, but have been using the Kindle app on my phone in recent years. If you want to trade in an old Kindle or purchase your first one, Amazon has been offering regular price cuts on the various Kindle models. For example, the basic Kindle was recently marked down from $89.99 to $64.99. If it's not on sale when you get ready to buy, set a Deal Alert to be notified as soon as a new offer is posted.
As mentioned above, you can read library ebooks on Kindle. But if you're an Amazon Prime member, you can also borrow thousands of titles for free with Prime Reading. Or, for $9.99/month (after a free 30-day trial) you can use Kindle Unlimited to read millions of titles.
Amazon also has its own Kindle daily deals list, where you can find a variety of books for less than $2.99. Though one of my favorite ways to find affordable ebooks is by browsing the curated ebook deals list from the reading-oriented blog, Modern Mrs. Darcy.
Related: 30 Best-Selling Kids' Kindle Books for Under $2

Free Ebooks in the Public Domain
If you've been meaning to catch up on the classics, this could be the time to do it. Download free ebooks or read public domain titles online through Project Gutenberg, which offers a library of more than 60,000 free ebooks.
These tend to be literary works published before 1924, such as Pride and Prejudice by Jane Austen, The Magic Mountain by Thomas Mann and more. For inspiration, check out Project Gutenberg's list of the top 100 ebooks downloaded and recently added books.
Other options for free public domain titles include:

How to Listen to Audiobooks
In my pre-pandemic life, I enjoyed listening to audiobooks during my commute. Now they make a nice companion to my non-working hours at home while I put a jigsaw puzzle together or dust every nook and cranny for the spring cleaning I never got around to until now.
Here are a few options for finding and listening to affordable audiobooks:
Whatever the re-opening of the economy looks like, we probably won't see a complete return to normalcy for a while. Luckily, books can provide comfort and good company in the meantime.
Whether you're a seasoned bookworm or trying to cultivate better reading habits during the pandemic, you should be able to find enough titles from the options above to eliminate the problem of not having a good book to read right now.
Looking for a few good bookish accessories to get your cozy on? Check out these recent articles:
Our editors strive to ensure that the information in this article is accurate as of the date published, but please keep in mind that offers can change. We encourage you to verify all terms and conditions of any product before you apply.