How to Stay on Budget Using a Grocery Delivery Service
All that convenience comes at a cost, but there are ways to save.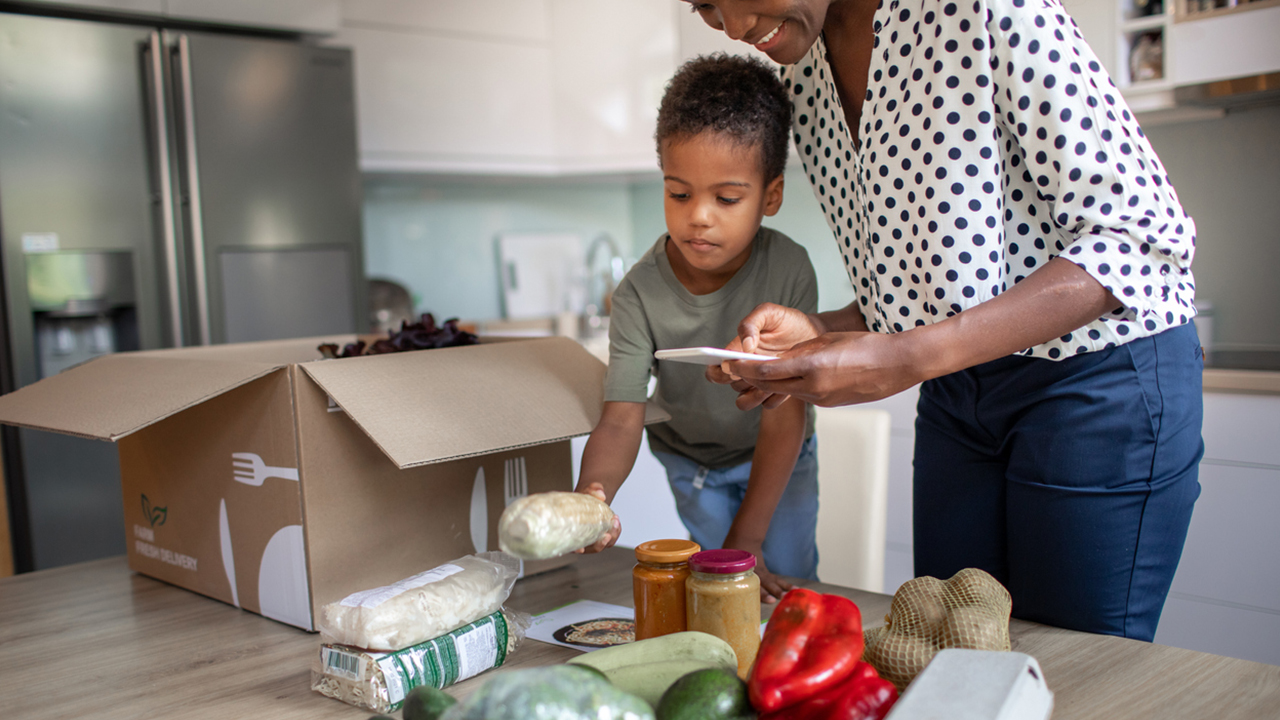 Grocery delivery services are one of the best time-savers money can buy. But therein lies the trade-off; in exchange for saving time, you can find yourself spending more money than you usually would on groceries.
And while grocery delivery services will always come with some extra costs, there are still ways to save. So how can you save the time, while staying within your budget? Let's find out.
Budget For Tips and Fees

The biggest upfront cost with grocery delivery is the service itself. You'll need to weigh how frequently you'll use the service, as well as the grocery stores available with each option to determine which service works best for you.
A service with an annual fee will be more cost efficient if you're ordering a big load of groceries every week, but only if the service works with your grocery store of choice. Many services also offer a one- to two-week free trial period to help you decide if they are right for you.
Here are the costs for a few of the most popular grocery delivery services:
Instacart: $7.99 for one-hour delivery, or $5.99 for a two-hour or longer window. For $150 a year, or about $12.50 a month, you can get a yearly subscription with unlimited free two-hour delivery for orders over $35.
Google Shopping: Free, but stores may set minimum purchase limits and higher prices on items.
Walmart Grocery: $98 annually, or $8 to $10 per order.
Shipt: $99 annually or $14.99 per month with a $35 minimum order for free delivery.
Peapod: $7 to $10, with a lower fee for larger orders.
AmazonFresh: Free to members of Amazon Prime. This means it's not technically "free," but rather $12.99 a month or $119 annually.
Remember, many services require a minimum purchase amount for delivery, which may range anywhere from $10 to $35. And state and local taxes don't count toward the threshold. Additionally, don't forget to factor in the tip.
Aim for between 15% and 20%, scaling up with the size of the order. Overall, you'll want to consider all these fees as the first line in your grocery budget to avoid spending too much.
Avoid Impulse Purchases
Ever looked up at checkout and realized you don't even know how that box of Pop-Tarts got in your cart in the first place? One of the nice things about ordering groceries online is that you're less likely to fall for impulse buys. Create your order whenever is most convenient so you're not shopping on an empty stomach.
Additionally, you don't have to commit before you put in an order. Let it sit for a little before finalizing everything to not only avoid forgetting an important item, but also to look at whether you really need everything on your order.
Comparison Shop Inside and Outside
If you're a savvy shopper, you'll probably quickly notice that prices on grocery delivery services may be higher than prices in the store. Instacart, for example, has charged between a 15% to 23% markup on some items. It's largely a consequence of the fact that grocery prices aren't fixed, especially for produce. For example, if gas prices go up, it'll impact the price of food.
That said, it still pays to comparison shop across products and services. Look for price differences in products you use regularly, in particular, as those pennies and dimes can pile up over time.
Look at Your Entire Food Budget and Meal Plan

If you sit down with your statements, you might be surprised at how much you spend on food. The average household, for example, spends around $3,000 a year eating out. Before you sign on for any service, look at how much you spend on food overall, not just at the grocery store.
If getting groceries is easier, will that make you less likely to go out? You may be able to shuffle your dining out budget over to your grocery delivery budget and still end up saving.
The next step is to look at your meal plan, or develop one in the first place. Meal plans aren't just for your health; they're handy budgeting tools that let you figure out just what you're going to eat and when. That said, start small if this is a big change. Plan to make meals at home one or two more days per week than you typically do, and then work your way upwards from there.
Inventory Your Pantry Before You Shop
We've all grabbed something from the store only to come home and find that, no, sorry, we did already have limes for those tacos. Looking over what you have to eat, before you place an order, will not only cut down on those redundancies, but it'll ensure that you eat the food you've already purchased.
Take advantage of the fact that you'll likely be ordering from home, so there's really no excuse for not checking the pantry inventory first.
Buy Private Brands Where Possible
Private brands, also called store brands, should be on your shopping radar even if you never use a grocery delivery service. In many cases, all you're really paying for with some products is the label and the advertising. This is particularly true for bulk items and staples like dairy products, eggs, flour and cereal.
It all comes from the same distributor, and just goes into different packages. Even high-end items like craft liquor often come from the same source, which is how Costco can famously get such high-quality booze under its Kirkland brand.
The cost difference can be dramatic. One analysis found you can save up to $1,500 a year by buying private label products. That said, sometimes brand loyalty makes sense. Safety and personal comfort need to come first in some decisions. But for items where it's all the same in the end, go with the store brand.
Buy in Bulk Where You Can

Another point of consideration is to buy bulk where possible. There are some items, such as rice and beans, that are simply cheaper when you buy in larger quantities.
Just be sure to check that your delivery service of choice works with a store that offers bulk options. Costco, for example, relies on Instacart for its same-day grocery delivery service.
Focus particularly on shelf-stable items, such as dry goods and canned goods, as well as items that you'll use quickly. This is where your meal plan will really pay off.
If, for example, you know you're making five dishes this week that will all feature a mirepoix (the fancy French word for cut up carrots, onions and celery), you can just put in a week's order and not think about it.
---
Make sure you're getting the best deal on a grocery delivery service or any groceries you buy by setting a Deal Alert. We'll let you know when new deals or offers are posted.
UP NEXT:
Our editors strive to ensure that the information in this article is accurate as of the date published, but please keep in mind that offers can change. We encourage you to verify all terms and conditions of any product before you apply.