Sponsored
10 Tips for an Awesome At-Home Easter Hunt
Create a fun (and budget-friendly) Easter egg hunt without leaving the comforts of your own home.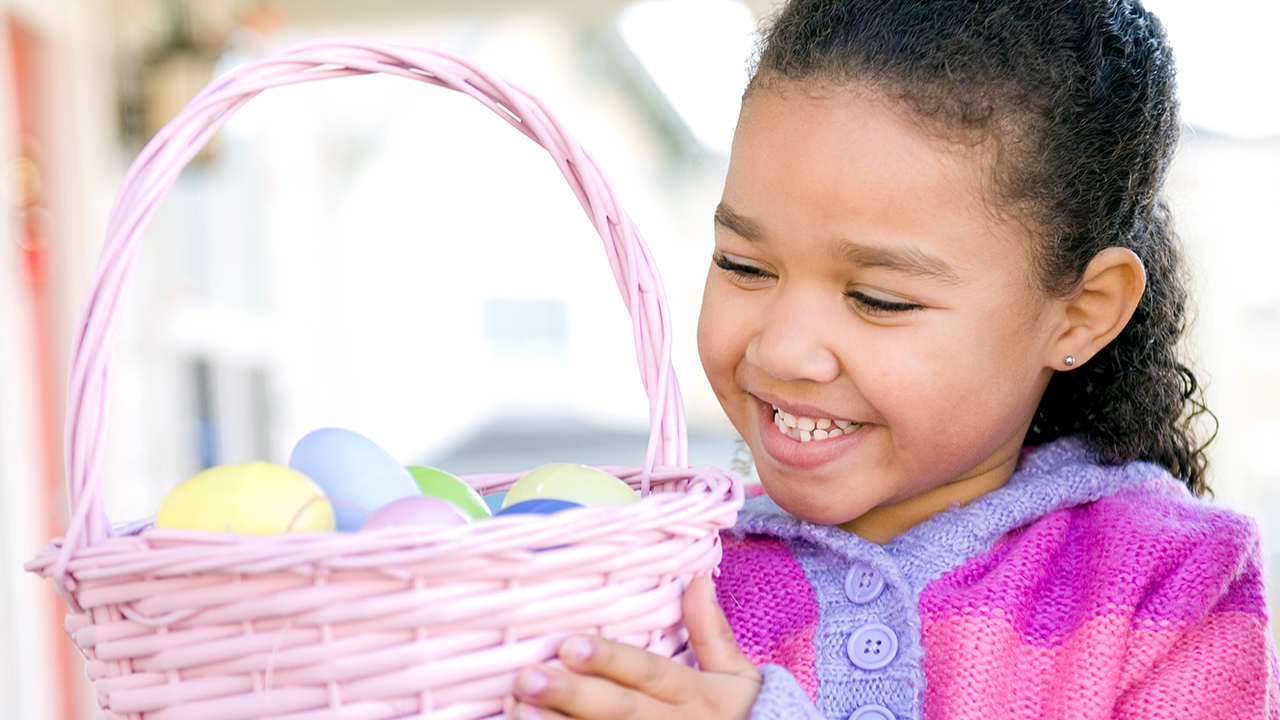 Just because you're at home, doesn't mean you can't make a memorable Easter egg hunt for your kids. We've got 10 ideas on how you and your family can do so. We've divided it up into two sections: ideas for decorating eggs and games or ways to mix up the traditional Easter egg hunt.
Ideas for Decorating Eggs
Use Wrapping Paper to Wrap Around Plastic Eggs
Grab some Easter themed wrapping paper or whatever you've got lying around and challenge your kids to wrap plastic eggs. You can even turn it into a contest: which wrapped egg still has an egg-like shape?

Use Bunny Shaped Motifs
Go ahead and find some bunny stickers, or cut out bunny shapes, and glue them onto plastic or boiled eggs. While you're there, you can even hide adorable bunny-shaped snacks, like Annie's Bunny Grahams, Cheddar Bunnies or Bunny Fruit Snacks, inside your clean decorated plastic eggs for a sweet surprise for little ones.
Draw on Boiled Eggs with Crayon
For younger kids, consider just boiling your eggs and having your kids draw on them once they're cooled down. You might need to show them how to handle it in case they crack the shell.
Use Powder Drink Mixes to Dye Eggs
Instead of food coloring, use flavored drink mixes to achieve a rainbow of colors. Lighter colors won't work as well so avoid flavors like lemonade and aim for more vibrant options like cherry. Keep in mind you'll get a grainy texture, so stick with food coloring if you want a smoother finish.

Put Your Origami Skills to Work
Don't have the time or inclination to buy Easter baskets? Grab some paper and learn how to fold one! There are plenty of YouTube tutorials to teach you, and you can turn it into a wonderful art class for your kids. If that sounds too complicated, you can always use cardboard boxes you've got lying around (like your empty Annie's Mac & Cheese packages – you know, the ones with the cute bunny on the box) and have your kids go to town making their own Easter baskets.
Mix up the Traditional Easter Egg Hunt
Who says you need to do things the usual way? The Easter Bunny will meet you where the kids are, and there are plenty of ways of making it fun!
Here are some ideas for games:
Flashlight Egg Hunt
Dedicate your largest room in the house and hide all your eggs (try to get brightly colored plastic eggs to help make it easier for the younger ones to find). Then, turn off the lights and hand each kid a flashlight. If you have ample room in your yard, consider a nighttime egg hunt.

Scavenger Egg Hunt
Hide clues inside each egg and have your kids find the next egg to unlock the next clue until they get to the end where they'll find a treasure chest or basket full of goodies. Or, consider hiding small treats in each egg with a clue and each subsequent find means they'll get a bigger treat.
Scrambled Eggs
Instead of hiding clues in the eggs, use letters. Color coordinate your plastic eggs so that the same colors feature letters for one word. For example, if you want your kids to unscramble the word "bunny," then hide all the letters separately in five pink plastic eggs. Once your kids have all the letters, have them unscramble the letters for a prize.
If you really want to get creative, Annie's Organic Create-a-Bunny Bunny Fruit Snacks have candy pieces you can mix and match to create your own bunny – use these as puzzle pieces and have your kids put them together once they find all the eggs.
Get the Golden Ticket
Put candies or chocolates in eggs, but tell the kids there's one that has a golden ticket. If anyone finds it, they'll get a large prize.
Puzzle Egg Hunt
Instead of candy, put puzzle pieces inside plastic eggs. Once your kids find them, put the puzzle pieces together in exchange for a larger prize.
If you're concerned about the type of candy you're putting in your eggs, consider skipping the candy and hide Annie's bunny-shaped snacks like Cheddar Bunnies and Bunny Grahams. Or go gluten free with Annie's Crispy Snack Bars, Annie's Bunny Fruit Snacks, and Really Peely Fruit Tape. Of course, you can hide other snacks like popcorn, but since it's a holiday, it might be okay to let loose a little.
Well there you have it: 10 ideas for a fun Easter egg hunt at home. Which one of these will you try out? As always, make sure you set a Deal Alert so you never miss out on deals like these.
---
READ NEXT:
Don't Touch Your Face: Add a $5 Bandana or Scarf to Your Wardrobe
Big Savings at Both Supermarkets and on Meal Deliveries With the American Express Gold Card
Our editors strive to ensure that the information in this article is accurate as of the date published, but please keep in mind that offers can change. We encourage you to verify all terms and conditions of any product before you apply.