6 Sneaky Ways to Get Free Airport Lounge Access on Your Next Trip
Don't miss out on this travel perk.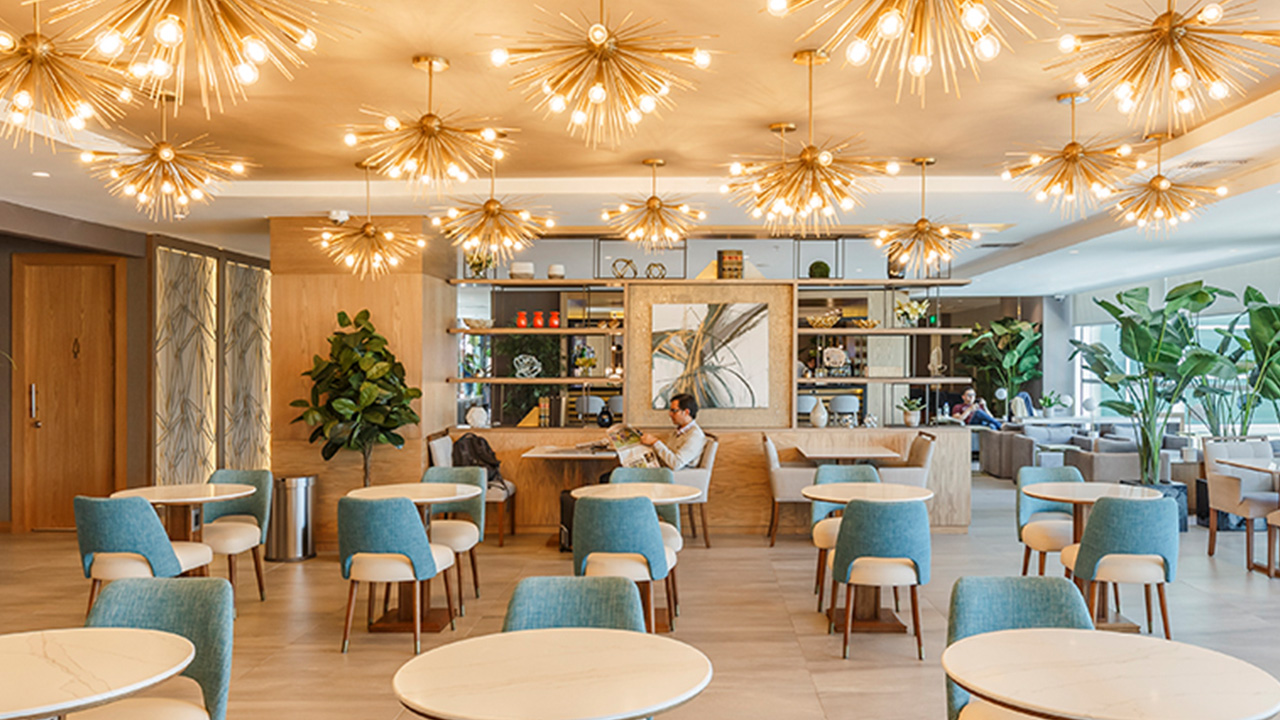 No matter how long you need to wait for your flight or the amount of time you have to be around for a layover, airport lounges are always the way to go. The exclusive spaces have complimentary Wi-Fi, snacks, drinks and so much more. I also love getting the chance to shower in between long haul flights, especially if I'm traveling overnight. Moreover, it's a solid escape from the crowded boarding areas full of people waiting to get on the plane.
Of course, they don't let just anyone in. The average airport lounge fee is reportedly $40 to $50 per visit — though some are as low as $25. Alternatively, you can shell out for a first class or business class ticket, which also often come with lounge access. Thankfully, we've found some clever ways to beat the system and waltz in for free. Make sure you don't waste any of your travel budget in order to enjoy this perk.
How to Get Free Airport Lounge Access
1. Check Your Credit Cards

If you have a travel credit card, chances are that it includes airport lounge access or at least a discounted rate. It's important to know exactly what your program entails, because there's nothing more embarrassing than confidently walking into a lounge only to be turned away. Trust me, been there and done that.
For instance, I have the American Express Platinum Delta SkyMiles Credit Card and it took me not instantly being allowed into the lounge to realize that even with the card, I will still be charged $29.
2. Bring Your Military ID
Regardless of which cabin you're flying in, carrying an active duty military ID may grant you access to many airport lounges. It's similar to the airline advantage that allows active military members to board before the majority of the plane.
Just keep in mind that different airlines have different policies for their lounges, such as requiring you to be in uniform, so be sure to check beforehand.
3. Check Your Airline Status

If you're a frequent flyer, this might be the easiest way for you to secure a spot in an airport lounge. Even if you haven't reached the highest tier, you shouldn't rule out the possibility of lounge access. For example, my Delta Platinum Medallion status may not do me any good for domestic routes, but since the loyalty program is part of the SkyTeam Airline Alliance, there are different rules for international flights.
When I'm flying overseas, my status ends up being high enough to grant me access to all SkyTeam partner airlines, like the popular KLM Flying Blue lounge. I go through the one in Amsterdam several times a year and it has everything you need.
4. Be a Plus One

This may seem obvious, but find yourself a friend with a guest pass. It never hurts to ask, because the worst that person could say is no. Once, I was traveling with a group on a route not supported by my go-to airline.
It obviously meant I didn't have lounge access, but someone else on the trip did, as he was a loyal member to the airline. He easily let multiple people in with his allotted amount of guests. Before we knew it, we were in the lounge with the entire squad.
5. Snag a Refundable First Class Ticket
I'm not going to lie, this is a risky move. People have apparently bought business or first class tickets — which include lounge access — with the intention of canceling the tickets as soon as they get into the lounge.
This only works if you're able to purchase a refundable fare. In my experience, Kenya Airways has a flexible ticket option that offers you a full refund for a higher fee. And depending on how high your status is, some airlines won't charge you a cancellation penalty. However, you likely have lounge access by then and won't need to worry about going through this.
6. Opt for Priority Pass

If all else fails, Priority Pass may be the most affordable guaranteed option to make your way into an airline lounge. It may not provide you with free access, but the $429 all-access annual fee lets you into more than 1,300 airport lounges around the world. For those who travel often, it ends up paying for itself.
Additionally, a Priority Pass plan is included with Chase Sapphire Reserve and American Express Platinum cards. The benefit allows card holders to bring in two free guests along with them, too. Again, if you have these cards in your wallet, be sure to review your benefits before heading to the airport for your next adventure.
---
Make sure you're getting the best price on travel during your next trip. Set up a Deal Alert and we'll let you know as soon as a deal is posted.
UP NEXT:
Our editors strive to ensure that the information in this article is accurate as of the date published, but please keep in mind that offers can change. We encourage you to verify all terms and conditions of any product before you apply.