7 Spray-Free Ways to Keep Mosquitoes Away
Stop using nasty chemicals on your skin to keep bugs away.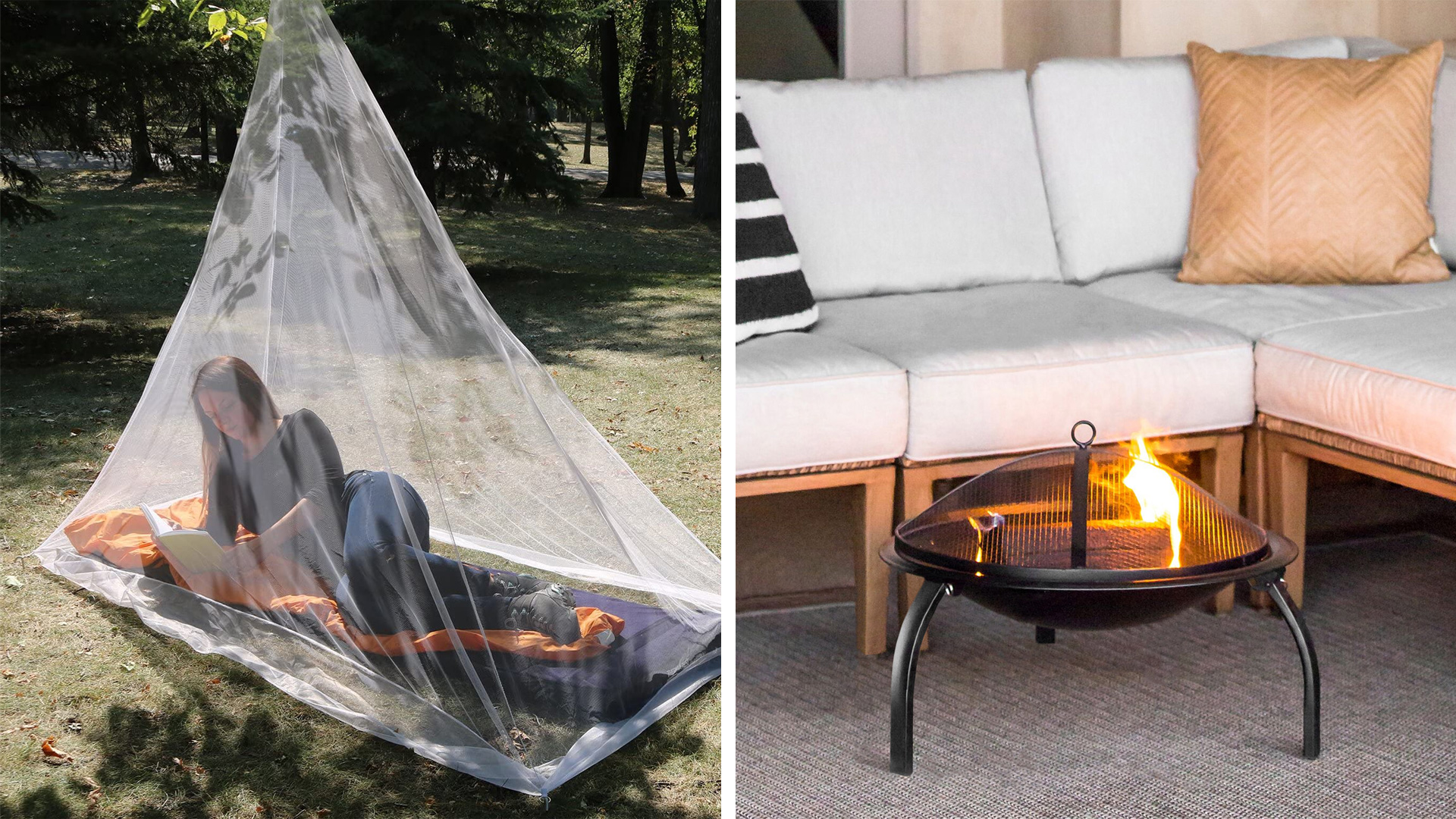 Wondering how to keep mosquitoes away without toxic or strong-smelling body sprays? Beyond citronella coils or candles, ahead is our list of innovative and affordable tricks to keep the buzzing around you to a minimum. This roundup is the warm weather game-changer you've been waiting for and even include testimonials from real users and buyers on the efficacy of these insect repellent spray alternatives.
It's the peak of summer which means you've probably already gone through several bottles of bug spray. Instead of continuing to lather yourself in these sticky toxic chemicals, invest in these must-haves to get the most out of the outdoors this summer.
Spray-Free Ways to Keep Mosquitoes Away
---
1. Start a Fire.

Best Choice Products Folding Steel Fire Pit–  Sale Price: $49.99 | Reg. Price: $88.99
One customer said it's the "Perfect pop up fire pit. The legs fold in for easy storage and travel or leave it out for decor."
Smoke is a natural insect repellent, so why not invest in a fire pit for your home? The Best Choice Products Folding Steel Fire Pit from Walmart is a stylish and budget-friendly option that can complement any patio furniture.
---
2. Take a Bath.

Now Foods Citronella Oil (4 ounces) – Price: $18.24 on Amazon
Now Foods Citronella Oil (2 ounces) – Sale Price: $4.71 | Reg. Price: $7.19 from Walmart
"I am a horseback rider and I take my trusty Tennessee Walker 'Rock' to the woods often," a customer revealed. "There is always a problem with those pesky horseflies and other insects, so I just use Citronella essential on my horse and I use it on me too!!"
Before you go outside, draw yourself a bath with the Now Foods Citronella Oil. It's a relaxing way to avoid those pesky bug bites.
---
3. Grab a Torch.

TIKI Bonaire Patio Torch- Reg. Price: $74.99
BiteFighter Torch Fuel– Reg. Price: $13.97
"We definitely have mosquito issues in our area. It really inhibits our outdoor time," a reviewer commented on the Home Depot website. "I used the BiteFighter Torch Fuel for the first time and am so happy with it…the bottle is easy to hold and easy to pour. No more filling spills! The flame is pretty with no soot."
TIKI's Bonaire Patio Torch is the modern touch your outdoor space needs. It's an easy way to add the warmth and charm of an open flame. But more importantly, when paired with the BiteFighter Torch Fuel, it's proven to instantly scare away mosquitoes.

Deal Tip: Don't forget, opt to have the item delivered to your nearest Home Depot, and then pick it up at the store to avoid shipping fees.
---
4. Diffuse Them Away.

Skeeter Screen Patio Egg Diffuser– Reg. Price: $23.99 on Amazon
Instead of using a diffuser with scents that likely attract mosquitoes, get this Amazon's Choice Skeeter Screen Patio Egg Diffuser. The brand also has a Deet-free mosquito repellent refill oil that will surely keep those bugs out of sight and lucky for you, this item ships for free.
---
5. Shield Yourself.

Thermacell Patio Shield Mosquito Repeller– Reg. Price: $24.95
"We live in a forest and when we purchased this we figured it would only cover a small area," one helpful reviewer shared online. "Well guess what, it works so darn good! We have huge mosquitoes, horseflys, black flies, not once did we encounter them."
You'll have more fun once you start entertaining with the Thermacell Patio Shield Mosquito Repeller. According to REI's product description, the device uses heat to activate the repellent and create a zone of protection of 15 feet.
---
6. Pack a Net.

Coghlan's Hiker's Mosquito Net– Reg. Price: $29.99
If you're going camping or on an extended hike, bring the Coghlan's Hiker's Mosquito Net with you. When you put this essential from Bass Pro Shops over you, you'll instantly escape the mosquitoes flying around.
Deal Tip: Bass Pro Shops conveniently offers complimentary same-day in-store pickup. Feel free to browse the site for other outdoor necessities and pick them all up in no time.
---
7. Pick the Right Plants.

Herb Planter with Scissors– Sale Price: $23.97 | Reg. Price: $39.95
In addition to Citronella, other plants such as lavender, basil and more can keep mosquitoes away. So get some seeds and start planting! Make the process extra simple with this Herb Planter that comes with scissors from Crate & Barrel. It's also on sale, so you can't go wrong with the purchase. Beware though, quantities are limited.
Deal Tip: Before you finalize your cart, sign up for Crate & Barrel's email newsletter to receive an additional 10% off.
If some of these items are out of your price range, set a Deal Alert so you'll be notified if they go on sale.
Our editors strive to ensure that the information in this article is accurate as of the date published, but please keep in mind that offers can change. We encourage you to verify all terms and conditions of any product before you apply.