Slickdeals' News & Articles Are Now Available on the SmartNews App!
A simple reader to optimize your deal hunting process.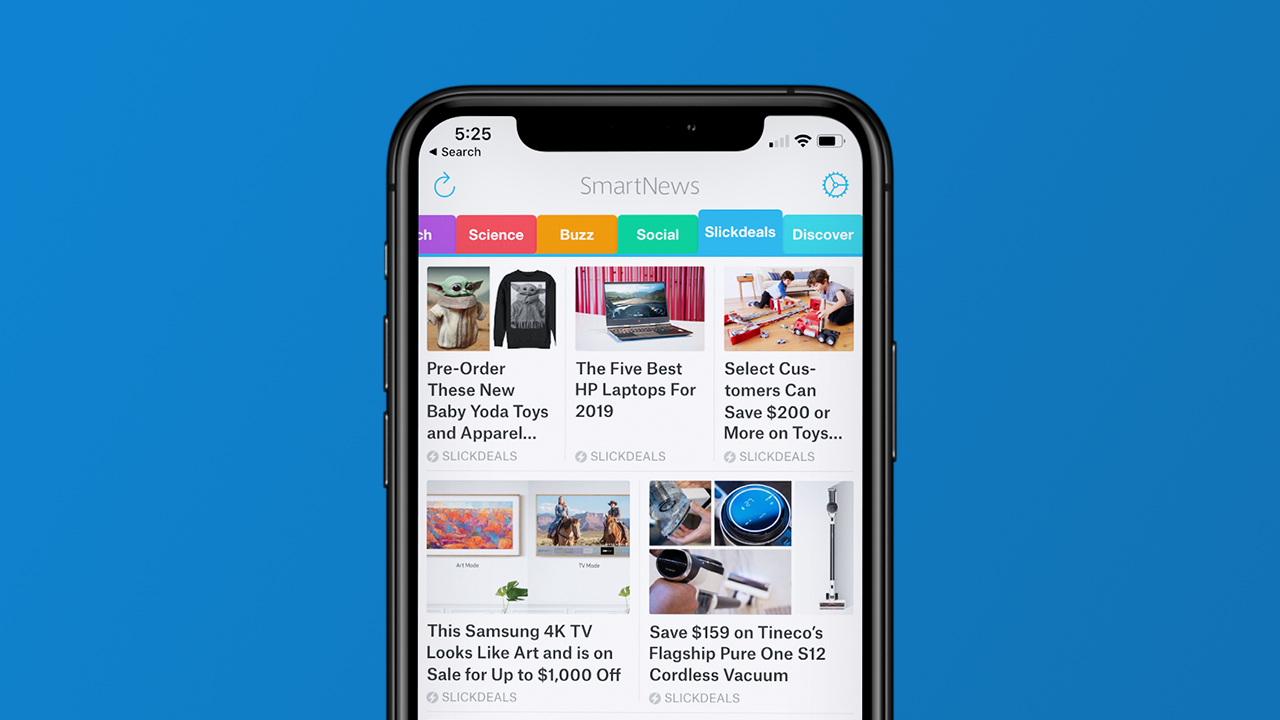 As fun as it is to get lost in the vast expanse of the Slickdeals website, do you ever find yourself wishing you could read a consolidated feed of all our articles? If so, Christmas shopping (or your regular daily deal hunting) just got totally streamlined by our new channel on the SmartNews app, available for iPhone and Android smartphones!
What is SmartNews?
For those who aren't already in the know, SmartNews is a free news aggregator app that allows users to customize their own experience by adding their choice of channels — in your case, the Slickdeals channel. It is sleek and simple, favoring accessibility and ease of use over a flashy layout. One major benefit is offline reading, for referring to our deals and promotions on the go.
Benefits of Using SmartNews
Many of you have been here with us for many years and maybe feel unsure about moving to a new platform in favor of our perfectly serviceable website. You do you, but here are some good reasons to check out our SmartNews channel.
Improved Readability
By stripping Slickdeals of some of its tertiary materials like ads and widgets, you are left with the cleanest possible version of our articles. You get many more articles per page than on our website and it's easy to swipe in and out of articles, which might keep your eternal glut of Slickdeals browser tabs at bay.
Integrate Slickdeals With Your Other Daily Reading
For those who read the news and other content publications, you can pepper in some Slickdeals content with your daily news, recipes, gossip and whatever else strikes your fancy. For those who don't come to our site unless you are looking for something specific, you might be surprised by an amazing deal that would have gotten away were it not directly under the daily weather!
How to Read Slickdeals Articles Using SmartNews
7eMGJFZFOQY
SmartNews is free to use and only takes a minute or two to set up, no login required. The app has quite an intuitive UI, so this won't be difficult for most.
Visit the SmartNews website or look it up in the Google Play or Apple Store.
Download the app and calibrate your preferred feed settings when it prompts you.
Right now, you can find Slickdeals in the "New Arrivals" section of the "Discover" tab on the far right.
Click the blue "Add" button in the top right corner.
Congratulations, you now have access to a funky infinite scrolling feed of your favorite deals.
Don't forget to check out today's best discount from our Frontpage:
Search URL: https://slickdeals.net/newsearch.php?firstonly=1&pp=20&sort=newest&rating=frontpage&forumid%5B%5D=9&hideexpired=1&r=1
Our editors strive to ensure that the information in this article is accurate as of the date published, but please keep in mind that offers can change. We encourage you to verify all terms and conditions of any product before you apply.