How to Refinish Your Kitchen Cabinets on a Budget
Save yourself thousands of dollars: don't hire a professional for this easy weekend project.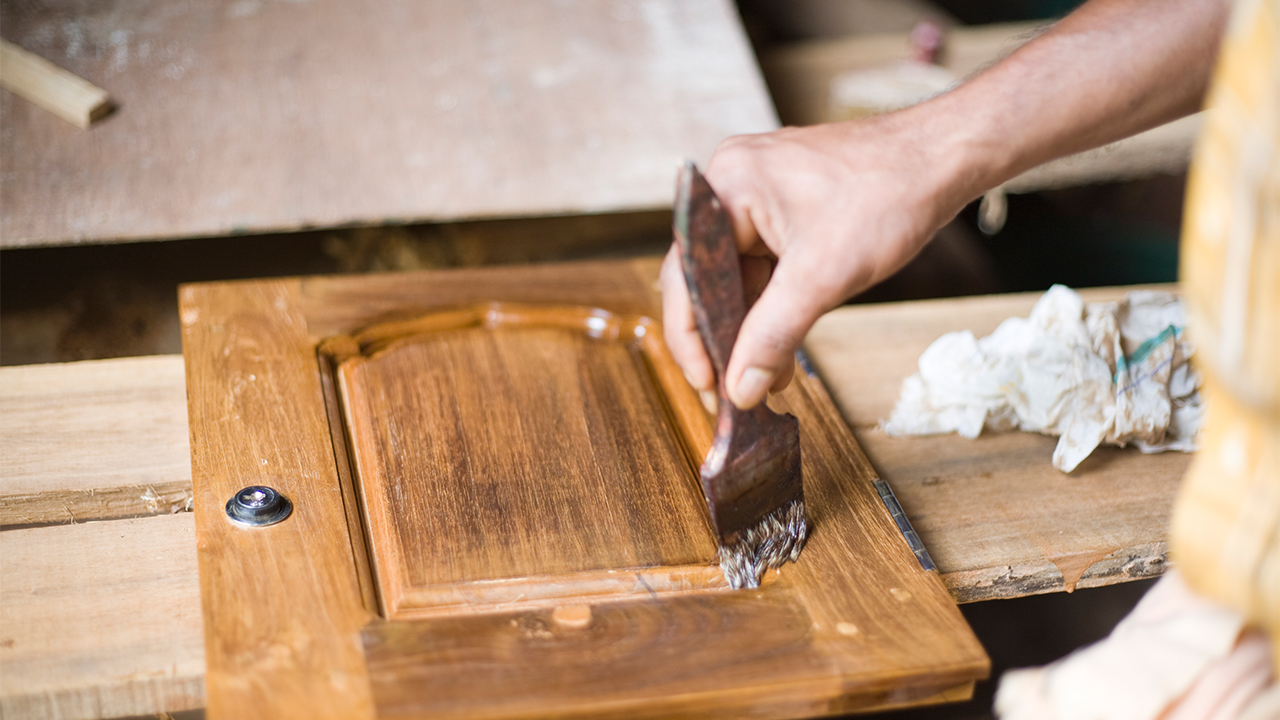 With people being urged to stay at home due to COVID-19, many are finding themselves tackling projects around the home they might not otherwise have had the time for. One of those easy DIY projects is kitchen cabinet refinishing.
It's a time consuming undertaking to be sure, but it's also something that most homeowners can manage themselves with a little elbow grease, some prep work and plenty of attention to detail.
Refinishing your cabinets yourself might cost a few hundred dollars in materials and your time, whereas replacing them completely could run you upwards of $10,000 or more for an average-sized kitchen. And hiring a professional to refinish your cabinets can easily run you anywhere from $1,700 to $4,000, depending on the size of your kitchen.
So follow along as we walk you through the steps for refinishing your kitchen cabinets and help you find ways to save along the way.
Supplies

Step 1: Empty Your Cupboards
The first step when refinishing your kitchen cabinets is to empty them. You don't want to get any sanding dust or paint drops on your dishes or foodstuffs. Now's also a good time to check the expiration dates on all those canned goods at the back of the cupboard.
Step 2: Label and Layout
After you've emptied your cabinets, take some time to draw the layout of your kitchen cabinets on a piece of paper. Be sure to label every drawer and door with a piece of painter's tape. This will help you match everything when you're putting the cabinets back together.
You can use whatever system works best for you — numbers, letters, etc. – as long as your "map" matches what you put on the doors. If you're planning to reuse any hardware, make sure that you label it, as well, and store it in a safe place.
Step 3: Remove Doors and Drawers
Once you've labelled everything, you can begin carefully removing the doors and drawers from the built-ins. You can either do this by hand with a screwdriver, or speed things up by using a power drill.
Deal Tip: If you decide to go with a power drill, Home Depot is currently offering 50% off its RYOBI brand drill/driver kit with battery, charger and drill bit set. And if you miss that sale, you can find all the current discounts on drills on the Slickdeals Drill Deals page.
RYOBI 18-Volt ONE+ 1/2 in. Drill/Driver Kit

Step 4: Clean and Tape
Give each drawer and door, as well as the built-in section of the cabinet, a good wipe down using a sponge with mild soap and water. Be sure any grease buildup is removed with a product such as Spray Nine Heavy Duty or Krud Kutter.
Once that's complete, apply painter's tape to protect the surrounding walls. If you don't want any paint on the inside of your cupboards, carefully tape around the inside edges to prevent any mess.
Deal Tip: You can save a bit on the cost per roll of tape by purchasing multi-packs.
Step 5: Fill Any Holes
The next step in refinishing your kitchen cabinets is to fill any holes or woodgrain, so that the surface is nice and smooth when you're ready to begin painting.
Let the filler dry completely before moving on to the next step. While most fillers come in large tubs, you probably need just a small (less costly) tube for any cabinet repairs.
Deal Tip: Elmer's Carpenter's Wood Filler and KwikWood Epoxy Putty are both good choices coming in at less than $10.
Step 6: Sand & Clean
Once the filler is dry, you can sand it lightly in order to smooth the surface and make it level. You can then go ahead and sand all of the doors and built-in cupboards in order to get rid of any high spots or debris. This step will give your cabinets a high-quality finished look.
Take your time sanding any high or rough spots, as it will be difficult to cover them up later on. Because sanding creates dust, you'll want to wipe down the cabinet pieces with a damp cloth in order to remove any dust before painting. Paint applies better to a clean surface.

Step 7: Prime
After prepping the surface of the cabinets, doors and drawers by sanding, apply a coat of primer. When choosing your primer and paint, be sure to look for those that are rated for kitchen use.
They will be better able to stand up to the heat and humidity that kitchen cabinets endure. Take your time to ensure there are no blemishes once the primer is applied, as they will stand out once the paint is applied. Let the primer dry completely.
Step 8: Paint
Once the primer has dried completely and you've ensured the surfaces are clean, you can apply your first coat of paint. Use a brush or roller to apply an even layer of paint to every little nook and cranny of the doors, drawers and built-ins.
You will likely need more than one coat of paint in order to make the job look good, so don't rush the process. Allow each coat of paint to dry completely between applications.
Deal Tip: The Paint Store offers weekly specials on paints, stains and painting accessories that average about 10% to 15% off. While Sherwin-Williams' Paint Perks program gives shoppers 10% off everyday, as well as access to exclusive sales. They also have a Military Discount program that offers a 15% discount on paints, stains and painting supplies.
Shop Paint at Shermin-Williams
Step 9: Sand and Paint Again
When the paint has dried completely, lightly sand any raised spots or blemishes. Remember to clean any surfaces after you sand. Apply another coat of paint and repeat this step a third time, if necessary.

Step 10: Reinstall Doors, Drawers and Hardware
Now that your doors, drawers and built-ins have been successfully painted, you can begin reinstalling your cabinets. Refer back to the layout you prepared at the start of the process so that you know where each component goes. Take your time and be careful when moving pieces so that you don't accidentally chip or damage any of your hard work.
Deal Tip: While reusing your existing pulls, knobs or handles will save you a few dollars, many people find that replacing these items with an updated style really alters the overall look of their kitchen. There are many budget-friendly options that look and function just as well as their splurge-worthy counterparts.
For example, Bed Bath & Beyond sells contemporary metal pulls at $3 each, whereas Wayfair.com has nearly the exact same model at a third of the price. Alternatively, sign up for Knob Depot's emails and you'll get 10% off your first order, in addition to prices that are up to 50% off retail. Another excellent source for discounted hardware is 99 Cent Knobs, which offers knobs and pulls from just 99 cents.
Shop Wayfair Cabinet & Drawer Knobs
---
If you've got a weekend renovation project in mind, set a Deal Alert for your favorite retailers or products. We'll let you know as soon as a new offer pops up on our forums. You can also find all the current home improvement deals here.
Up Next:
Our editors strive to ensure that the information in this article is accurate as of the date published, but please keep in mind that offers can change. We encourage you to verify all terms and conditions of any product before you apply.