5 Smart Ways to Save on the RV Vacation of Your Dreams
Hint: Choose your location wisely.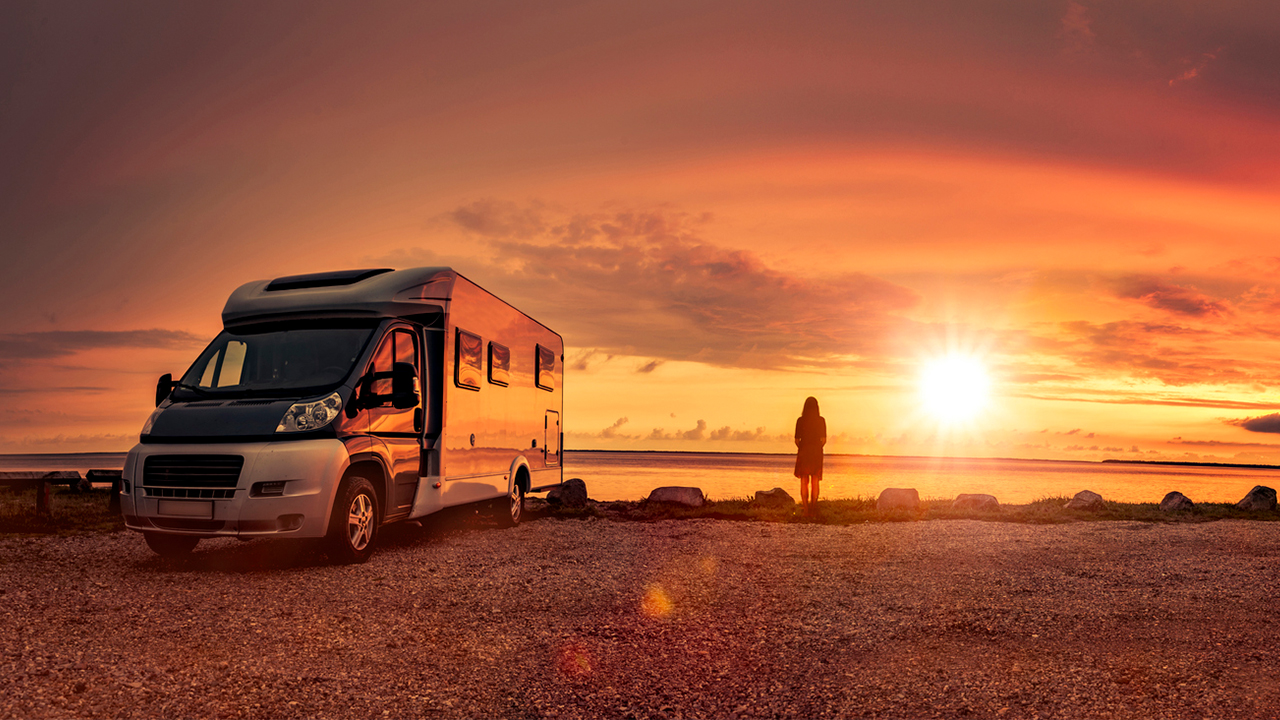 While my husband and I usually take our kids to Europe for a few weeks over summer break, we decided to do something different this year. Namely, we thought it would be fun to take them on an extended "glamping" trip.
We want to get outdoors, enjoy some rest and relaxation, hike and hopefully see some of our nation's most beautiful sites. The obvious way to accomplish all of these goals was to rent an RV and head out to Yellowstone National Park — a destination that has long been on our travel bucket list.
Our summer RV trip won't necessarily be "cheap," but we did find plenty of ways to save on the RV rental, camping, food and more. If you're considering an RV trip this year, we're sharing a few tips to help keep your next vacation as budget-friendly as possible.
How to Save on an RV This Summer
1. Price Shop on RVShare.com
We rented an RV on RVShare.com, which is basically the Airbnb of RV rentals. This website offers a broad range of rental options so you can find something that meets your unique travel needs and family size.
Much like Airbnb, you can find anything from a basic pop-up camper for $50 a night to a luxury driveable RV for $300 or more per night. Overall though, pricing tends to be reasonable since RV owners are competing against one another for rental agreements.
One thing to note here is that insurance for the rental is often covered in many rental agreements, but you'll want to check to make sure. The policy for our eight-night rental, which was included in the rental price, worked out to $283.03, or a little over $35 per day.

Since we don't have a truck to haul an RV, and we only have two kids, I opted to rent a Jayco "Class C" RV, which is the type you drive. This RV is also on the smaller side — although it does sleep six — so it's perfect for camping at national parks and fitting into a larger variety of campground spots.
RVShare.com generally makes it quite easy to shop around and compare pricing based on the type and size of the RV you want. Spend some time browsing through options to ensure you're getting the best price. In total, we paid $2,155 for eight nights in a brand new RV, which works out to around $270 per night. Not bad for a family of four.
2. Choose Your Pickup Location Wisely
While you're searching for an RV to rent, remember that you don't have to start your RV journey at home. If you actually want the bulk of your RV trip to take place far from home, it makes a lot more sense to pick up your RV closer to your final destination.
Since we live in Indiana, but are planning a trip to Yellowstone National Park, for example, we opted to pick up our rental RV in Idaho Falls, Idaho, which is just two hours away from the park.
This will save us from having to pay for gas in a rental RV during the 24-hour trip from Indianapolis out West. It also means we'll drive our own car out west, which gets considerably better highway mileage than an RV.

Plus, we have a friend in Idaho Falls, and she's letting us park our car at her house for free for the eight nights of our RV rental. Without that option, paying the nightly rate to leave our car at a cheap parking garage would still likely be less expensive than paying for gas to drive cross country in an RV.
3. Keep Mileage in Mind
You'll want to keep mileage in mind, and not just because gas is expensive and RVs are notorious for their horrid mileage performance. Most RV rental agreements limit you to a specific number of miles per day of your trip, and you don't want to use up all of your mileage driving across the country.
With our specific rental agreement, for example, we get 100 miles per night without an additional charge. We plan to use our mileage to get from Idaho Falls to Yellowstone, spend time driving throughout Yellowstone, and then to our final camping destination in Idaho for the last four days.
When you rent an RV, make sure you know how many miles you can drive without an additional surcharge. From there, you can plan your route and camping destinations accordingly.
4. Look for Cheap Places to Stay
Speaking of camping destinations, pricing can vary quite a bit depending on where you want to stay. You can (and should) seek out affordable camping options at state and national parks in your area. After all, many state and national parks charge as little as $20 per night with full hookups.
Meanwhile, some luxury campgrounds charge $100 or more for electric and sewer access, along with amenities like on-site dining, internet access, pools and waterparks for the kids. Whether you choose a state park or a fancy luxury campground with tons of amenities, I recommend using the website Campendium to find open RV spots wherever you plan to be.

Because we're camping with our kids, we splurged for a KOA Campground near Yellowstone in Montana that comes with a pool and activities like horseback riding, fly fishing and whitewater rafting.  However, we're opting for a more natural camping experience at Wagonhammer RV Park in Central Idaho for the second half of our trip.
The bottom line: you need to shop around and compare campground sites ahead of time since they can run anywhere from $0 for dry camping (no electric, water or sewer) to hundreds of dollars per night.
5. Plan to Cook Your Own Meals
RVs are commonly referred to as "mobile homes" for a reason. Your RV is basically a house on wheels, so you should strive to treat it like one. During an RV trip, this means cooking most of your meals at home and using the refrigerator, freezer, oven and additional cooking tools that are available to you.
Since you're likely camping in an area where you can have a fire, you'll also have the advantage of being able to cook out for your evening meals.
You'll save a bundle of money if you eat at "home" during your RV vacation. You can even make it fun by coming up with unique meals to cook over the fire, and by splurging for campfire treats like s'mores.
The Bottom Line

As with any vacation, doing your research ahead of time could save you a ton on an RV trip. Make sure you shop around to find the best deal on a rental RV, and always keep mileage in mind. You don't want to wind up exceeding mileage limits or overpaying for gas.
A summer rental RV vacation can be as expensive or as cheap as you make it. The tips above can help you keep costs down, but ultimately, it's up to you to plan an RV trip you can actually afford.
---
Want to save even more on your next vacation? Be sure to set up a Deal Alert to be notified of price drops on everything from hotel stays to flights to your favorite road snacks.
In the meantime, check out this Frontpage deal:
Search URL: https://slickdeals.net/newsearch.php?firstonly=1&pp=20&sort=newest&rating=frontpage&intagid%5B%5D=10829&forumid%5B%5D=9&hideexpired=1&r=1
UP NEXT:
Our editors strive to ensure that the information in this article is accurate as of the date published, but please keep in mind that offers can change. We encourage you to verify all terms and conditions of any product before you apply.