12 Tips to Save Money on Your Next Cruise
This list of tips will save you decent cash on your next cruise.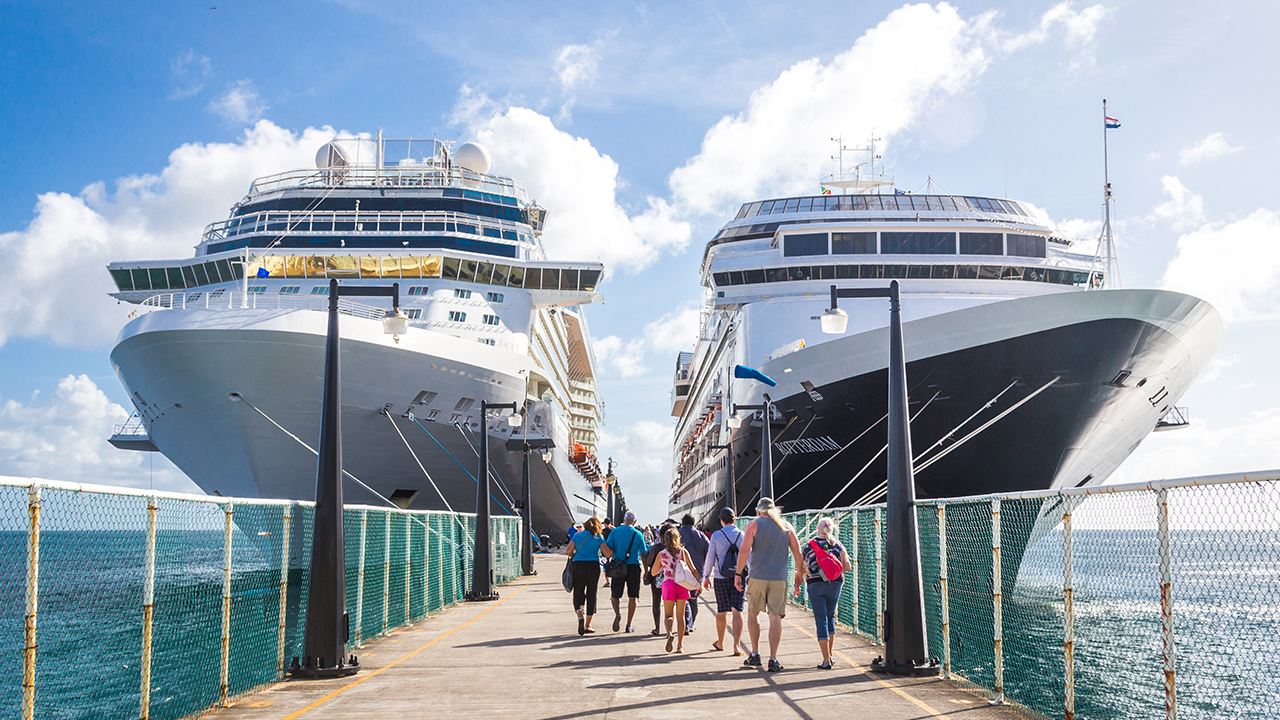 On cruises, virtually all of your dining and entertainment needs are met while you sit back and enjoy the open seas. However, that level of convenience comes at a cost. Cruises can be prohibitively expensive for some travelers, but they don't need to be. There are myriad ways you can save money on cruises, and some of them are stunningly simple.
We've gathered the top cruise saving tips to help you save money on your next vacation.
1) Be Flexible with Your Sailing Dates
Cruise prices fluctuate greatly, so being flexible with your dates might score you a great deal. There is some debate about when the best time to book a cruise is for the biggest discount — either far in advance or at the last minute. The truth is that it depends on the cruise.
Book far in advance to save the most on popular cruises during prime travel months, i.e. spring through summer. Last-minute deals are easier to score September through December, when the Bahamas goes through hurricane season (especially if you're flexible on ship choice and room selection).
2) Stay Local
Not only will you save on airfare and rental cars if your cruise leaves from a nearby port, but you can also get a resident cruise discount. Typically this discount is valid for all members of your party, even if only one of you is a resident. Florida residents have access to the widest variety of discounts, but it never hurts to search for discounts for your state.
3) You Can Get Steep Discounts on Repositioning Cruises
Repositioning cruises can offer great discounts as well. For the unfamiliar, cruise ships change locations with the seasons to follow the weather (like relocating from the Mediterranean to the Carribean during winter). As the ships travel to a new homeport, they may offer one-way trips (repositioning cruises) at discounted rates. Of course, with these cruises, you will not come back to your original departure port.
This can be a good deal if you leave from a port close to you and you can find cheap one-way travel back home. For example, in April 2021, there's a five-night repositioning cruise on the Norwegian Bliss that leaves Los Angeles and lands in Vancouver, BC Canada starting at $454 per person rather $1,199.
The website RepositioningCruise.com is owned by Vacation To Go and is a good place to find different repositioning cruises. Not only does the site help you find deals, but you can also score additional bonuses. The deal above came with onboard dining credit and 100 free minutes of WiFi.

4) Look for Deals on New Cruise Ships or Ports
Often when a new cruise ship launches or a new port opens, you can score a discount. For instance, in November 2020 MSC Cruises is opening a new port in Tampa with cruises to the Caribbean, Mexico and the Bahamas year-round. To celebrate the launch, 7-night cruises are currently $299 per person.
5) Book Flights and Insurance Separately
Don't always assume the packaged vacation deals are the cheapest. Sometimes it's better to book a flight deal during a sale rather than booking it alongside your cruise. Similarly, vacation insurance could be cheaper when bought directly through companies like Travel Guard or Allianz Travel.
And don't forget to check your credit card perks to see what type of trip insurance is offered to you just for being a cardholder. As always with vacations, research will net you the best discounts.
6) Compare the Ships, Not Just the Routes
Sailing on older ships is typically cheaper, and if you're more concerned about the destination than the journey, then an older ship is the way to go.
However, if you're looking to maximize your fun on the ship, research which ones offer the best entertainment and dining options for no additional costs. A ship with onboard water slides, laser tag and nightly shows might be worth the extra upfront cost to keep your family happy each day at sea.
7) Check Your Credit Card Offers
Sometimes credit cards offer special rewards for cruise spending. One AMEX offer, for instance, gave select cardholders $100 back when they spent $500 on a popular cruise line. If not, consider a credit card that rewards you more points back for travel purchases if you're a regular traveler.
8) Look for Additional Discounts
In addition to branded deals and other promotions, you might have luck scoring a discount just for being yourself. Individuals age 55 and over might qualify for specialized senior deals on select cruise lines, for instance. You should always check on other discounts available for firefighters, teachers, military and past cruise guest discounts.

9) Don't Book Excursions Through the Cruise Line
Purchase excursions through local companies six to eight weeks before your cruise leaves. A popular excursion for Nassau, Bahamas, for example, is the Atlantis Aquaventure. At the time of writing, Tripadvisor has tickets starting at $44 per person. But book the same excursion through Norwegian Cruise Lines, and you'll pay $179 per person.
Many popular cities have hop-on, hop-off buses that cost $25-45 per person. These buses stop at all the popular destinations of the city multiple times a day. This makes it easy for you to get to your destination safely, explore an area and then move on to the next point of interest on your list.
10) Avoid Extra Charges
Now that the cruise line has you aboard this dream vacation on the sea, they'll try to upsell you on everything. The shopping areas on the boats boast duty-free prices or amazing discounts. However, there's rarely any discount offered by these shops you can't get when your vacation is over (especially if you use Slickdeals).
Another huge waste of money: the photo packages. It's nice to remember your trip with photos, but statistically speaking your phone camera is probably more than up to the task. Plus, you'll be surrounded by any number of people who will be happy to snap a quick photo of you, so don't pay for the ship's photographer.
Finally, WiFi packages are tempting, but just not worth it. WiFi can cost up to 75 cents per minute, and will rarely be as reliable as your internet connection at home. Plan to unplug for your cruise or research which ports offer access to the internet before you leave.
11) Know the Currency Exchange Rates
You don't necessarily need to worry about exchange rates if you don't plan on spending money in the ports. Also, most ports in the Caribbean accept U.S. dollars for payment.
However, if you plan on traveling to other countries, you may want to consider a currency card. A currency card is a prepaid card that is not connected to your bank account. It has a chip and pin, so it keeps your finances safe when you travel abroad.
Doing a little bit of research on currency exchange rates and the typical rates for taxis and similar charges will help you avoid being taken advantage of as a tourist. If you need to exchange actual currency, we suggest doing so before your trip. You won't get the best rates when exchanging at airports, on the cruise ship or at the ports.
Many credit cards also offer 0% foreign transaction fees, making souvenir shopping abroad easier. It is safer to keep your debit card locked away on the ship — or even better, secure at home.

12) Rethink Your Drink
It's no secret that on-cruise drinks, other than water, are expensive. Don't pre-buy a drink plan until you know all of the details.
Many ships call their plans unlimited, but they are decidedly not. You might be required to buy a drink package for everyone in your cabin to prevent sharing. If you're the type that just likes one soda a day or every once in a while, it's cheaper to buy your drink a la carte.
Find out what your cruise ship will allow you to bring. For example, Princess Cruises allows each passenger of drinking age to bring one bottle of wine or champagne (no larger than 750 ml) per voyage. Many cruises also offer a drink of the day special. If you want to live it up a little, but don't want to commit to a pricey drink plan, this is the way to save.
The Best Sites for Cruise Deals
Similar to flight deals, when it comes to cruise deals, you need to be in the right spot at the right time. If a cruise is on your vacation bucket list for 2020, start searching now.
And remember to set a Deal Alert on different cruise lines so you see the newest posts from other Slickdealers.
Check discount cruise sites like:
Vacations to Go
Repositioning Cruise
Cruise.com
Cruise411
Priceline
Expedia
Check these price offerings against current deals offered directly with the cruise line. Sometimes, cruise lines offer special add-ons or on-board credit to compete with third-party prices.
---
ncKxk_Yhu_A
While we work hard on our research, we do not always provide a complete listing of all available offers from credit-card companies and banks. And because offers can change, we cannot guarantee that our information will always be up to date, so we encourage you to verify all the terms and conditions of any financial product before you apply.