Vacationing in NYC is Way Less Expensive Than You Think
The city that never sleeps is cheaper than you think.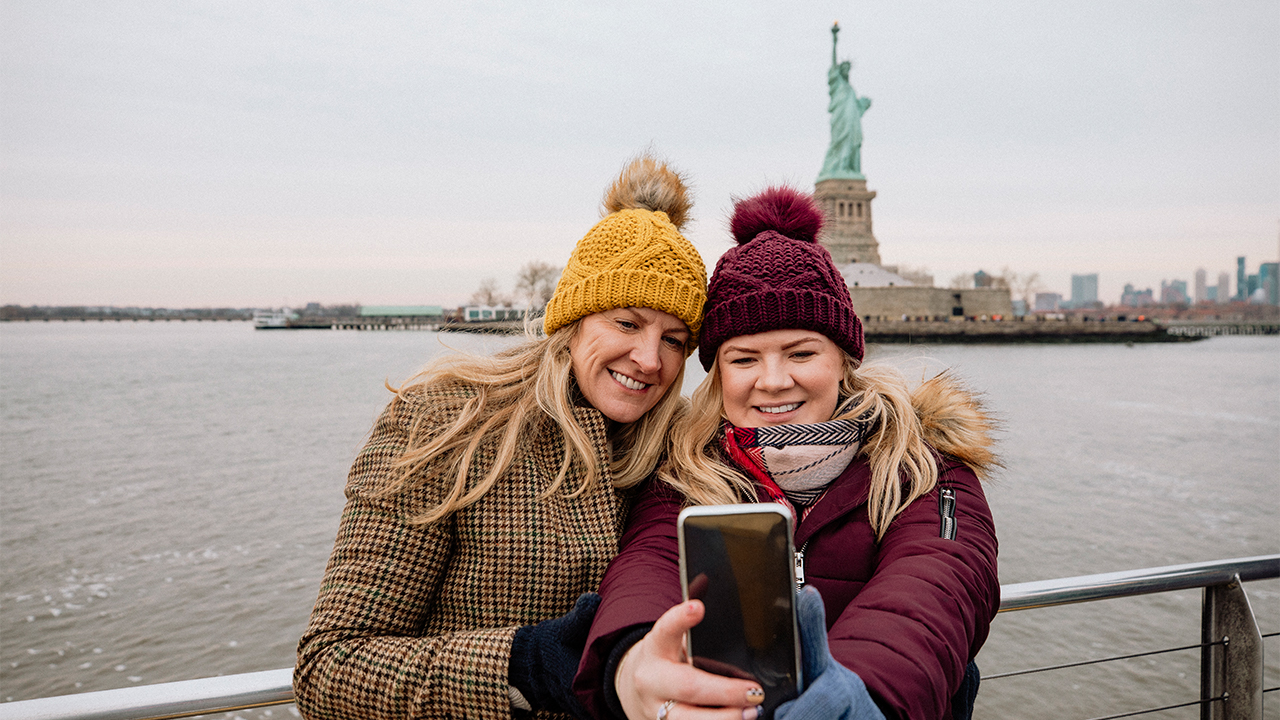 Ah, New York City. It's one of the most expensive cities in the world, but I believe there's a way to do every destination on a budget. You don't need to sacrifice amazing experiences, either. Having a memorable trip in the Big Apple simply requires research and some planning ahead.
Below, you'll find tips on how to save in New York City while still living your best travel life. Whether it's creating your itinerary around free museum days or leaning on the city's beloved food trucks for every meal, there are a ton of ways to create fun and affordable adventures. Take notes and make that NYC getaway a reality.
How to Save as a Tourist in New York City
1. Take the Train
Even if you're only going to be there for a few days, invest in a seven-day unlimited metro card and stick to it. The pass will cost you $33, but that's a lot cheaper than hailing a cab or calling a car every time you want to go somewhere.
Plus, it feels good knowing that you figured out the NYC subway system. And since it's open 24 hours, you'll always have a way to get back to your hotel.
2. Ride the Staten Island Ferry

Don't forget that four out of the five NYC boroughs are islands, so you have to check out the water when you're in the area. Instead of tacky water taxis, look up the schedule and go for the Staten Island ferry.
The free ride provides travelers with incredible views of the NYC skyline and the Statue of Liberty. Additionally, there are multiple train lines close by, so the ferry is super easy to get to.
3. Eat Pizza
Pizza is an NYC staple and $1 slices are everywhere. Apparently, 99 Cents Fresh Pizza on 55th street and Broadway, and 2 Bros Pizza on 40th street and 9th avenue are among the city's top contenders for the tastiest.
Both hot spots are also in great locations as they're near Times Square. And even if the attraction sounds lame to you, it's still a stop worth making. Plus, seeing the bright lights won't cost you a thing.
4. An Uber from the Airport Isn't Worth It

A ride share to Manhattan from the airport can reportedly be anywhere from $35 to $163. The funny thing is, depending on the time of day, taking the subway can be a lot faster. And sure, hauling your luggage around on public transportation probably isn't anyone's idea of fun, but why pay a ridiculous amount for a car that may not even get you into the city any quicker?
With that said, if you just don't feel like dealing with the subway and you happen to be flying into LaGuardia, the Port Authority of New York and New Jersey teamed up with the Via app to offer $15 rides from the airport to Manhattan and other boroughs. It's probably one of your cheapest non-public transport options.
RELATED: You Can Now Catch a $15 Ride to Manhattan or Brooklyn From LaGuardia
5. Walking Tours Are the Way to Go
Similar to most major cities, there are tons of free walking tours in all the different neighborhoods of NYC. It's a pay-what-you-wish program that everyone should take advantage of. In fact, when I was living there, I did one just for fun and I ended up learning a lot more than I expected.
6. Dates Make a Difference
The colder it is in NYC, the cheaper a vacation can be. Well, except around the holidays. January through March seem to be the most affordable months to book a trip. Make plans before the high summer prices hit.
7. Fill Up at a Food Truck

In addition to $1 pizza, food trucks are another budget-friendly alternative to expensive NYC restaurants. Don't judge a book by its cover. Just because the food is made in the street, doesn't mean it's not any good.
People come from near and far for the famous Halal Guys' chicken and rice that's priced as low as $7.99 (remember to ask for extra white sauce). On top of that, head to El Rey del Taco and Korilla BBQ for some grub you won't forget.
8. Ride the Roosevelt Island Tram
Views are pricey in New York City, but the Roosevelt Island tram is a totally underrated gem. You'll have to go all the way to 1st avenue for it on the east side of the city, but I promise it'll be worth it.
It costs as much as a subway ride, which also means you can use your unlimited metro card. I recommend taking it at night when the city is lit up and there are likely less people on it.
9. Sometimes Museums Are Free

Sadly, the Met is no longer a pay-as-you-wish museum, but the American Museum of Natural History, along with many others, still are. Most museums, including the MOMA and even the Bronx Zoo, have completely complimentary days that you can plan your schedule around.
They may be more crowded during those times, but it's worth the savings if you're on a budget.
10. Stand in Line for Cheap Tickets
The trick to getting a deal on Broadway tickets — typically up to 50% off — is to stand in line at the TKTS booth in Times Square on the day of the show. It's open from 11 a.m. to 3 p.m. for same-day matinee shows and 3 to 7 p.m. for ones in the evening.
According to the New York Post, you should get there about an hour and a half after the booth opens, as that's supposedly when the lines are the shortest.
11. Bundle Up Your Activities
Consider the New York CityPASS. It gets you in to see the city's top attractions, including the Empire State Building, for one low price. If you know you truly want the ultimate tourist experience, this is the way to go as it saves you up to 44% versus purchasing all the tickets separately.
Until February 29th, 2020, you can even get 20% off the pass on Expedia with promo code SLICKDEALS20, proving there's no better time to see the city.
---
Make sure you're getting the best price on flights or hotels in New York City by setting a Deal Alert. We'll email you any time a new offer is posted in our forums.
UP NEXT: 
Our editors strive to ensure that the information in this article is accurate as of the date published, but please keep in mind that offers can change. We encourage you to verify all terms and conditions of any product before you apply.