You're Probably Wasting Money on Vacation Rental Sites
Save more and worry less with these vacation rental booking tips.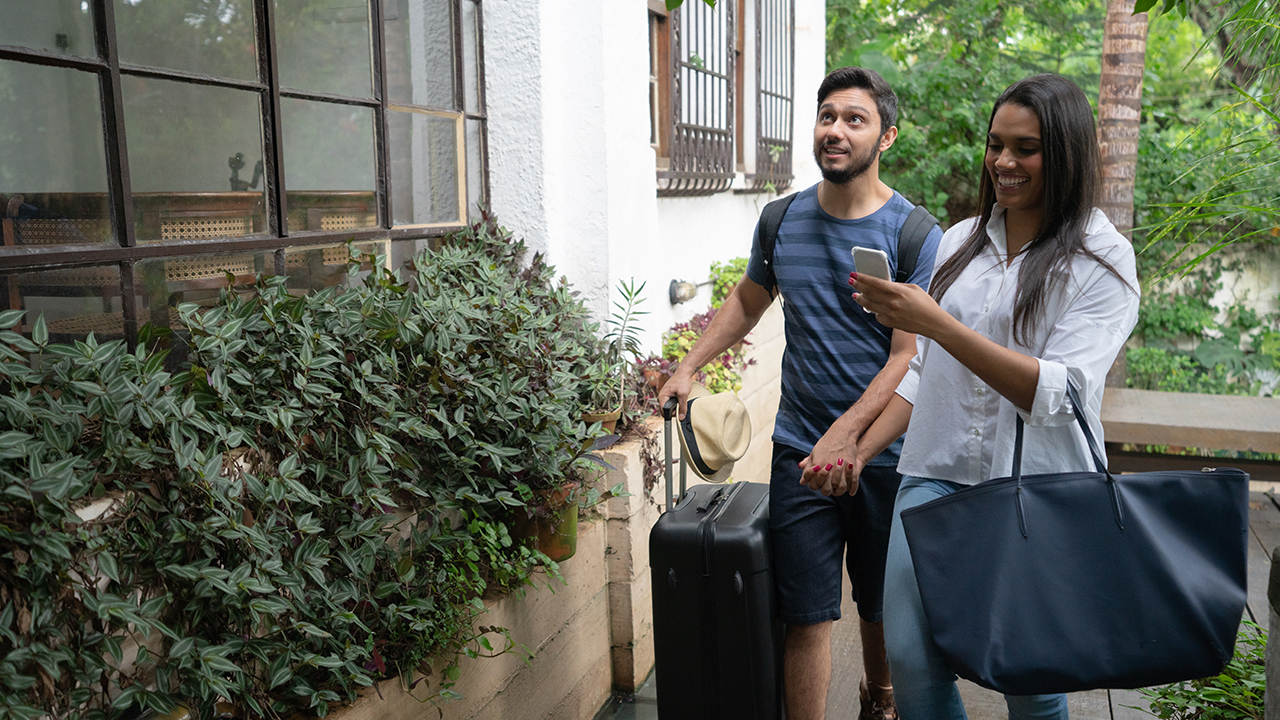 As if planning a flight or road trip wasn't already trying, the rapid influx of vacation rentals has introduced a new variable to consider when you're coordinating your holiday. While booking a hotel room is overall a more streamlined and straightforward process, they can be more expensive, less comfortable and lack the "authenticity" of a vacation rental.
And while it's not difficult to use vacation rental sites, there are tricks to the trade if you want to use them optimally and find the best deals. While these tips are by no means exhaustive, if you're new to the process, they will definitely help you cut costs with relatively little effort.
How to Save on Vacation Rental Sites
1. Check For Hidden Fees
Hidden fees are the number one variable that can downgrade your total steal of a vacation rental to a potential money drain. Luckily, this is one of the easiest issues to avoid once you know what to look for. If you're booking from a site like Airbnb or HomeAway, the price that you see on the search page is seldom how much you will actually owe once you actually book.

The cleaning fee, service fee, occupancy taxes and whatever other charges the hosts require can easily add up to more than $100 over the listed price, even on a cheap property. Not every host will severely upcharge you, but it's important to shop around. Don't fall into the trap of just completing the purchase because you're already mostly done.
And when budgeting, ultimately, you should expect to pay a premium of at least 10% on top of the original booking price.
2. Get to Know the Owners
Building rapport with the owners serves many purposes, some of which can even save you money. Before you book, it's not a bad idea to message the owners and ask if they offer weekly discounts or reduced rates for low traffic days. In some cases, they would rather turn a low profit over no profit, so this could be a mutually beneficial arrangement.
If you're feeling daring, you can even try negotiating a lower price if you see a similar property that costs slightly less. Even if you're not trying to lower the price of your rental, building trust with the owner might mean a little bit of leeway if you accidentally lose your key or your kid spills some juice on the floor.
3. Watch Out for Scammers
Not to belabor the point of carefully shopping around, but seriously, use your best judgment when selecting your vacation property. Airbnb scams are on the rise, and there is little recourse for your lost funds once you've completed your booking. As the vacation rental economy becomes more accessible, there are simply too many hosts for these sites to weed out all of the bad actors.

If something looks too good to be true, it probably is. Talking to the owners ahead of time is an easy way to assess the legitimacy of your rental. You can also reverse image search the listed photos to make sure they weren't used in a listing for a different location.
4. Check Multiple Sites (and Sites That Scan Other Sites)
The sheer breadth of vacation rental sites may be daunting at first glance, but you can save quite a bit if you shop around instead of jumping on the first decent deal you see. HomeAway, Airbnb and TripAdvisor are the "big three" and a good place to start, but there are services like HomeToGo that aggregate all listings from vacation rentals, boutique hotels and other unique offerings.

If you're not sure exactly which style of lodging you're looking for, you can broaden your horizons with some of our recommended sites that show hotels, in addition to vacation rentals.
5. Explore Price Matching Policies
Each individual site has a different policy on price matching, but it is often at the host's discretion. HomeAway gives you the option to submit a price match if you find a lower listing in the 24 hours after you book.
Airbnb doesn't have any price matching policies on the books, but it is worth talking to your prospective host. TripAdvisor is technically a third-party service that handles your bookings, so it isn't able to price match, but you may have the option to contact the host directly.
6. Read the Cancellation Policy Before Booking
If your travel partners are flaky or you aren't quite sure about some of the logistics of your trip, make sure you read the cancellation policy before you complete your booking.
On the "big three," hosts have the option to choose the severity of their cancellation policy, ranging from "flexible" to "super strict." The penalties for each vary, but if you are not completely locked in, you should book from someone who offers flexibility. Generally speaking, you should have your plans together within 60 days of your trip if the refund policy is "strict," and within two weeks if they are flexible.
Sometimes life comes at you fast, and even the most fastidious planners can face extenuating circumstances. Unexpected cancellations are another good reason to build a relationship with your host. If they trust you weren't trying to jerk them around, they may be more lenient with your refund.
7. Be Flexible with Your Dates
If you're trying to use up PTO or just planning a vacation for the heck of it, flexibility can save you hundreds of dollars on your vacation rental. Traveling off-season or during the work week means having more money for transit and merriment, and your host will be happy to fill their property during a slow period.

If you have no choice but to travel during peak season, check a range of dates on multiple sites to get the best possible deal. This works especially well if you're willing to stay in one place for a week or longer. You may be able to unlock a reduced weekly rate, which will make your weekend or peak stay cheaper.
8. Prioritize the Amenities That Matter to You
Before you begin your search, think about what exactly you are looking for in a vacation rental and what, realistically, you know you will use. For example, a hot tub can increase the total cost of your rental by $100, but are you positive you'll actually use it?
If you want to go on a beach trip, is it more important to see the ocean from your room or to save $400 by booking the nearly identical condo across the street? Not only will this help you save money, but it will also narrow down the glut of options to sift through.
In a similar vein, think about what luxuries you can bring along. If you don't want to pay resort town prices, you can always pick up road and vacation snacks on the cheap ahead of time. If you like to be active on your trip, vacation bike rental costs can add up quickly over time. Consider just bringing your own bike instead.
9. Book Way Ahead — or at the Last Minute
This sounds counter-intuitive, but the best deals are often found months out or days away. Booking well in advance ensures that you have the most options and, therefore, the ability to choose more judiciously. Those with specific needs are best suited for this approach.

However, booking right before your trip is a potentially lucrative gamble if you want to try your hand at negotiating a lower rate. Similar to negotiating prices on off-season rentals, property owners would rather lose a little money than have the house sit completely empty. Some sites, such as VacationHomeRentals, even have a last-minute deals section dedicated specifically to these discounted rates.
Ultimately, navigating the bustling vacation rental economy boils down to two major principles: communicating effectively with your hosts and reading the fine print. If that sounds like too much trouble, you can turn back around and book a serviceable and humble hotel room. We won't judge.
---
Waiting for the perfect flight or travel package before you plan your next trip? Set up a Deal Alert and we'll let you know when we see one that's right for you.
ncKxk_Yhu_A