A Rice-Cooker is a Must-Have Kitchen Multi-Tasker
Save time, space and money by finding the best rice cooker for your kitchen.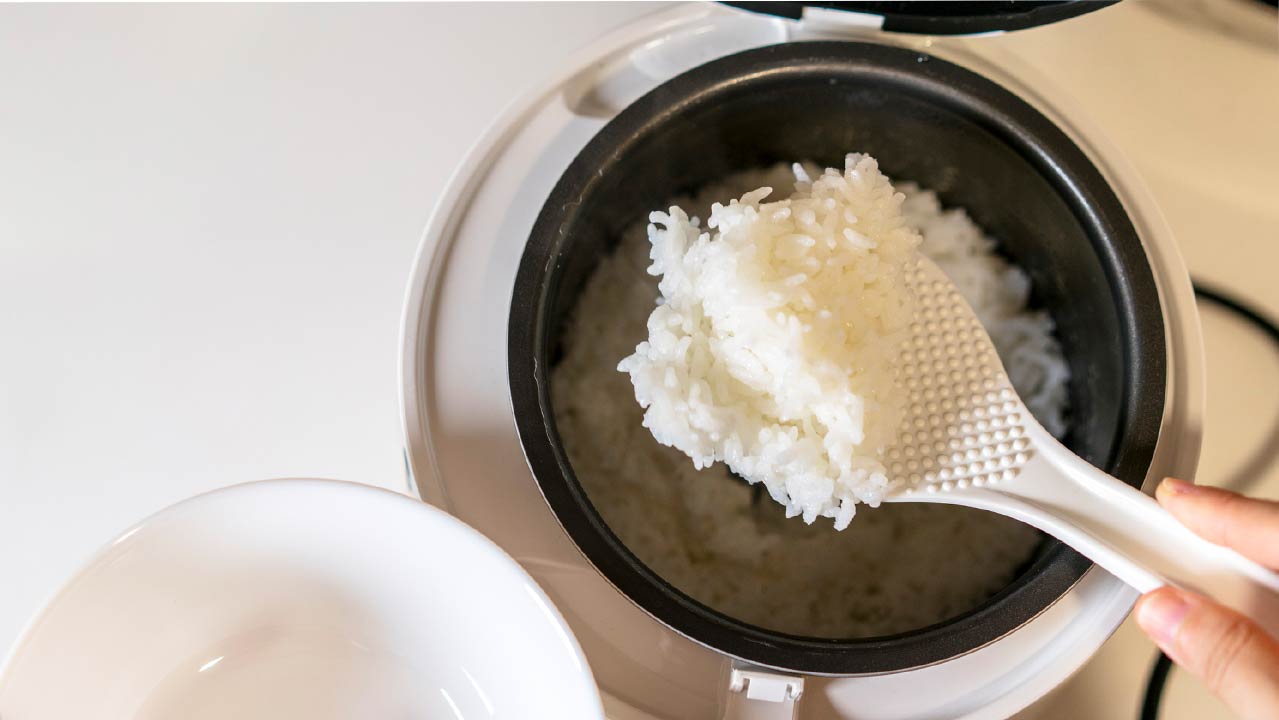 A rice cooker would seem, on the surface, to be only good at one job. But the truth is that rice cookers are great space-saving multitaskers that can do everything from heat up your lunch to prepare ingredients.
If you've been looking for a small appliance to take some of the load in the kitchen off your shoulders, we'll show you how to use a rice cooker for more than just cooking rice. We've also got tips and suggestions on finding the best rice cooker deals.
Ingredient Prep and Side Dishes
If you need to prep or parcook ingredients on a complicated dish, a rice cooker can step in as your backup chef. It's particularly useful for steaming vegetables you'll be adding to a dish at the last second, or for breaking down veggies going into mashed dishes.
This application works best with robust veggies like broccoli and cauliflower, but you can also wilt greens away from the pan to limit how much water goes in. And, if you want an even cook before throwing it on for a sear, you can parcook meats with a slow, even heat as well. Just be careful not to cook it all the way through or you'll dry out the meat.
And since they use a slow, even heat, rice cookers are ideal for side dishes involving grains and pasta, as well. You don't have to forsake the mac and cheese just because you ran out of oven space. You can even "bake" whole potatoes in the rice cooker, although they won't have the crispy skin an oven puts on them.

Better Reheating
Anybody who's tried to reheat lunch in the microwave knows the displeasure of a piping hot outside and a stone cold inside. If you want better lunches, use a rice cooker. They're ideal for "eat-and-heat" meals such as canned soup, ramen and pouch meals.
They heat the entire vessel evenly, letting that energy go into the food across a larger surface area. That said, have some non-stick spray handy, and set a timer for ten to fifteen minutes to get your food, or otherwise you may have some stuck sauce to deal with.
Breakfast
Because rice cookers are built to cook grains, they're ideal for breakfast. For example, add oats and milk for oatmeal at the same ratios you use to make rice, and use the porridge setting.
If your rice cooker doesn't have one, the white rice function will work well. And it doesn't stop there; you can hard boil eggs, make cinnamon apples to top French toast or turn into applesauce, poach pears and bake goodies for brunch.

Baking
Rice cookers are almost better at baking than they are at making rice. But don't take our word for it. Whip up your favorite pancake batter and make a "Japanese" pancake. It'll come out tall, light and fluffy.
Rice cookers make great baking appliances, especially for small cakes and breads, because of the even heat. If you think about it, a rice cooker is basically a baking pan with taller sides and a built-in heating element.
Just remember that you'll likely still need to grease the pan, and some recipes will require you to regularly flip the baked good in question. With that said, if you want a crispy, crunchy crust, you should look elsewhere. But for pillowy soft baked goods made while leaving the oven free for other tasks, it can't be beat.
Rice Cooker Deals
Rice cookers, like all small kitchen appliances, almost always have major sales in late August – dorm-furnishing season – and Christmas. However, you should also keep an eye out for summer deals, especially on July 4th and Labor Day, as well as sales during overseas holidays, such as Japan's Golden Week.
Here are some of our top rice cooker picks to consider:
Zojirushi NHS-10 6-Cup (Uncooked) Rice Cooker – Sale Price: $57 | Reg. Price: $67

Zojirushi is famous among home cooks and chefs alike for its range of rice cookers, starting with this basic model. The simplest rice cookers are essentially modified toasters; you add rice and liquid, press down a switch, and as the liquid evaporates, the vessel gets lighter until the pressure lifts enough for the device to shut off.
If rice is an ingredient in a larger meal, or you just don't want to watch a pot, this is the cooker you should go for. It's also a good teaching tool for kids, since they can cook with being near hot burners. Additionally, models like these usually come with steaming baskets as an accessory.
Toshiba TRCS01 Cooker 6 Cups Uncooked (3L) with Fuzzy Logic and One-Touch Cooking – Sale Price: $110 | Reg. Price: $150

Toshiba may not be a name you associate with kitchen appliances, yet "fuzzy logic" rice cookers like this one have more in common with your streaming box than they do your blender. If a basic rice cooker were a light switch, these more complicated models would be dimmer switches.
Models like this one use temperature sensors to constantly adjust the cooking environment so you end up with perfect rice, from sushi to brown rice, every time. You also get more advanced features like programmable time delay options and pre-programmed settings for various grains.
There is a bit of a learning curve with this model and ones like it, though. You'll have to learn to finesse the settings a little bit to get exactly what you want, and that will vary from cooker to cooker. Try out a model or two if you can before buying.
Cuckoo 6-Cup Induction Heating Pressure Rice Cooker with Free Shipping – Sale Price: $529.99 | Reg. Price: $662.99

Finally, there are Instant Pot-style rice cookers like this model from Cuckoo. This type of rice cooker uses pressure cooking techniques to make rice fast. The pressure cooker approach is a different form of cooking, though, so check to be sure the "rice cooker" recipe you're finding online will work for these.
That said, just like the fuzzy logic cookers, with a little research and a few experiments, you'll be able to use this model for multiple chores around the kitchen, from cooking beans to baking bread.
---
Once you're ready to buy, set a Deal Alert for the rice cooker that works for you and your family. We'll notify you when a new offer or discount is posted to our forums. And be sure to check our Rice Cooker Deals page for the latest offers.
UP NEXT:
Our editors strive to ensure that the information in this article is accurate as of the date published, but please keep in mind that offers can change. We encourage you to verify all terms and conditions of any product before you apply.