Instant Pot Duo 7-in-1 Reviews: What the Critics Say About the Most Popular Instant Pot
Find out what the critics have to say about this popular kitchen helper.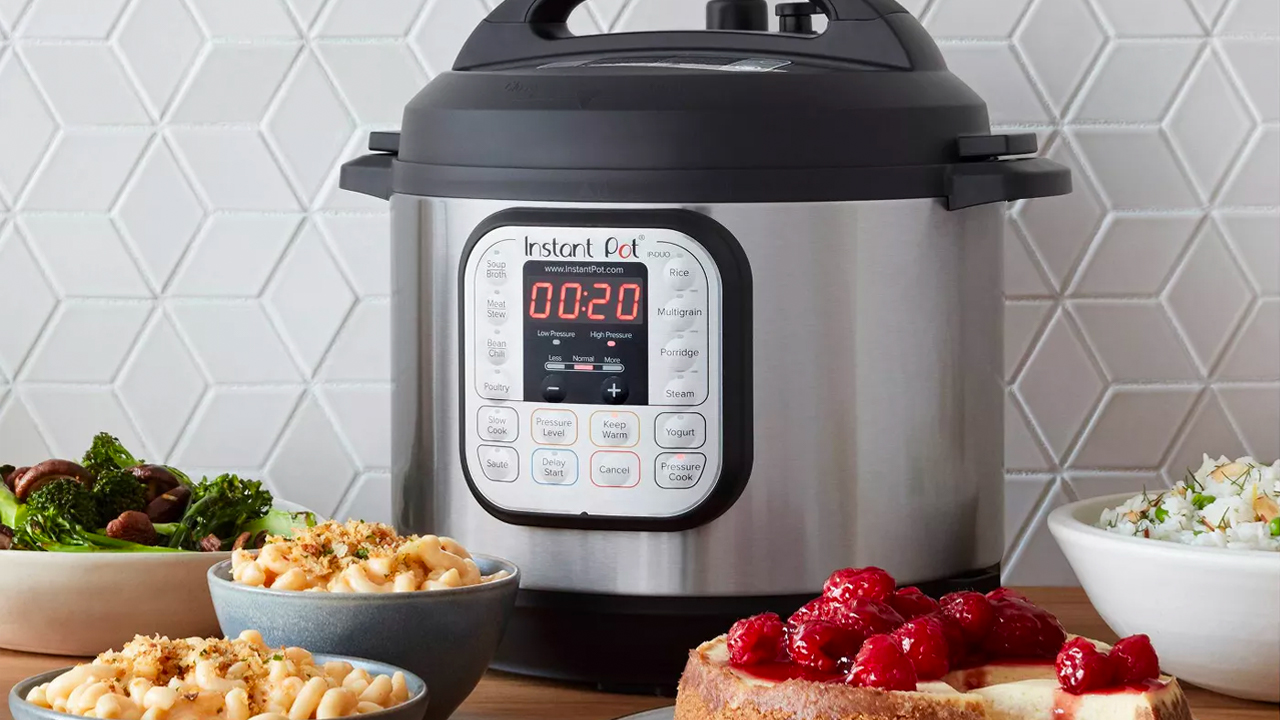 The Instant Pot Duo 7-in-1 is one of the top-selling digital pressure cookers on the market. And with an affordable (and frequently discounted) price and a variety of smart programs designed to take the place of multiple appliances in your kitchen, it's easy to see why it's a hit with home chefs. It even beat out the supposedly upgraded Instant Pot Max in a head-to-head test by Consumer Reports.
But does that make it the best appliance for your kitchen? We collected reviews on the Instant Pot Duo from a variety of critics to find out where this 7-in-1 shines – and where it falls short.
Starting Price: $99.95 (for the 6-quart model)
Average Sale Price: $70 – $80
General Consensus: The Instant Pot Duo 7-in-1 is widely seen as a convenient jack-of-all trades by the critics. However, there's widespread disagreement over whether it's a master of any of its cooking options. Still, for the price and size, it's considered a top choice by many outlets.
Pros:
Safety-focused design
Easy to clean
Ideally size for making large meals
One-touch functions for common dishes and staples
Cons:
Need to read all the literature included
Few official recipes
Inefficient at certain tasks compared to other methods or appliances
Review Consensus: Is the Instant Pot Duo 7-in-1 Worth It?
Safety

Consensus: Generally Positive (2/5 Positive, 2/5 Neutral, 1/5 Negative)
Main Takeaway: Reviewers generally liked both the safety features and the overall approach to safety, with careful insulation to prevent burns and a musical alert when the device depressurized.
"The hotter or higher pressure you cook food at, the longer it will need to decompress, so although the cooking times say 5 minutes etc, it could easily be 20 extra minutes of waiting…" — TechRadar
However, one critic wished that depressurization times were included in the recipes, while another felt the Duo lacked enough information about the depressurization process and timing when compared to the Instant Pot Max.
"The Duo does it differently and has a steam release valve on the back of the unit (depending on your recipe, you can set the valve to natural release or you have to switch it manually to quick release). The Duo… uses a timer to keep you informed, so it's harder to determine where you are in the process." — Consumer Reports
Ease of Cleaning

Consensus: Generally Positive (4/5 Positive, 1/5 Neutral)
Main Takeaway: Reviewers loved the stainless steel construction, the dishwasher safe accessories, the non-stick pot and the lid, consistently finding all of them easy to clean whether in the dishwasher or by hand.
"We already assumed the stainless steel pot, steamer rack, plastic tools, and silicone ring were all dishwasher safe, but we were pleasantly surprised to find out the entire lid can go in the dishwasher, too." — The Spruce Eats
The only part that might be a task is the base, due to the electronics. However, that's also the part least likely to need an intense scrub, according to Tech Radar, since it doesn't touch any actual food.
"Because of the intensity of this kind of cooking, it's worth soaking the pot in boiling water before cooking with it to get rid of any lingering flavours, especially if you're going from savoury to sweet ingredients." — TechRadar
Capacity

Consensus: Generally Positive (2/5 Positive, 3/5 Neutral)
Main Takeaway: The 6-quart model, which has the most reviews, was widely praised as being the right size for most people.
"This 6-quart device makes food for up to roughly six people, which makes it perfect for a busy family." — Top Ten Reviews
Whether users are cooking freezer meals to store for later or just feeding a large family, most reviewers felt that the 6-quart model was the perfect size for small and large kitchens alike.
"We reviewed a 5.7 litre (6 quarts) Instant Pot and found it to be the perfect size for batch cooking, without having to totally rethink your kitchen when plugging it in or storing it." — TechRadar
Programmable Features

Consensus: Generally Positive (2/5 Positive, 2/5 Neutral, 1/5 Negative)
Main Takeaway: The instantly recognizable button face has its fans, but critics weren't necessarily enthused, with some finding it easy and others frustrating.
"It's definitely not a machine you can just dive right into using if you're unfamiliar with pressure cookers." — Digital Trends
All recommended reading the manual closely, but while some found the smart programs simple and effective, other reviews preferred to test the pot with their own recipes, which requires a bit more experimentation.
"These buttons are designed for specific ingredients or dishes and require frequent consultation with the manual to decide which cooking level (less, normal, or more) must be used. For example, it's not recommended to cook brown rice with the rice program. Instead, it works best with the Multigrain program, which adds a soaking period to the cook time." — The Spruce Eats
Preparing Rice

Consensus: Generally Negative (3/5 Negative, 2/5 Neutral)
Main Takeaway: One aspect that disappointed critics, almost universally, is that the 7-in-1 seems only OK at cooking rice.
"The Instant Pot Duo and the Max each cooked 1 cup of white rice in about 20 minutes, start to finish. But we found that both cookers left some rice stuck to the bottom of the pan." — Consumer Reports
Whether it was a clean-up issue or just not as fast as other products, this flaw stood out. Oddly, Digital Trends, which was the most reserved of our critics, found rice preparation simple thanks to the included instructions.
How Often Does the Instant Pot Duo 7-in-1 Go on Sale?
The price of the Instant Pot Duo 7-in-1 often stands out as a selling point. The 6-quart Duo 7-in-1 has an MSRP of $99, but we've seen it offered for as much as 50% off. Additionally, shoppers can often find this model on sale for around $70 to $80.
Sales are particularly common around the end of summer when college kids head back to school, as well as during the holiday shopping season. With that said, Instant Pots often pop up as lures to get shoppers in the door for other sales, like President's Day, so it pays to keep an eye out for great deals during any major sale from a variety of retailers.
---
Make sure you don't miss another Instant Pot sale. Set a Deal Alert and we'll let you know about all of the top deals as soon as they're posted. Plus, find all the current discounts on pressure cookers on our Pressure Cooker Deals page.
Reviews Consulted:
UP NEXT:
Our editors strive to ensure that the information in this article is accurate as of the date published, but please keep in mind that offers can change. We encourage you to verify all terms and conditions of any product before you apply.