Is JetBlue's TrueBlue Rewards Program Right for You?
We sum up if the JetBlue TrueBlue program is a good fit for you.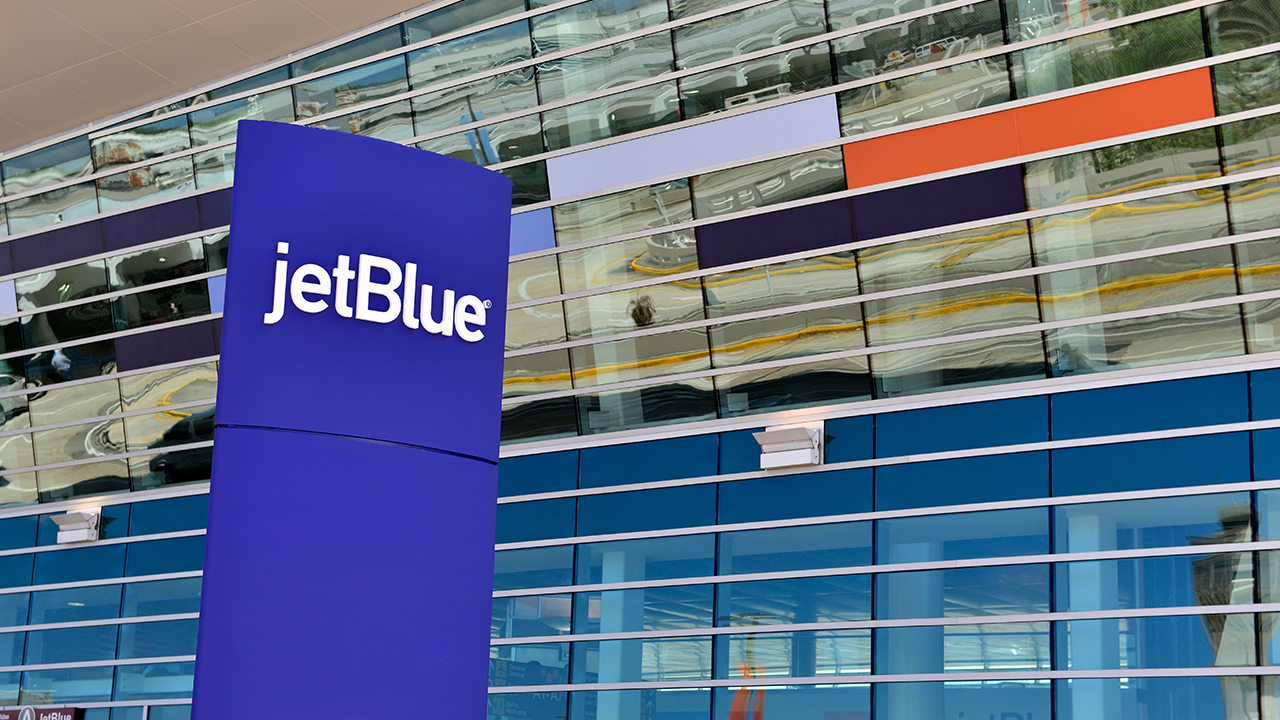 Travelers love JetBlue because the company goes the extra mile to make its flights comfortable. Well, at least less abominable than the competition. JetBlue flights have the most legroom in coach compared to other airlines, and also have free brand name snacks and drinks, free high-speed Wifi, movies and DIRECTV.
We've compiled a quick JetBlue TrueBlue review to see if this travel rewards program is worth your time. Spoiler alert: the program is free to join, so there's very little risk of a downside.
Benefits of the JetBlue TrueBlue Program
Earn Up to 6X Points on JetBlue Flights: When you purchase your flight through JetBlue.com, you earn up to 6X points per dollar spent.
Earn Points Through JetBlue Partners: Not only can you earn bonus points by using a JetBlue credit card, but you can also earn 3X points for every dollar spent on Amazon while you are inflight. Your flight across the country might just be the perfect time to get all of your Christmas shopping done. Here's a full list of JetBlue partners that allow you to earn points.
No Blackouts Dates: Redeem your points for flights on any date and on any seat.
Points Don't Expire: Don't feel rushed to use your points as they do not expire.
Pool Points: A neat aspect of the JetBlue rewards program is the fact that you can pool your points together with six other individuals. This is a great way for family members or friend groups to earn points faster for vacation. However, members cannot join multiple pools, and you have to give 100% of your points to the pool.
Benefits of Mosaic Status
TrueBlue already offers decent benefits for JetBlue fans and travelers, but if you really want to experience the best of the program, aim for Mosaic Status.
In order to qualify for Mosaic Status, you need to either earn 15,000 base flight points within a calendar year or fly 30 segments and earn 12,000 base flight points within a calendar year. Base flight points are worth 3X points for every dollar spent.
And once you hit Mosaic Status, you receive a bonus 15,000 points. You also earn up to 9X points per dollar spent on JetBlue flights through JetBlue.com. Some other perks include:
Change and cancellation fees are waived
First 2 checked bags are free for you and others on your itinerary
Redeem your points for Even More Space seats at significantly reduced rates
Use of expedited line to the security checkpoint at available airports
Early boarding
Free complimentary alcoholic beverage on your flight

Even More Ways to Earn TrueBlue Points
JetBlue likes to reward frequent fliers with additional points for things they were going to do anyway.
Earn 300 points when traveling with a pet
Earn 200 points when you book an Even More® Space seat.
Earn even more on vacation packages booked through JetBlue
Different flight fares also earn different point values. All flights earn a base point of 3X per dollar spent, plus the following bonus:
Blue and Mint: Earn an additional 3X points per dollar spent
Blue Plus: Earn an additional 4X points per dollar spent
Blue Flex: Earn an additional 5X points per dollar spent
Is the JetBlue TrueBlue Program a Good Fit for You?
If you are a fan of flying on JetBlue, then you might as well join its free TrueBlue reward program. When you do redeem your TrueBlue points, make sure you are getting 1.3 to 1.6 cents per point.
For example, a one-way ticket from Los Angeles to New York City cost $99 or 6,400 points and $5.60. That makes the TrueBlue points worth about 1.5 cents per point, which is a decent return on your points.
---
Looking for a more immediate discount? Check out this recent popular deal from our Frontpage:
Search URL: https://slickdeals.net/newsearch.php?firstonly=1&pp=20&sort=newest&rating=frontpage&forumid%5B%5D=9&hideexpired=1&r=1
---
ncKxk_Yhu_A
Our editors strive to ensure that the information in this article is accurate as of the date published, but please keep in mind that offers can change. We encourage you to verify all terms and conditions of any product before you apply.