Cool One-Piece Dressing: These Jumpsuits are All Less Than $50
Easy throw-on looks to kickstart your summer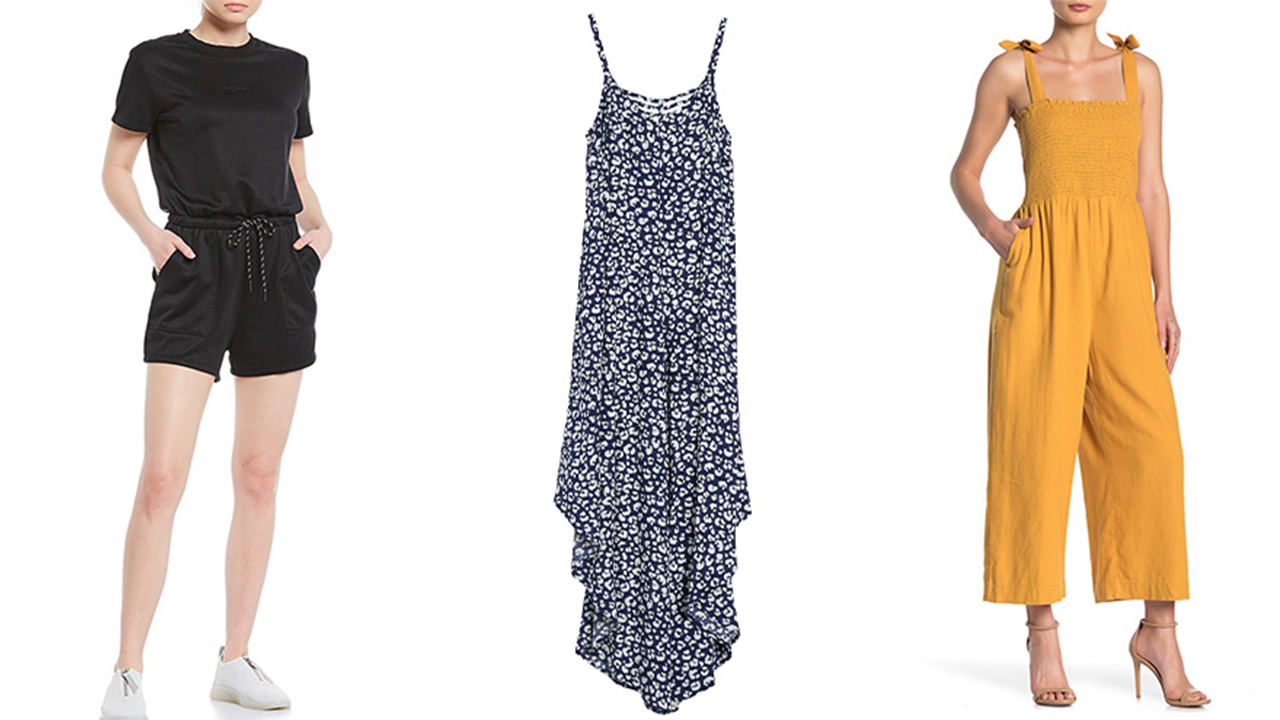 There's nothing like a cute romper or jumpsuit for almost any activity – casual gardening, chic garden party, or errands around town. It's rare when a single item of clothing offers convenience and comfort while also looking chic, but the jumpsuit does this well, and often even features pockets – another women's clothing luxury!
These jumpsuits for women are cute, affordable, and comfortable, and can be worn as they are or paired with a denim jacket for cool spring evenings or platform sandals for a classy yet laid-back vibe.

Linen Blended Jumpsuit from UNIQLO
Reg. Price: $39.99
This jumpsuit is easy to layer with different types of shirts and personalize it to your body and mood. With V-necks both front and back, widely flared legs, and a loose-fitting drape, this elegant-looking jumpsuit looks effortless.
Pro-tip: Sign up via email to save an additional $10 off
Breathe ON V-Neck Wide-Leg Jumpsuit
Sale Price: $25 | Reg. Price: $44.99
Old Navy has a variety of jumpsuit styles for women, and this one stands out with its cute, cinched elastic waist, pockets, and ultra-soft jersey + GoDry moisture-wicking material that is comfy yet breathable. It's cute and comfortable and a great deal!
Pro-tip: If you purchase by 5/8 you'll receive 10% off at checkout. And don't forget to register with your email to receive an additional 20% off!
Linen-Blend Coral Cami Jumpsuit
Sale Price: $22 | Reg. Price: $39
This simple yet adorable tomato-colored linen jumpsuit is the perfect summer attire. The adjustable spaghetti straps and smocked-top contours the waist for an easy-fitting drape in just the right form-fitting-but-not-too-tight way. Plus, diagonal pockets make this romper functional as well as fashionable!

DKNY Sport Short Sleeve Mini Logo Drawcord Waistband Romper
Sale Price: $47.70 | Reg. Price: $79.50
This sleek jumpsuit has short sleeves and short legs with a waistband drawcord, pockets, zipper back, and scoop neckline. You can machine wash it, which makes this the ultimate playsuit, and pair it with some chunky tennis shoes for a real Sporty Spice vibe.
MSK Leopard Print Sleeveless Jumpsuit
Sale Price: $29.97 |Reg. Price: $59
This cute number is deeply discounted right now, making it the perfect little jumpsuit for summer. The scoop neck is simple yet sexy, and the spaghetti straps, subtle navy leopard print, and rounded ruffle hem combine for a casual yet chic look and plenty of breathable comfort.
Pro-tip: Nordstrom Rack has free shipping on orders over $100. And since multiple products are discounted, why not add a few more items to your cart.
SUSINA Tie-Strap Smocked Gold Linen-Blend Crop Jumpsuit
Reg. Price: $39.97
It's always nice when chic outfits offer pockets and comfort, and this cute jumpsuit offers both. The square-necked, smocked-top number features super-wide pockets in a breathable wide-legged linen, and you can choose from bright, summery yellow or all-occasions black or striped options. If it doesn't fit, you've got 45 days to return it!
Pro-tip: Again, take advantage of Nordstrom Rack's free shipping on orders over $100 by adding a couple more items.
Billabong Juniors' Dotted Ruffle-Sleeve Jumpsuit
Sale Price: $52.99 | Reg. Price: $75.95
Ruffle sleeves, pockets, and a V-neck, oh my! This fun and flirty jumpsuit is just over $50 but it's made by the king of beach and surfing attire, Billabong, making it the perfect item to toss in your beach bag and wear over a swimsuit for post-surf happy hour cocktails.
---
Read Next:
Put Everyday Spending on a New Chase Sapphire Preferred Card to See Huge Rewards Fast
Mini Greenhouses for Under $100 to Start Your Garden Project
Missed this Deal? Let Our 12 Million Deal Hunters Find You the Lowest Prices
Slickdeals has the largest deal-sharing community in the world, so you never have to pay full price. Founded 20 years ago as a place for people to share and discuss deals online, the website has grown to include more than 12 million users. And the Slickdeals app allows you to search and find deals on the go.
Download the Free Slickdeals App

How Slickdeals Works:
Slickdeals members (over 12 million strong) find, post and share deals, sales, coupons and promo codes
Every deal gets reviewed by the community and goes through a voting system
Good deals get moved up to Popular Deals (Pro Tip: This is where you can find the hidden gems)
Then, the best of these Popular Deals are screened by our Deal Editors to be considered for the Slickdeals Frontpage
Only the very best of the top deals are promoted to the Frontpage, so check it daily or as often as you can online or on the app
It's Free To Set a Deal Alert For Anything You Want to Buy
Looking for something in particular? Set a Deal Alert and we'll notify you as it goes live. Sign up for free with just an email and start seeing deals right away. Then, let us know what you want to buy, and Slickdeals will send matching deals to your email or as a notification on your smartphone (or both, if you choose) as soon as that exact item is on sale.
Slick Tip: To receive alerts only for the very best sales and the absolute largest discounts, select "Popular" or "Frontpage" in your Deal Rating filter.
Set a Deal Alert for WAYFAIR Deals and Sales
More great deals from Slickdeals:
Our editors strive to ensure that the information in this article is accurate as of the date published, but please keep in mind that offers can change. We encourage you to verify all terms and conditions of any product before you apply.