Cool Everyone Off With Inflatable Pools In Stock and Ready To Ship Now!
Keep kids (and yourself) cool with easy inflatable pools for the perfect summer.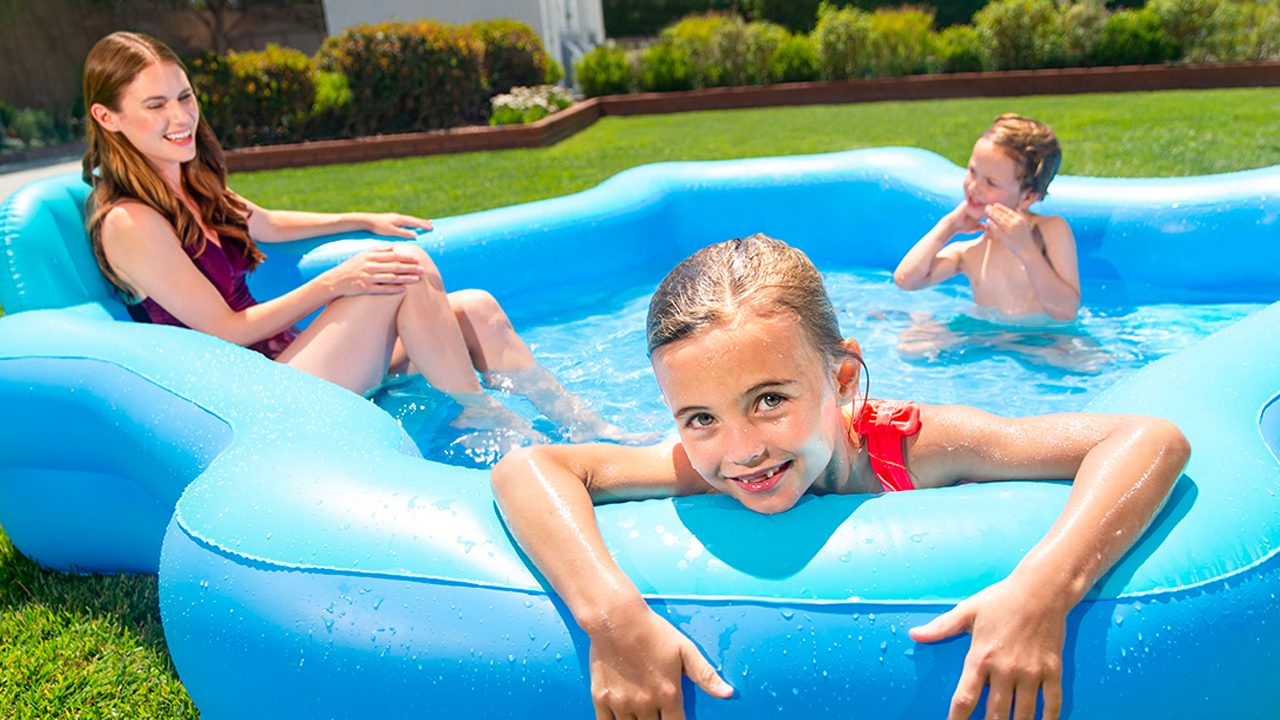 It's almost summer. For most kids that involves vacations, sports, and time with friends. With stay-at-home orders still in place, this summer will be different. But who says you have to leave the house to have a fun-filled getaway? Make a splash all summer long with these inflatable swimming pools, great for you and your kids. These pools below are in stock and ready to ship now – and many can be at your doorstep within days.
---
1. Summer Waves Inflatable Shark Shade Pool

Reg. Price: $12.88
Chances are your little ones are still singing the Baby Shark song from a few years back. And what better way to compliment the viral dance than with a kid-friendly shark pool. With a cushioned floor and built-in shade for those extra hot days, your kids will be occupied all summer long.
Pro-tip: Walmart offers free 2-day delivery on all orders over $35, so throw a couple more items in your cart for a full day of backyard fun.
---
2. Sun Squad Kiddie Pool

Reg. Price: $20.49
Recommended for ages three and up, toddlers will love splashing around in this bright-colored kiddie pool. At just under $21 and a 4-minute setup, this is a total steal! Pro-tip: Spend $15 more to qualify for Target's free shipping (orders over $35). Use your Red Cards and save 5% on tons of Target items, too.
---
3. BANZAI Splashville Water Park

Sale Price: $17.97 | Reg. Price: $18.99
Kids under three will love this at-home water park. Equipped with boat toys and two inflatable arches to swim or run under, it will keep kids smiling and busy while you tend to your to-do list. Pro-tip: Register for Amazon Prime to guarantee free shipping and free returns.
---
4. BANZAI Kiddie Water Sports Arena

Reg. Price: $63.59 (plus free shipping)
Kids three and up have the option of playing basketball, water polo, volleyball or soccer with this swimming pool. Amazon reviewers rated it a 4.2 out of 5 for its versatility and recommends placing the pool on grass as kids tend to get quite rowdy challenging siblings or friends.
---
5. SplashEZ 3-in-1 Sprinkler for Kids, Splash Pad, and Wading Learning Pool

Reg. Price: $34.99
Our favorite toys are not only fun but educational. SplashEZ is both. Babies and toddlers will love stepping on this educational map while soaking in the summer sun. Refreshing sprinkles will delight kids while they identify shapes, letters, animals and colors on their maps.
---
6. Be the Envy of Your Block: Double Water Slide with Speakers

Reg. Price: $15
If you don't have enough room for a pool, why not opt for a water slide? Kids will love sliding down this 18′ slide with built-in sprinklers. To make a game of it, kids can pass a baton to other siblings and slide in at the bottom to win.
---
7. Gereton Inflatable Swimming Pool (2.6m)

Sale Price: $90.99 | Reg. Price: $140.99
If you've been finding it hard to entertain the pre-teen in your family, look no further. Teens can relax on their own in this pool that is big enough for pool floats and noodles.
---
8. Intex Deluxe Inflatable Family Pool "Lounge"

Reg. Price: $179.99
The whole family can have fun with this inflatable pool for four. With two backrests and cushioned seats, you can sit back and relax while your children play in the middle. Plus, the drain plug makes it easier to drain the water out at the end of the day. Easy setup and easy clean up – what's not to love!
If you'd rather wait a little closer to summer, set a Deal Alert so you don't miss out on great deals on inflatable pools.
---
Hungry for more summertime savings?
---
Any product or service prices/offers that appear in this article are accurate at time of publish, and are subject to change without notice. Please verify the actual selling price and offer details on the merchant's site before making a purchase.